As the Halloween season comes to its climax, I thought I'd offer some scenes and impressions of my recent visit to one of the best Halloween entertainment events in Southern California.  Halloween Horror Nights 2011 at Universal Studios Hollywood brings together some of Hollywood's most creative designers with the movie studio that is well known for the classic horror film and some of today's most haunting characters.  This year, Halloween Horror Nights presents a full array of screams and thrills that's sure to "chill you to the bone".  I was able to tour these legendary grounds and take in all the shrieks and screams.  Join me on a little trip through this terrifying realm.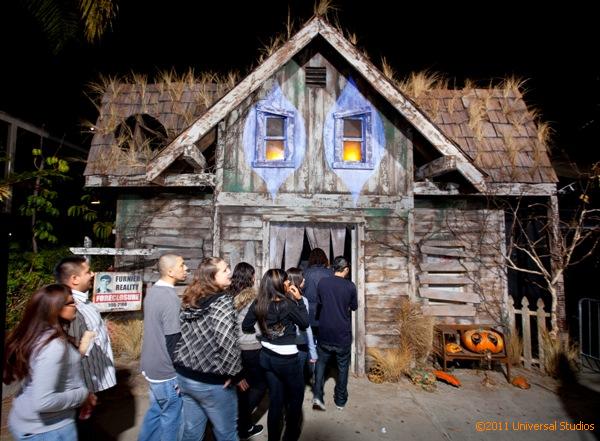 Halloween Horror Nights at Universal Studios Hollywood started in 1997.  In those early years the Studios used some of their sound stages and even the covered parking structure to construct a few of the haunted maze attractions.  They included some wonderful effects and creative character talent. Horror Nights ran each Halloween season until 2000, but then Universal did not do a Halloween event for several years.  In 2006 Halloween Horror Nights returned and has been running every year since.  Each year the event grew in popularity and now rivals even the longest running Halloween event at Knott's Scary Farm.  Universal has now found a unique place in the Halloween season.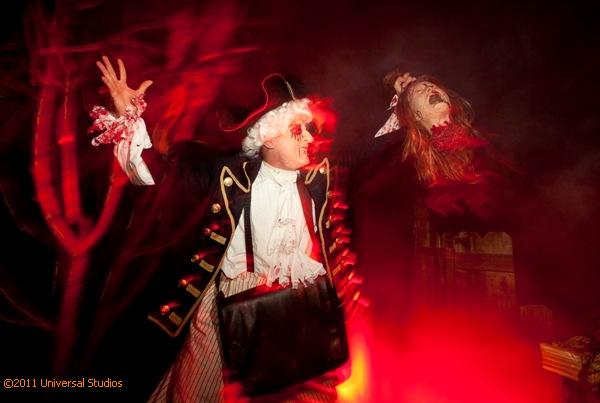 Traffic
A bit of planning is required when visiting Halloween Horror Nights.  Traffic around the Universal Hollywood area can be quite congested especially before a major event like this.  You should plan some extra time and arrive early.  There is plenty to do beforehand at Universal City Walk.
Parking
Parking is widely disbursed around the Studios and much of the parking is behind Universal City Walk, which means you often have a bit of a walk to get to Universal's main entrance.  General Parking is $15 and there is Preferred Parking for $25 which gets you a bit closer (but not much).  Valet parking is also available.  Remember to keep your parking stub.  If you come early enough and attend a movie at the CityWalk Cinema Stadium AMC movie theater, you get back some of your parking fee.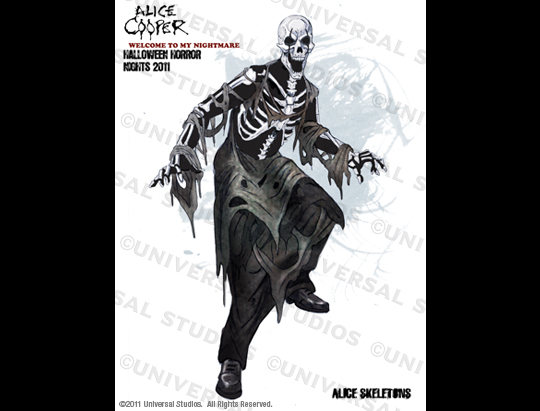 City Walk
I arrived almost three hours before the 7:00 pm start of Halloween Horror Nights and that gave me plenty of time to do some shopping and sight-seeing in City Walk and also get a bite to eat before the event.  There are many great shops and restaurants and a wide selection of the most popular fast food shops also.
Tickets
There are many ticket options available for HHN.
General admission – Regular access to all attractions, shows, and rides.
"Front of the Line" pass – Special "front of the line" pass (once per haunted maze, show, rides).
VIP Experience – Unlimited "front of the line" access to all mazes, shows, rides, and more.
I opted to get the "Front of the Line".  I'll have more information about this a bit later, but it was well worth it!  There are also some discount deals available online.
Universal recommends that kids under 13 be accompanied by their parents.  Many of the attractions and sights are pretty intense for the younger folks.
Entry
Crowds started forming in front of the security screening area very early.  I got to the entrance area about an hour and half before the opening and lines were already well formed.  There is a separate screening and entrance for the "Front of Line" folks, but there are also many regular screening and entrance lines.
There is a full security search (including removing your belt and all metal items).  Once past security, getting into the park did not take very long once they opened the gates.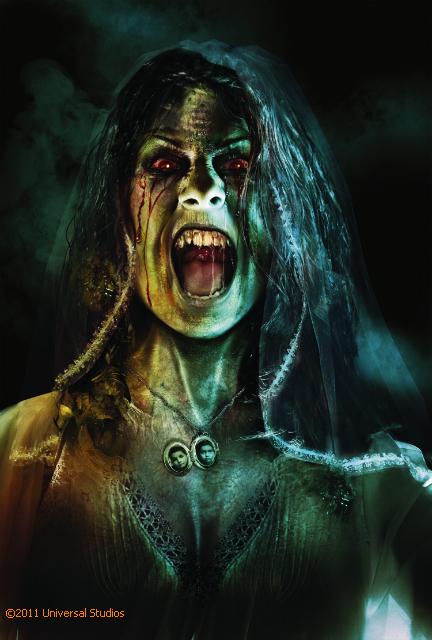 Halloween Horror Nights
Right at 7:00 pm the entrance stage area came to life.  Fire cannons on top of the entry truss.  Monsters came toward the crowd in force and it was on!
Both the Universal Studios upper and lower lots were used for Halloween Horror Nights (pretty much the whole park).  The haunted mazes were scattered on both levels, so there was good crowd disbursement.  Park decorations were somewhat limited, but there are plenty of creepy little static scenes and displays scattered throughout the park and appropriate Halloween music and sounds are playing everywhere.  I don't want to describe every attraction and maze in detail, but let me give you an idea of what was there.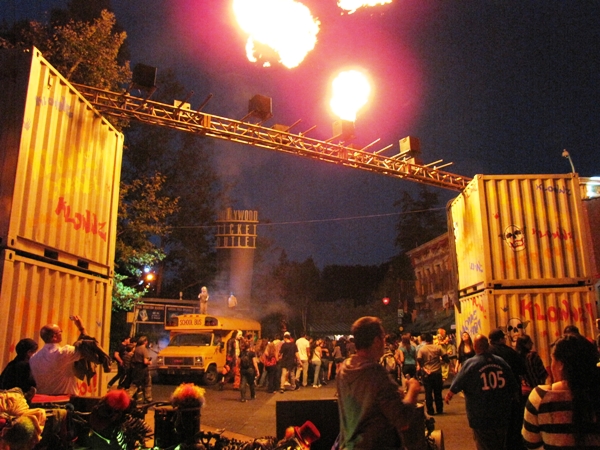 Terror Tram
One of the signature attractions during Halloween Horror Nights is the Terror Tram.  This is the regular tram that is used at the Studios for the backlot tour, but with a twist.  You load the tram for a short ride down to the lower level and then you are unloaded for a walking tour of the area.  There is minimal lighting and monsters greet you as soon as you get off the tram.
Your tour takes you past the original Bates Motel buildings that were used in the filming of the movie Psycho.  You get to walk right past the famous office where Norman greeted his guests.  It's plenty creepy.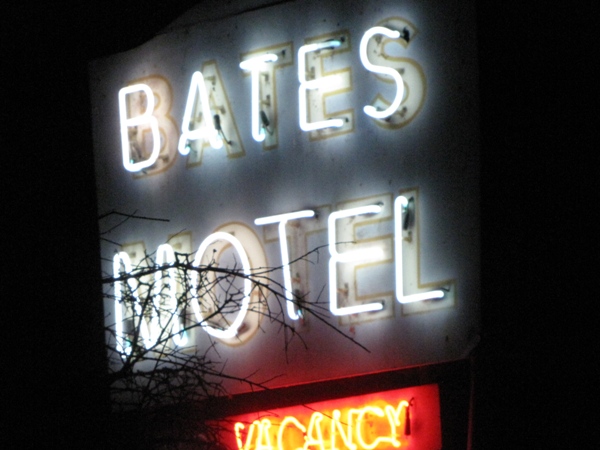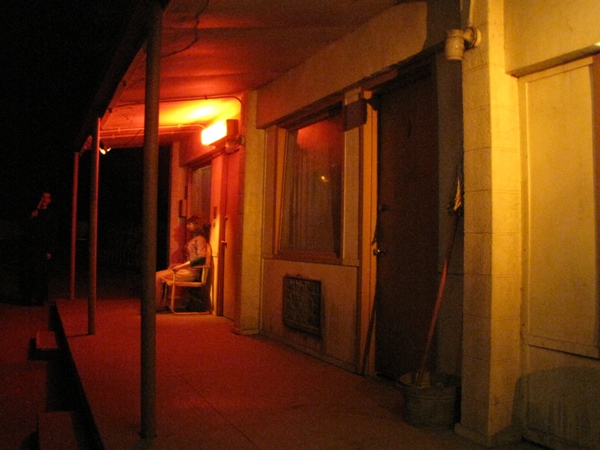 From there you make an ascent up the hill to the real Psycho house.  This is the closest you'll ever get to that famous house and "Mom" is waiting to greet you.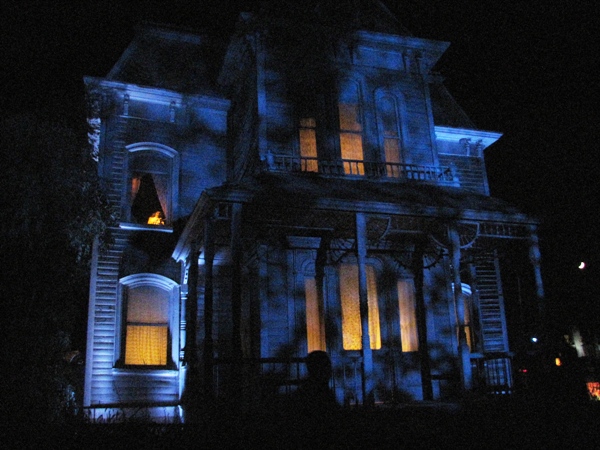 From there you make your way along the path past an airplane crash scene with plenty of live characters.  Being able to walk yourself through this area is a bit intimidating to say the least.  But it's great to be able to take your own pace and linger as much as you dare.
The Mazes
There are several "haunted maze" walkthrough attractions on both the upper and lower studio lots.  Photography was somewhat limited inside the attractions, but I'll give you a brief description of each.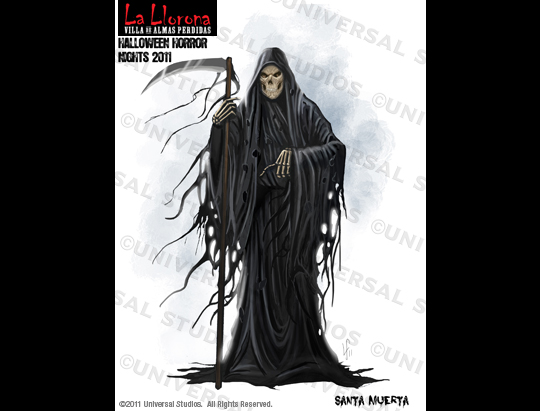 La Llorona: Villa de Almas Perdidas (Weeping Woman: Village of Lost Souls) is actually one of the better mazes in the event.  The theme is based on a real Latin American tale of a woman who was doomed to wander the earth forever after drowning her children in a desperate attempt to win a lost love.  There is plenty of folklore around this story and it really adds to the spirit of this attraction.  There were good lighting and special effects and lots of characters and frights around each corner.  The music and sounds also added to the atmosphere.  This was a very well done theme park-style haunted maze and one of my favorites of the night.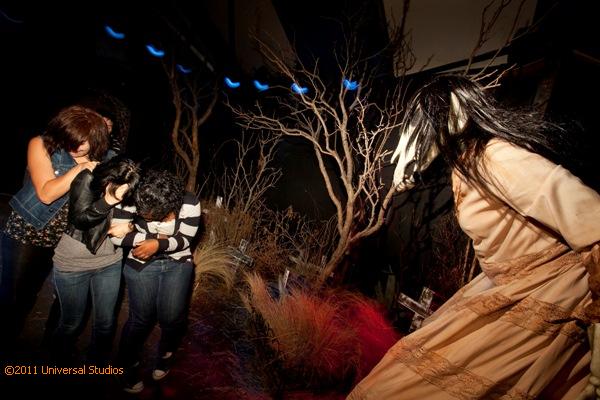 The Wolfman: The Curse of Talbbot Hall is located in the permanent "House of Horrors" walk through attraction.  It has been somewhat re-themed and been given a very good look with lots of live characters.  This is one of the most suspenseful attractions as this is a fully enclosed "castle-like" location that you get to tour.  There are great props and sets and the main "laboratory" scene is really wonderful.  This is a long maze, which intensifies the suspense and it takes a while to move through it.  Afterwards you will need a moment to compose yourself.
The Thing: Assimilation was a bit disappointing.  This is based on the new Thing movie and it was loaded with the typical gore effects and all the standard blood and guts scenes that you have come to expect from theme park and independent haunted mazes.  However, there is a very good sense of being lost, since the roof hides outside references.  Many theme parks don't completely cover their mazes and every time you see an outside building or some other outside scenic piece you lose being immersed in the maze.  The Thing maintains that "lost" feeling very well.  There are also lots of creatures and characters, good music and sound (sound was very good in all these mazes).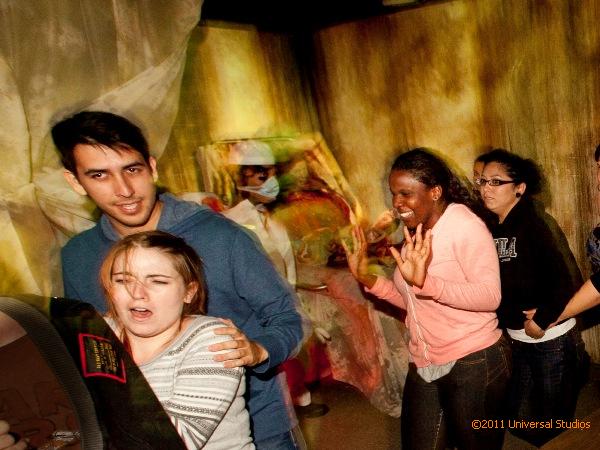 Wait times were from 30 minutes to a little over a hour for each maze.  The Front of Line pass got me right in every time with maybe a minute or two wait at most.  This dramatically decreased the boredom and stress level of not having to wait in line.  Many queue lines were in back stage areas with nothing to look at and no entertainment at all.  I felt sorry for all those folks standing for a hour in a totally boring line.  Consider the Front of Line pass; I thought it was well worth it, especially if you only have one evening for this event.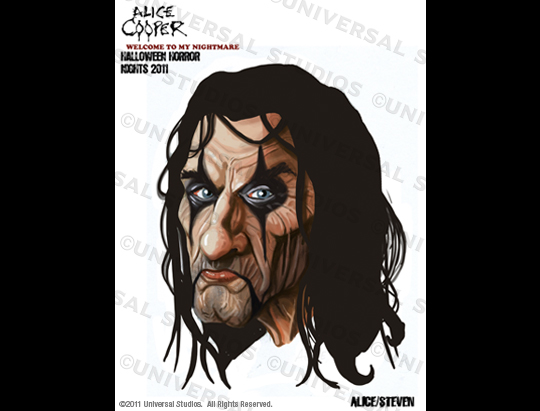 Rob Zombie's House of 1000 Corpuses, Alice Cooper's Welcome to My Nightmare, and Eli Roth's Hostel were all about the same type of haunted maze; each with its own style, sounds and characters, but each with their own particular type of high intensity horror and gore-based scenes.  The 3D effect in Rob Zombie's maze was the old spectral effect called "ChromaDepth" which has been used in many mazes for many years now.  It was ok, but this effect is getting somewhat overused and isn't that unique anymore (especially with all the movie 3D that's now available).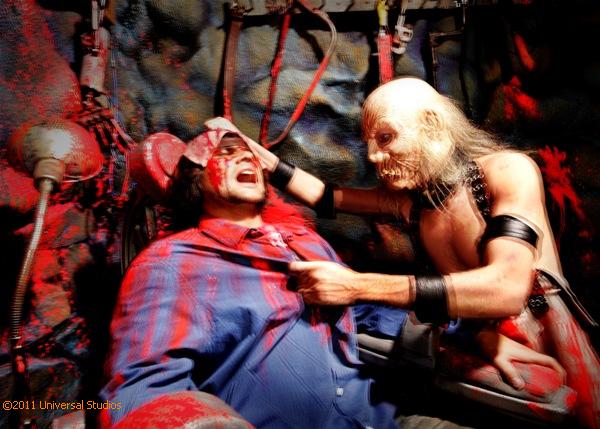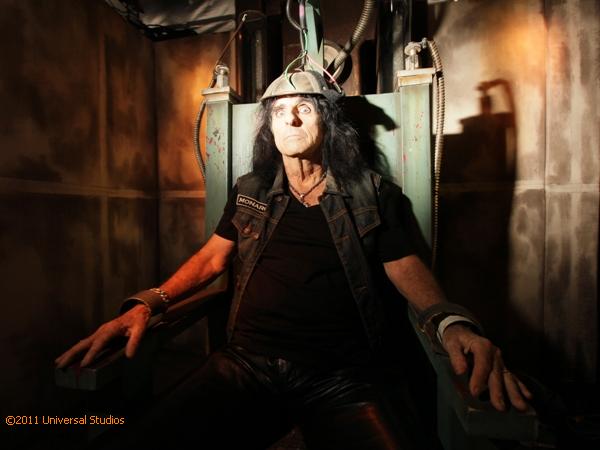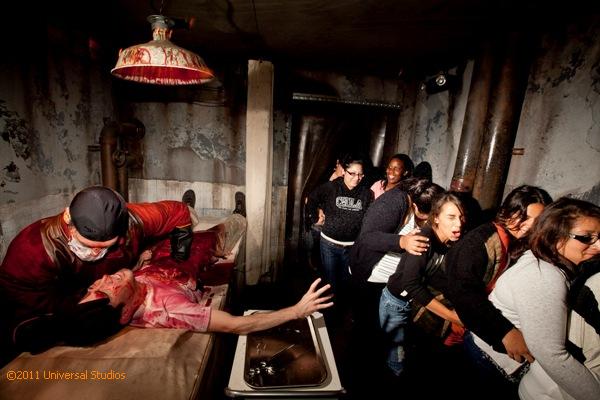 Bill and Ted's Excellent Halloween Adventure
I thoroughly loved this show.  About 50% of the pop culture references were over my head and the audience was roaring so it must have been good.  There was a cast of 25 or 30 (large for a show of this type) and they gave an exciting, high energy performance with a lot of intensity and enthusiasm.  The choreography was wonderful and tight; the show was very well staged.  There were lots of great effects, lighting and sound.  It's easy to see why this is a signature show for Horror Nights.  And of course it features Bill and Ted!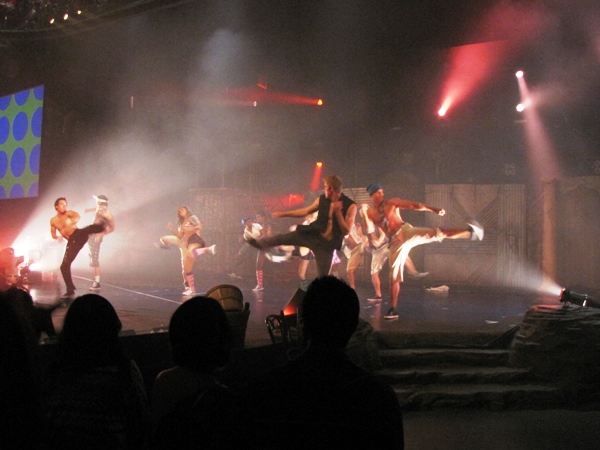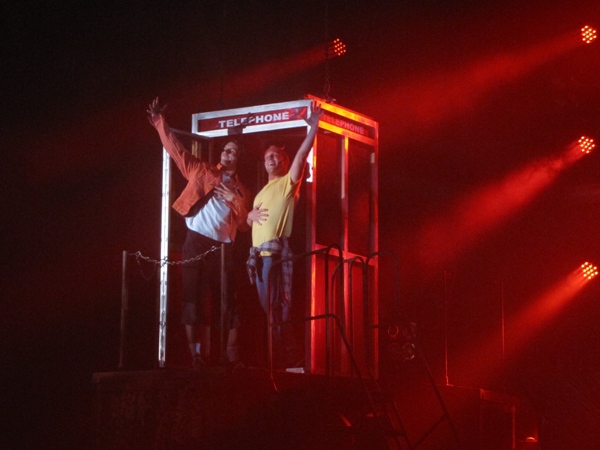 There is a nice little story line in the first half of the show that attached all of last year's popular characters, movies, TV shows, and political figures.  Everyone got their licks.  Disney took some major hits, but other movie studios and theme parks also got knocked and it was very funny.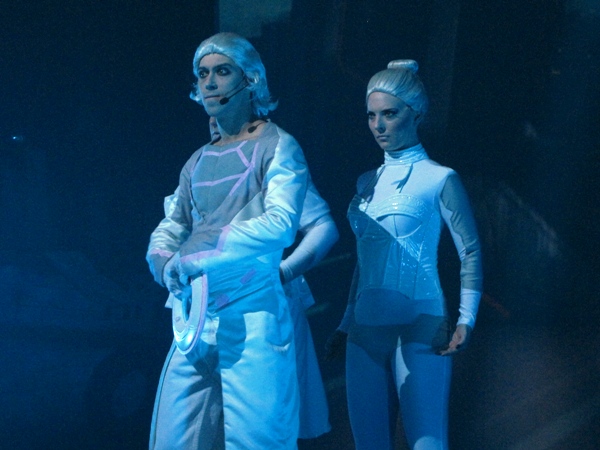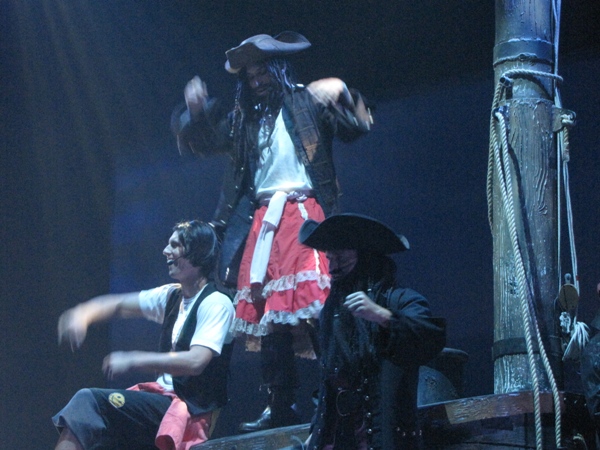 They also have a great technical stage with some wonderful facilities.  For example, they are rigged for flying sequences and used that very well in Bill and Ted's.
Bill and Ted's Excellent Halloween Adventure was about 45 minutes long which is long for an event like this.  I almost went to see it twice.  This is definitely a "must see".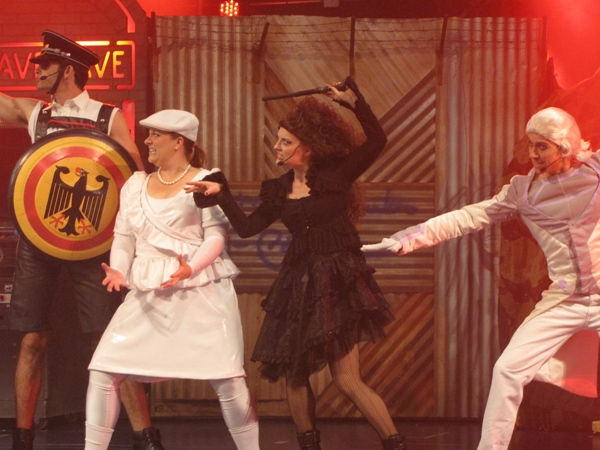 Scare Zones
The Scare Zones are the areas throughout the Studios where the monsters and walk around characters gather to cause havoc with all the passing guests.  For most, this is where you go to get chased by menacing monsters or startled by deformed and deranged creatures.
There were 5 total areas, each with a nice set of monsters.  There was good crowd reaction in all areas.  I love the "killer" clowns, especially the "host" clown and the "stilt clown" (who was about 10 feet tall).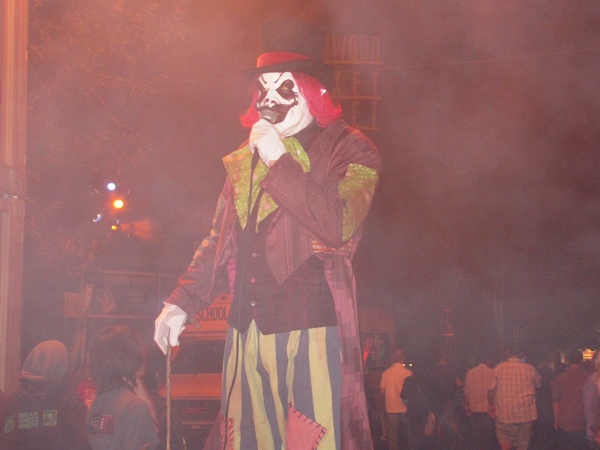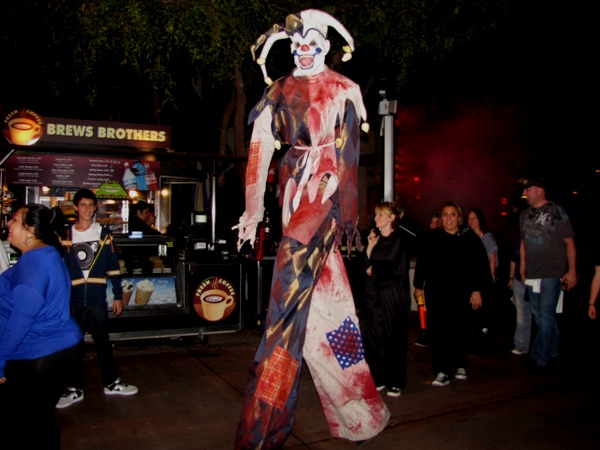 And who doesn't love being chased by some chainsaw wielding maniac with that deafening sound?
Rides
Here's just a quick note about the rides.  The major rides were all open and operating including The Simpson's Ride, The Mummy, and Jurassic Park (and I didn't get wet at all).  You should budget your time with these attractions as the lines can get long (just like during the daytime), but here again is where the Front of Line pass helped (I was able to get right on once to each ride).
Food
Food stands were plentiful and there was a good selection of the typical theme park selections.  Disney fans, please note that Universal food choices are not like Disney; you won't find nice sit down restaurants, but you will find standard theme park fair at reasonable prices.
There were hardly any lines anywhere for food.  Food and drink stands were well dispersed and there was a good variety too.
A "Halloween Horror" filled Night
I finished everything with time to spare.  It was a long night, but I covered everything.  The Front of Line pass was definitely worth it.
Overall, I had a very good time.  I would go again (probably not every year unless I lived down in the L.A. area), but I recommend this for visitors who don't have access to this type of Halloween entertainment.  Besides, where else can you have a Psycho encounter that you can walk away from?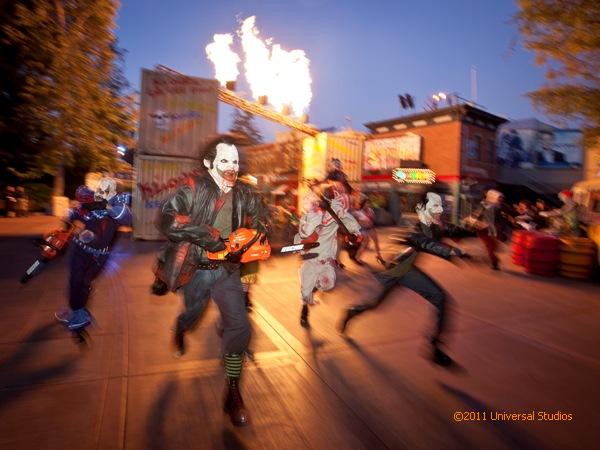 Happy Halloween!
Category: Disneyland, Universal / Sea World, Universal Studios Hollywood