For the last 10 years, from the end of September until after the New Year rings, Jack Skellington has brought the Haunted Mansion Holiday to delight Disneyland Resort guests with his "vision" of Christmas.   This year, I thought it would be fun to share some of the unique and wonderful sights that guests will find if they visit the Haunted Mansion during the "Holiday Season"!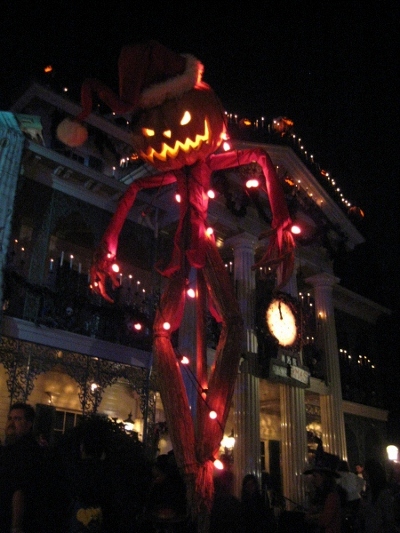 Disneyland guests realize they are in for a different experience as they approach the Haunted Mansion.  The exterior decorations are full of details to delight.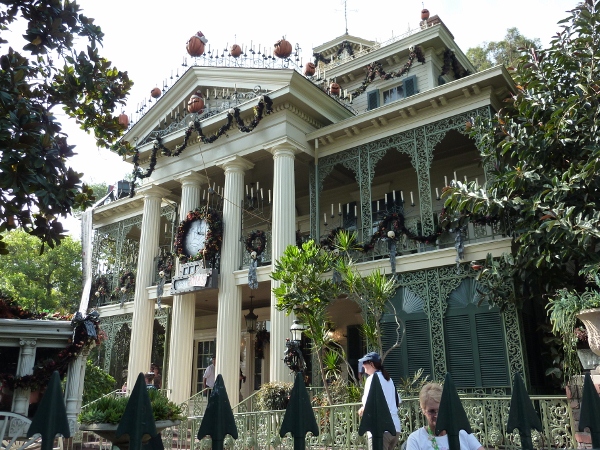 Pumpkins adorn the architectural spikes of the mansion, while Jack's formula for making Christmas has unrolled from his sleigh – unmoved from when he landed on the roof!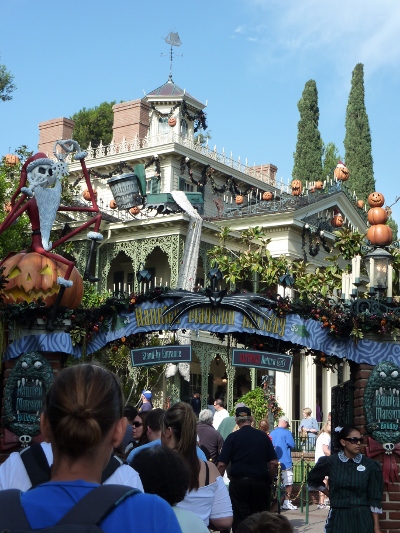 Jack himself sits atop the entrance gate, pondering his handiwork, while you pass below his perch.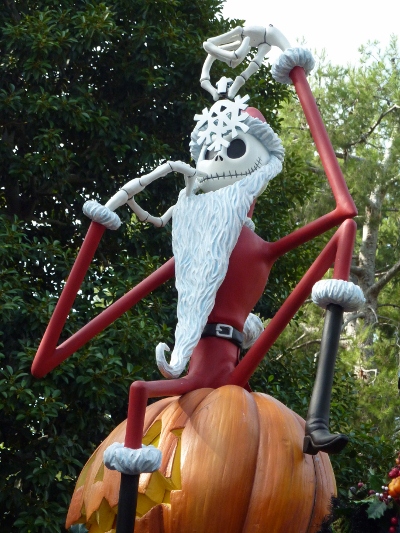 In the front garden, the pumpkin scarecrow shows his stunning holiday wardrobe – and is all "aglow" when evening comes!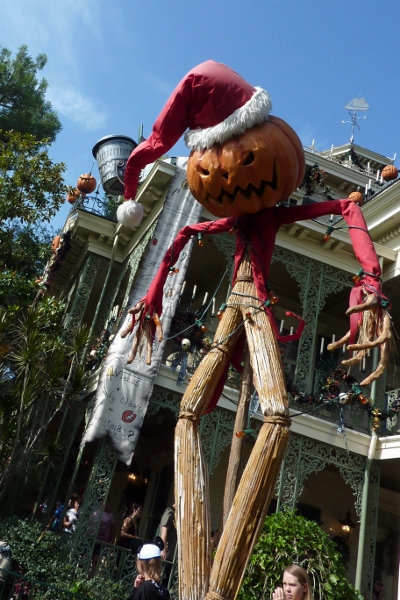 Even the memorials in the Pet Cemetery are bedecked with Jack's favorite Christmas Ribbons.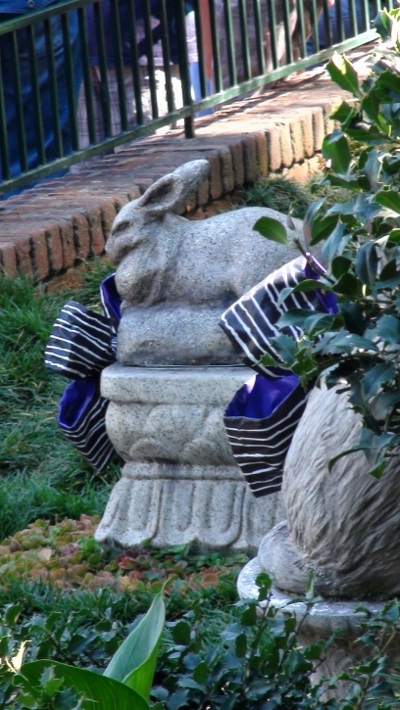 The details of the decor are truly extensive.  The wall lamps are covered in a garland that is most appropriate to the "season".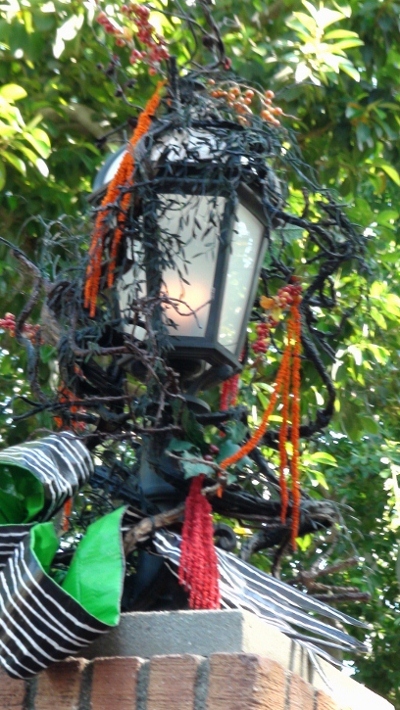 The ivy berm hosts a new crowd of familiar faces…  This is the area of the queue that gets the most "illuminating" reviews after the sun sets.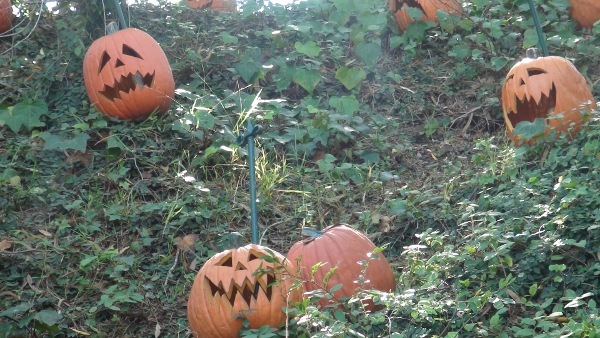 Who wouldn't be overjoyed with skeleton heads replacing the traditional poinsettias in their wreaths and garlands?  Jack thought you might agree with him!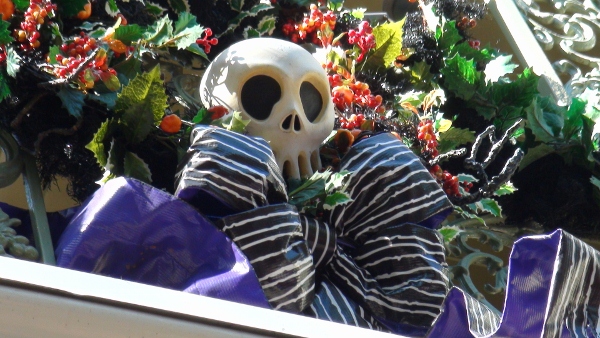 The front doors of the mansion look so warm and inviting.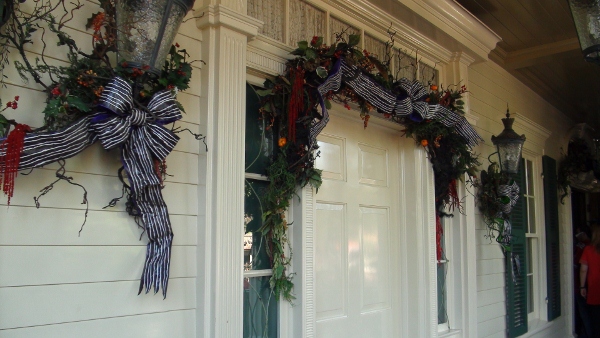 No area of the mansion goes undecorated.  As you wait in the foyer, you notice the garlands in the candlelight.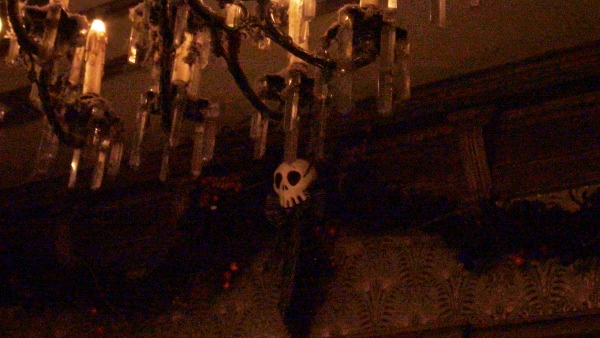 This year's Gingerbread House is truly a delight.  It proves that good architecture can "come alive".  This home surely takes a bite out of the competition….!  Make sure you look for the striped carpeting in its "main hall".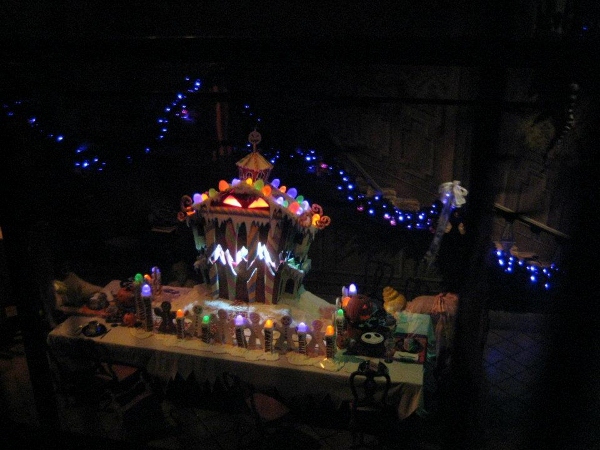 Once you've left the Ballroom and searched the attic for the legendary "Monkey Bride" (look back to your left as you pass through – she is a bit of a "present"), you view the grounds through the attic window.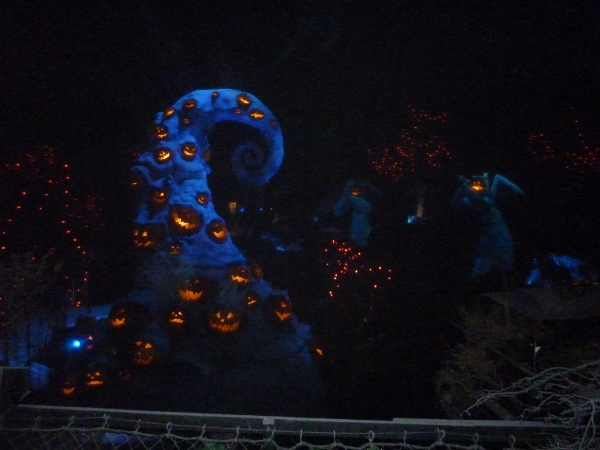 After you have fallen from the attic and met your doom, Jack and Zero happily greet you to their holiday!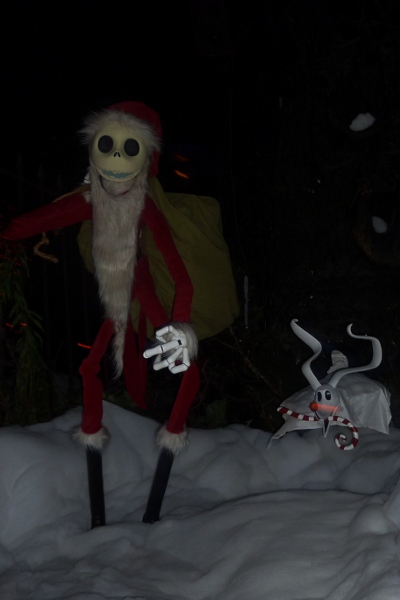 The Spiral Hill is quite interesting from the grounds of the crypts.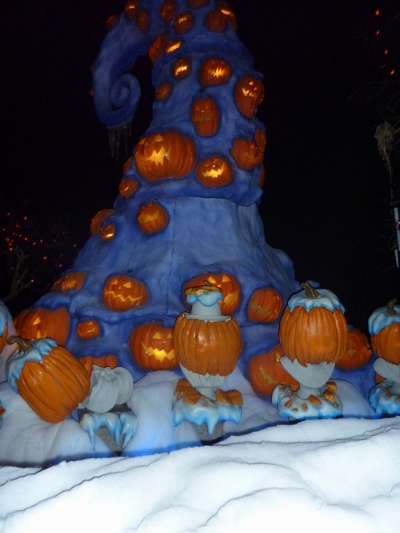 Of course, there are more sights, sounds, and smells as you wind your way through this adventure.  I would be remiss if I shared them all.  I just have one more tip…
On your way out, make sure to greet Sally as she waves Jack along on his quest.   You'll find yourself wanting to see him again, when he decides that he will return to celebrate next year!
Photos by N. Johnson and K. Willey.
Category: Disneyland
Disneyland Podcaster for the DIS Unplugged