In August, Disney opened its first hotel outside mainland USA not associated with a theme park.  Aulani, a Disney Resort & Spa is a stand-alone Disney Vacation Club property located in Hawaii.  Walt Disney Imagineer Joe Rohde was one of the lead designers of the new resort, and took time to talk with the DIS Unplugged about its creation.  Continue after the break to learn more about how his Hawaiian background influenced the hotel's design, the incorporation of Adventurer's Club artifacts, and some of his favorite aspects of the resort.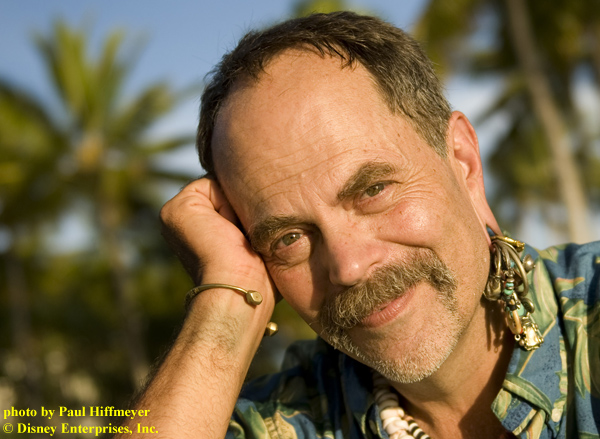 Image: Joe Rohde, Senior Vice President, Creative, Walt Disney Imagineering
To listen to the complete interview with Joe Rohde, click here.

Joe Rohde is Senior Vice President and Creative Executive for Walt Disney Imagineering, and perhaps best known as architect of Disney's Animal Kingdom, as well as the Expedition Everest roller coaster.  He was also the creative force for the former Adventurer's Club in Downtown Disney's Pleasure Island, and makes an appearance in the Tower of Terror at Tokyo DisneySea – just to give a sampling of his work.
When Rohde discovered Disney planned on building a resort in Hawaii he knew there was so much more to the island paradise than people think.  He shared his experience of being raised in Hawaii, and how it influenced his approach to Aulani.
"I grew up just above Waikiki in what was then a very old neighborhood called Makiki tucked up against the mountains.  We grew up with a lot of natural respect for the traditions of the island – the stories, the cultures, and traditions of Hawaii.  There's all this cultural richness, richness of the landscape, and a sense of how real the place is, and the people are, and the experiences you can have there.  We didn't grow up with a lot of money.  We lived a very simple life, and that is one of the great values of Hawaii – how rich and wonderful a simple life can be."
Walt Disney Imagineering, and Joe Rohde in particular, is known for their depth of research for a project.  For example, when designing Animal Kingdom's Expedition Everest, Rohde's research took him into the Himalayan Mountains of China and Nepal.  He described the research process for Aulani:
"We're dealing with a story here that's based on truth.  It's about things that are real.  We (Disney) gathered a large group of Hawaiian cultural advisers, experts, artists, even spiritual leaders – people who practice this culture, and we tried to listen very carefully about what they had to say about what makes Hawaii, Hawaiian.  When people take this journey to go to Hawaii, they're trying to go someplace unique.  What makes the Hawaiian Islands unique are the people that gave them their name, the Hawaiians."
I asked Joe if there were any concerns by the Hawaiian experts that Disney would present a caricature of the Hawaiian culture with Hawaii.  Rohde answered:
"I think upfront, early, early on, when there's nothing to look at, there's always a fair amount of skepticism when we step out to do anything new.  Once the Hawaiians understood what it was we were going to be in this relationship, we would be collaborating with them, we would be offering our storytelling skills to them, but, in fact, the stories were theirs, any initial skepticism disappeared pretty quickly."
Of course one Disney story based in Hawaii is the 2002 film "Lilo and Stitch", and while guests can meet Stitch at Aulani, his partner Lilo does not appear at the resort.  I asked Joe if Lilo does not appear out of respect for the Hawaiians and their culture.  He replied:
"In a certain sense, because remember what Lilo is – Lilo is a little Hawaiian girl, and here you are in Hawaii with real, live Hawaiians walking around all around you.  It just seemed a little funky that you'd have an obviously make-believe Hawaiian when you have all these real Hawaiians walking around right there in front of you.  Whereas Stitch, being an imaginary character, is another way of connecting into that story."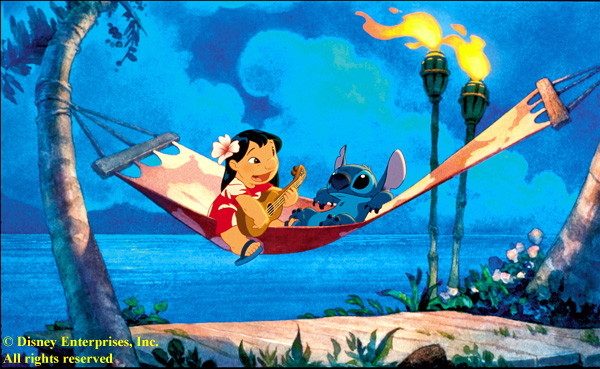 Image: A Hawaiian girl named Lilo (left) and her "dog" Stitch (right) escape their troubles by resting in a hammock in Lilo and Stitch.
Image: Minnie, Stitch, and Mickey do appear for meet and greets around Aulani
One aspect of Aulani generating buzz among die-hard Disney fans is the kids club, Aunty's Beach House.  Many of the artifacts inside the Beach House are from the Adventurer's Club – the defunct club designed by Joe Rohde for Walt Disney World's Pleasure Island.  "It's really, really cool," Rohde gushed about Aunty's Beach House.
Disney wanted to ensure children who visit Aulani had places every bit as fun as those created for adults.  Aunty's Beach House was conceived as a rich, rewarding environment but also a house filled with stories.  The imaginary family are Hawaiians connected to the world, and one family member is "Uncle" who collected items from around the Pacific.  Rohde explained, "Most of the stuff we kept from the Adventurer's Club was the Pacific Rim related props that would make sense for a person who journeyed around the Pacific Ocean."
Walt Disney Imagineer Jeanette Lomboy, Show Producer for Aulani, came up with the idea of using the Adventurer's Club props in Aunty's Beach House.  I asked Rohde why place the Adventurer's Club artifacts in the kids club, since that was an adult nightclub on Pleasure Island, after-all.  His response:
"They're props.  The Adventurer's Club is closed now.  So now these are props.  These props have a life.  Where kids will enjoy them, and ask questions about them, and be inspired by them.  I think it's great."
Instead of the die-hard, rabid Disney fans who know every intricacy and detail of the Adventurer's Club, I asked Joe to explain to the casual Walt Disney World or Disneyland traveler why they should take their family vacation to Hawaii, and specifically at Disney's Aulani Resort & Spa?  He was quick to share:
"Hawaii itself is an astonishing destination.  It has fantastic beaches.  It has a truly, truly beautiful landscape.  It is like another country, and then it has this fantastic culture that many, many people who come to Hawaii never get a chance to even see.

Aulani's fantastically fun, incredibly well-run, fantastic pool, great slides, great kids club, fabulous restaurant, great entertainment, and now on top of that you have this place that makes the experience of Hawaii so much more rewarding, so much more real, so much deeper and richer.  Honestly, if your reason for going to Hawaii is… Hawaii, I just don't know where else you could go."
Walt Disney Imagineering prides itself on creating experiences and places with a "Disney Differentiator."  For Aulani, the differentiator was the story and culture of Hawaii itself and to the attention Disney gives to the whole family experience.  Rohde added, "Most resorts you go to the kids are along for the ride at a resort that is made for grownups to enjoy themselves."  He then described those aspects of Aulani most exciting to him:
"The art program of Aulani is truly astonishing.  We brought in something like 80 different Hawaiian artists, and we turned them loose to use their art to express ideas about what it means to be Hawaii and what it means to be Hawaiian.  This art is everywhere.  It is part of the hotel, and that's one of the more amazing things about Aulani.

Our pool is fantastic, just fantastic.  The slides are amazingly fast, really thrilling, like a thrill ride.  It's just completely beautiful with that infinity pool, sunset, lagoon thing – where you're just watching the sunset over the Pacific.  It's really cool.

I'm really just very proud of us, the Disney Company, for being the first people ever in the history of Hawaii to make a resort that is actually about Hawaii."
Now that Disney's Aulani Resort and Spa had its grand opening, Joe Rohde shared his next project:
"Well, I barely got back on my feet right now and the only thing I do know of course is that AVATAR is going into Animal Kingdom, but that is literally all I know.  So until we get to work on that, I have no idea what the implications of that are, but it should be pretty exciting."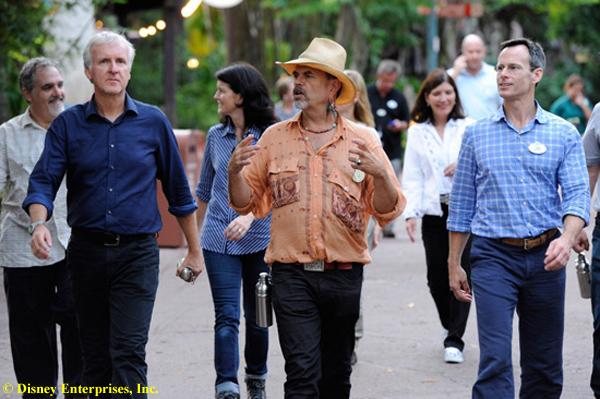 Image: (L-R) James Cameron (creator of AVATAR), Imagineer Joe Rohde, and Tom Staggs (Chairman Walt Disney Parks and Resorts) tour Disney's Animal Kingdom.
I want to thank Senior Vice President, Creative, for Walt Disney Imagineering, Joe Rohde for taking the time to talk with me and share his insights on the creation of Aulani.  All photos of Aulani, a Disney Resort and Spa were taken by Corey Martin, President and Webmaster for The DIS; click here to view all of his photos and videos.  Considering a trip to Hawaii to check out the property?  Click here to request a no obligation quote for Aulani.
Category: Disney World, Disneyland, News