Saturday October 1, 2011, Walt Disney World turned 40 years old and celebrated the opening of Florida's Magic Kingdom.  Disney Legend Marty Sklar, retired Executive Vice President and Ambassador for Walt Disney Imagineering, was involved throughout the design, planning and opening of Walt Disney World, and reflected with the DIS Unplugged on his experience.  Continue after the break to read about and listen to our exclusive interview with Marty Sklar as he discusses his initial reaction to the Florida property, things he would have liked to have seen built, and his memories of the Magic Kingdom's opening day.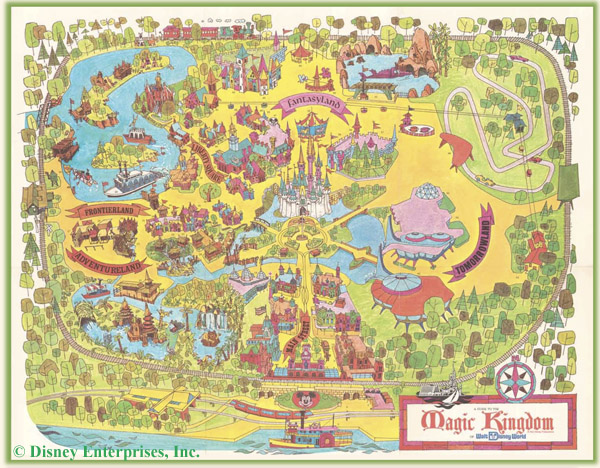 Image: Replica of Magic Kingdom guidemap from 1971
Click here to listen to the interview with Marty Sklar on WDW's 40th Anniversary.
Marty Sklar first visited the Florida property that would ultimately become Walt Disney World in October 1967, and the trip is etched strongly in his mind.  He was a 33-year-old writer for WED Enterprises (future Walt Disney Imagineering) when asked to take a trip with several high-powered executives from the Disney Company on the Gulfstream I.  [Guests can still see the airplane on display on the Backlot Tour at Disney's Hollywood Studios.]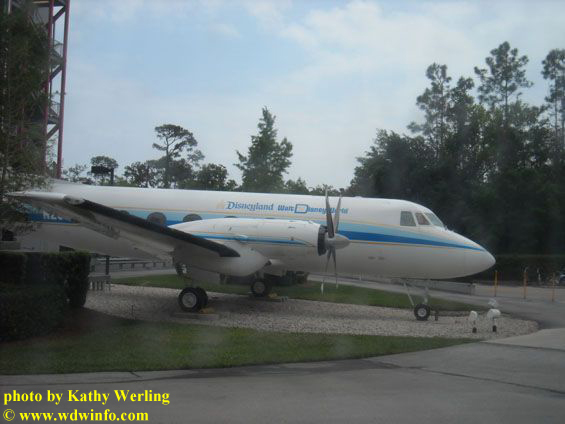 In addition to Marty Sklar, the delegation included:
Dick Irvine – design head of Imagineering
John Hench – Imagineer
Bill Martin – principal designer for the Magic Kingdom
Marvin Davis – master plan for Disneyland and Walt Disney World
Welton Becket – architect for the Polynesian and Contemporary Hotels
Joe Fowler – ran Disneyland
Joe Potter – first employee of Walt Disney World
Dick Nunis – who ran the park
Card Walker – who would later become chairman of the Walt Disney Company
The trip was necessary for everyone to understand the requirements to prime the Florida property for construction.  Upon inspection, there were so many issues to resolve that they left Marty Sklar in Florida.  "They all went home," said Marty, and he spent 3 days flying over the property with a helicopter crew taking still and motion pictures.  At that time the only thing done to the property was the clearing of 100 acres for the site of the future Magic Kingdom.  Sklar explained, "flying over a piece of property like that – 28,000 acres – with nothing on it, nothing on it, was pretty amazing."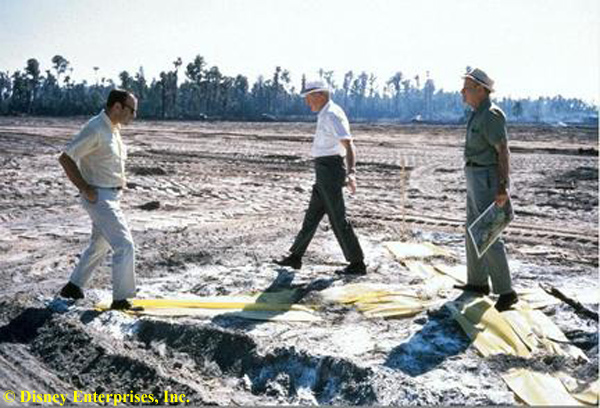 Image: (L-R) Marty Sklar, Welton Becket, and Dick Irvine on the site of the future Magic Kingdom. The "X" marks the spot where Cinderella's Castle will be built.
At August 2011's D23 Expo, Imagineering Legends Bob Gurr and Alice Davis used the words jungle and bug-filled swamp to describe the Florida property.  However, Marty Sklar had a different impression of the property,
"Well, it wasn't really quite that bad.  There were parts of it like that – the Reedy Creek swamp at the south end of the property is still an amazing swamp – so that is pretty much jungle, but there was a lot of high ground too (for Florida).  Yeah, there were a lot of bugs that had to be controlled before you were able to have people on that property, but really I would never describe it as a jungle."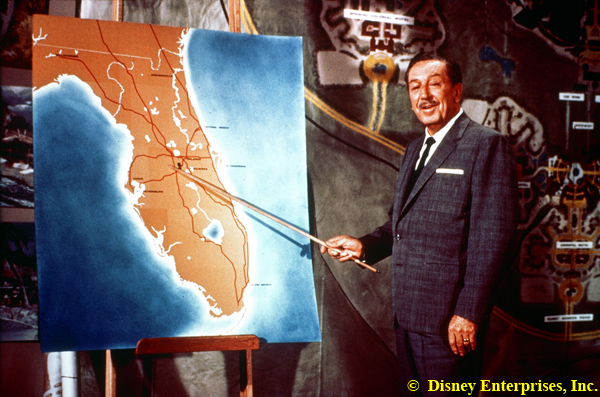 Image: Walt Disney announces the "Florida Project" in 1965
Marty Sklar wrote the script for the 1965 film where Walt Disney introduced the "Florida Project." One thing Walt Disney said when describing this new "Disney World" was, unlike Disneyland, Disney now had the blessing of size – approximately 27,000 acres, 43 square miles, and twice the size of Manhattan.  Besides the vast amount of land in Florida, another unique advantage was water.  Bay Lake was a beautiful natural lake and Disney's Contemporary Resort, Fort Wilderness Campground, and eventually Wilderness Lodge, were all built to play off that water.  The bottom of the lake contained white sugar sand that now makes up the beaches of the area resorts.
Image: View of Bay Lake from Disney's Contemporary Resort.
"Water is a great asset," Marty said, but there were also challenges building in a location with such a high water table.  Sklar described, when they went to build Epcot, the Imagineers found a large sinkhole.  "If anybody ever wonders why there's such a long distance between Future World and the start of World Showcase it's because there's a big sinkhole where we still haven't found the bottom" explained Sklar.
October 1, 1971, the Magic Kingdom opened its gates to a surprisingly small crowd – just under 10,500.  I asked Sklar if the Disney Company was concerned about the light crowds on opening day.  He replied:
"I think the concern was more in the people of Orlando because there had been so much hype about this thing.  In Orlando they expected huge numbers of people, and only a little over 10,000 people showed up.  I remember Don Tatum was quoted in the Atlanta paper saying – 'We're not disappointed at all, we didn't expect a lot of people because we think they got scared off with all the hype.'  Jack Lindquist (who later became President of Disneyland) said we like this kind of thing because it gives us a chance for what we call a soft opening.  It gives a chance to train our people and break in the attractions and be really ready when we have the official opening.  Actually, the official opening was the end of October, so we had almost a month before there was a big television show and the official opening."
When I asked Marty Sklar for his memories of October 1, 1971.  He stated simply, "Well, I guess the big thing was exhaustion.  We were all exhausted, and this being the biggest thing that we'd ever done, it was particularly difficult."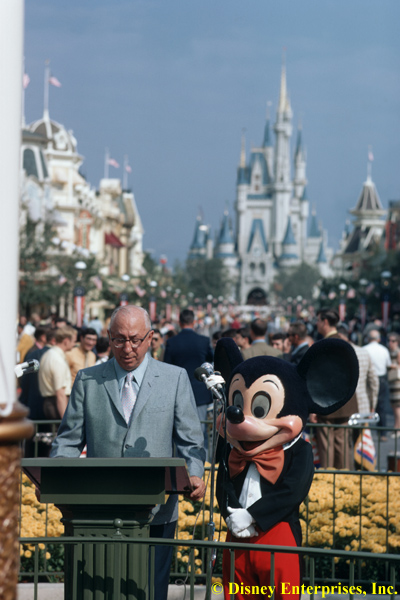 Image: Roy O. Disney reading the Walt Disney World dedication October 25, 1971
However, Marty elaborated on the official opening later in the month.  Regarding Walt Disney World's Grand Opening and dedication, October 25, 1971, Sklar explained:
"I remember the day before opening, Roy Disney practicing for the dedication and he was sitting on the park bench in Town Square and the characters in full costume would come up and sit next to him.  I remembered that a long time later when we went to do a statue of Roy, and I suggested to Blaine Gibson that he do it sitting on a park bench with one of the characters – and he picked Minnie Mouse."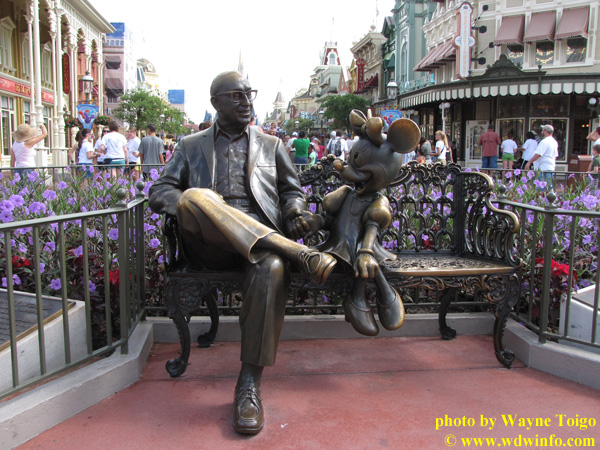 Image: Statue of Roy O. Disney with Minnie Mouse in the Magic Kingdom's Town Square
Roy Disney dedicated Walt Disney World with a speech Marty Sklar wrote.  That dedication plaque paid tribute to Walter Elias Disney, and intentionally reflected the speech read by Walt Disney for Disneyland's dedication in 1955.  I asked Marty if his thoughts were with Walt Disney at the time.  Marty answered:
"Yes, definitely, and I was also thinking about Roy.  Roy was so dedicated to realizing his brother's dream of Walt Disney World.  That's really what I was reflecting on, and also I thought it was important in the words of that dedication plaque saying it's a tribute to the philosophy and life of Walter Elias Disney – because it was."
As Roy Disney labored to make his brother's dream come true, he sacrificed himself in the process.  A mere 3 months after Walt Disney World opened, Roy Disney had a heart attack and passed away.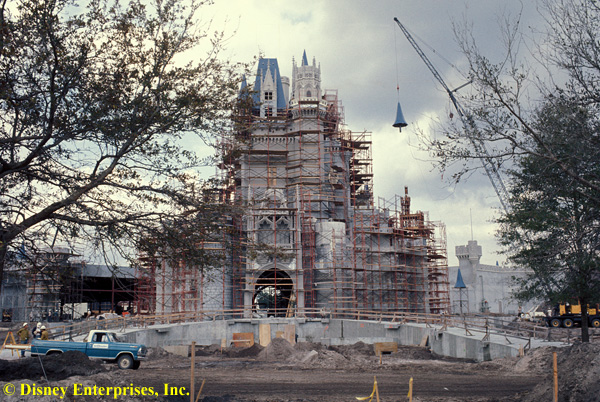 Image: Construction of Cinderella's Castle prior to the opening of Walt Disney World
We finished our conversation discussing whether there was anything scrapped in the planning for Walt Disney World that Marty Sklar would have liked to have seen built.  He replied:
"Well, I think there were a couple of concepts that we had over time.  The first one was almost ready for the site the Grand Floridian is now on – it was an Asian-inspired hotel, and that was a really nice design.  We also had a site near the Contemporary where a Venetian hotel was proposed with canals and I think that would have been a lot of fun.

I think there were a couple of other things that in retrospect we were fortunate we didn't do.  Marc Davis had a grand concept for a Western River Expedition, but it was a lot of 'Cowboys and Indians' and I think in the years that followed that would have not exactly been the right thing to do."
I want to thank Marty Sklar for taking the time to talk with me, reminisce, and celebrate the 40th Anniversary of Walt Disney World.  Disney Legend Marty Sklar retired after 50+ years with the Disney Company as Executive Vice President and Ambassador for Walt Disney Imagineering.  He now serves as president of his own company, Marty Sklar Creative, Inc., and has just finished a draft of his first book, a memoir to be published in 2012.
Category: Disney World