What do you do with a movie musical that receives reviews like "The writers have created cardboard cut-outs instead of flesh-and-blood characters," Variety, "The film's real trouble lies in its pointless, joyless execution," New York Times.  You stage it as a musical… naturally!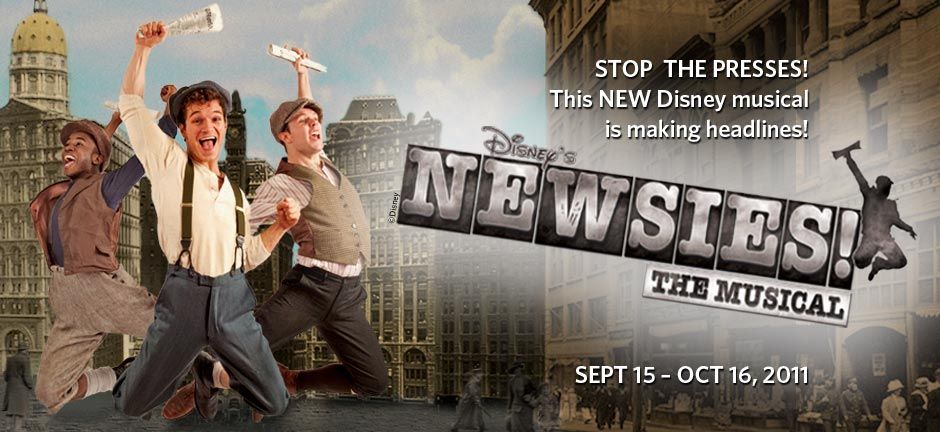 Newsies, which actually did receive those reviews from film critics, has now been re-imagined into a staged musical.  Currently playing at The Paper Mill Playhouse in Millburn, New Jersey, the musical is produced with oversight from Disney Theatricals.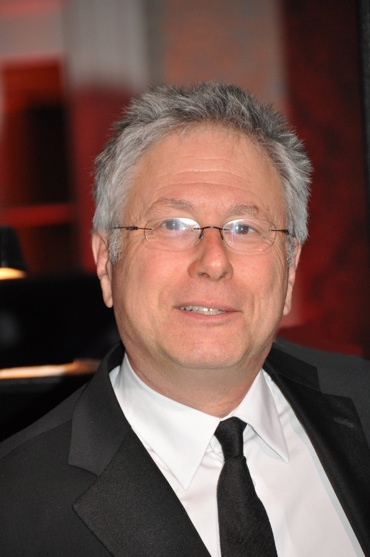 Photo: Broadwayworld.com
This 1992 film cult favorite features a reworked book (which was one of the biggest weaknesses of the movie) by Harvey Fierstein, directed by Broadway veteran and Tony Nominee Jeff Calhoun, and not only six original songs from the movie (which was the strongest element in the film) but also five new songs by Alan Menken and lyrics by Jack Feldman.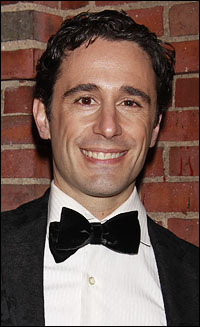 Photo: Joseph Marzullo / WENN
Although the film's choreography was staged by Kenny Ortega, who was also the director, the stage version is choreographed by Broadway veteran and Tony Award Nominee Christopher Gattelli.
"It (Newsies) did nothing at the box office and after it finished bombing at the box office through video and being showing on TV it just developed this cult following, said Menken. "I'd play concerts and things from Mermaid and things from Beauty and I'd play something from Newsies thinking that nobody's going to know it and they'd scream.  I'd say there's something going on here."  What was going on was that there was infectious music, energetic dance numbers, and actually a good story, but it just needed to have been better told.
The creative team took a look at the movie and took it apart to find where the strong moments were and kept them, as well as looked at where the weak moments were and changed those.
"There were a few plot points in the movie that were always bumpy and Harvey (Fierstein) really came up with a couple of brilliant ideas, said Lyricist Jack Feldman.  "They seem sort of simple but when you think about them they have tremendous resonance throughout the whole show.  He solved a lot of the problems of the movie."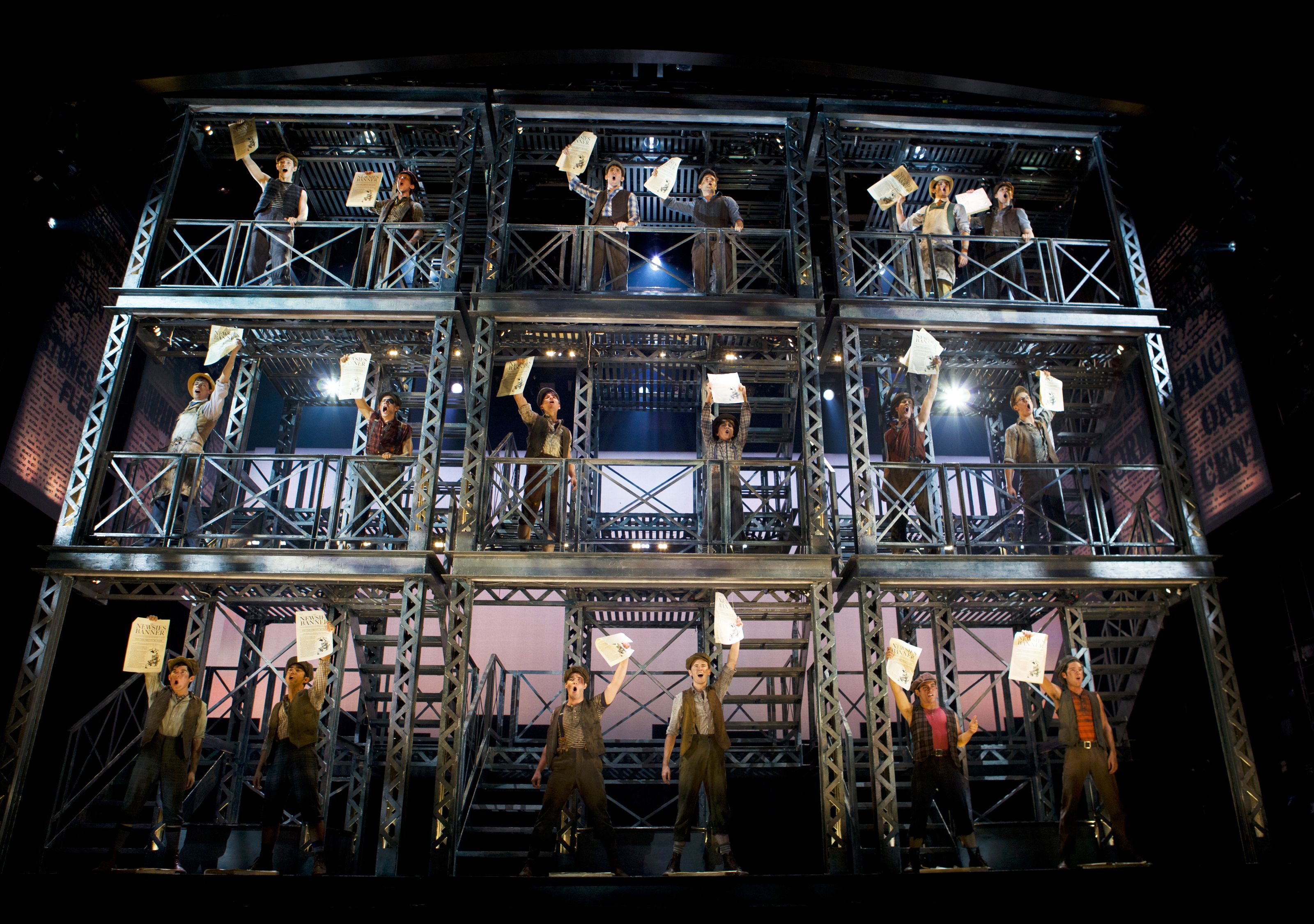 The Newsies, Newsies at Paper Mill Playhouse
Photo by T. Charles Erickson, courtesy of Paper Mill Playhouse
The two biggest assets in the movie were the music and the big dance numbers.  "It really wasn't easy… a lot of the score had a rock / R&B influence thing to fit Kenny Ortega's choreography and also to fit the newsies and their spirit," said Menken.  "There was also a whole turn-of-the-century aspect to it.  How do we deal with that, how do we have Pulitzer sing and how do we deal with those storylines. What do we keep in and what do we take out.  So there was a process of quite a few years of working on the material."
Alan kept six of the original songs from the film although some of them, including Santa Fe, had new lyrics written.  He also wrote five new songs including one for Pulitzer, a new Medda number, a new version of "Once and For All," a new song for the Brooklyn newsies." Menken said the goal was to make the numbers appear as seamless as possible.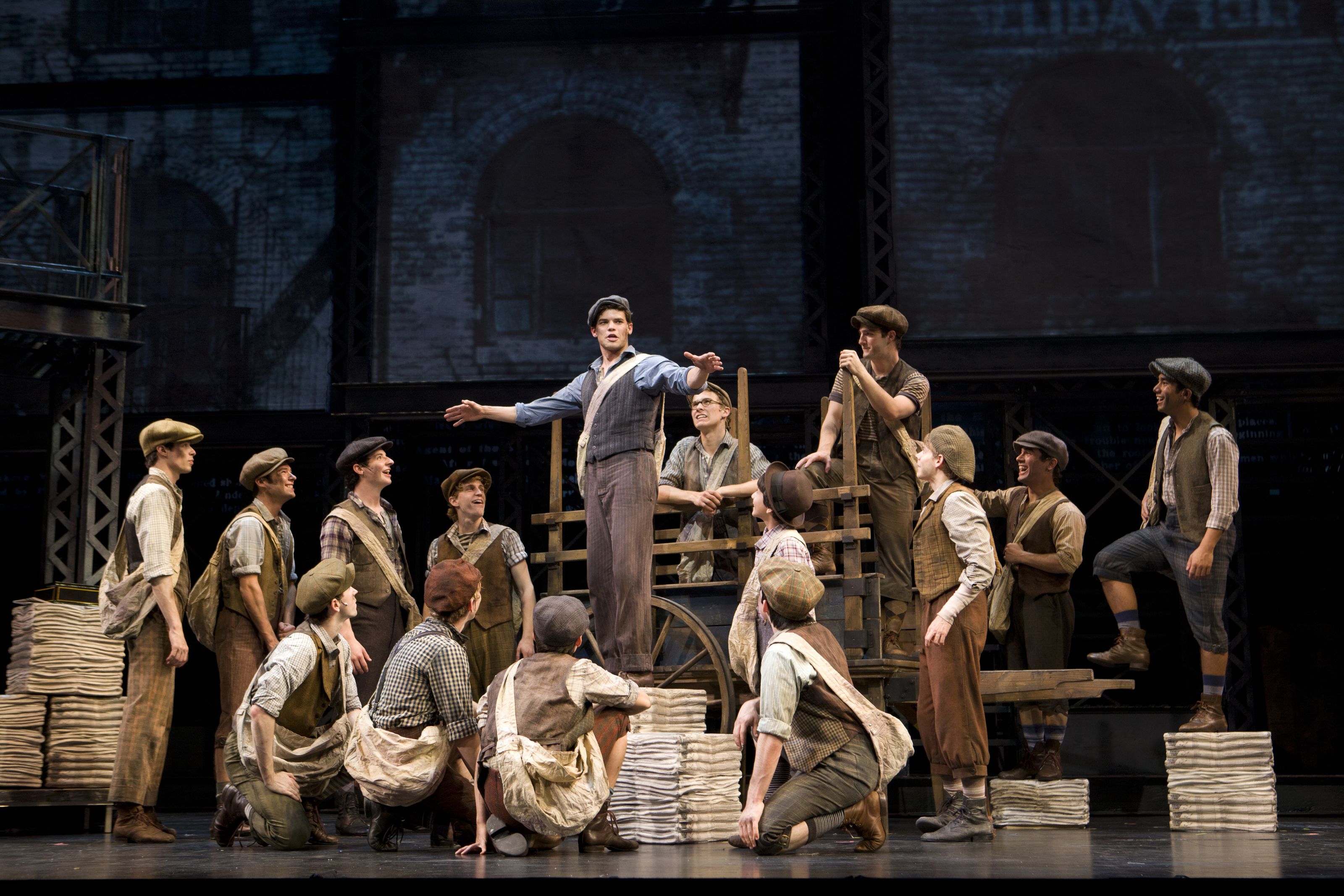 Jeremy Jordan (Jack Kelly) and the Newsies, Newsies at Paper Mill Playhouse
Photo by T. Charles Erickson, courtesy of Paper Mill Playhouse
Choreographer Chris Gattelli has always been known for his athletic, yet graceful choreography and it shows in this production.  "My original intent was Michael Kidd," said Gattelli.  "What would Michael Kidd do?  It (Kidd's choreography) was technical, story-telling; it was masculine, but timeless."  He continues to say, "That to me was the trick to match Alan's music because it takes place in the turn of the century but it's timeless."  This version of Newsies is "a new entity," a new production.  "I am kind of doing my own thing," continues Gattelli.  "But if there is a moment that the guys are engaged too and if we want to tip the hat softly to something Kenny (Ortega) did we will and acknowledge that."
A little history about the real life Newsies, the story itself is true and is based on the Newsboys Strike of 1899.  According to Wikipedia, the Newsboys Strike of 1899 was a youth-led campaign to force change in the way that Joseph Pulitzer and William Randolph Hearst's newspapers compensated their child labor force.  The strike lasted two weeks, causing Pulitzer's New York World to reduce its circulation from 360,000 to 125,000.  The strike was successful in increasing the amount of money that newsboys received for their work.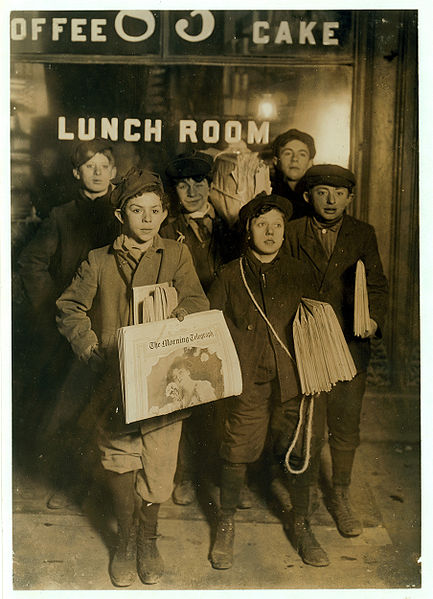 Brooklyn Newsies – February 23, 1908
Photo: Library of Congress, Lot 7480.  Photographer: Lewis Wickes Hine
'Newsies' were the main distributors of newspapers to the general public from the mid-19th to the early 20th century in the United States.  Standing on street corners, walking through neighborhoods and hawking their papers throughout every city, they first appeared with the rise of mass circulation newspapers.  Typically they were the poorest classes of society, often seen sleeping on the streets. The newsboys were not employees of the newspapers but rather purchased the papers from the publishers and sold them as independent agents. Not allowed to return unsold papers, the newsboys typically earned around 30 cents a day and often worked until very late at night.
The New York Times previously reported on newsboy strikes several years before the events of 1899, including those in 1884, 1886, 1887, and 1889.
In 1898, with the Spanish-American War increasing newspaper sales, several publishers raised the cost of a newsboy bundle of 100 newspapers from 50¢ to 60¢, a price increase that at the time was offset by the increased sales. After the war, many papers reduced the cost back to previous levels, with the notable exceptions of the New York World and the New York Morning Journal.
In July 1899, a large number of New York City newsboys refused to distribute the papers of Joseph Pulitzer, publisher of the World, and William Randolph Hearst, publisher of the Journal. The strikers demonstrated across the Brooklyn Bridge for several days, effectively bringing traffic to a standstill, along with the news distribution for most New England cities. Several rallies drew more than 5,000 newsboys, complete with charismatic speeches by strike leader Kid Blink.  In the movie version Kid Blink becomes a secondary character as a new leader, Jack Kelly, was introduced.
Although the World and the Journal did not lower their 60¢-a-bundle price, they did agree to buy back all unsold papers, and the union disbanded.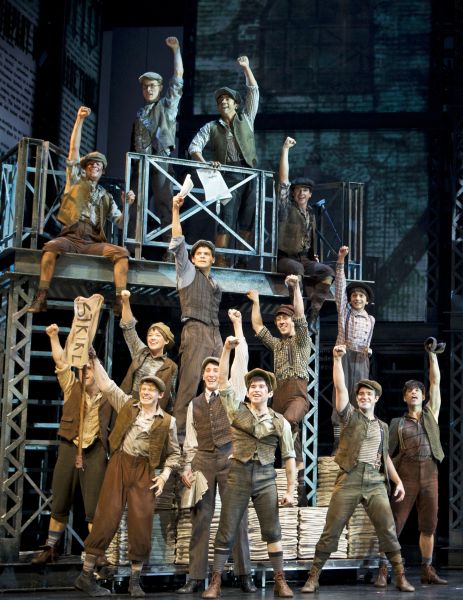 Jeremy Jordan (Jack Kelly) and the Newsies, Newsies at Paper Mill Playhouse
Photo by T. Charles Erickson, courtesy of Paper Mill Playhouse
Newsies the Musical is currently playing at The Paper Mill Playhouse through October 16.  The musical has received positive reviews from theatre critics across the country and as a result the Neiderlander's have expressed strong interest in transferring the show to Broadway.  At this time, it is expected to make its Broadway debut in April 2012.
References
Playbill.com
The View (ABC Television)
Broadway.com
Wikipedia
Paper Mill Playhouse
Imbd.com
Category: Editorials, News