Donald's nephews are at it again.  After creating the wildly popular AquaDuck water coaster for Disney Cruise Line's Disney Dream, they needed to top themselves for the new Disney Fantasy.  In addition to its own AquaDuck, the Fantasy will have a water play area known as the AquaLab.  Continue after the break to learn all about Huey, Dewey, and Louie's experiments in this playful area.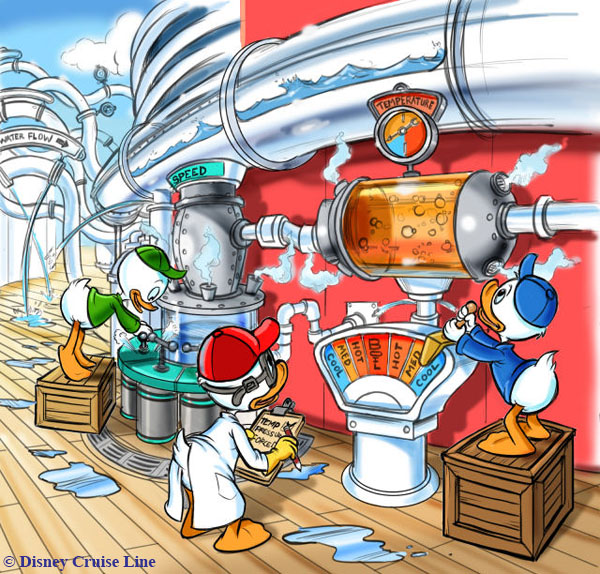 AquaLab will be located on deck 12 of the Fantasy, near the entrance to the AquaDuck water coaster.  There will be an 1,800 sq ft splashground containing water jets, geysers, and bubblers.  The concept behind the new area is that kids can "control" the speed and temperature of AquaDuck by turning wheels and moving levers.  Just be sure not to send Mom and Dad soaring off into the ship's funnel, like Donald's nephews did to him on the Dream.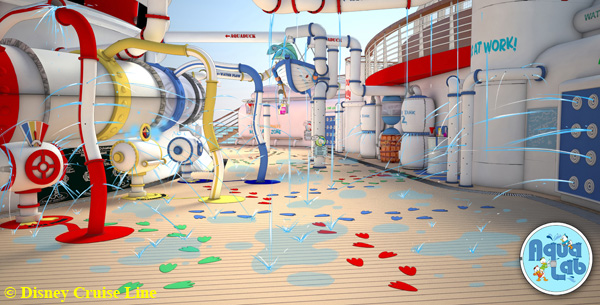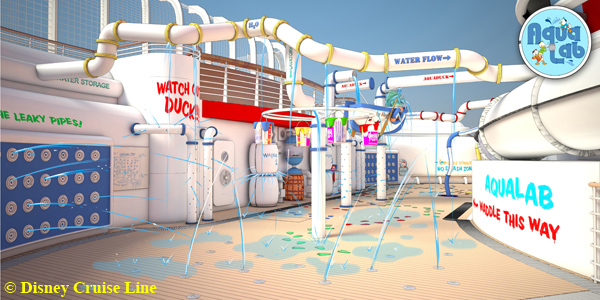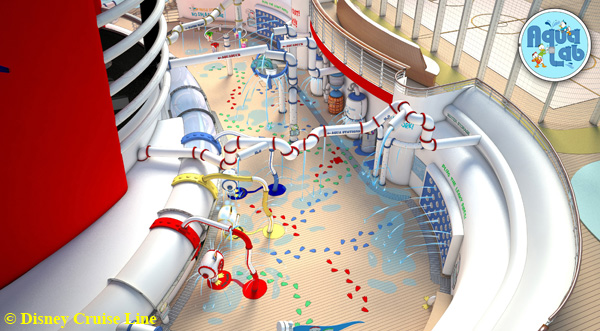 However, it's not just the kids that have their own water play areas on the Disney Fantasy.  Like all Disney Cruise Line ships, there is an exclusive adult pool area with a bar known as the Cove reserved for guests 18 and over.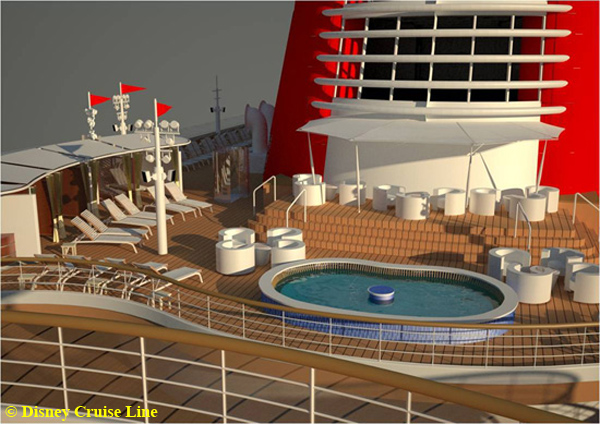 New to the Disney Fantasy will be an area on the Satellite Sun Deck of deck 13.  This adult area features Satellite Falls, a circular splash pool surrounded by benches.  Cascading water running off the faux satellite antenna provides a tranquil retreat for adult guests to relax and sunbathe.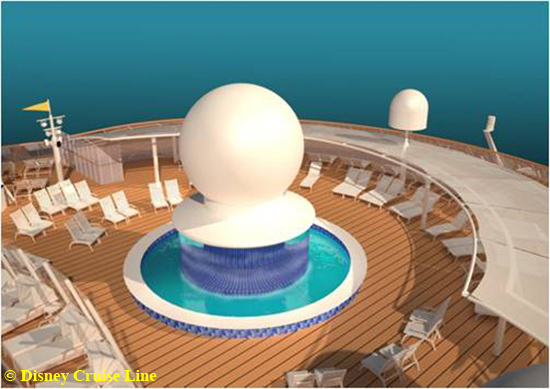 In addition to these water areas, the Disney Fantasy will have many of the features that debuted on other Disney Cruise Line ships such as Donald's Pool with a  30 ft wide "FunnelVision" LED TV, Mickey's Pool with water slide, Nemo's Reef splash area, Goofy's Golf 9-hole miniature golf course, virtual sports simulators, and full court basketball, table tennis, and foosball on Goofy's Sports Deck.
So what do you think of the new outdoor play spaces announced for the Disney Fantasy?  Are you ready to hop into the AquaLab with your kids and turn the speed to "11" to send everyone in the family sailing through the AquaDuck?  Leave a comment below with your thoughts.
Category: Disney Cruise Line