At this summer's Disney D23 Expo, Marty Sklar, retired Executive Vice President and Ambassador for Walt Disney Imagineering, hosted a panel titled "Legends of Walt Disney Imagineering."  The panel included Bob Gurr, Don Iwerks, Alice Davis, Orlando Ferrante, and current Imagineer Kim Irvine (daughter of Disney Legend Leota Toombs).  They reflected on the 40th anniversary of Walt Disney World and how Imagineering was tasked with transitioning the popular attractions of Disneyland to their new setting in Florida.  Continue after the break for more details of this lively discussion, and the role cold Coors beer played in the creation of this new Walt Disney World.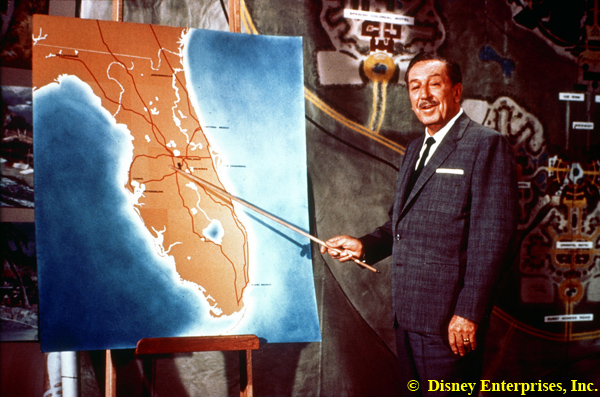 Image: Walt Disney announces the "Florida Project" in 1965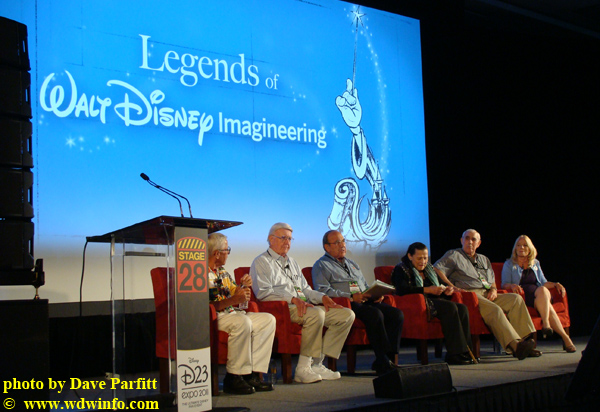 Image: Legends of Walt Disney Imagineering panel (L-R) Bob Gurr, Don Iwerks, Marty Sklar, Alice Davis, Orlando Ferrante, and current Imagineer Kim Irvine
Marty Sklar began the session with a video clip of Walt Disney announcing the project to the people of Florida declaring it the "biggest thing we've ever tackled; we hope that what we develop will be a credit to the state, and a credit to the organization."  Forty years later Walt Disney World certainly stands as a credit to the Disney Company, and is beloved by the state of Florida, if not all of the United States.  To create this new Disney World, Imagineering was challenged to not just replicate the attractions of Disneyland, but come up with new or "plussed" attractions.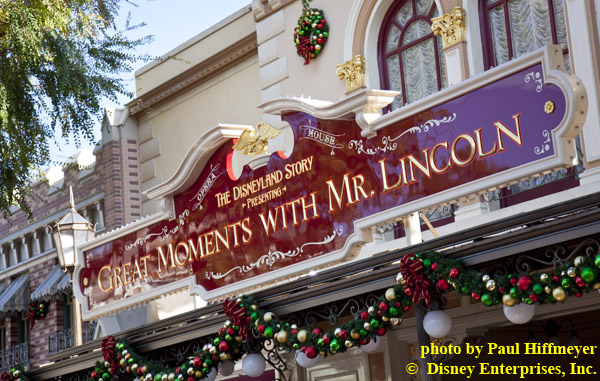 For example, Don Iwerks, son of Walt Disney's longtime animation collaborator Ub Iwerks, described how Disneyland's Great Moments with Mr. Lincoln evolved into the Magic Kingdom's Hall of Presidents.  Iwerks said Walt Disney originally wanted to create an attraction for the New York World's Fair with all the Presidents on stage, but "it was too large, too expensive, so they just went with Lincoln."  For the Florida Project, they now had the space for "what Walt wanted to do."  They were also tasked with projecting images 200 feet wide behind the animatronics.  Don Iwerks elaborated:
"My Dad, Ub, was presented with this problem of a huge diorama with significant points in American history.  We got painters from England to paint large scenes, and then film them with a revolutionary camera – used 35 mm film similar to the motion picture industry."
To give you a sense of the caliber of painters hired by Imagineering, Marty interjected that one day one of them asked to leave work early.  "He didn't say why, then we were watching the Academy Awards that night and there he was.  He won the Academy Award for costume design for Cromwell", said Sklar.  Note: Vittorio Nino Novarese won his second Oscar in 1970 for Cromwell.
In the late 1960's – early 1970's, there was not much infrastructure in place on the property that would become Walt Disney World.  The panel talked about how everything was shipped from points around the country.  Orlando Ferrante set up a separate organization known as PICO (Project Implementation Coordination Organization) just to keep track of the logistics of such a large project.  However, Don Iwerks needled his Imagineering colleague that PICO really stood for "Panic In the City of Orlando."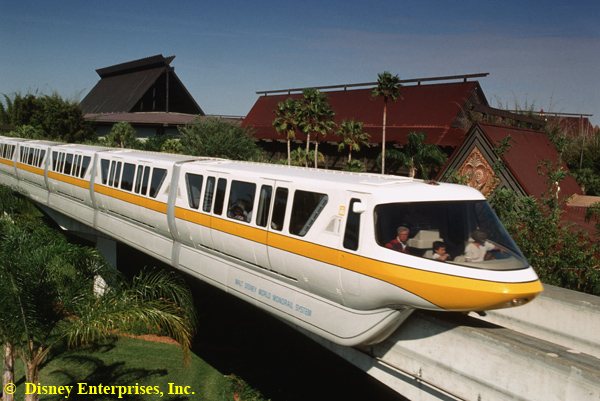 Bob Gurr mentioned one of the challenges Imagineering had to deal with was the Monorail, as the only place the concrete beams and trains could be built was Tacoma, WA.  "I can't think of a further place that you can go, from Tacoma, WA to Orlando, FL.  We had to put them on flatcar beds to get them down to FL – we had hundreds that we had to get down to FL for the opening, and we only rolled two off the trains," added Orlando Ferrante.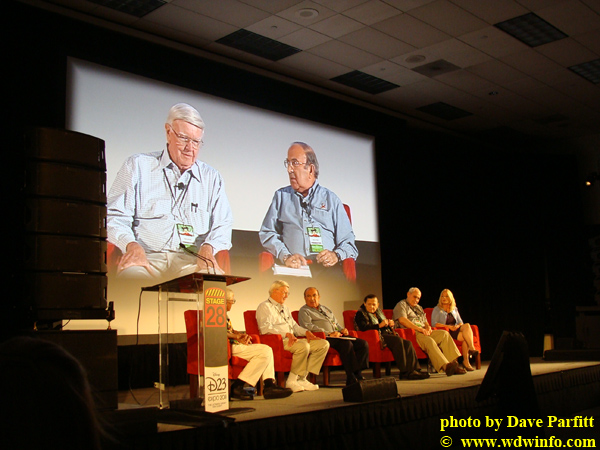 Image: on screen, Don Iwerks (L) and Marty Sklar (R) discuss Walt Disney World's construction with fellow Imagineering Legends
But what about that Coors Beer you ask?  Well, everything was shipped to Florida in huge drywall boxes to the scores of workers who relocated to Florida from the West Coast.  Those people loved Coors Beer, and you simply could not purchase it in Florida.  Don Iwerks said, "I bought cases and cases of Coors Beer and shipped it down to Florida."  Everything was shipped to one person's house, and unloaded into his garage.  This fellow would then sit in a lawn chair, in front of his garage, and wait for everyone to drive by to pick up their 6 pack of Coors.  A little taste of California brought in to Orlando, FL – of which Marty said, "Coors Beer, yeah, that probably saved the whole project."
Keep watching for more stories from these Imagineering legends regarding the construction of Florida's Magic Kingdom and their memories of opening day of Walt Disney World. 
Category: Disney World, Disneyland