Are you one of those families that are only able to come to Walt Disney World once a year, or once every few years?  Have you been forced to choose between Epcot's popular Flower and Garden Festival in the spring and the Food and Wine Festival in the Fall?  Do you have a husband or dad who struggles to find appealing activities at the House of Mouse?  Then, we just might have the perfect event for your family.  The PGA Tour will be on Disney property for the Children's Miracle Network Hospitals Classic October 20-23 at Disney's Palm and Magnolia Golf Courses.  Continue after the break to see how this tournament combines elements of food, flowers, gardens, and golf to make an event that will appeal to everyone.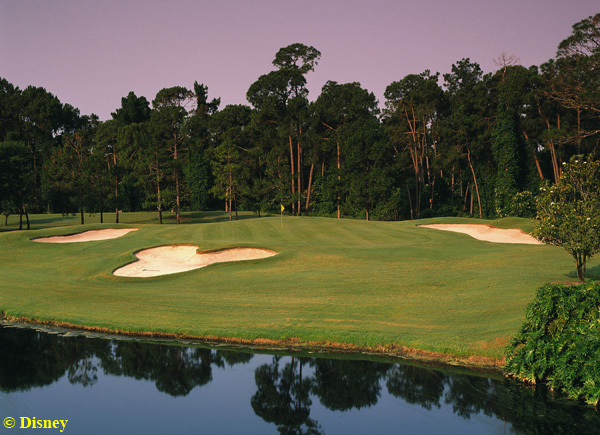 First, some details: this golf tournament is the final PGA Event of the season, and has been held at Walt Disney World going back to the opening of the resort in 1971.  For guests staying at a Disney resort, there is no charge to attend the event as a spectator.  If you are not staying at a Disney hotel, tickets run $10 for a single day or $20 for all 4 days of the tournament.  There is no admission fee for children 17 and under, and there will be free parking at the Magic Kingdom parking lots.
Not into golf?  Maybe you would be interested in strolling the greens to see flowers and topiary displays, and getting that last dose of sun before returning home for that long, northern winter.  Tournament Chairman Kevin Weickel said there will be 9 – 10 different topiary displays set up around the golf course including Snow White and the Seven Dwarfs and many other topiaries from the Epcot Flower and Garden Festival.
Are you more of a "foodie", not so interested in gardens, and maybe put off by the crowds of Epcot's International Food and Wine Festival?  The Children's Miracle Network Hospitals Golf Tournament will also have a "Wine and Dine Walk" set up on the Magnolia putting green.  Five different Walt Disney World restaurants will be set up and offering food and wine pairings throughout the tournament.  All dishes will be in the $4-$7 range, or guests can purchase a booklet for $30 with tickets for 5 food samples + 1 drink.
Featured restaurants and their offerings include:
Plus, don't worry about missing any of the weekend's sports action as a jumbotron will be set up next to the dining area showing all of the golf action plus other sporting events such as the baseball playoffs or Sunday's football games.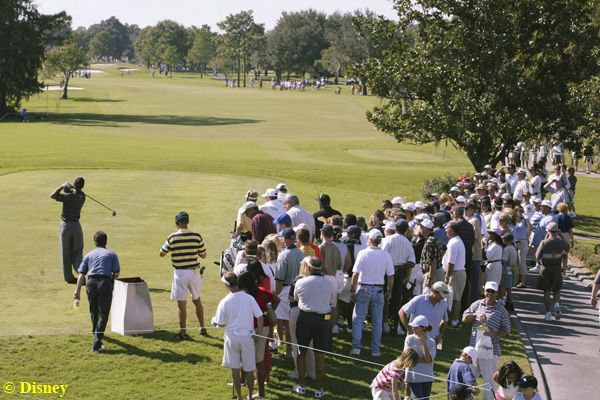 For the true golf fans, PGA players slated to appear in the tournament include: Mark Calcavecchia, Retief Goosen, Master's winner Trevor Immelman, Justin Leonard, and Joe Ogilvie to name a few.  Tournament Chairman Kevin Weickel said, "28 golfers that have won a major PGA tour event are scheduled."  If you're more of a general sports fan, a number of sports celebrities will also be playing in a pro-am Thursday and Friday – the first two official rounds of the classic.  These athletes include Jerome "The Bus" Bettis (pictured below, Pittsburgh Steelers), Alonzo Mourning (retired NBA player from the Miami Heat), Steve Young (retired QB from NFL's San Francisco 49ers), Brian Wilson (MLB's San Francisco Giants), and a number of players from baseball's Tampa Bay Rays including: Johnny Damon, David Price, and James Shields (provided they're not in the World Series).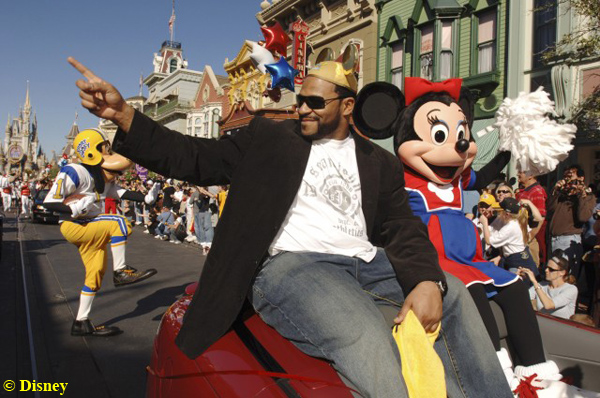 Since 2007, this PGA Tour event has served to raise awareness for the Children's Miracle Network Hospitals.  Over $910,000 has been raised for 170 children's hospitals throughout the country that treat millions of children each year.  Each year the Children's Miracle Network Classic brings a "miracle story" to the tournament to demonstrate the importance of the fundraising efforts.  This year's "miracle kid" (shown in Disney's video below) is Ashtyn Brown who has twice overcome leukemia, battled through numerous surgical procedures, and all the while kept her dream of playing golf alive.  She's currently a freshman on the Ball State University golf team, and will be paired with one of the pros in this year's tournament.
Click here, if you need to order tickets for any round October 20-23.  Finally, there's a limited opportunity to play alongside the pros, but be aware, it comes at a price.  If you are a golfer with an 18 handicap or better and have an extra $8,750 laying around, then you too can play together with the professionals through the first 2 rounds of competition.
If you check out the Children's Miracle Network Classic, be sure to come back, leave a comment below, and let us know what you think.  Our readers would love to know whether this is a good way to get a "taste" of the Food and Wine Festival, Flower and Garden Festival, as well as a dose of sports all in one shot.   
Category: Disney World