Runners ran fleet of foot at this year's Wine & Dine Half Marathon, Relay, and Halloween 5k under brilliant weather conditions.  All 3 races took place on Saturday, October 1st.  The racing events which coincide with EPCOT's Food & Wine Festival drew as many as 16,000 runners from all over world.  Racers had the opportunity to burn off those calories from this year's Food & Wine Festival by participating in one of these Run Disney events.  To learn more about this year's race weekend continue through the page break.
The day started early in the parking lot of Disney's Animal Kingdom as the sun rose over the savanna.  This year's Halloween 5k was moved to the Animal Kingdom to allow for the 40th Anniversary events to take place at the Magic Kingdom.  Several family and friends took to the pathways of the Animal Kingdom theme park to conquer the 3.1 miles ahead of them.  Runners and even walkers found the course to be fun with Disney characters and spooky Halloween sets greeting them along the way.
Later in the evening the Wine & Dine Half Marathon and Half Marathon Relay started at 10:00 pm at the ESPN Wide World of Sports Complex.  Approximately 12,000 runners began their trek through 3 of Disney's theme parks and along several miles of roads inside Disney World property.  Runners were treated to a pre-race party with a DJ and photo opportunities with Disney characters.
As runners made their way out of the Wide World of Sports Complex they were greeted by Disney characters, bands, and Cast Members along the course encouraging them to keep moving forward.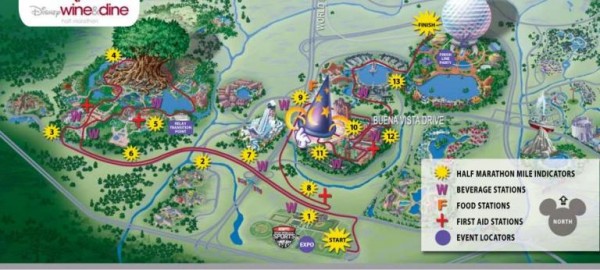 The first theme park stop was Disney's Animal Kingdom where those participating in the Half Marathon Relay met their partners and handed off the baton.  Those running the entire half marathon continued through the Animal Kingdom and onto Disney's Hollywood Studios where they were greeted by more Disney characters, bands, and Cast Members.
The next theme park runners visited was Disney's Hollywood Studios where they were once again surprised with the Osborne Spectacle of Dancing Lights for the second year in a row.  How many more shopping days until Christmas?  Although the entire display was not lit it gave runners additional motivation to continue their trek to the finish line.
Once through Hollywood Studios the finish line was not too far away in the EPCOT parking lot.  Runners made their way through Disney's Boarkwalk and completed their 13.1 mile adventure near the turnstiles to EPCOT where a post race party was waiting for them inside the theme park until 3:00 am.  Attractions like Soarin, Mission Space, and Test Track were waiting for racers to enjoy.  Also open were the 27 booths part of EPCOT's Food & Wine Festival.  Runners were treated to bands, food, and attractions all throughout EPCOT.  Lines were long, but they seemed to move quickly.
Run Disney made several improvements to this year's Wine & Dine race weekend noticable by everyone.  Although there were some problems, like the finish line viewing area which was too small, the race weekend seemed to be enjoyable by everyone.
This year's Wine & Dine race weekend will be remembered by runners who conquered personal stories like weight loss goals, personal best times, or just completing their first half marathon or 5k.  I heard several stories of personal achievement throughout the race evening.  If you are considering racing in a Run Disney event in the future don't second guess yourself because you can do it!  Not only are these events well run, but they are something you'll remember for the rest of your life.
Friend Aaron on Facebook: I accept reader friend requests.
Category: Disney World