Look out!  The day is fast-approaching.  What day you ask?  If you are a Disney parks fan you know full well this October 1st marks a special day.  But wait!  There's more to this day than meets the eye.  It's not only a special day, but a day when the green flag drops and several events start or are right around the corner.  To find out more of what's in store for Disney fans and vacationers starting on October 1st continue through the page break.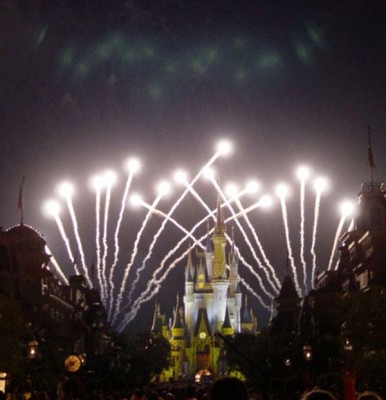 Because there's so much to discuss and I want to be fair about each event, I'm pulling out a special mouse ears hat and putting slips of paper in it with each topic and picking them at random.  Okay…Let's see, we are all set.
Let me reach into the mouse ears and pull out our first slip of paper.  Hmmmm??  Yes!  One of my favorites!
EPCOT's International Food & Wine Festival Sept 30th – Nov 13th
Food, glorious food!  Some Disney fans call this event the most wonderful time of the year.  I know it doesn't start exactly on October 1st, but please allow me the one day grace period.  This event consumes EPCOT for 45 days each year and local residents and tourists come out in droves.  This year's festival will have a lot of the same food booths as in the past along with a few new ones like Hawaii and Jamaica (pass the jerk sauce please).  There's no better setting for a food and wine festival than EPCOT's World Showcase where 11 different countries are on display.  Add in the food and wine booths and now World Showcase comes alive with flavors from around the globe.
I'll be at Walt Disney World the first week of October and plan on spending a good chunk of my time in EPCOT's World Showcase enjoying the festival.  It's my favorite special event at Walt Disney World each year and it shouldn't be missed by anyone who steps foot on Disney property.  Just be prepared to spend some of your hard earned cash because sampling food and wine at the festival is not a cheap proposition.  You may want to consider purchasing a gift card before you start your food and wine tour.  This way you won't go over your budget and paying at the cash registers is much more efficient.
Okay, time to draw another event from our mouse ears.  Let's see, what do we have?
With mixed emotions…..
Walt Disney World's 40th Anniversary Saturday October 1st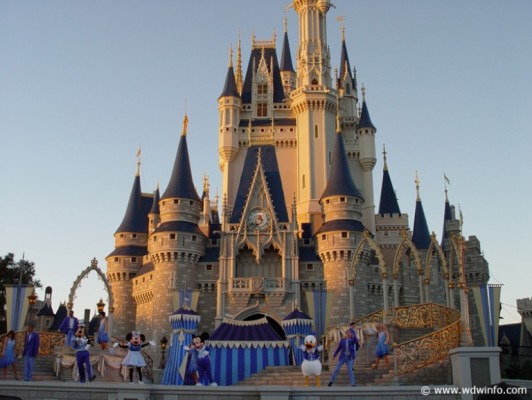 Although I'm happy and grateful Walt Disney World is turning 40 years old this event has me puzzled.  I'll be at the Magic Kingdom on October 1st, but I'm not sure what to expect.  Disney recently made an announcement what events will take place at the Magic Kingdom on October 1st.  Here is what we know so far:
A special 40th anniversary presentation at the Castle stage at 10:00 am

Wishes fireworks with a special anniversary finale at 9:00 pm

40th anniversary cupcakes at the Main St. Bakery and other 40th anniversary merchandise throughout the park
Special artist appearances at Uptown Jewelers and the Diamond Horseshow throughout the day
There maybe a few more surprises in store.  Who knows, maybe Stitch will cause havoc by dropping 40th anniversary confetti all over Main St. USA?  No one really knows for sure.
The Magic Kingdom is sure to be abuzz with several Disney Park fans who understand the importance of a 40th birthday.  Disney has set low expectations for this event and it should be interesting to see what fans think about the activities of this special day.
Time to pull another event out of our mouse ears….Here we go!
Hmmm….How did this get in here?
October 1st – A Time for Local Residents to Visit the Parks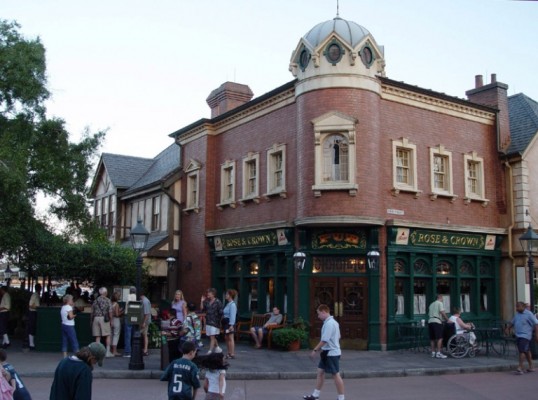 So, you are probably wondering what this is all about.  Trust me, there's a lot of merit to this.  I've visited Orlando several times and have been fortunate to meet a lot of local residents.  Inevitably, our discussion turns to the weather and the local Orlando community.  Most local residents have told me October 1st marks the day when they feel comfortable visiting the theme parks.  Over the hot summer months you won't find many locals braving the heat and humidity.  They'll wait until things cool down and it's more comfortable to walk around the parks.  October 1st is a great day for local residents because the next 6 months provide very comfortable conditions to tour the parks.  Throw in EPCOT's Food & Wine Festival and the Christmas season at Walt Disney World and the future looks bright starting October 1st for most local Orlando area residents.
Back to our mouse ears with only a few event topics left.  It's feeling pretty empty in here.  Let's see….
The Swan & Dolphin Food & Wine Classic Oct 7th & 8th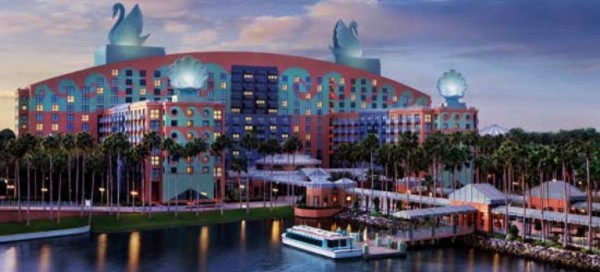 Another solid event, but I'm not sure I can handle more food after touring EPCOT's Food & Wine Festival.  The Swan & Dolphin Food & Wine Classic is a separate event from EPCOT's Food & Wine Festival.  It debuted last year with resounding success.  Several attendees found it to be well run with a lot of food and wine selections to choose from.
This event has food and wine booths setup along the Swan and Dolphin causeway.  The booths are represented by restaurants located inside the Swan & Dolphin hotels like Shula's Steak House and Il Mulino.  You can sample the food and wine at each booth by purchasing individual food and drink tickets or by purchasing a wristband.  If you purchase a food and drink wristband you are free to eat and drink as much as you like throughout the evening.  Also part of this event are seminars and classes that teach you the finer points of wine tasting and beer sampling sure to arouse your senses.
Our last trip to our mouse ears.  Only one more piece of paper left.  I've lost track and can't remember what's left.  Here we go!
Oh!  That's right. How could I forget?
The Wine & Dine Half Marathon, Relay, and Halloween 5K Oct 1st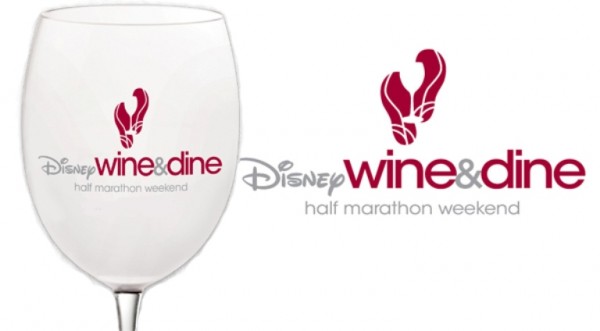 Well, considering all the food we ate from all of the festivals a run or walk seems to fit nicely into the October 1st itinerary.  Last year was the first year for the Wine & Dine races.  There were a few problems with last year's race events, but runDisney has made some modifications this year to try and correct those problems.  This includes opening up all of EPCOT for a post race party after runners cross the finish line late at night.  Last year only World Showcase was open for the party and the lines for food and drink were incredibly long.  We can also expect some attractions to be open inside Future World after the race.  Hopefully, after we run we can fly on Soarin.  Let's hope Disney decides to give runners through Hollywood Studios another treat this year by having the Osborne Spectacle of Dancing Lights on display.  It came as a complete surprise last year.  Our own Dave Parfitt posted a video of last year's Wine & Dine Half Marathon race on the DIS Unplugged blog.
If you are running the Halloween 5K at the Animal Kingdom get ready for some fun.  If this year's 5K is anything like last year, you'll have some great photo opportunities along the race course with Disney characters and other Halloween themed sets.  No matter what race you are participating in get ready to eat, drink, and run, but not necessarily in that order.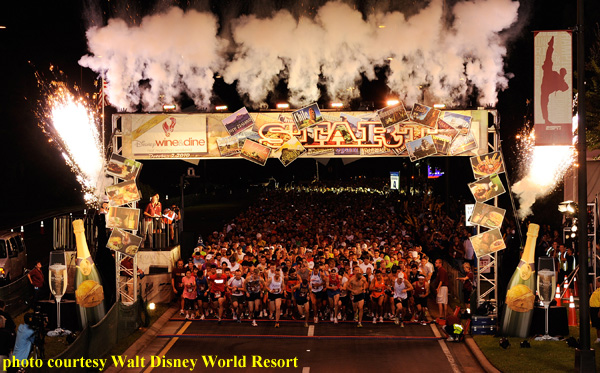 Wow!  What a line-up of events for the first week of October at Walt Disney World.  Sprinkle in Mickey's Not So Scary Halloween party at the Magic Kingdom or Halloween Horror Nights at Universal, which both run all the way through October, and you really have a week full of activities in Orlando's theme parks.
Who would have thought the beginning of October would have so much promise?  Even Disney has reason to celebrate since October 1st starts their new fiscal year.  It's almost like a perfect storm that came together at the right time.  A confluence of events.  It has me thinking….maybe the first week of October will rival the weeks leading up to Christmas as the most wonderful time of the year at Walt Disney World.  Do you agree?  Please feel free to leave a comment.  What is your favorite time of the year at Walt Disney World?
Friend Aaron on Facebook: I accept reader friend requests.
Category: Disney World