Relax!  Slow down!  What's your rush!?  There's no need to hurry.  We're staying onsite at Universal Orlando.  Talk about your non-typical theme park vacation.  From the moment you arrive at one of the three Universal Orlando onsite resort hotels, your worries are whisked away.  If you are accustomed to the "commando" theme park vacation experience where Mickey Mouse reigns supreme you'll find an almost 180 degree about face at Universal Orlando.  The words "commando touring" don't exist here.  It's all about slowing down and going at your own pace.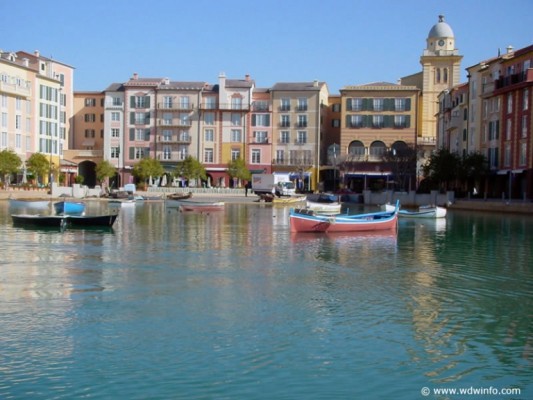 Picture this!  It's 8:00 am, your eyes open and instead of jumping out of bed with your hair sticking up in the air and frantically shaking your family members while they are in their second dream you simply roll back over and decide you need another hour of shut-eye.  If you are a resort guest at Universal Orlando not only is this possible, but you won't feel any of the guilt associated with missing your opportunity for early morning short lines at popular attractions.  At Universal Orlando guests staying onsite have power and control over their vacation with unlimited Universal Express line access.  Universal Express is a separate attraction line exclusively for resort guests or for guests who purchase a separate Universal Express booklet.  As a resort guest staying at one of the three onsite resorts you are allowed to enjoy the Express line as much as you would like.  Consider yourself a super hero because no other theme park vacation transforms you from Clark Kent into Superman all for the price of a one night resort hotel stay.
Universal Orlando has three onsite resort hotels all in the deluxe resort category; the Royal Pacific Resort, The Hard Rock Hotel, and finally the crème de la crème the Portofino Bay Hotel.  Let's take a brief look at all three.
The Royal Pacific Resort
Welcome to the South Pacific.  The Royal Pacific Resort was Universal's attempt to bring the island tropics of Polynesia to Orlando.  To Universal's credit they didn't focus specifically on Hawaii.  Their primary focus and inspiration for this resort comes from the isle of Bali, although you will find other touches from other parts of the south pacific islands.
The resort has 3 interconnected towers.  There are different views from Standard or garden to a theme park view of Islands of Adventure (my personal favorite view).
The Royal Pacific Resort's amenities and accommodations are not up to par with the other two onsite resorts, however it still provides a nice feature pool and other amenities you would typically find in a four star resort.  There are plenty of restaurants to choose from including world recognized chef Emeril Lagasse's Tchoup Chop a favorite of many resort guests.  Another resort guest favorite is the Wantilan Luau where you can experience a South Sea's luau with all the trimmings.  So get your grass skirt on because the Royal Pacific Resort will transport you to the South Pacific in a big way.
The Hard Rock Hotel
Rock on!  The world renowned Hard Rock Hotel brand arrived at Universal Orlando in the late 1990s.  The rock and roll theme is carried throughout the resort with classic rock and roll artwork in the lobby and on the common area walls.
One of the main features of this hotel is the pool area.  Guests who stay at the Hard Rock won't be disappointed and may spend more time at the pool than at the theme parks.  The rock and roll theme even goes into places you'd least expect.  Kids and adults who decide to go 3 feet under in the pool will continue to hear rock and roll music.  Speakers were strategically placed at the bottom of the pool for guest's rock and roll enjoyment.
The Hard Rock Hotel is full of great restaurants to enjoy.  Even the open, but covered Beach Club pool bar is a great place to unwind with a snack and a drink.  If you are a resort guest on the last Thursday of the month be sure to check out Velvet Sessions.  This special event takes place in the hotel lobby with a scheduled rock and roll performer or band to entertain the crowd.  Velvet Sessions is a hard-ticketed event that includes food and drink along with the entertainment.  Don't forget your guitar and drum sticks because the Hard Rock Hotel will turn you into a rocker in no time.
The Portofino Bay Hotel
Simply put, this is the best of the three onsite resort hotels at Universal and arguably the best hotel in all of Orlando.  The Portofino Bay Hotel transports you to the seaside village and cobblestone streets of Portofino Italy.  This resort is so authentic you'd never know you were staying at a hotel in Orlando.  It's picturesque with a lot of great photo opportunities.  If you love the Italian style scenery of Venice and Portofino Italy you'll certainly fall in love with this resort.
Everything about this resort appears to be a step better than its sister on property resorts.  Even the food choices and other amenities are "kicked up a notch".  This hotel even offers a selection of pools to choose from.  If you are looking for a quiet pool experience, or a more adult pool experience the Portofino has the pool for you.  Although this hotel's feature pool does not best the feature pool at the Hard Rock Hotel, it's still a great place to visit and enjoy an afternoon in the sun.
Walking along the hotel's shopping and dining promenade you'll find some authentic, Italian inspired experiences – including my personal favorite restaurant in all of Universal Orlando.  Mama Della's Ristorante is a great place to enjoy a casual Italian meal in an atmosphere comparable to mama's old world Italian kitchen.  It's so authentic you may feel the urge to bottle your own tomato sauce when you get home.
If you are looking for a more upscale and romantic resort experience the Portofino is probably the hotel for you.  Get ready to be transformed from the theme park capital of the world to old world Italy and La Dolce Vida.  Ciao!
Transportation Options
Like any upscale resort Universal provides its guests with a couple different transportation options from your resort to the theme parks and CityWalk.  There are 3 ways to get around the resort if you are a hotel guest at one of the 3 onsite resorts.
Water Taxis
This is the most popular transportation option among resort guests.  Each hotel has a boat dock where water taxis pick up guests all day and night and transport them back and forth to CityWalk.  Once you disembark at CityWalk you can easily walk to one of the two theme parks.  Water Taxis usually arrive at your hotel within 20 minutes if not sooner.  Some hotel routes operate 2 water taxis at once so wait times and guest capacity meet expectations.
Shuttle Buses
Universal Orlando operates a couple of shuttle busses between the resorts and the theme parks.  Each resort has its own shuttle pick-up location.  The shuttle buses will drop you off near the entrance to Universal Studios.
Shuttle pick-up times can vary depending on weather, guest capacity, and other traffic considerations.  Universal says to expect a shuttle every 30 minutes or sooner.
The shuttle is a great option if the boats appear busy or if inclement weather has shut down water taxi service.  You may also want to consider taking the shuttle bus after the theme parks close when most resort guests flock to the water taxis.
Walking Paths
Each resort at Universal Orlando comes equipped with a very well landscaped walking path to CityWalk and the theme parks.  Many guests choose to use this option on sunny days when a nice stroll seems like a great choice.
If you choose to walk to the theme parks you should understand the proximity of the resorts to the theme parks.  Here's a quick description of where the resorts are located on Universal property.  You can always look at the resort map for a visual description of where everything is located.
The Royal Pacific Resort – About a 10 minute stroll to CityWalk.  This path drops you off near Jimmy Buffet's Margaritaville and close to the entrance of Islands of Adventure.
The Hard Rock Hotel – This hotel is the closest to the theme parks and provides you with the shortest walk.  The pathway from this hotel drops you off right near the entrance to Universal Studios theme park.
The Portofino Bay Hotel – This hotel is the furthest away from the theme parks and is the longest walk to the action.  A walk from the Portofino hotel to CityWalk can take you 20 minutes.  The walking path drops you off near the entrance to Universal Studios theme park.
Benefits and Perks
Finally!  We've made it to the section that encompasses what a Universal Orlando vacation is all about.  The reason most visitors to Universal Orlando stay onsite is for the resort benefits.  Many guests will tell you the room rates are inexpensive when you factor in the resort benefits.  Let's take a snapshot look at a couple of the most popular benefits of staying onsite.
Unlimited Express Line Access
The phrase "This changes everything" comes to mind when discussing this onsite resort benefit.  It's the best theme park resort benefit anywhere in the world.  I'll even go on record by saying this benefit has helped increase Universal Orlando's hotel occupancy by fifty percent since the resort expanded in 1998.  I'm talking about unlimited express line access.
Each attraction at Islands of Adventure and Universal Studios (except Hollywood Rip Ride Rockit and Harry Potter and the Forbidden Journey) has a separate line for guests who have express line access.  As a resort guest all you need to do is flash your valid room key and enter the Express entrance.  Your wait for the attraction will probably be less than 10 minutes.  Think about it!  If you are only waiting less than 10 minutes per attraction this frees up your day to do other things like shop, eat, or relax by the pool.  The days of your commando theme park vacation are over.  You'll feel like a VIP as you walk past guests in the regular, stand-by lines that may be longer than the Pentagon hallways.  On busy days during the peak season or the hottest months of the year breezing through the theme park from attraction to attraction is a huge advantage and is worth just about every penny of your hotel room rate.
The advantage of this resort benefit can not be stressed enough.  It literally changes the way you'll vacation at a theme park.  Suddenly, you will have gone from up at dawn and hurry, hurry, hurry to sleeping in, relaxing, and moving at your own pace.  It's a 180 degree spin on a theme park vacation.
Early Admission to the Wizarding World of Harry Potter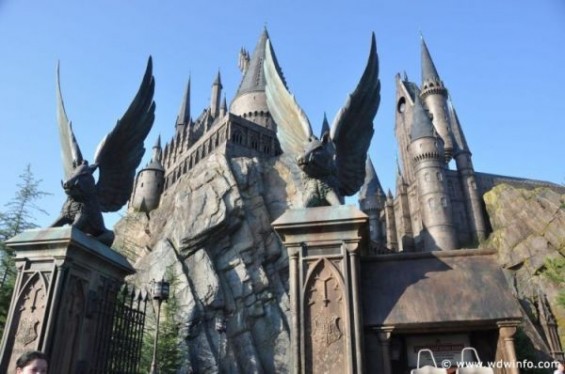 As a Universal Orlando onsite resort guest you'll have the opportunity to enjoy the incredible theming and atmosphere of the Wizarding World of Harry Potter inside the Islands of Adventure theme park 1 hour before the park opens to regular guests.  As previously mentioned Harry Potter's signature attraction, Harry Potter and the Forbidden Journey does not have Universal Express Line access.  However, since you will be allowed into this land 1 hour before regular park guests you'll be able to enjoy this attraction with limited wait times.  Additionally, the other areas of the land, like Ollivander's wand shop, will be less crowded.
The Wizarding World of Harry Potter has been incredibly popular since the day it opened in June of 2010.  Do yourself a favor by staying onsite at Universal Orlando and enjoy the wonderful atmosphere of Hogsmede Village before the rest of the universe invades Islands of Adventure.  And while you're at it feel free to enjoy a frozen Butterbeer at 8:00 am in the morning.  There's no better way to jumpstart your day.
Priority Seating and First Available Seating at Select Restaurants
It's 6:00 pm and you are starving.  The only problem is all of the restaurants at Universal Orlando or the one you wish to dine at are overflowing with guests.  Wait times are insane, but because your stomach is yelling back at you, it's worth checking-in at the restaurant podium.  If you are a Universal Orlando onsite resort guest just show the host or hostess your valid room key.  This will give you priority at some restaurants and first available seating at other restaurants.  This policy varies at different onsite restaurants so make sure you ask the host or hostess their particular rules regarding priority seating.
Other Resort Benefits
Here are a few other onsite resort benefits worth mentioning.
– Complimentary water taxi and shuttle bus service from your resort to both theme parks and CityWalk.
– Complimentary delivery of resort purchased merchandise directly to your room
– Resort-wide charging privileges with your room key card
Conclusion
As you can see there's a lot to consider when staying onsite at Universal Orlando like what resort fits your needs or what do I get to enjoy as an onsite resort guest?  You may even ask yourself where are some of the best dining locations located across property?  Universal Orlando is no longer just a theme park.  It has grown into a vacation destination full of special events, two theme parks, an entertainment and dining district, and much, much more.
Are you a fan of Universal Orlando?  Do you have some tips, tricks or suggestions to share about staying onsite?  Please feel free to add them to our comments section below.  We'd love to hear yours.  Do you have questions about a Universal Orlando vacation.  Please visit our Universal Orlando forums on disboards.com.  If you are considering a trip to Universal Orlando please read this article about how to save money during your vacation.  It will help you understand the resort room rates for each of the three onsite hotels and why they are priced differently.
Remember, like any theme park vacation, you need to plan no matter how relaxing a trip may be.  Even though your pace at Universal Orlando will be at your leisure you'll still want to research the best dining locations, the best attractions, or what special events are scheduled during your vacation.  Planning is still a must, but you'll feel a whole lot better knowing no matter what happens during your Universal Orlando vacation as an onsite resort guest you'll have it made in the shade.
*Special Note – On Saturday evening, December 10th 2011 from 9:30PM until Midnight the DIS and Dreams Unlimited Travel is renting out the Wizarding World of Harry Potter.  You can be a part of this very special event.  All of the event details along with very special onsite resort pricing before, during, and after the party can be found here.  All of the onsite resort benefits are included with this special pricing.  We hope to see you there.
Friend Aaron on Facebook: I accept reader friend requests.
Category: Disney World, Universal / Sea World, Universal Orlando