Last week, the DIS Unplugged received a special package from our friends at Universal Orlando Resort.  However, this present was more of a trick rather than a treat.  It would seem Lady Luck, the icon for Halloween Horror Nights 21, wants to give the DIS a "hand" in covering this year's event, and invited us to "try our luck" at the media event on Friday, September 23rd.  Continue after the break for the special gift and invitation from Universal.

The package started off unassuming enough – a simple black box, tied with a bow, with my name emblazoned on the gift tag.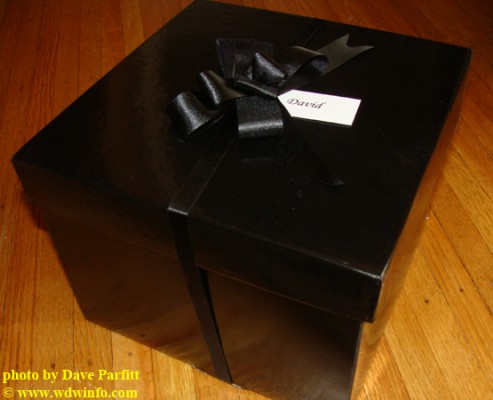 However, upon opening, it became quickly apparent something more sinister was afoot (or is that a-hand).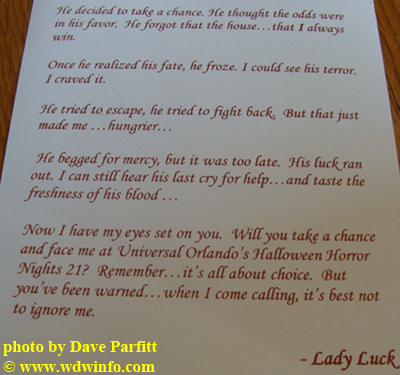 A letter came with the package signed by "Lady Luck" herself that read:
He decided to take a chance.  He thought the odds were in his favor.  He forgot that the house… that I always win.

Once he realized his fate, he froze.  I could see his terror.  I craved it.

He tried to escape, he tried to fight back.  But that just made me… hungrier…

He begged for mercy, but it was too late.  His luck ran out.  I can still hear his last cry for help… and take the freshness of his blood.

Now I have my eyes set on you.  Will you take a chance and face me at Universal Orlando's Halloween Horror Nights 21?  Remember… it's all about choice.  But you've been warned… when I come calling, it's best not to ignore me.

Lady Luck
Opening the tissue paper revealed one, last remnant of the victim who dared to take a chance on Lady Luck.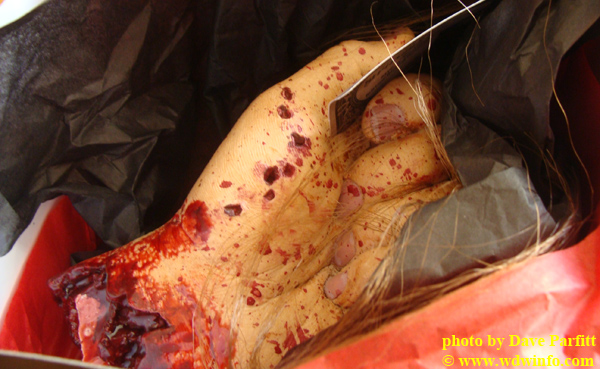 The hand still clutched one final card and a shock of hair pulled from the scalp of Lady Luck herself.  Bite marks show just how hungry Lady Luck was for blood.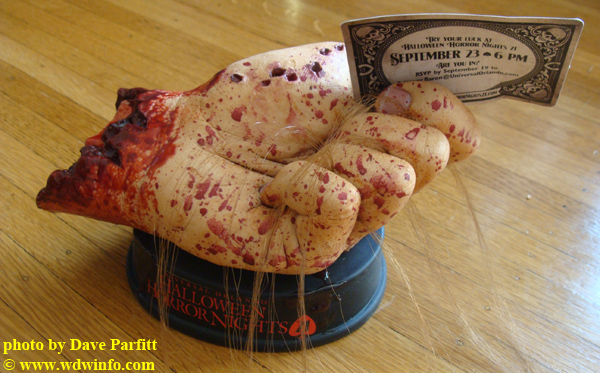 I'll "hand" it to Universal.  The level of detail in this media invite is astounding.  The skin is pliable, the bite marks match the grisly smile we've glimpsed of Lady Luck, and the hair, blood, and bones protruding from the wrist are a nice touch.  We're taking Lady Luck up on her offer, and will be there to cover the opening of Halloween Horror Nights 21.  Stay tuned to the DIS for photos from the event.  Halloween Horror Nights runs for 25 nights from September 23 – October 31 – click here for more details.
Will you be trying your luck at this year's Halloween Horror Nights?  Luck be a Lady tonight… luck be a lady tonight… luck if you've ever been a lady to begin with… luck be a lady tonight!  Leave a comment below to let us know what you think of Universal's Halloween Horror Nights.  
Category: Universal / Sea World, Universal Orlando