Excitement has been growing in the Disney fan community for the opening of Disney's Aulani Resort and Spa in Hawaii.  On Monday, August 29th the first stand alone Disney resort not connected with a theme park opened to the public.  One of our Hawaiian DISboards members, Jeff Oh (DISboards username mkymsehi), was on hand for the opening, and submitted this report for the DIS Unplugged.  Continue after the break for a full account of the atmosphere for Aulani's opening day.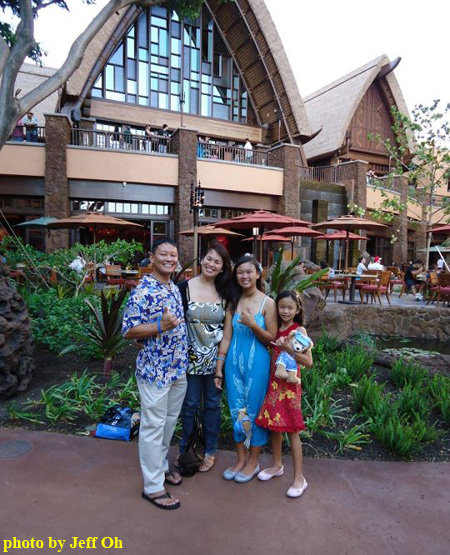 Written by Jeff Oh on August 29, 2011:
We arrived in the mid-afternoon to Aulani.  We were greeted with "E Komo Mai Hale." (Welcome Home).  Everything looked and smelled new.  Today was the Grand Opening, and we were there just to visit and take it all in.  Prior to this, we had visited the Disney Vacation Club (DVC) model units, and had a perimeter tour while still under construction.  Our first of two stays will be this upcoming month.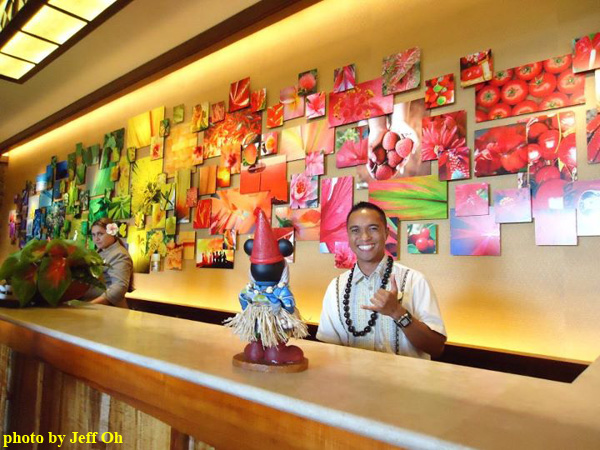 After taking in the main hall, we walked around the viewing deck with overlooks the outdoor dining/bar area.  Further away we could see the lazy river, and volcano mountain.  We went back through the lobby, and passed the concierge and front desk areas, and the children's waiting room (TV, and a few fun activities).  There are hidden Mickey's, and hidden menehune's all over the place!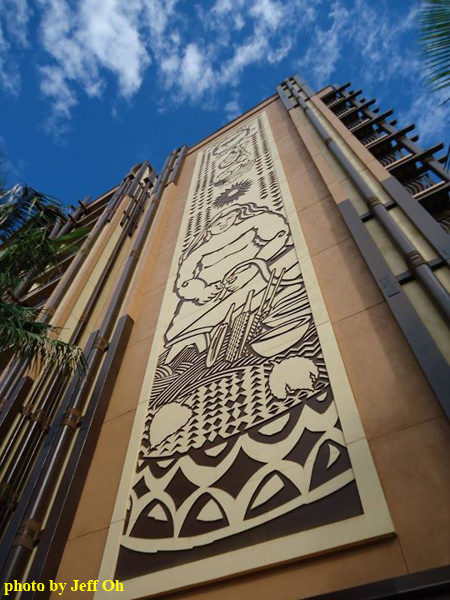 From there we found ourselves at the keiki(children's) pool playground.  It was created with lots of imagination.  My girls wanted to jump in, despite not having our swimsuits with us.  Let me just say, the pools and hot tubs are EVERYWHERE you turn.  Waterslides, river float, hot tubs, wading pools.  And let's not forget the beach cove just a few yards away.  I would guess there is an acre and a half or more of water activities.  Tons of lounge chairs, and still lots of room left despite it being very crowded.  According to one of the lifeguards, wristbands are issued at check in.  That's how they enforce hotel guests using the pools, vs. day visitors.  Towels are available in several locations around the pool.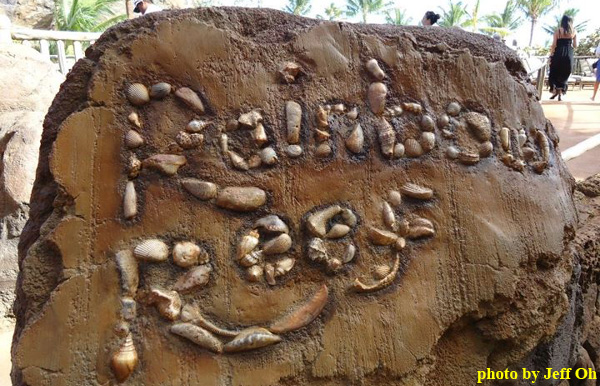 Then there is a pay-to-enter saltwater snorkeling pool.  In one area you can look through the windows and see all the tropical fish, and an occasional swimmer go by.  Pretty neat.  WARNING: It's pricey either by the day, or length of stay price.  There is also a sting ray attraction that is free.  But it seems like they open and close it throughout the day, to give the rays a break.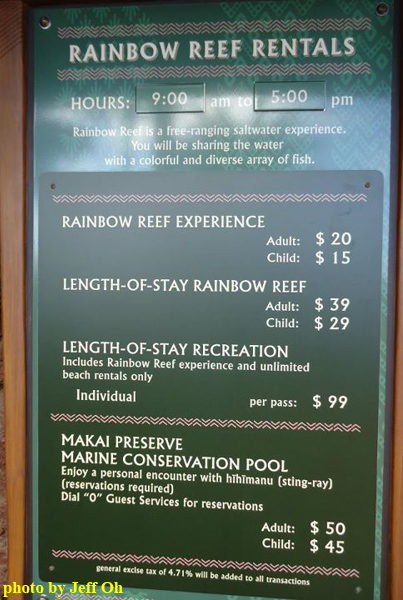 Naturalists are there to give talks about the rays.  Kids will love this.  There is a bar to one side of the outdoor area, and guess what?  Another pool!  Near this bar they have an evening hula show.  We caught the very end of the act after dinner, and it was pretty good.  It's crowded, so get there early to find lawn seating.  On the other side of the vast pool area is another bar and the restaurant, 'Ama 'Ama.  We were going to dine there so we continued touring knowing we'd come back that way.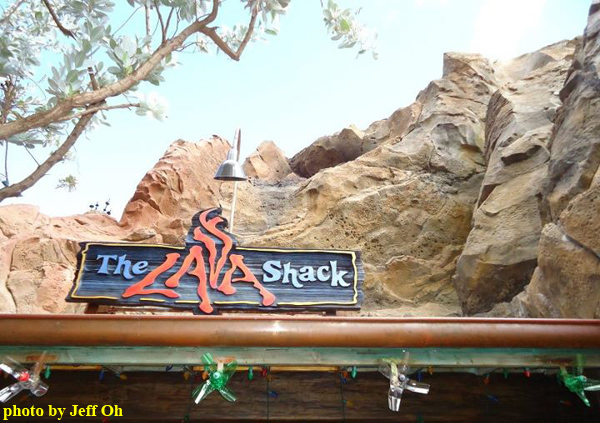 We ventured into the keiki's Auntie's Beach House.  Think the Oceaneer's Club aboard any Disney Cruise ship.  If you are staying at the resort, there are lots of free, fun activities for the kids.  There are several rooms within the club, with lots of space for the kids to roam.  You just sign them in, and leave them as long as they want to stay.  You are issued a pager to get buzzed should they want to come out, or in the event of an emergency.  Very cool.  Now for you Adventurer's Club enthusiasts.  There are artifacts from the Pleasure Island Adventurer's Club that completely decorate the movie room inside the Auntie's Beach House.  So either you have to enroll your child to go see it, or take a complimentary tour.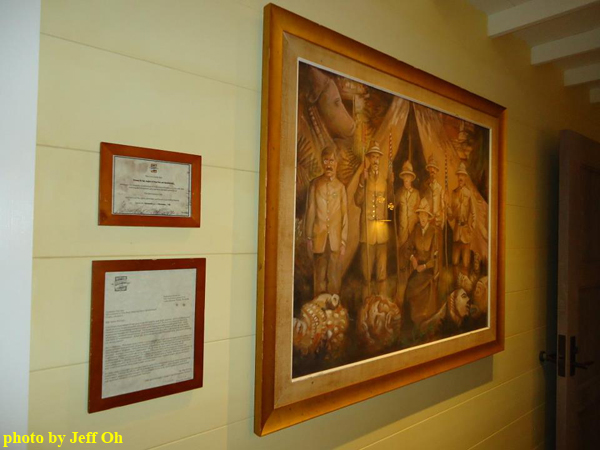 While walking around, we saw a LONG line for photos with Mickey, Minnie, and Stitch.  It was around 6 pm outside, and I knew there was no way we were going to stand in line and still make it to dinner.  My girls were fine with standing off to the side, watching everyone else battle for their turn.  And of course, there are Photopass opportunities all around the resort!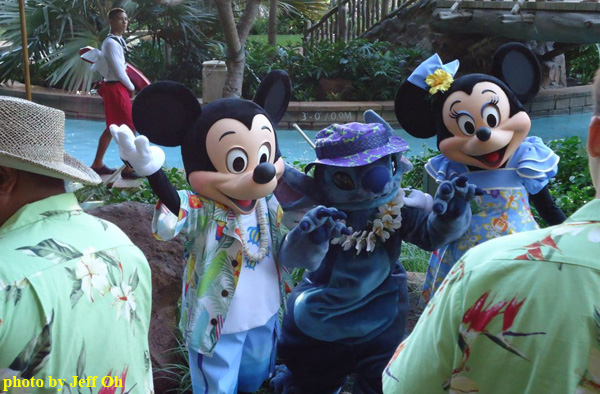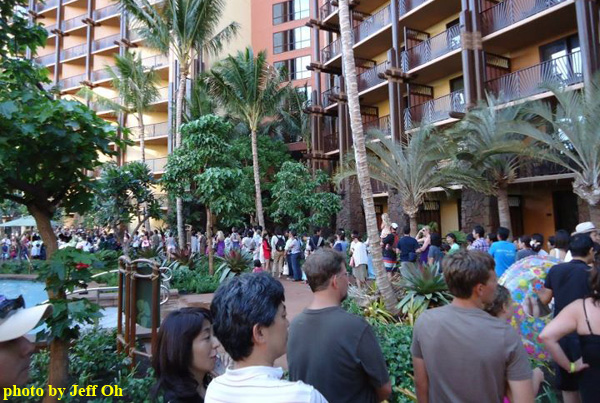 Also for the family to explore, is an interactive scavenger hunt.  You get a PDA device, and you go hunting around for magical things.  Very similar to Mission Kim Possible at EPCOT.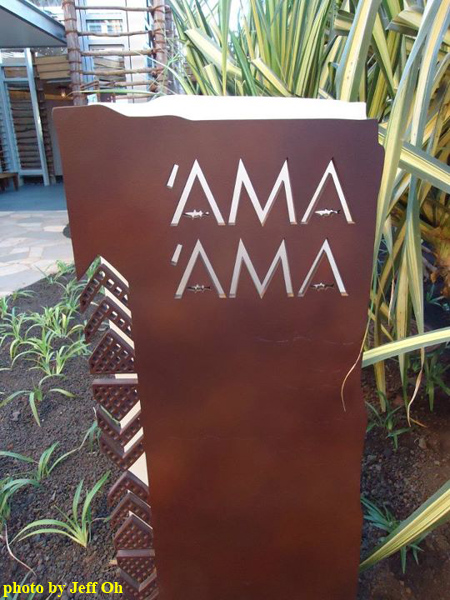 Now, back to dinner.  The ambiance was great, as we were seated just before sunset.  The food was very tasty, but for the prices, my appetite wanted more food.  I had a "French" Maui Onion soup, seafood stew, my wife had the market priced fish, and my keiki had the ravioli and steak off the kids menu.  Throw in dessert and a cocktail, and of course the check goes up.  I wasn't shocked by the sticker price, having seen the menu online in advance.  There are two other restaurants, one a buffet, and one a quick service take out menu.  I think all together there are three bars.  There is a shave ice stand, and a small curios store near the volcano.  Following dinner we took a final stroll near the beach cove, and there was Hawaiian music being played by a trio, and a really nice firepit (propane) to sit by.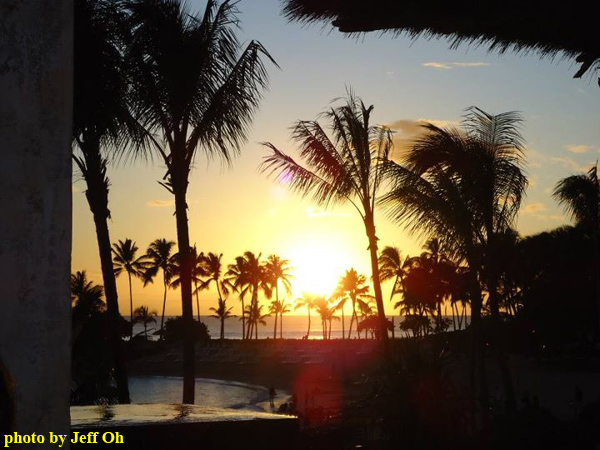 We hit the gift shop, and left with some pretty cool grand opening day, and DVC member merchandise.  Because of the crowd, most Aulani items had signs that said "2 items per guest."  Pins and vinylmation were big sellers.  I didn't see anyone leave the store without some package in hand.  Pin trading takes place with any Cast Member working the cash register.  They have pin books that you can look through.  I already see a lot of the merchandise is already up for bid on eBay.  The craziest thing I did see was the refillable soda mugs.  $32.99 for the length of stay.  Uh, seriously?  Folks, stop by the COSTCO or market in Kapolei, and pick up your groceries there.  It's 10 minutes down the road.  Or, pay a little bit more than the market, and shop at the ABC store across the street in the Ko Olina shopping center.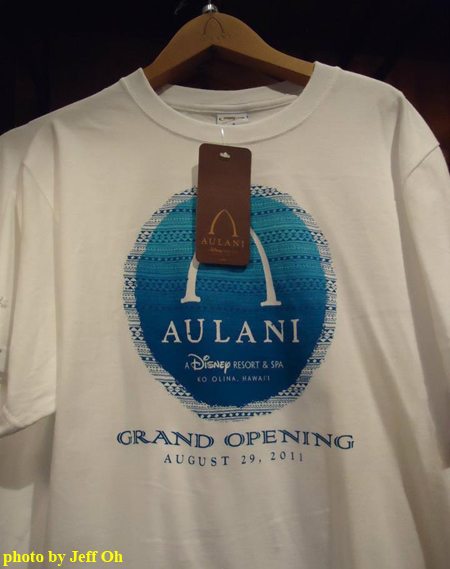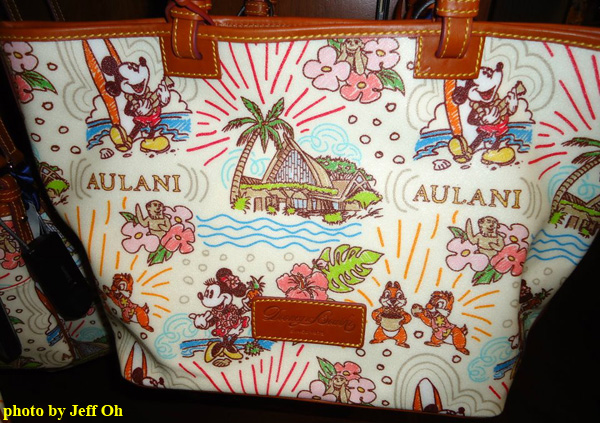 Self parking at the Aulani resort was free for four hours if you spend $35 on food, drink, or souvenirs.  Parking was completely FREE to DVC club members.  Just show your card to the valet desk.  They scan your ticket, and you put it into the electronic machine at the exit to lift the gate.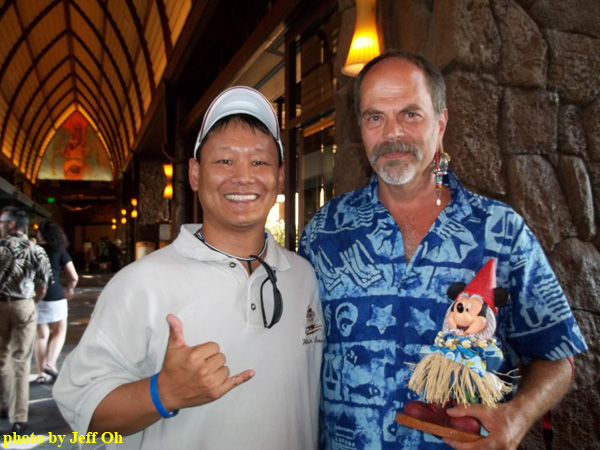 Highlights, we met Imagineer Joe Rohde and Vice President Djuan Rivers.  Both took a few minutes to talk to us, and really made us feel welcomed.  Both were engaging with my girls, and made the greeting very special.  We got photos with both of them.  One minor disappointment was that there are no DVC members discounts in the stores or on dining.  We were told maybe in the future, but no discounts at this time.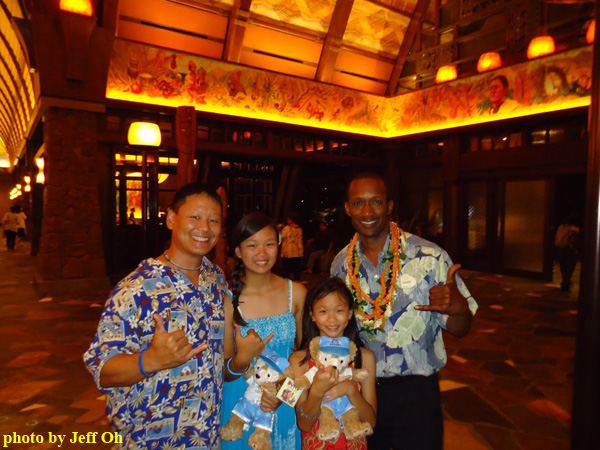 We didn't check out the Spa or the teen's activity lounge.  We left those for next time we are there to explore even further.  I hope you enjoyed this review.  If there is anything else I can answer for you, just ask.
I want to thank Jeff Oh for taking the time to send in his perspective on the Opening Day at Aulani.  His photographs look stunning, and I cannot wait to someday see the resort in person myself.  What do you think about the opening day experience at Aulani?  How about that line for photos with Mickey, Minnie, and Stitch?  Would you pay $33 for a refillable mug for soda?  Please leave a comment with your thoughts below. 
Category: News