Our final day of the cruise is a sea day as we sail back down the 'inside passage' towards Vancouver.   I hate the last day of a cruise, and I hate the last day of an Adventures By Disney trip, so today I shall be known as "Hatey McHaterson" (which is normally Walter's name as he is old and crotchety and was voted most likely to yell "get off my lawn" to local children).   So, I spent most of the day miserable.  The spa kept calling to see if I wanted another massage, which really pissed me off.  Of all the things I don't want on a vacation, telemarketing phone calls are REALLY high on the list.  I know where the spa is, I know what they do there, I know how much it costs and if I want a damn massage, I'll book one – now leave me alone (Bitter – party of 1).
This is also the day where I constantly wonder aloud "why don't my clothes fit in my suitcase anymore"?    For some reason it seems as though the clothes that fit just fine in my suitcase only a few weeks before have become fat and lazy (much like myself) and weigh more after a cruise (much like myself) and seem to have developed a desire not to go home (much like myself).  And no, it's not the extra stuff I bought (we purchased another suitcase for that).  I think it has to do with the fact that before the vacation I'm excited and carefully folding every pair of underwear and each individual sock – as opposed to the last day of a cruise when I'm miserably throwing everything into the bag like a petulant child.   This is also the point in the vacation where I'm most likely to sound like a drunken sailor as I scream obscenities at my suitcase, at Walter, at the lousy on board internet service.  See, like I said – Hatey McHaterson.
In between packing and bouts of depression over the final day of the trip, we would hear yelling outside our cabin.  No, not in the hallway, but off the balcony.  This is a common occurrence on this cruise and it only means one thing – there's some kind of wildlife in the water.   Yet again, a HUGE pod of dolphins was swimming alongside the ship.  And this time, they stayed with us for what seemed like 30 minutes.  Walter and I grabbed cameras and just started shooting like crazy.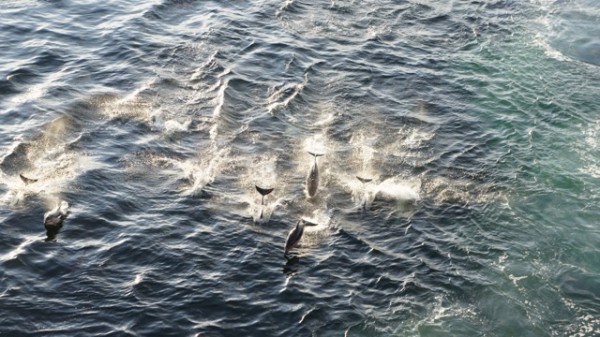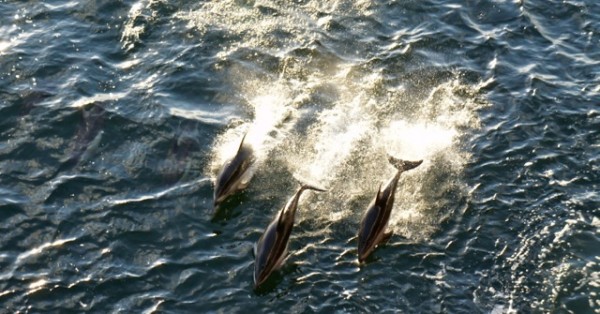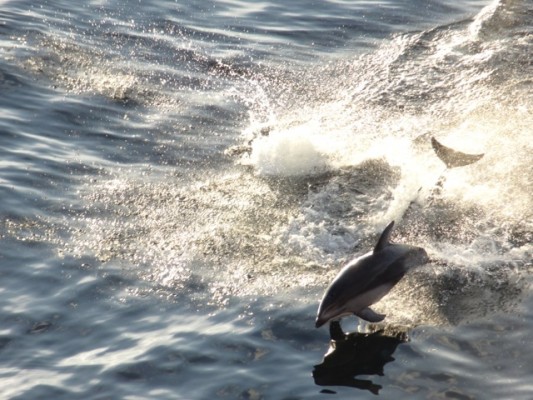 It is customary on the last night of any Adventures by Disney trip to have our 'farewell reception'.  I hate this the most of any part of an ABD trip.  I'm not good at 'good-bye'.   I start every ABD trip leery of the 'new people' and by the end of the trip, I feel like we're all friends.  Despite best intentions and solemn promises to the contrary, I know I won't see most of them again and it's a realization that makes me sad.  The upside is that on almost every trip there are one or two couples that Walter and I 'click' with – and this trip was no exception.  I think we made a few friends that will be part of our lives for a long time – so I take more than a small measure of happiness in that.  Part of the reception involves watching a slideshow of pictures that our ABD guides have taken during the trip.  Instead of a 'Farewell Reception" this should be called the "Salt in the Wound Reception".  It wouldn't be so bad if these ABD trips weren't so good.
The morning of debarkation is handled really well.  Groups are cleared based on the characters assigned to them on their luggage tags.  Announcements are made whenever a particular group is clear to leave the ship and this is really effective at keeping the whole process orderly.  Upon leaving the ship, you need to clear Canadian customs.  Since Walter and I live in separate residences we each need to fill out a separate customs form and present them separately.  Walter went first, answered the questions posed to him and was sent on his way.  I followed right behind, answered the questions posed to me and was sent on my way – that is until we tried to actually leave the terminal.  This is when we were informed that we had been selected for additional screening and were shown to a room that I imagine doubles as the torture chamber for Canadian Customs.  I'm pretty sure that involves the playing of Anne Murray albums.
Two Canadian customs officers greet us and tell us they'll be going through our suitcases.  I'm fine with this – if your job involves having to rifle through my dirty underwear, you have it worse than I do.  We're asked to surrender our passports, and as we do we're asked if either of us has any kind of criminal background.  We tell the officer no – neither of us have ever been arrested or in trouble with the law, to which he responds "it only makes it easier on you if you're honest with us".  We reiterate, if somewhat indignantly, that we have no criminal record.  The officers retire to an office when another one appears to swab us for drug residue.   This is one of those moments when I'm really glad I'm living a clean and sober life.   After a few minutes the customs agents return and tell us that during the initial questioning after leaving the ship, Walter told the customs officer he was traveling alone.  When asked the same question, I said I was traveling with him.   This is one of those things Walter does that makes me want to beat him about the head and neck.  Fortunately, after a brief check on our passports, we were free to leave.
Now, for some inexplicable reason, I scheduled our flight to Los Angeles for about 7 hours after we left the ship.  Don't ask me why.  We headed right to the airport after leaving the ship (and customs).  When we arrived at the airport, we saw there was a Fairmont Hotel at Vancouver International and we decided to take a room for the day just so that we could relax, take a nap and have some lunch instead of waiting in the terminal.  This was a great choice and a beautiful hotel.  It's actually ranked as the #1 airport hotel in North America, and #5 in the world – so if you find yourself at Vancouver airport with an afternoon to kill, this is a great option.
Our flight to Los Angeles was on Alaska Airlines, who is a code-share partner with Delta.  Unfortunately, that's about all they share with Delta.  While the gate agents and flight attendants were very nice (most of them), the entire experience was really kind of crappy and I don't imagine I'd go out of my way to fly them again anytime soon.  However, that's what I said about Delta years ago and now I love them – so I must always remember that things can change.
Without question this was a spectacular trip.  The cruise on its own was amazing, but the Adventures by Disney add-on made it unforgettable.   The ABD add-on really gave the entire trip a depth and scope we could never have duplicated on our own.   I came away from Alaska with an entirely new definition of 'beauty' and a sincere desire to return.  I'll be booking my Alaska trip for next year very soon.  You should too!!
Tips and observations:
Okay, I've made you sit through 8 days of these blogs, so I will condense my advice to some bullet points :
1)   Most important – a balcony stateroom on this cruise is a MUST.   You'll be warmer and more comfortable watching the passing scenery from your balcony than you will be on deck 10.
2)   If you're looking for interesting and different shopping venues, wait until you get to Ketchikan.  Skagway and Juneau had the same stores you see in every cruise port, and the 'unique' shops tended to be very high end.  We found a lot of interesting, local pieces in Ketchikan at reasonable prices.  This does mean walking a little off the beaten path, but the town has some great shopping.  If you're like me and want something special to remind you of a trip, this is your best bet.
3)   While the 2012 Alaska sailings will be going out of Seattle, it is rumored that 2013 and beyond will be back in Vancouver.
4)   As you all know, DCL food pretty much sucks.  To minimize the suckiness of your dinner, request something like "no salt during cooking" or something else that will force them to cook your meal to order.  DCL proudly states that meals are "Plated to order", meaning they put the pre-cooked food on the plate when you order it – so does McDonalds.  If you tell them you can't have any added salt or some other requirement that forces them to cook your meal to order, you stand a better chance of not having a 2 hour old entrée.
5)   To DCL vets this is going to sound obvious, but PLEASE book your Palo brunch online as soon as your booking window opens.  You can only book this (along with Palo dinner, spa appointments, shore excursions) once your cruise is paid in full.  Palo brunch is a real highlight of the cruise and it is also the hardest reservation to get because there is very limited seating.  They only do brunch on sea days and they only seat about 150 people per brunch.   If you don't book in advance then you must be among the first people on the ship and head right to Wavebands before you do anything else.  They hold back a certain number of seats for brunch and dinner and they usually fill up within the first hour of embarkation (sometimes sooner).
6)   While DCL recommends some very nice hotels in the cities they sail from, they tend to be the most expensive around.  TripAdvisor.com is your friend.   I used TripAdvisor to find the Wedgewood Hotel and Spa in Vancouver and I'm glad I did.  It was $100 per night less than what DCL was offering, and the hotel and service were first class.  If you're using DCL transfers, you're limited to DCL approved hotels.  The bellman at the Wedgewood had a cab waiting for us when we checked out, loaded our bags and we were at the port in 10 minutes for far less than what a DCL transfer would cost.
7)   If you have an early flight out on the day of debarkation, you need to let DCL know that.  They clear the ship based on luggage tags and we've heard stories of people who had 12:30 pm flights that did not get off the ship until 10:30 am.
8)   Binoculars!!!  Buy them before you leave home.  They do sell them at the port, and on board the ship, but you're paying a premium.  Even if you never use them again after the cruise, they will be worth the purchase.
9)   Bring warm clothing with you – hats, gloves, scarves, etc.  The day at Tracy Arm Fjord alone is bone chilling, and if you're taking the sailings earlier in the season (May/June) many of the days in port will be colder.
Adventures by Disney tips
1)   Have US dollars with you before you start your cruise for your ABD guide tips.  Every ATM I came across on this trip had outrageous fees and limited withdrawals to $200 regardless of what your bank allows.  The suggested tip for an adventure guide is $7-$9 per person, per guide, per day.  So, for a 7 day adventure for a party of 4 that would be between $200 and $250 per guide.  Of course, you can always tip more than that.  Keep in mind that tips for guides CAN NOT be charged to your onboard account.
2)   Make sure you take every 'official' DCL picture you can on board.  In addition to a CD of all the pictures taken by your guides throughout the trip,  ABD will also provide you with a CD of any picture taken on board by official ship's photographers.  This includes pictures taken in the dining rooms, in Palo, with characters, on formal night, getting on and off the ship, etc.  Anytime you see an official Disney photographer – take the picture!!
3)  Adventures by Disney makes it possible to experience multiple shore excursions at each port – something you could not do on your own unless you hired a private car and tour guide.  Even then, you would never experience all the extra 'Disney' touches.  While the ABD add on is not inexpensive, I can definitively say it's worth each and every penny they charge.  If you really want to make your Alaskan Cruise a once-in-a-lifetime event, Adventures by Disney is the only way to go.
Previous blogs in this series:
Category: Adventures by Disney, Disney Cruise Line, Disney World