It was a Saturday morning – hot as the sun on the Savannah.  Animal Kingdom hot.   It set the mood, as Disney's El Capitan Theatre, in Hollywood, was transformed into the Serengeti for the premiere of The Lion King 3D.
I was invited to work the green grass carpet and give you interviews with some notable names, from those directly involved with The Lion King to up and coming Disney Channel and ABC stars.   Producer Don Hahn, Supervising Animators  Mark Henn and Tony Bancroft, young Nala's voice Niketa Calame, Ramona and Bezus actress Joey King, Pair of Kings actor Geno Segers, and actor Antonio Sabato Jr. were all among the stars I interviewed.
So click on the link below to access our video and join me as I take you along on the green carpet!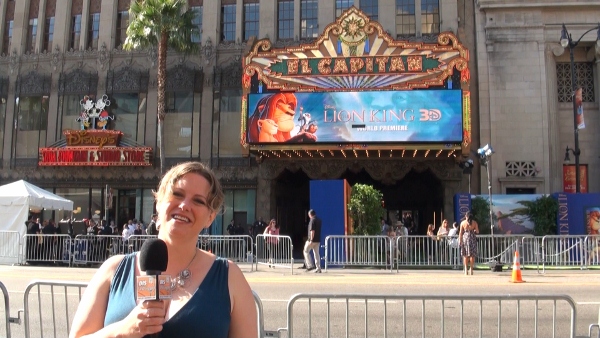 To answer the burning question – "What was the movie like?", I'll tell you that the 3D actually enhanced the film.  It's also not one of those 3D movies that has the distortion when you remove your glasses.  So if you are looking for a touch of old Hollywood, the El Capitan Theatre is a classic place to see a Disney feature film and a great addition to any Southern California vacation.   In fact, if you are in town between September 16 and October 6, 2011, you can have the same experience that I did – minus the glow of all those stars!  Who knows?  Maybe you'll even see a movie premiere of your own happening right in the neighborhood!
The accompanying music track, Pesa Mpya, was graciously provided by Nasambu and the Mystic Nomads.
Video by K.Willey, I. Johnson, and N. Johnson.
Category: Disney World, Disneyland, News
Disneyland Podcaster for the DIS Unplugged