Skagway is the first opportunity we had to leave the ship. As we were pulling in, we were immediately met by a sea lion who was swimming around watching us dock while playing with a fish he had caught. He wasn't eating the fish mind you, just holding it in his mouth, letting it go, then catching it again. He seemed to be having a great time – not so much for the fish I gather.
As we were told, the weather is very unpredictable in Alaska, and the weather forecast is not always reliable. The weather forecast for today was light rain and overcast – and this time it was reliable. It rained most of the day today – not a torrential downpour, but enough to notice. The funny thing about Alaska is that while overcast or rainy weather is certainly not preferred, it does very little if anything to detract from the overall beauty. That will give you some idea of how stunning this place is.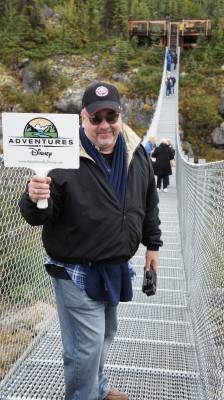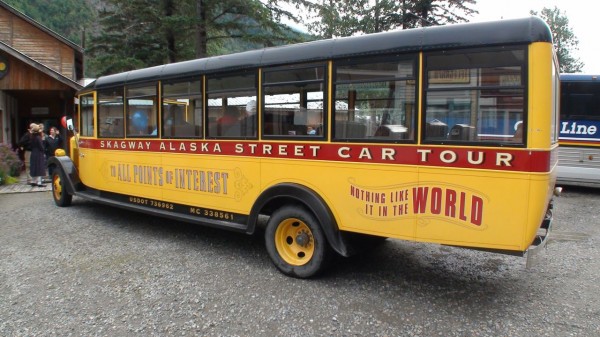 We started our day on a bus tour around Skagway on a converted 1929 Mack truck with our 'step on' guide, Charity. Step on guides are brought on at each destination on an Adventures By Disney trip as local experts and Charity was both an expert on Skagway as well as a person with lots of personality to spare. I instantly fell in love with her enthusiasm and energy. The tour around Skagway focused on the town's history, which is steeped in the Gold Rush of the 1890's. I'll admit my knowledge of that part of American history is pretty limited. In general, I always thought of it in terms of the lore you see in films. What I didn't realize is that 100,000 men started the journey to the Yukon, tens of thousands of them died doing it, and only a handful found enough gold to mention. Many of them used the town of Skagway as a launching point into the Yukon, and much of the town's history is deeply connected to it.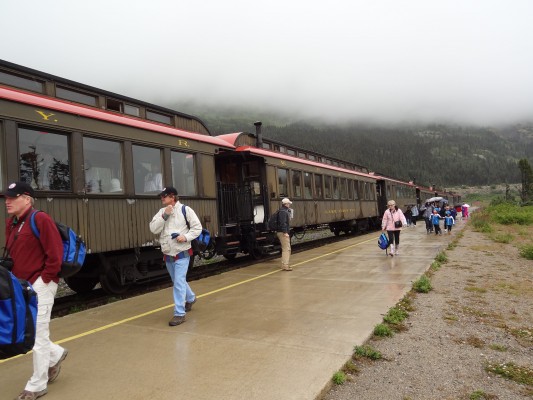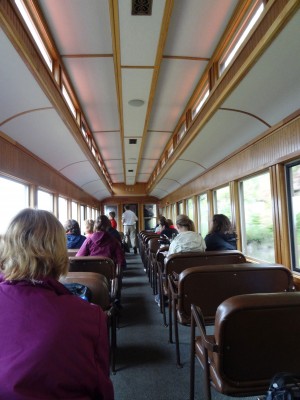 Next we boarded a train to take us over the White Pass and Yukon Route where we learned more about that time in history. The 90 minute train ride took us up a mountain and past some amazing views. Again, even though it was raining and cloudy, it just didn't detract from the epic scenery.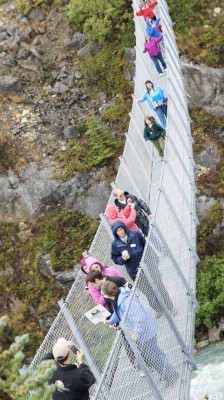 Once off the train, we were met by a young man of 12 who was apparently our bus driver to the first "hope you don't die" experience of the trip – the suspension bridge. Now, I'm sure we were given a story about the suspension bridge – I was just too busy looking at it going, "Dear God, it's a suspension bridge – am I supposed to walk across that??". You see, I had made this promise to myself before starting this trip. If I'm going to be fortunate enough to travel to these places, I'm going to have to challenge myself to do things outside my comfort zone. Heights are outside my comfort zone. STEP LADDERS are outside my comfort zone, so the sight of a suspension bridge a few hundred feet over a rushing river was decidedly unamusing. Bless his heart, Korey (one of our ABD guides) kept telling me "you could drive a car over this" – which in my mind was translated to "don't worry, your fat ass won't collapse the bridge". Even though I desperately wanted to run the other way, I was determined to do it. So, I grabbed hold of a belt loop on Walter's jeans – if I went down he was coming with me – and kept a wonderful view of the back of his jacket the entire way across the bridge. Of course, as I get to the middle of the bridge, some senile old battle axe at the other end decides to start jumping up and down and swaying the bridge back and forth. I'm pretty sure I yelled out something like "cut off her social security" or "throw the old witch over the side" or something charming like that. Upon reaching the other side I discovered that this whole exercise was to reach…..a 10 foot platform. I had crossed this abomination of a bridge only to end up somewhere to look at where I came from. There was nothing to do there – except look at the construction workers who were building something – I didn't care what. It was then that I realized that I had to do it again to get back. I waited for the jumping demented blue-hair to finish crossing before starting my trek back across. Once there I felt a slight tinge of satisfaction that I had done it and decided that I deserved to purchase some expensive things at the gift shop – namely the buffalo leather wallet and messenger bag I had spotted before walking the psychotic senior citizen memorial highway to nowhere.
There was one other plus to this place – the bison chili and the homemade cinnamon buns. Both provided to us (along with anything else we wanted) by our two wonderful guides. And honestly, these two were (and are) wonderful.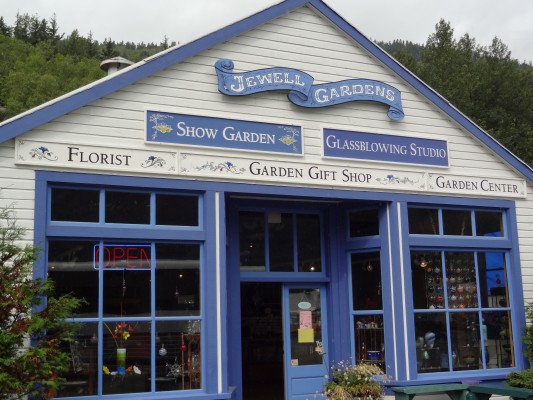 From there we went to a place called Jewel Gardens. On paper, this place looks like the cure for insomnia. In reality, it was stunning. Acres of the most beautifully manicured gardens I've seen in quite some time, not to mention a really impressive sustainable produce co-op garden. This is apparently a big deal around this part of the country. Most of the produce you purchase in Skagway is sent by ship from Seattle. The best you can hope for is week old lettuce most of the time. So, these co-ops provide fresh produce during the summer months to local residents (in this case, about 30 of them). The sight of these gardens with the backdrop of the mountains behind them is just one more on the long list of gorgeous sights you see on this tour.

After our tour of the garden, we were served lunch in a small restaurant on the grounds. Most of what you eat is grown there and it tastes like it. I had a dish of pasta with marinara sauce that is among the best I've ever tasted. The rolls were baked fresh, the service was warm and friendly, the view of the gardens was mesmerizing.  For whatever reason, our guide Landon decided many of us needed to wear 'say something' hats for lunch.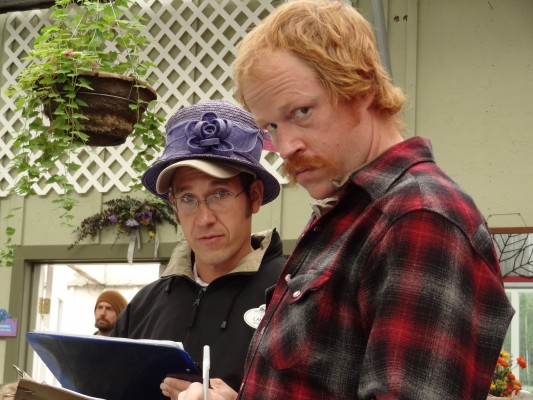 From there we went to another building on the grounds for a glass blowing demonstration. As Walter and I walked through the gift shop before lunch, I noticed how much glass work was for sale – and beautiful glass work at that. But I'm overloaded on decorative glass pieces, and couldn't justify buying any more. While a glass blowing demonstration sounds boring, it was actually really entertaining and fascinating to watch how this process is done. The demonstration showed them making a bowl over the course of 30 minutes. At the end of the demonstration they offered to sell it to anyone who was interested. I did not give any of my fellow adventurers a chance to lay claim – my hand was up – I wanted the damn bowl!!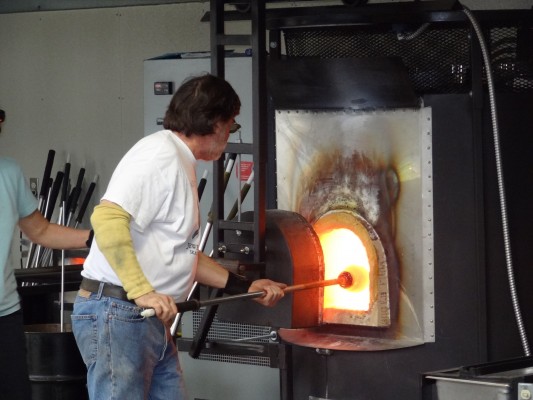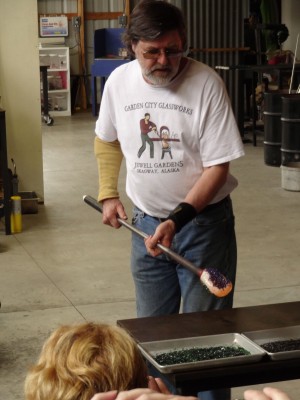 Our last stop of the day was at a roadside gold panning attraction. As our bus pulled in I saw a group of people waiting to greet us. At first I thought it was a group of local homeless people, but soon realized that they were characters from the attraction. While this part of the tour was definitely a bit cheesy, it was fun. We had a chance to pan for real gold (and it was real gold – they will weigh it and buy it from you at the end of the tour).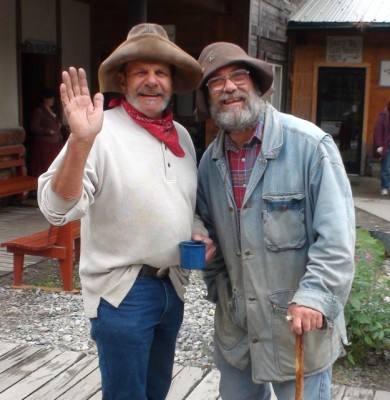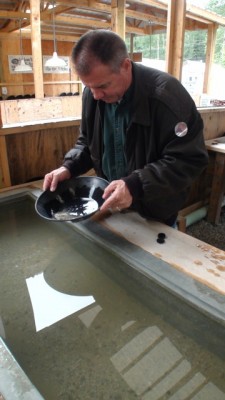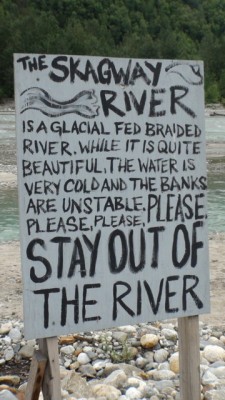 Once back on the ship we were exhausted. This is an inevitable by-product of any Adventures by Disney vacation. They are awesome – but the days can be busy. We were too tired to get dressed for dinner, so we decided to go to Beach Blanket Buffet for dinner. Beach Blanket will offer either a dinner buffet, or menu service from one of the rotational dining rooms. This particular night was a buffet and let me just say that whoever is responsible for allowing this sewage to be served to guests should be thrown overboard without a life vest. Not one thing on this buffet was good – not one. I'm not sure how you do that without really trying. Chicken was dry, fish was dry, the roast beef was little more than an old, fatty piece of leftover beef. Is ANYONE on board this ship tasting this crap before they serve it?? How do you charge a premium for an Alaska cruise and then serve garbage like this to your guests? Now, if you ask Disney they will tell you that "guest satisfaction ratings for the food are very high". This isn't true. They attach the servers ratings to the foods ratings – if you rate the food poorly, you are in effect rating the servers poorly. Servers will often tell you this on the last night of your cruise (before you fill out the survey), so many people – because they like their servers – will give high ratings. There are very few people who actually think the food on these ships (generally speaking) is good. Disney just needs to say "guest satisfaction ratings are high" and they go on living in their little fantasy world of denial. The fact is, if really good food is an important aspect to your cruising experience, Disney is not the right choice for you. Keep in mind, this is coming from someone who owns a travel agency that sells millions of dollars in Disney cruises every year. I love the product, but when it comes to food (with the exception of Palo), I go in with both eyes open knowing that it's going to be a crap shoot as to whether or not the food is any good. It can range from fabulous to horrible in the span of 3 cruises. Our Med cruise in 2010 was the worst food I've ever been served on a Disney ship. Our Med cruise in 2011 was the best food I've ever been served on a Disney ship. Our podcast cruise in Dec 2010 had mediocre food, and this cruise has mediocre food. Just once – I'd like to have three back to back experiences on a Disney vessel where the food was consistently good. What I'd really like to do is pay Gordon Ramsey to film an episode of Kitchen Nightmares on board one of these ships. Just to hear him yelling "DONKEY" at the F&B manager would be worth it.
Category: Adventures by Disney, Disney Cruise Line