I'm not sure what I was expecting, but I have to admit the glacier at Tracy Arm was a little anti-climactic. I guess it's because I've seen too many movies where glaciers are right next to the ship – okay, bad reference – that evokes images of Titanic (which I've been quoting all day…."We're dressed in our finest and are prepared to go down like gentlemen….bring me some brandy"). It's funnier when you hear me do the accent.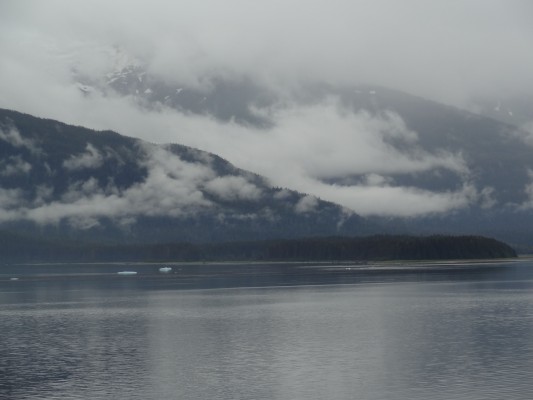 However, I'm reminded of the saying that the joy is in the journey, not the destination – that was certainly true here. Upon waking up this morning, everything was gray – the water, the sky, even the mountains were variations on a shade – it would have been depressing had it not been so spectacular. As we proceeded through the day the scenery became more colorful, if only slightly. The first sign of color was a lone, small iceberg off the starboard side of the ship. The ice blue color was a striking contrast to the otherwise colorless scene. As we proceeded towards Tracy Arm the sight of these small icebergs became more frequent, and as the afternoon wore on, they became larger until we were literally sailing through an ice field. At the end of the journey was a massive glacier situated between two mountains – a glacier that was probably about 20,000 years old. As we watched, chunks of this glacier kept falling into the water – a reminder that it may not be here for much longer the way things are going.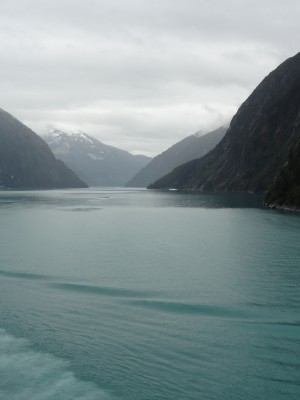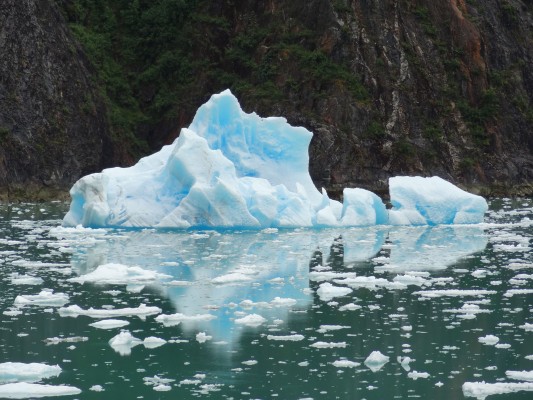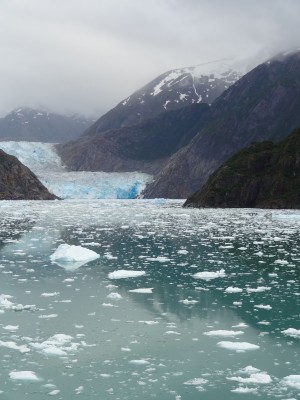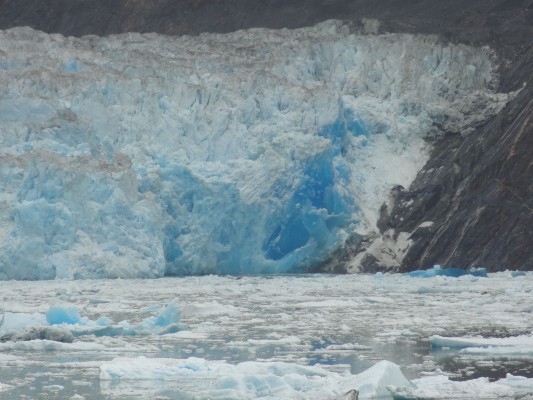 But beyond the awe and beauty of the scenery, which is pretty much indescribable – there is an odd thing that happens on this ship that I've noticed the last few days. As we cruise past these varied natural wonders, people stop – no cell phones are out, no ipads, kindles – just looking, photographing – quietly and in awe. Sitting on my balcony today was like watching a movie I didn't want to end. It was cold, I was bundled up and had my latte in hand but I wasn't going inside. You might miss something. Whales, eagles, seals – they're all here – not like at Sea World – this is real life as God intended it, completely unspoiled by any signs of civilization. You are not passing towns, factories or even homes on this part of the trip. There are no souvenir stands, no waiting in line – just what seems like the last unspoiled place on earth.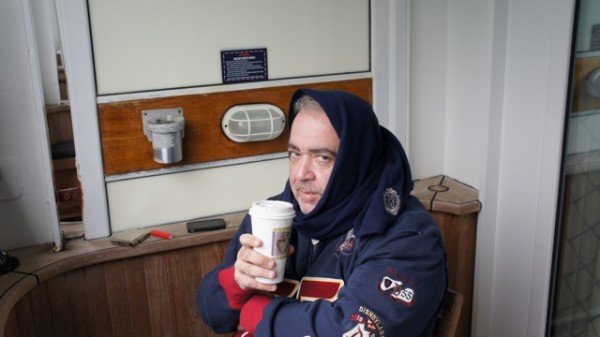 Of course we did pause to have brunch at Palo (it's beautiful scenery to be sure, but I'm still fat, and it is after all a Palo brunch). In stark contrast to the night before, every morsel of food served on the buffet was sheer perfection. I dare say this is among the best, if not THE best Palo brunch experience I've ever had. We were joined by two of our tour mates from Adventures by Disney, and even though this is their 6th Disney cruise, this was their first Palo brunch. It's always rewarding to watch people experience this for the first time. Those of us who are veterans of the 'brunch' are never surprised by the unfolding glee of the newly initiated, but it's fun to watch nonetheless.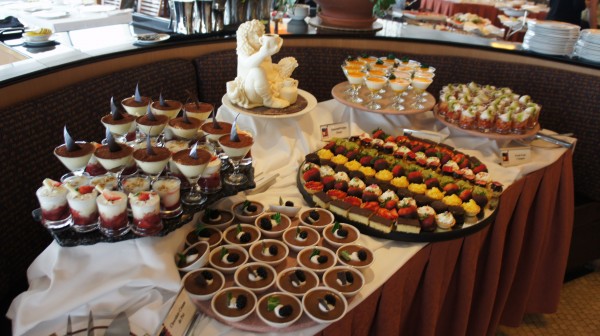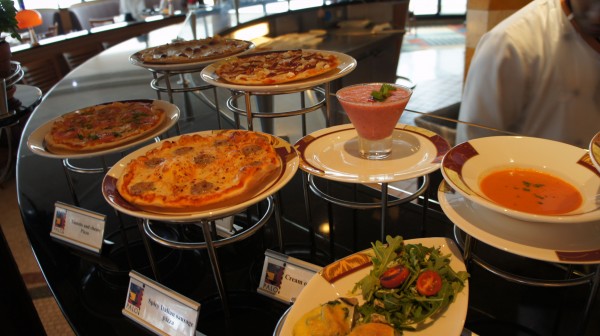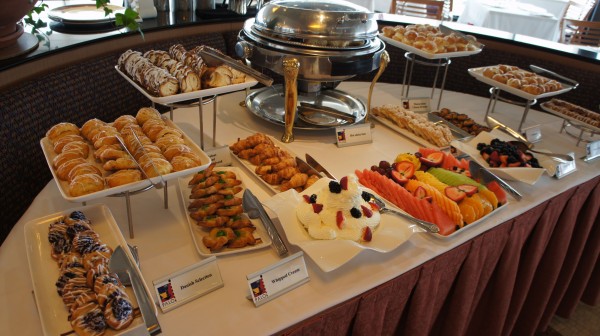 After brunch it was back to the room, and back to the balcony.  Those of us with staterooms on the starboard side of the ship had the best view of the glacier.  In fact we were closer to the glacier than any other Disney sailing had been able to get.  Then the captain did something really cool – he turned the ship around so folks with balcony staterooms on the other side could get the view.  If you've never witnessed one of the Disney ships doing a 360, it's something.  The ship is literally stationary as it rotates, as though it were on a rotating platform.  From what I understand, this is not something they can do all the time – it all depends on the weather, the ice field, the size of any icebergs that may be around, etc.  I hear a lot of people say that it's not terribly important to have a balcony stateroom.  On some sailings I can understand that way of thinking, but on Alaska sailings these are a must.  First of all, it was A LOT more comfortable watching today's scenery from the relative protection of my balcony, as opposed to being up on deck.  It was COLD on deck today, and the wind didn't help.   Walter went up on deck for a little while just to see if it was  a significantly better view.  He returned after 15 minutes unconvinced.    For me, this qualifies as the best sea day EVER.
Tomorrow …. Skagway, AK.
Category: Adventures by Disney, Disney Cruise Line