If you're a big Disney fan, or Disney Nerd like me, I'm sure you've already heard most of the news that came out of the D23 Expo August 19-21 in Anaheim, CA.  However, may you have wondered just how kid/family friendly the event was?  Well, I've got you covered.  I gave a FlipCam to two intrepid, young kid-reporters (ok, ok, they were my 10 & 13 year old daughters), and asked them to record their thoughts and experiences during a day at the Expo.  Now before you call child-services or the labor-board, I should say mention there were free cupcakes.  Continue after the break for their unique perspective direct from the D23 Expo show floor.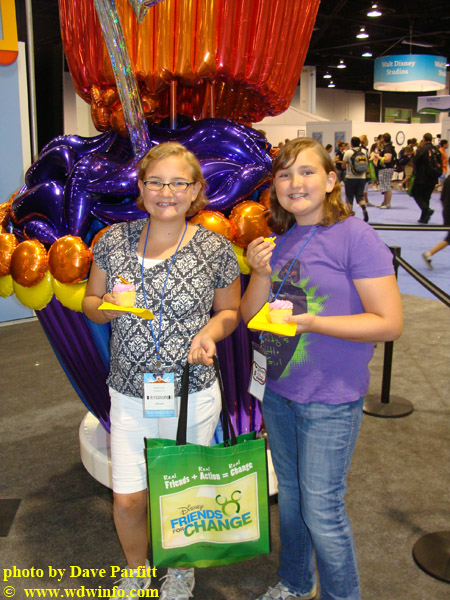 The girls enjoyed their day with Dad at the D23 Expo, but thought the exhibits were best for kids at least 8 years old.  Some of their favorite activities on the show floor were the Disney Interactive Media Group & Xbox Kinect's Disneyland Adventures where they could play video games and the Parks and Resorts Pavilion where they could chat with Walt Disney Imagineers as well as Destini! the fortune-telling audioanimatronic.
Click here for more of the DIS Unplugged's coverage of the D23 Expo including nearly 200 photos in this photo gallery.  Did you take your family to the D23 Expo?  If so, what were your children's thoughts, or if you didn't, why not?  Please share your thoughts in the comments below.  
Category: Disney Cruise Line, Disney World, Disneyland