This cruise is unusual in that the first two days of the trip are technically sea days. Tomorrow is listed on the itinerary as Tracy Arm Fjord, but it's something we drive through, not someplace where we dock and leave the ship.
I'm very used to sea days being about the spa, lounging about on deck and basically taking it easy. For the vast majority of my cruise experiences, the sea day has never been about scenery. Then again, I've never sailed to Alaska before either.
If you talk to anyone who has experienced a cruise to Alaska, they will immediately begin telling you how beautiful it is, how wonderful the scenery is, how amazing the wildlife is to the point where you glaze over and want to shoot yourself or the tree hugging hippie you're talking to. However, this is one of those things that unless you actually see it with your own eyes, you can't really appreciate. You will logically understand that it will be scenic, but you can't appreciate the depth and grandeur in the abstract.
When I woke up this morning, this is what I was looking at.

At one point I noticed a bird flying alongside the ship.  Now, while I don't think we were moving at full speed, the ship was definitely not standing still.  Maybe this is normal behavior, but for the life of me I can't recall a time when I saw a bird keeping pace with the ship.  This wasn't just a couple of seconds either – this bird was flying with us for at least 20 minutes, just a short distance away.  I can't tell you why this fascinated me, but it did.  I was exhausted just watching it keep up.  As I would come to find out, this would be the first of many, many 'wildlife' sightings on this trip.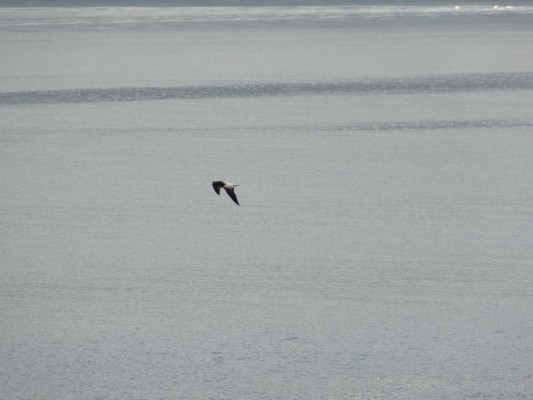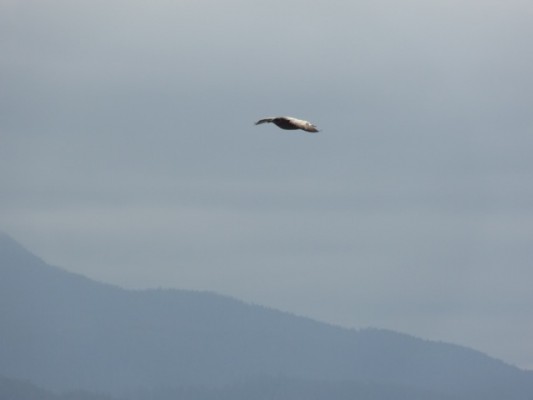 The scenery seemed to go on forever and got more and more beautiful as we headed northward towards Alaska (keep in mind that at this point, we're still in Canada). Walter was on the balcony using the binoculars that Adventures by Disney had provided us. These were inexpensive, less-than-powerful binoculars but since they were 'free', they were more than okay for Scrooge McTightwad. I suggested that we go into the store on board and purchase a good pair – a suggestion that was met with a series of grunts that one can usually hear from Walter when spending money is involved. Actually, I had suggested we purchase a pair that they were selling at the port in Vancouver, but alas – no. After about a half hour of saying "You'll see this stuff better with good binoculars", the nature-lover in him finally relented.  We went downstairs to the store and they allowed us to take four pair of binoculars ranging in price from $125 to over $500 on deck to try out.  The pair we settled on was about $200.  A tip for those of you doing this cruise – purchase a good pair of binoculars before you arrive. They have a nice selection onboard, but the price is higher than you would pay on shore. After 30 minutes of using them, Walter admitted that we had done the right thing.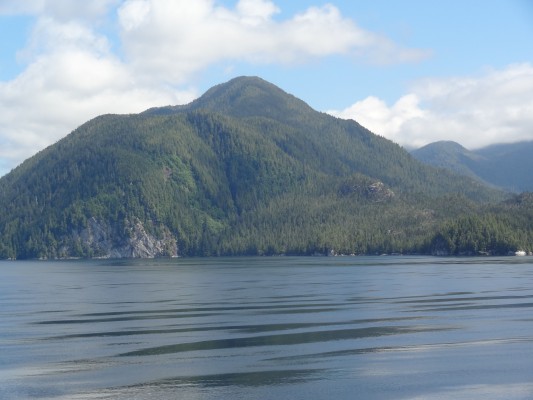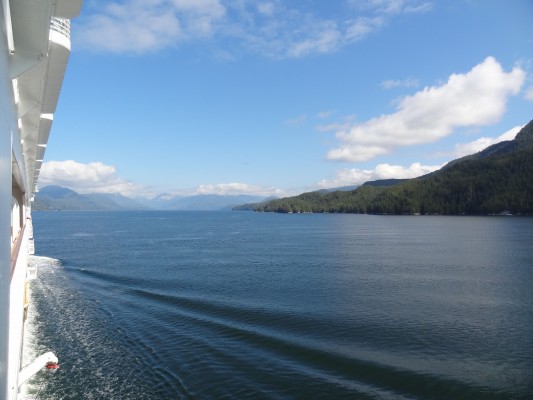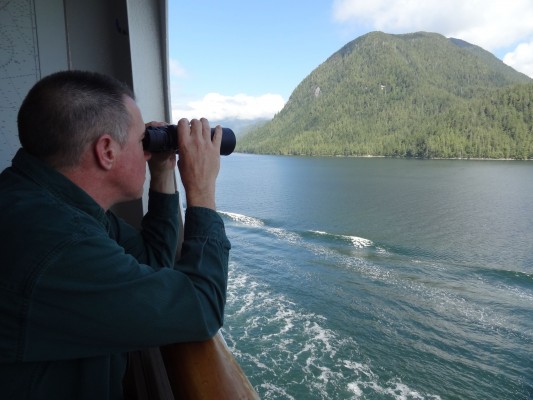 Eventually it was time for my spa treatment. A nice deep-tissue massage is a must for me on the first sea day of the cruise. Usually, I can't wait to get up there, but I was so captivated sitting on my balcony watching the scenery, snapping pictures and video in between grabbing the binoculars that I really didn't want to leave. At one point there was a school of dolphins swimming alongside the ship – simply amazing to watch.
Dolphins were not the only wildlife we saw today. Whales are not uncommon in these waters, and there was a catamaran watching a pod of whales as captivated by the sight as those onboard the ship were. The folks on the catamaran were so captivated, in fact, that they didn't notice this massive cruise liner (ours) bearing down on them. So, we sounded the horn and took evasive action to avoid making the whale watchers a new hood ornament on the front of the ship.
During our sea days, ABD usually arranges a few events for their guests. Today we were in the Cadillac Lounge and had two naturalists who worked for the parks service in Alaska talk to us about what we could expect to see on the trip. They were both great and fascinating to listen to – until one of our group yelled "WHALE". The entire group bolted for the windows to watch a whale (not sure what kind) spouting water and raising its tail up. Unbelievable!!!
Adventures by Disney arranges dinner in Palo for everyone on the tour (adults only, of course), and tonight was the night. I always look forward to Palo – in all the years I've been sailing Disney it never fails to be a highlight of the trip. But on this particular night, however, the kitchen was off. I ordered my usual filet of beef, medium. Walter ordered his medium well. What we were served was something different. Walter's steak was well done, mine could charitably be called medium-rare (it was deep red in the center, not the warm pink that normally denotes a medium steak). We both sent it back, Walter's came back perfect, mine came back medium rare again. I sent it back a second time. The third try was even worse – rare – I mean 'still mooing" rare. By this time the others in our group had finished their dinners and were ready for dessert so I told them not to bother. Still, the chef decided to bring me another steak, but by that time I was so pissed off I told him to take it back – if you can't get it right after three attempts, don't bother.   I considered the whole thing pretty arrogant – the chef was insisting that the steak I was being served was medium. Perhaps where he's from it is, but where I'm from (and I've eaten A LOT of steak in my day), it wasn't. When a guest is sending back a steak saying it isn't done enough, don't keep cooking him the same steak.
Tomorrow….Tracey Arm Fjord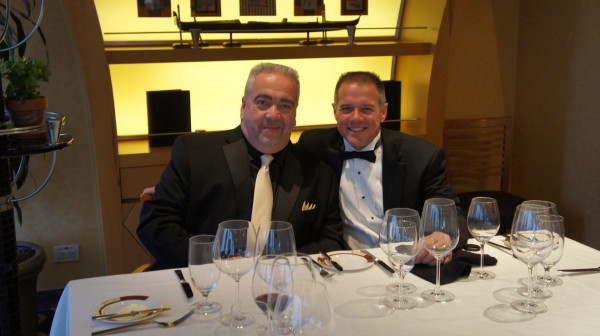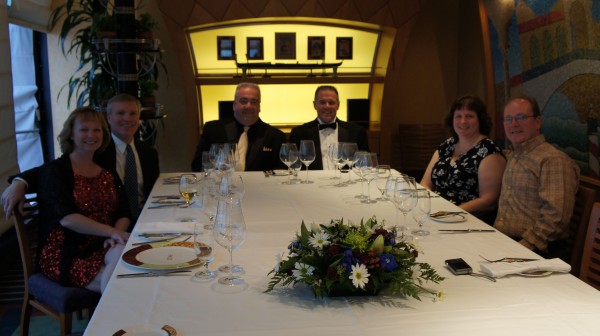 Category: Adventures by Disney, Disney Cruise Line, Disney World