But don't announce anything new.  Of course, Disney Parks and Resorts had a significant presence at the 2011 D23 Expo.  At the 2009 D23 Expo, Disney first announced the re-imagineering of Star Tours and an expansion of Walt Disney World's Fantasyland.  Therefore, expectations were high for the announcement of what's to come for the Disney Parks.  At the end of nearly 90 min, Tom Staggs, Chairman Walt Disney Parks and Resorts, allowed George Kalogridis, President of Disneyland, to reveal the big new project – Disneyland will get its own Fantasyland expansion as Carnation Plaza Gardens becomes Fantasy Faire!!!  crickets… crickets… Ummm, isn't there already a Disney Princess Fantasy Faire in Disneyland?  Continue after the break for all the details on just what we did find out from the Disney Parks and Resorts.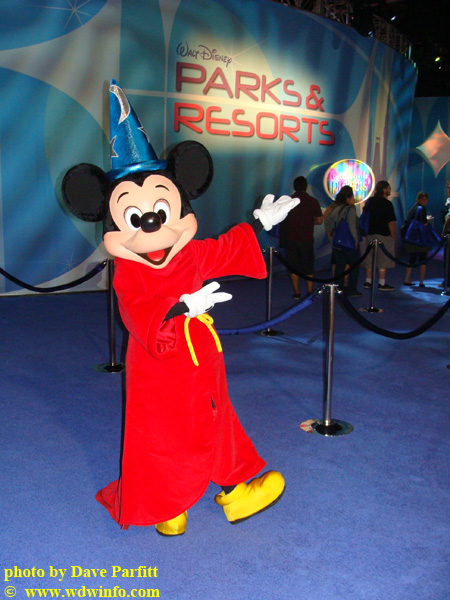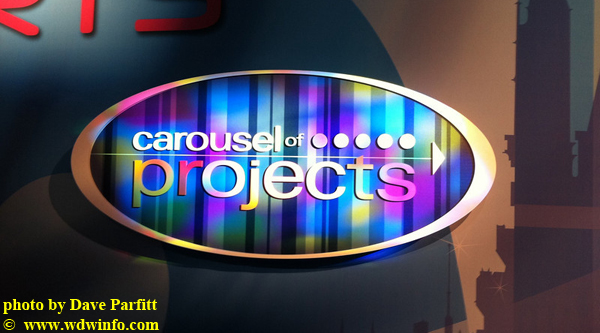 The Walt Disney Parks and Resorts Pavilion on the Expo show floor was titled "Carousel of Projects."  A fairly apt name given what was inside.  There were plenty of updates on current Imagineering Projects, but no new theme park attractions to be found.  However, there was one new, ground-breaking technology on display in the pavilion – a next-generation audioanimatronic named "Destini."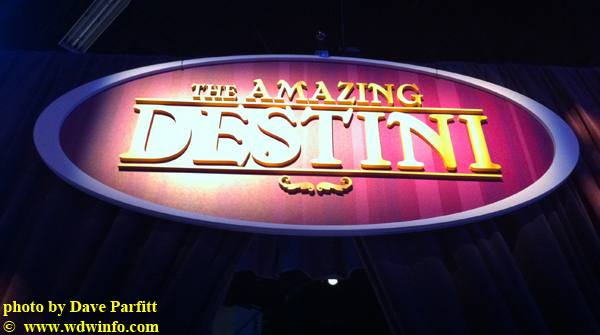 Destini was a fortune telling robot that recognized faces and interacted with guests using artificial intelligence.  This was truly revolutionary, and guests were amazed by Destini.  My daughters waited in line an hour just to get the chance to interact with him, and have the robot tell them their fortunes.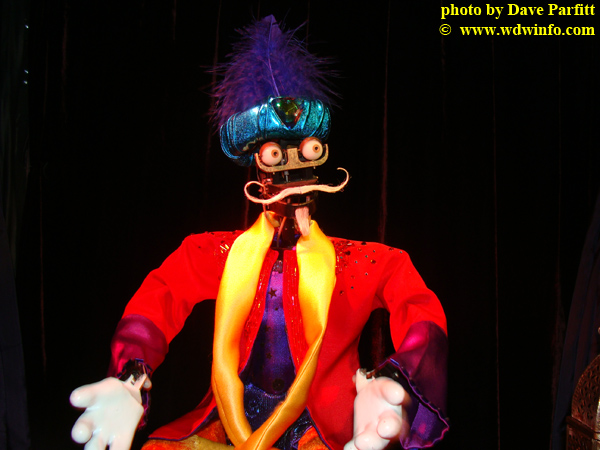 Unfortunately, Destini is only an Imagineering experiment with no immediate plans to put into a park or incorporate into a ride.  Surely, it's a promising technology, but it's a long way down the road before we see Destini on Main Street U.S.A.   
However, don't conclude there was nothing to see in the pavilion.  The Walt Disney Imagineers put on a wonderful show starting with a 5 minute video encapsulating the history of the parks worldwide from Walt Disney's dedication of Disneyland all the way up to attractions that opened just this spring.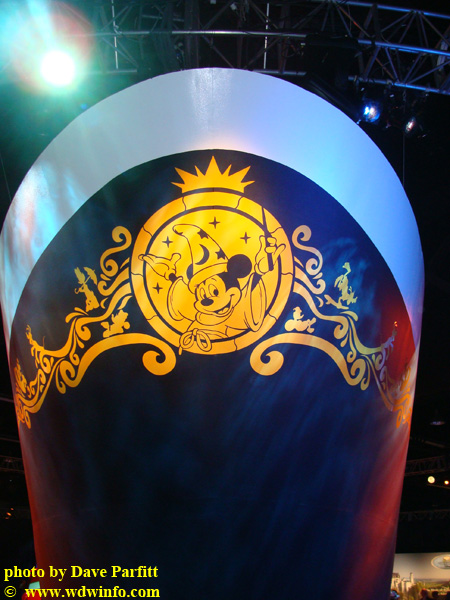 After the video, the curtain opened, a ship's horn sounded, and you stood face to face with the prow of the newest Disney Cruise Line ship – the Fantasy.  An impressive display to be sure, that included a model of the atrium statue of Mademoiselle Minnie Mouse.  The Minnie statue certainly was a crowd pleaser, and continually had fans constantly posing with her for photos.  However, no other new information was revealed about the Fantasy in the pavilion or in any of the presentations.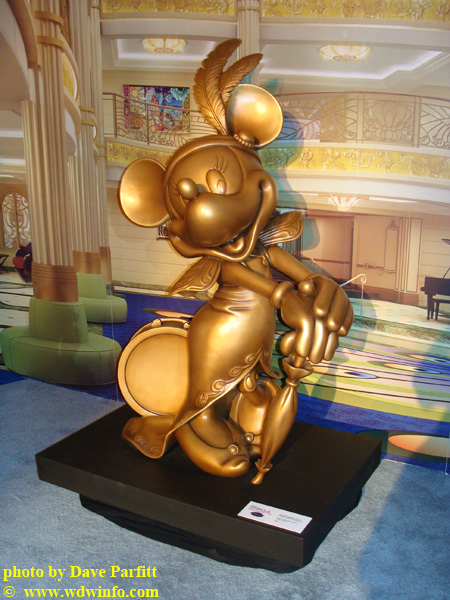 The left wall of the pavilion was devoted to the Fantasyland expansion at Walt Disney World, starting with a wall of concept drawings, the large model of the entire land, and an early concept for the swinging Seven Dwarfs Mine Train Ride Vehicle (complete with video ride through).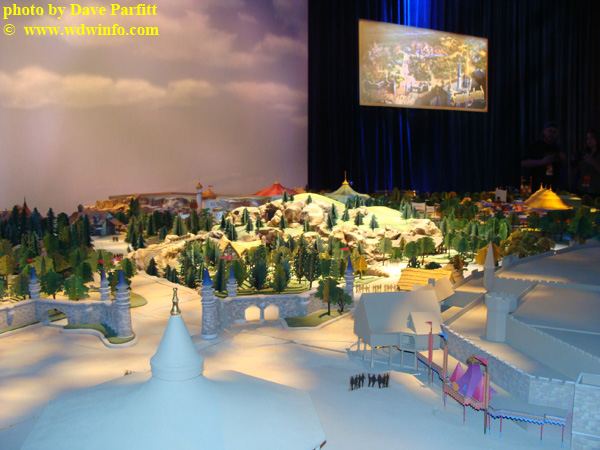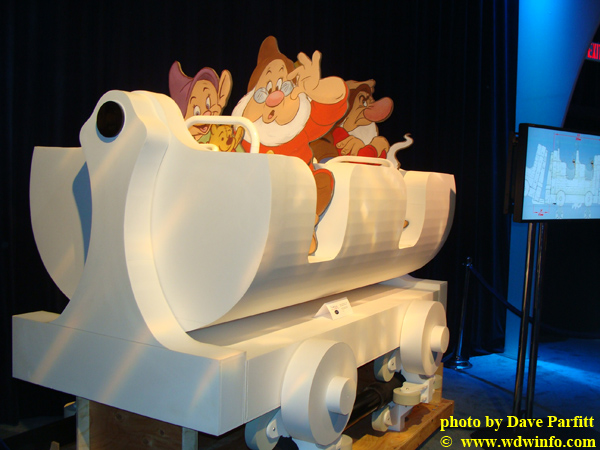 It was wonderful to carefully study the models and images with Imagineers at the ready to expound upon and answer any questions posed.  In fact, my 13 year old daughter asked more questions of the Imagineer than anyone else in our group (I should have given her a microphone).  The only drawback was that all the information on display regarding Fantasyland had been previously released.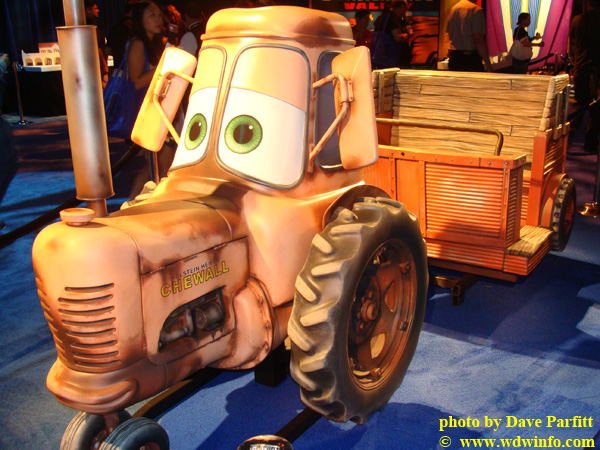 Working your way around the pavilion were displays for the re-imagining of Disney California Adventure (DCA)  including small models of the Carthay Circle Theater and Buena Vista Street.  The largest DCA displays were for the new Cars Land opening in 2012.  Actual ride vehicles for Tow Mater's Junkyard Jubilee, the Radiator Springs Racers, and "Big Red" the fire engine were on display.  The fire engine had "Cars eyes" in the windshield that blinked and rolled.  An Imagineer said Big Red was one of many vehicles guests would encounter in Cars Land and on the Radiator Springs Racers. 
Painted car hoods, specially created by celebrity car designer Chip Foose, also hung in this area.  It was explained these would decorate Ramone's House of Body Art retail area in the new land.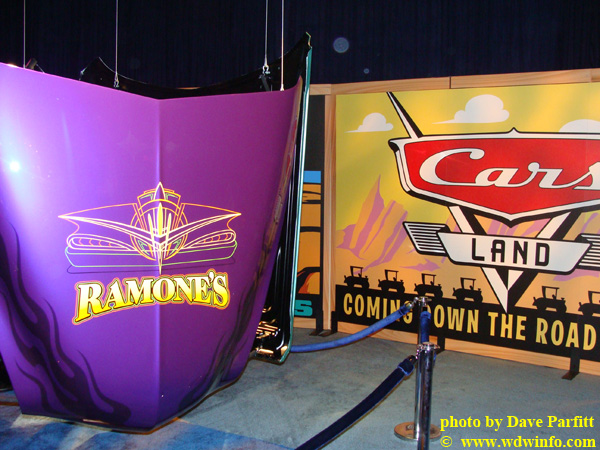 There was also a panoramic video screen set up where guests could get a sense of how immersive Cars Land will be when completed.  Again, the display was impressive, seeing the ride vehicles built excitement for the new attractions, but we had heard about all of these components of Cars Land before.
One very interesting "display" near the Cars Land area was a Talking Mickey Mouse walk around meet and greet character that interacted with guests and posed for pictures.  Is it possible that Talking Mickey is getting closer to his debut in the parks?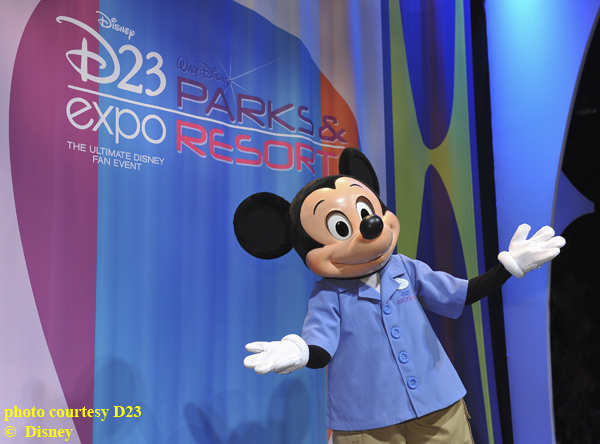 Along the back of the pavilion were displays for both Adventures by Disney and Disney's Aulani Resort and Spa, set to open in Hawaii.  These were smaller displays that resembled Disney Vacation Club sales booths one sees at a Disney Park.  No new information in these booths either.  Couldn't Adventures by Disney have announced their new 2012 itineraries at the D23 Expo?  Couldn't we have learned new details we have not heard about Aulani at the D23 Expo?  This seems like a missed opportunity.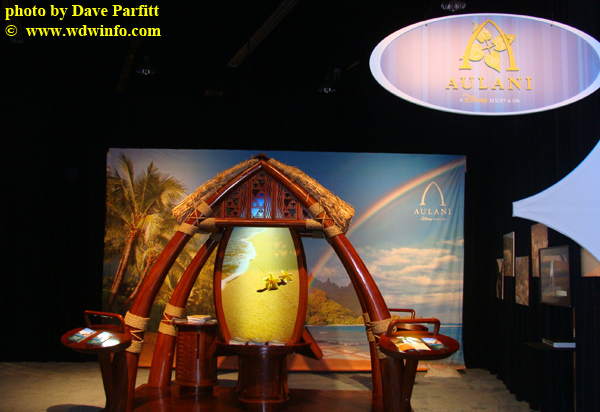 The last theme park display was a "high concept" model of Shanghai Disneyland – high concept meaning, very few details (image lots of hand waving here).  There was a vague castle at the center of some nondescript lands.  This new theme park in China was announced by Disney in April, so, again, nothing new here, nor any elaboration on the previous announcement.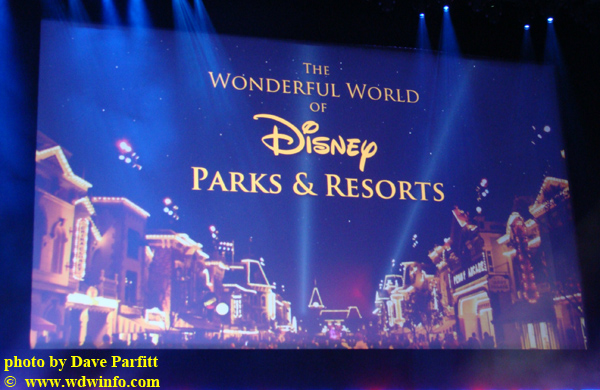 Now that we walked through the Parks and Resorts Pavilion, that left any new announcements for "The Wonderful World of Disney Parks and Resorts" presentation by Tom Staggs in the 4,000 seat arena.  For over an hour, Staggs walked us through the progress of projects with an embellishment here and there.  For example, the Walt Disney World Fantasyland expansion will have a Lumiere audioanimatronic in the "Beauty and the Beast" area.  It sounds like an extension of the popular living character initiative.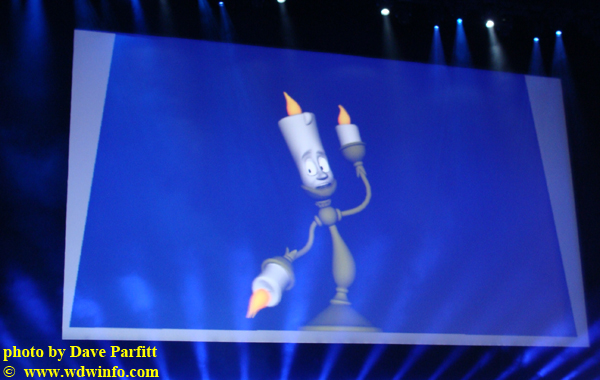 We saw a ride through computer generated simulation of the Seven Dwarfs mine train.
Hawaiian performers entertained the crowd as we heard about Aulani and watched a video of Joe Rohde from the construction site.
We heard more about the Shanghai Disney Resort, saw pictures of the site, and learned the castle would be the first to have a ride component through it. 
We shifted gears to California, heard about Disney California Adventure, and received an update on Cars Land.  New details included cast members shirts in the land will be based on John Lasseter's trademark Hawaiian shirts, and Radiator Springs Racers will have a cave called "Carslight Caverns."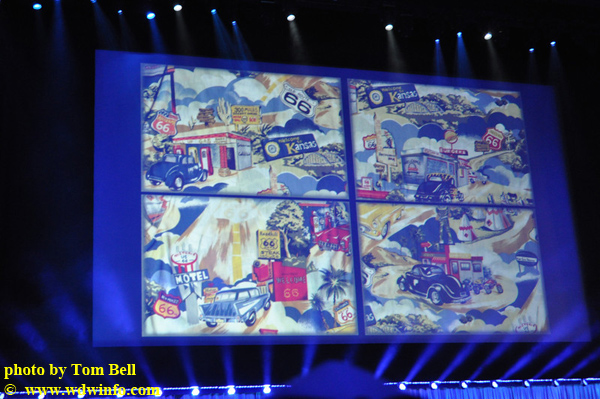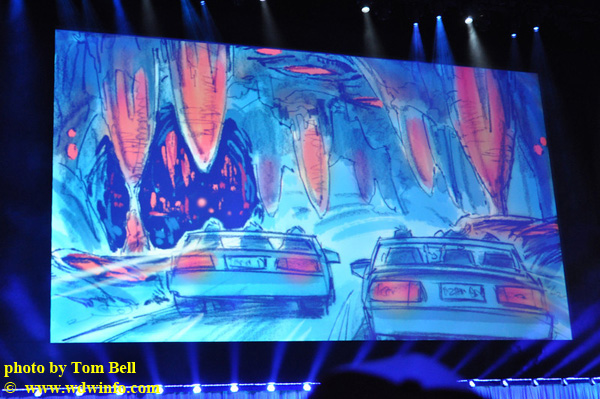 Finally, we came to George Kalogridis, President of Disneyland Resort, who made the Fantasy Faire announcement.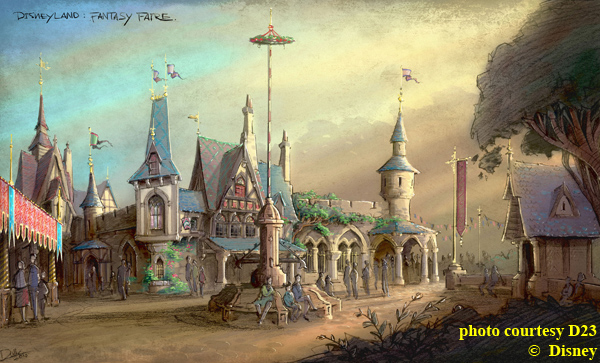 Show's over… I was shocked.  Many in the audience were also disappointed there was no big "WOW" moment.  No updates about Walt Disney World's Downtown Disney.  No announcement of a Monsters Inc. roller coaster to Disney's Hollywood Studios.  No green light for "Beastly Kingdom" at Disney's Animal Kingdom.  In fact, there were no announcements of any kind for any new projects at Walt Disney World.  There was such an outcry that Tom Staggs released a statement on the Disney Parks blog to explain. 
"I know many of you were hoping for announcements regarding new projects from Walt Disney Parks and Resorts, especially at Walt Disney World Resort, so I wanted to take a moment to address those comments.

The projects we've already announced represent the largest period of growth ever in Disney Parks' history. We're working hard to create new and exciting experiences for our guests around the world and while the timing isn't always right to announce another big project, we like to use opportunities like the D23 Expo to update fans like you on the great progress we're making. We have several incredible projects currently in the works and look forward to sharing more information with all of you in the weeks and months ahead, including new details regarding Downtown Disney in Florida."
In terms of big, exciting, new announcements for projects at the Parks and Resorts, the D23 Expo was a bust.  However, taking a moment to appreciate what was presented, the Walt Disney Imagineers put on a great show.  The Parks and Resorts Pavilion was a place where you could study models, chat with the creators and designers, and ask pointed questions.  If I had known 90% of the information in Tom Stagg's arena presentation was contained in the Parks and Resorts Pavilion, I would have rather stayed in the Pavilion and talked to the true magic-makers: the Imagineers.
Click here for more of the DIS Unplugged's coverage of the D23 Expo including nearly 200 photos in this photo gallery.  Were you at the D23 Expo, or were you following along with the news from home?  What did you think?  Share your thoughts in the comments below.   
Category: Adventures by Disney, Disney Cruise Line, Disney World, Disneyland