It's the stuff lifetime dramas and travel insurance is made for. Your dream vacation is going well, and suddenly, you find yourself in need of assistance and possibly an emergency room. Your heart races. Your thoughts go from the kids, to your spouse, to your home, to your job, to the flight you may be missing! Vacationers that have previous medical conditions may be slightly more prepared in event of an emergency, but for those who have never suffered an illness, it can be devastating.  Problems can include simple cuts and scrapes, food-related issues, anxiety attacks, aggravation of back conditions, and even heart attacks.
Many people find themselves in these challenging situations every day at Disney theme parks. It's happened to me in the past few months, and, in fact, several friends from out of state recently found themselves in need of urgent surgery on their Disneyland Resort vacation. This prompted me to offer up some advice on how to prepare before you go, as well as how to handle emergencies while on vacation. You can never predict when problems will occur, but by preparing yourself ahead of time you can reduce your chances of wasting your valuable vacation time.  Hopefully you will never have to use some of these tips, but if you do, I think they might work well in relieving some of the fear and chaos.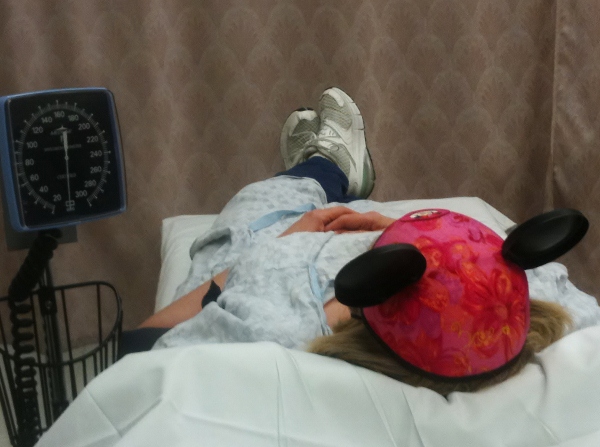 You know what they say about an ounce of prevention….  Well, I think that's a great place to start when talking about how to handle medical emergencies when traveling.  So let's start with…
BEFORE YOU GO:
Since health emergencies on vacation can be costly, in both time and emotion, here are a few things you can do to reduce stress.

1) Make sure your insurance is taken in the state/country you are going. If you are coming to Disneyland from another country, you need to call your provider and find out what your coverage is, and if there is none, what the least expensive health care options are.  Some will pay for the emergency room, but not an urgent care, and for others, the opposite is true.  This is much better (and cheaper) than finding it out this information on the spot.  
If you aren't completely comforatable, you might want to really consider purchasing trip insurance.  If anything major happens, you can be refunded major expenses, such as the cost of changing travel, cruise line medical care, or getting refunds if you have to cancel due to a pre-trip emergency.  Plans vary, so read before you buy!
2) Pack your insurance cards and any medicines you take in your carry-on during travel and then transfer it to the bag you keep with you in the parks. I know it sounds silly to state something so obvious, but we all forget things.  Easy access is best under stress.  Also, bring over-the-counter medicines for issues you might face.  After all, it makes sense to take a package of Pepto-Bismol tablets if you know that you suffer from all that healthy theme park food or pain relief medicine if your shoulder hurts from carrying your kids too much.  If your medications need refrigeration, pack a small insulated bag and (if checking luggage) a freezable "cold pack" to carry into the parks.
3) Place a card with your allergies, medications and their doses, and emergency contact information on a card behind your ID (and insurance card) in your wallet. Should you be alone at the time of an emergency, this can save your life – especially if you can't speak, are in shock, or are unconscious.  Your traveling companions may not know all of these details about you!
4) If you are traveling with someone who has specific medical needs, contact your physician or do research about where to go for care. I think taking a few minutes out of your day to hit Google Maps and either print out or download a map of the local clinics, hospitals, and pharmacies is worth the peace of mind.  If you are traveling with an adult or child with a terminal illness, this could extend their life.  When you check into any of the Disneyland Resort hotels, they can provide you with maps of these facilities, as well as local pharmacies, but if you want to have one before you go, here is a link to a map, that shows many of those that accept all patients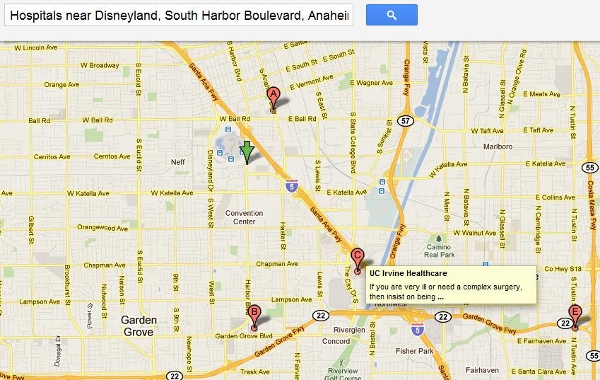 as well as a link to those that specialize in childrens' medicine – the primary choice being Childrens' Hospital of Orange County (CHOC).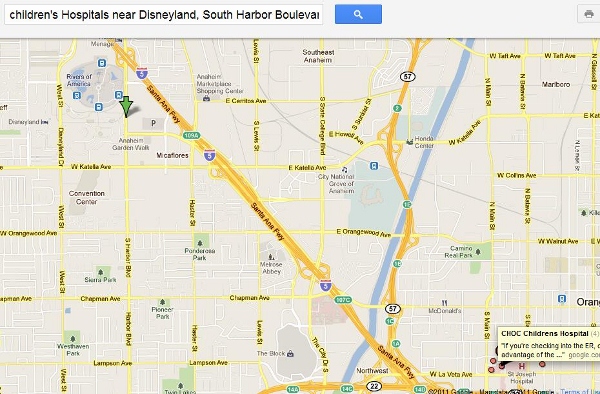 5) Familiarize yourself with the map of the Disneyland Resort. Know where the First Aid stations in each park are (next to Baby Care at the end of Main Street in Disneyland and next to Baby Care in the Pacific Wharf District of California Adventure).  Up until just recently, there was a Downtown Disney kiosk (near the AMC Theater and Apricot Lane) that sold basic drugstore supplies.  That apparently isn't there anymore, but most basic medicines can be found in every disney-owned shop on property – especially in the hotel shops.  If you don't see them on the shelves, just ask the Cast Member if they have them behind the counter, kind of like the ponchos and Mickey umbrellas!
With maps, meds, and knowledge in hand, at least you can feel confident that you did all you could to prepare yourself for your vacation.  Now, let's travel safely and arrive at the Disneyland Resort.  Let's check-in and look at ways you can prepare onsite.
1) When you check in at the front desk, ask for the map I mentioned earlier. Whether you have a car with you or not, it could come in handy.  All Disney-owned hotels have refrigerators placed in your room for any type of use, including storing medications, like insulin.   I find they are great to freeze lunchbag "cold packs" for taking those kinds of medications into the park for the day, as well as chilling bottles of water and electrolyte drinks to prevent dehydration in the parks.  If you are staying off-property, certainly ask the hotel if they have a refrigerator option.  You'll be happy you did.
Now that you're comfortable at the resort, let's talk about experiencing emergencies there.  I'll start with the first place you go after you check in…
THE PARKS:
Inside the theme parks, anything can happen from a blister that needs a band-aid, a twisted ankle, heat stroke,  or even a heart attack or blood vessel rupture in the brain.  The good news is that there are Health Services teams stationed in the parks that are always at the ready.  Should something happen in the parks (or anywhere on property), the following tidbits should be helpful:
1) If you cannot get to First Aid, they will come to you. I've been unfortunate/lucky to experience this twice – in California Adventure, where my infant's stroller was bumped by another guest, knocking her down two steps and landing face down with her still inside and in the Mickey and Friends Parking Structure, where I became very ill before leaving property.  Both times, a cast member was immediately contacted and they alerted the Health Services Team via phone.  The fastest response will come if you send someone to the nearest permanent location, such as a shop or attraction, where they have a phone. In the case of my parking structure incident, I saw a cast member cleaning the bathroom and was able to let her know what was happening.  She immediately made sure my daughter and I were safe and left me to call.  In other words, if you twist your ankle running for a Splash Mountain FastPass, stay there.   A team, consisting of a nurse, a security guard, and possibly the area manager, will arrive quickly and begin to assess the situation.  If they cannot care for the situation at the scene, they will take the patient to First Aid and determine further need.  In critical situations, they will have the patient be taken by ambulance to the nearest hospital.  If it seems minor – such as heat-related illness, theme park food revenge, or blood pressure or glucose issues, Health Services will release the patient when they return to a "normal" state and advise for further medical care if it returns or gets worse.
2) Please understand that this is a courtesy service that is still subject to the same laws that apply to any health care center and are subject to more limitations and restrictions than your local urgent care center. Whether you walk in on your own accord or are brought in, the welcoming staff will require you to sign in for anything you might need – even if it's just a Band-Aid.  They just need to keep a record of those they have cared for. That's all.  They are subject to the same patient privacy laws as every other care-giver. There is also a limit to the amount of treatment they can provide.  They can't pass out medications that are stronger than over-the-counter drugs, such as ibuprofen, Pepto-Bismol, etc.  Please don't be upset with them if they say they need to send you to an emergency room for more extensive treatment.  It's not their fault.
3) If you are staying on-property, you will be able to make it back to your hotel. Normally, park wheelchairs aren't allowed past the security tents and into Downtown Disney.  However, if you have gone to First Aid, ask nicely and they can arrange for you to be able to have a family member wheel you back to the hotel in a wheelchair – as long as they bring it back to the park as soon as possible.  This was a blessing for me when I was 8 months pregnant with my second child.  I had "overdone it" with too much walking and found myself unable to walk back to the Disneyland Hotel.  After I was looked over by a nurse, I asked if there was any way they would let my husband wheel me back to the hotel.  It was a blessing not to have to walk all the way back!  When I had issues at the Parking Structure and couldn't drive us home, they actually shuttled me over to the Disneyland Hotel to get me out of the heat, and to wait for our ride.
BACK AT THE HOTEL:
There are a few things you need to know, should your condition worsen.
1) There are no "house doctors" – the Disney-owned hotels use the on-call Health Services Teams. Should you call the hotel's Guest Services desk, they will ask you a list of questions that will help them identify the severity of your needs.  The first response is to send a nurse to you.  If it is found that you need more extensive care, you have two choices of how to get additional help – ambulance or cab.  This is where researching your insurance comes in handy!
2) If you need to take a taxi to the hospital for an emergency or to visit a member of your party who is being treated, there are a few things to keep in mind.
Most taxi services will not take credit cards, so be prepared to have cash on hand. The average trip to University of California-Irvine Medical Center costs between $14-$19, depending on time of day and route taken (due to traffic patterns).  The cost for Childrens' Hospital (CHOC) is greater due to the longer distance.  Each of the Disneyland Resort hotels has an ATM within a reasonable distance of the Registration Desk, making it easy to pick up cash before you leave.  The problem is that these costs add up quickly after a couple of days.
Make sure you have that map to the hospitals and pharmacies with you, as well as the phone number to the cab company and a means of taking notes. This will help you know exactly where to tell your driver to go, as not everyone knows every location – think "Amazing Race" taxi trips.
Make sure that if you ask a taxi to wait for you, that you know how much you will be charged.  This is important for trips to the pharmacy. You don't want to let that cab go and have to hassle with getting one to return to the hotel.
3) If you end up at the hospital, make sure you understand what services are available to you, as well as your patient. Can you stay in the room overnight?  If they need surgery, how does their center work – do they offer pagers and tracking board or a desk with a progress notification service?  Does the cafeteria take both cash and credit cards?  Will the outpatient pharmacy be open if the patient is discharged on a Saturday or Sunday (this will mean that you might have to make a separate trip to an offsite pharmacy)?  Knowing these things can give you peace of mind and save you money!
4) If you need to change hotels, take a few minutes to sit down with the hospital's concierge desk and ask for help. Some hospitals have local partner hotels that offer discounted emergency rates to patients' families.  Also, ask if the new hotel has a shuttle to the hospital.  Once again, this could be financially prudent!
5) Make sure you tell someone what you are going through! If no one knows you are on vacation alone and struggling with a medical issue, no one can help you.
Call family or friends right away.
Write up a thread on the Disneyland Forum and let people know you are at the parks and need urgent assistance. The Disneyland Forum participants and moderators are wonderful local folks who will see your post and try to help you get in touch with people who can help you, if possible.   No one can be there for you if you don't reach out!
I hope that there will never be a need for you to use these bits of advice, but we all know reality hits us when we least expect it.  If it does, hopefully you now feel a little more confident about what to do so that the experience won't ruin your vacation experience!
Photos by N. Johnson, Google Maps, and C. Martin.
Category: Disney World, Disneyland, Editorials, News
Disneyland Podcaster for the DIS Unplugged