Frequent Walt Disney World travellers may be familiar with the good deals found at the Swan and Dolphin Resort, the "Heavenly Beds", and signature restaurants by Todd English and Don Shula.  However, they may not realize the hotel complex is also home to one of the Top Pastry Chefs in America (named Top 10 Pastry Chefs in 2003 & 2004).  French Chef Laurent Branlard is world-renowned for intricately designed sugar showpieces, and is a world champion in pastry competitions.  On a recent trip to Walt Disney World, Chef Branlard sat down to talk about his cooking (and art), creating desserts at the resort, and his thoughts on cooking reality shows.  Continue after the break for more details.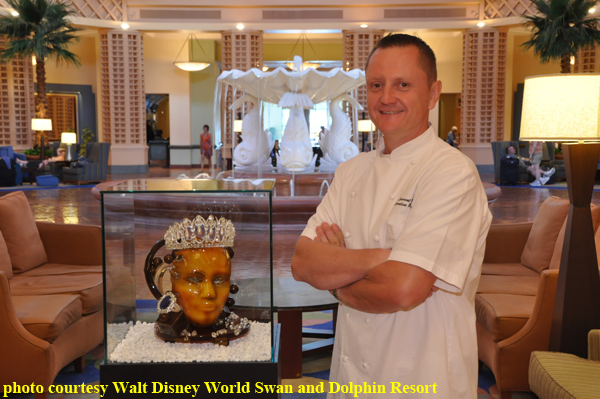 A native of France, Branlard developed a reputation for creating works of art resembling glass sculpture but made from 100% pulled sugar.  These sugar showpieces have been featured on television including Food Network, the CBS Early Show, and NBC's Today Show.  In addition, Chef Branlard is a winner of the World Pastry Team Championship, described as a "hot and intense" 2-day, 13-hour marathon where teams of 3 pastry chefs create an array of pastries from scratch including: a sugar showpiece, chocolate showpiece, plated dessert, cake, frozen cake, petit fours, as well as centerpieces to display the creations.  After the 13 hours, the teams' are judged by culinary experts on both ability and artistic skills.  It's a testament to Chef Branlard's skills that he won this competition not only once, but twice (2002 and 2008), the only two-time winner in the history of the championship.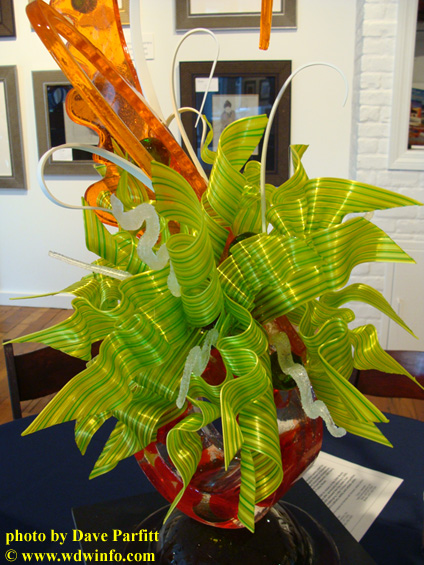 Branlard began studying to become a pastry chef at 16, and received his French Culinary degree at 18.  I asked what drew him into the field.  He replied he always wanted to be a pastry chef, but was particularly drawn into the artistry of sugar and chocolate.  Laurent creates works inspired by nature, and uses bold, vibrant colors of flowers complemented with subtle earth tones.  Another source of inspiration for his organic shapes is the glasswork of renowed artist Dale Chihuly.  Branlard wants to replicate Chihuly's glass techniques using only sugar, but "it's extremely difficult," says Branlard.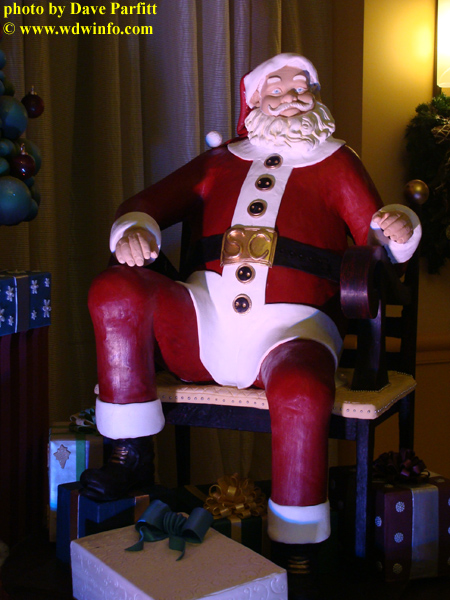 I asked how long it takes to produce one of his elaborate displays.  Branlard replied for a competition like the World Pastry Team Championships he needs to plan and practice for at least 6 months.  For the pieces he created for the Swan/Dolphin he said, "They never give me that much time; usually I have only a week or two to get ready and make it happen."  Once the piece is designed Branlard and his team spends over 20 hours cooking and pulling 60 pounds of sugar to create a 6-7 foot showpiece.  He almost needs to become an engineer to learn about the stress and strain of a structure that large.  Obviously, Branlard comments the pieces are extremely fragile since sugar is more brittle than glass.  That being said, it is rare that his work comes crashing down, and Branlard says he has only broken 1 or 2 showpieces during his career.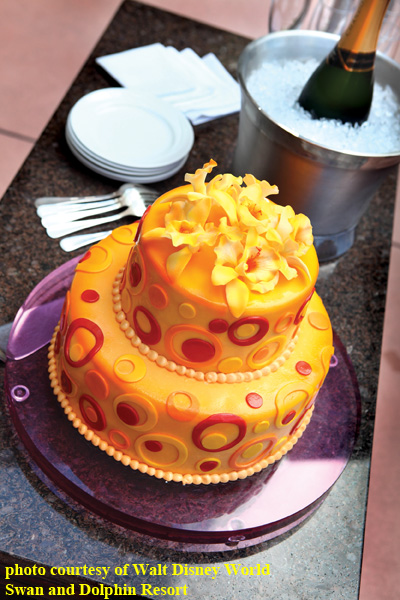 Besides making gorgeous sugar and chocolate displays, Chef Laurent Branlard is in charge of the pastry and dessert menu throughout the entire Swan/Dolphin resort.  Every restaurant, lounge, as well as desserts and gifts ordered through room service are all made through his kitchen.  It's a challenge because none of the restaurants in the resort have the same style.  Laurent meets with the head chefs to understand their flavors, look at the restaurant's style and design, and come up with something that fits with its theme and flavors.  For example, bluezoo has a modern, elegant, and intricate style of food.  Therefore, the desserts need to reflect that sensibility.  Whereas, for Shula's Steak House, the desserts are simpler, crème brulee, apple crisp, etc., to reflect the hearty American fare.  The Garden Grove has a buffet style so every dessert is small so people can try many different things.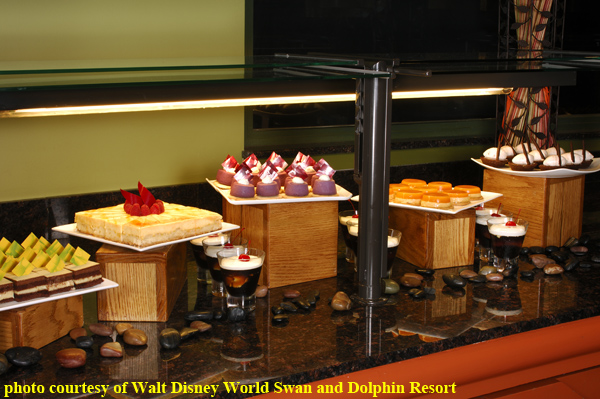 Towards the end of our conversation, because Chef Branlard has competed on the world stage, I asked his opinion of all the cooking reality competition shows currently proliferating on television such as: Top Chef, Hell's Kitchen, Chopped, Iron Chef, etc.  Laurent's in favor of them, and thinks the shows educate the audience about chefs and food.  Branlard went on to say, "I see a lot of new restaurants, new styles, new designs, and new food that has changed the food industry."  He even said he wouldn't mind showcasing his skills in one of those shows – "I'm not interested in professional competition, but a reality show like Top Chef, why not?"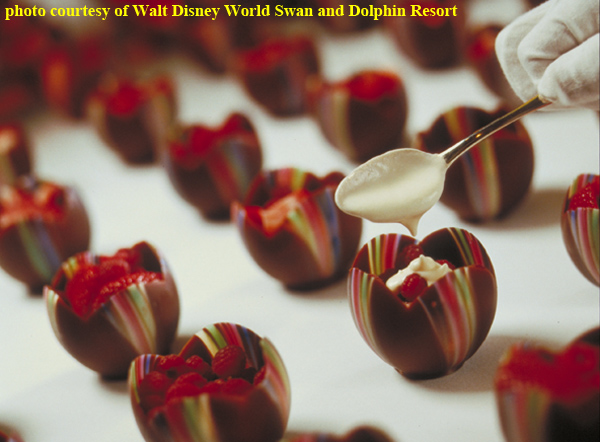 If you want to catch a glimpse Chef Laurent Branlard's work, head over to the Walt Disney World Swan.  His pastry kitchen sits next to the Garden Grove Restaurant, and there's a window for voyeurs to peer through.  However, nothing beats being able to step inside the kitchen and being surrounded by the aroma of chocolate.  For a taste, stop in any of the restaurants or lounges and purchase one of the desserts to eat.  They taste even better than they look.  I want to thank Chef Branlard for taking the time to talk, and sharing his passion for his cooking and art. 
Category: Dining, Disney World