by Jack Burgin
Next summer, the Disney Magic will offer round-trip sailings from New York to Canada, with ports in Halifax, Nova Scotia and Saint John, New Brunswick.  While excursions, or "port adventures" as Disney Cruise Lines refers to them, have not yet been announced for these cruises (and thus nothing is certain), a whale watching excursion will likely be offered out of one or both of the ports.
Toward the end of July 2011, I had the opportunity to go on a whale watching trip out of Massachusetts and recommend anyone going on the New York to Canada cruise jump at the chance to go on a whale watching excursion.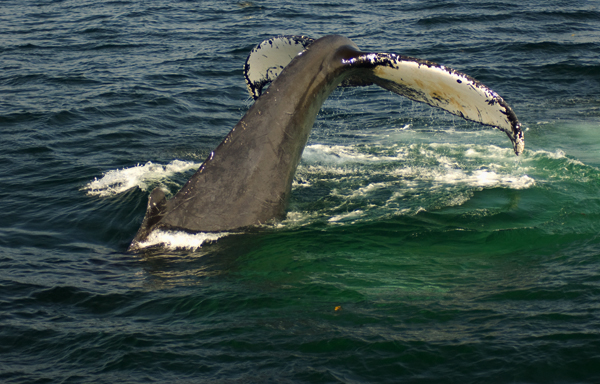 While we also saw a fin whale, the humpbacks were the most active and numerous on our trip.  Humpback whales are found in any of the major oceans.  By late June and July of each year, humpback whales migrate to the western north Atlantic ocean to feed (also in the eastern Pacific near Alaska, among other places).  On our trip, the humpbacks would descend 60 feet below the surface, expel a cloud of air bubbles out of a blow hole (first photo, below) to disorient small fish and then surface to scoop the fish into their massive mouths (second photo, below).  According to NOAA, humpbacks, which filter feed on tiny crustaceans (mostly krill), plankton, and small fish, can consume up to 3,000 pounds of food per day.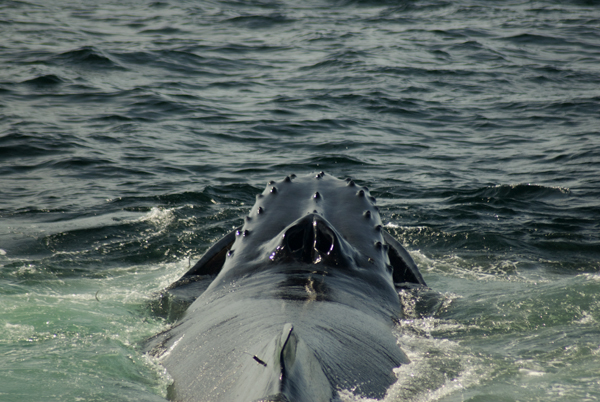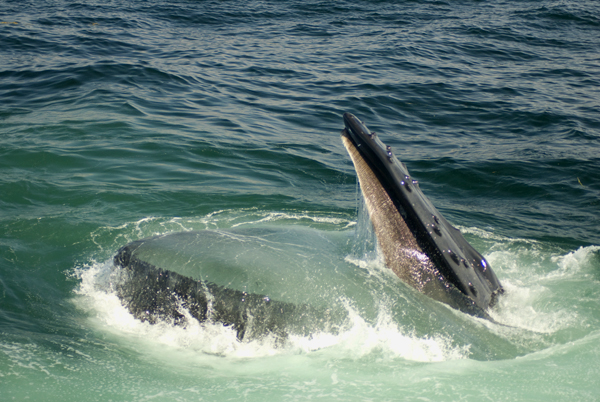 Humpback whales are very likely to be seen (at a distance) on Disney Cruise Line's Alaskan cruises, as well as on Adventures by Disney trips to Alaska (Adventures by Disney forum moderator Tobi Gerber ("SayHell0") wrote a trip report about seeing a humpback on her 2009 Alaska ABD trip).  For those wanting a closer experience, Disney Cruise Line offers several excursions out of Juneau which include or focus on whale watching.
A few observations about whale watching for those who haven't been.  The trip we took out of Massachusetts was on a ship not quite as large as the Liberty Square Riverboat at Walt Disney World.  And while the weather that day was calm, the ship rocked quite a bit.   Many whale watching excursions are on even smaller vessels so anyone prone to motion sickness should be prepared.  A NOAA webpage contains a helpful summary of what to do (and what not to do) to help avoid mal de mer.   Don't let this put you off going, however.  Another word of advice is to book whale watching excursions through Disney Cruise Line rather than an independent operator.   This is because our Massachusetts whale watching trip arrived back in port some two hours behind schedule.  While this was fine with us for this trip, had we been on a cruise, the delay might have caused us to miss our ship's departure from the port.  Booking excursions through Disney Cruise Line will avoid the possibility of the cruise ship departing without you.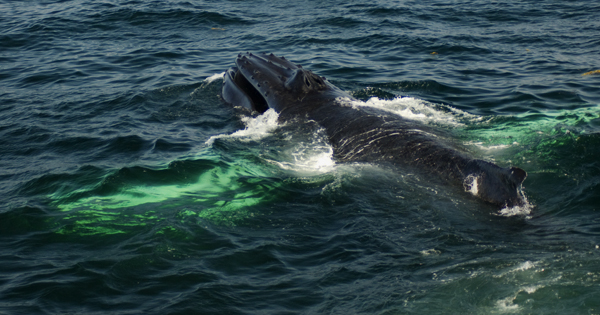 The photos in this post simply can't depict the experience of seeing these magnificent creatures in their natural habitat.  My words won't either.  I hope to merely whet the appetite of anyone who wants to see whales.   I find myself wondering why we hadn't taken a whale watching trip earlier.  (If you want to learn more about humpback whales I suggest the National Oceanic and Atmospheric Administration webpage about humpback whales which was my primary source for this article).
Category: Disney Cruise Line, Disney World