There's plenty going on at the Universal Orlando resort where it seems lately there are a lot of changes in store for guests.  Here's a look at new project updates, upcoming events, and some future announcements that are sure to make your visit to Universal Orlando more enjoyable.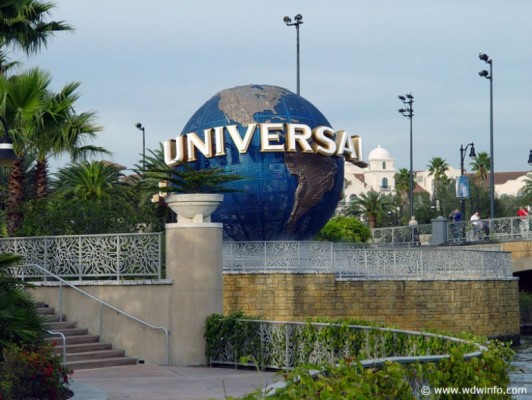 New 'Despicable Me' Attraction Moves Forward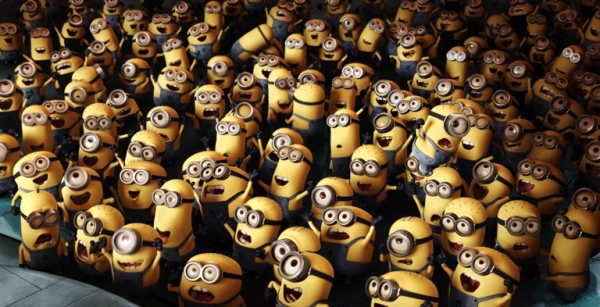 Photo courtesy of Universal Orlando
Work continues at Universal Studios to convert the former Jimmy Neutron's Nicktoon Blast to the all new 'Despicable Me' attraction.  The new ride will continue to follow the adventures of Gru and girls and feature more Minions than you can count.  Rumor has it that riders could be converted to Minions as well so they can participate in a celebration dance finale.
Universal is promising this ride will use state of the art 4K HD digital projection technology so colors and graphics are more crisp and clear for further guest enjoyment.
Jimmy Neutron's Nicktoon Blast will close permanently later this August so work can start on the new 'Despicable Me' attraction.  The new attraction is scheduled to open in the summer of 2012.
The 'Amazing Adventures of Spiderman' to Receive a Refresh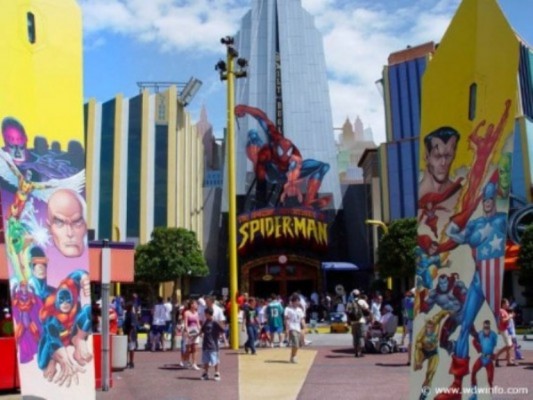 Now that the 'Amazing Adventures of Spiderman' attraction is 12 years old Universal has decided to give it an update and refresh.  Work has begun to convert the current film technology to new, state of the art 4K HD technology.  This new technology will make the colors and graphics inside the ride more crisp, clear, and realistic.
If this attraction wasn't already "amazing" enough Universal will be adding new set pieces to various scenes throughout the ride.  Apparently, work has already begun to convert show scenes 2, 3, 4, and 5 to the new 4K HD format.  Universal has said the update and refresh will be completed sometime in 2012.
Here's a look at the old film technology versus the new 4K HD digital technology.
Photo courtesy of Universal Orlando
Two New Miniature Golf Courses Coming to Universal CityWalk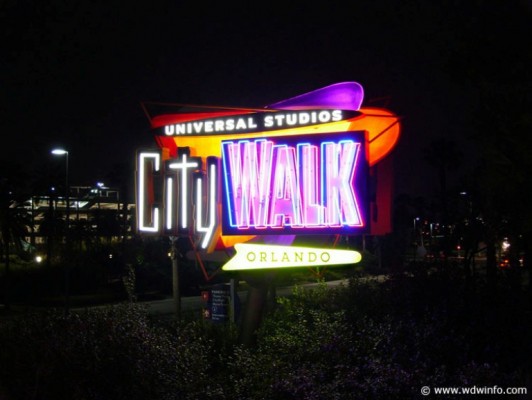 Construction has already begun on two new elaborate 18-hole miniature golf courses at Universal Orlando's CityWalk entertainment district.  The 'Hollywood Drive-In Golf' miniature golf courses will be themed after sci-fi and Hollywood blockbuster movies of years past.  One course will be named 'The Haunting of Ghostly Greens' while the other will be named 'Invaders from Planet Putt'.  Both courses will feature cutting-edge effects, stunning props, and elaborate lighting.
The courses will be located underneath the main walking path that brings guests into CityWalk from the parking garages.  Universal says the courses will be open to the public by early 2012.
Halloween Horror Nights 21 to Feature 'The Thing' Haunted House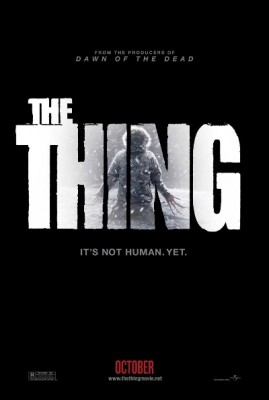 Arguably the best Halloween party in the nation, Universal Orlando's Halloween Horror Nights is bringing the thrills and mostly chills of 'The Thing' to one of its haunted houses.  Celebrating 21 years of scaring guests into a coma Universal's Halloween Horror Nights is coordinating the creation of this newly themed house at the same time as the remake of 'The Thing' movie which will open in theaters this October 14th.
Guests will find themselves in face-to-face situations with "The Thing" alien monster.  Just remember, this beast can transform itself into any living being on earth.  Be prepared to be "spooktafied" as you make your way through this elaborately themed haunted house this September and October.  If you are interested in finding out more information about this years Halloween Horror Nights 21 visit our web page dedicated to this event.
Universal Orlando Launches New Mobile App
Universal Orlando has recently launched and made available a new app for Android and IPhone users.  The 'Universal Orlando Resort Guide' app utilizes your GPS to provide location based information while you roam the theme parks and CityWalk.  The app is also a great source for attraction and park information.
The app is free and available for download.  Rumor has it that a Blackberry version is in the works.
Aylin Mujica and Gabriel Valenzuela visit Universal Orlando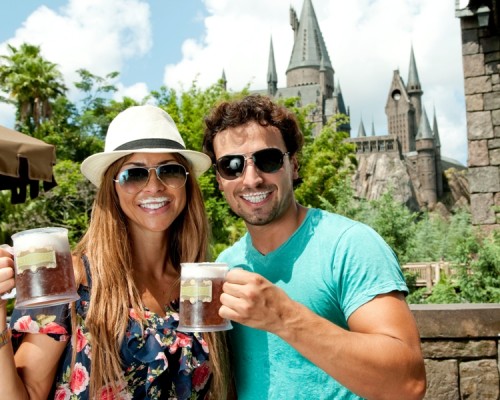 Photo courtesy of Universal Orlando
Cuban actress and model Aylin Mujica and her husband actor Gabriel Valenzuela recently visited the Universal Orlando Resort.  They were spotted in Hogsmeade Village at the Wizarding World of Harry Potter enjoying a refreshing Butterbeer with their family.  They also experienced the new 'Harry Potter and the Forbidden Journey' attraction inside the replica Hogwarts Castle.
Universal Orlando Announces "A Celebration of Harry Potter Films" Event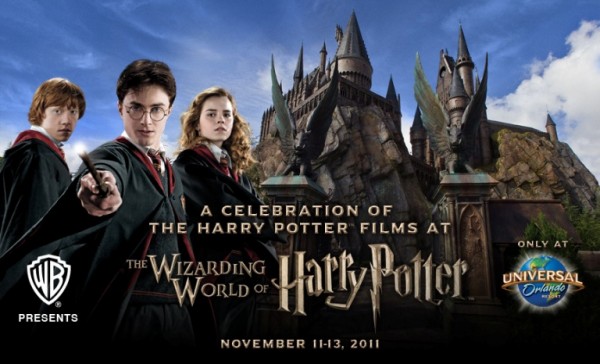 As sadly as the Harry Potter films came to an end Universal Orlando has decided to celebrate their amazing success.  The resort has announced an event and two vacation packages for guests to enjoy as they celebrate the end of the Harry Potter films.  Universal has promised guests who are booked into the "Premier" package admission into a spectacular evening gala inside the Wizarding World of Harry Potter, autograph signings with stars from the Harry Potter films, and screenings of all 8 Harry Potter films at the AMC Universal Cineplex.
The celebration package starts at $369 per person.  You can book the "Premier" package starting at $699 per person which includes admission into the evening gala and autograph signings.  The event takes place Friday November 11th – Sunday November 13th 2011.  Both the Celebration and the Premier vacation packages will go on sale July 31st.  Book your package quickly as they are expected to sell out.
DISaPalooza 2011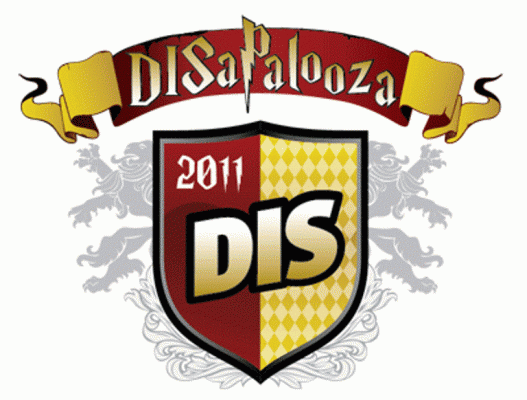 Do you want to be a part of a special evening event at the Wizarding World of Harry Potter, but can't make it to the Universal Orlando Resort on November 11th?  You may be in luck!  The DIS and Dreams Unlimited Travel are renting out the Wizarding World of Harry Potter on Saturday evening, December 10th and you can be a part of this amazing event.  For more information about this spectacular party be sure to visit the event's official thread.  We hope to see you there.
Friend Aaron on Facebook: I accept reader friend requests.
Category: Disney World, Universal / Sea World, Universal Orlando