John Magi and Kevin Klose of the DIS Unplugged and Dreams Unlimited Travel had an exclusive tour of Disney's newest Disney Vacation Club property in the Ko Olina resort area of Oahu, Hawaii.  During the tour they had a one on one interview with Walt Disney Imagineer Jeanette Lomboy, Senior Show Producer for Disney's Aulani Resort & Spa.  Lomboy reports directly to Joe Rohde, Senior Vice President of Creative for Walt Disney Imagineering, and leader of the creative team for the new resort.  Continue below to watch the video of this interview and learn about the connections between Aulani and the former Adventurer's Club (also designed by Rohde).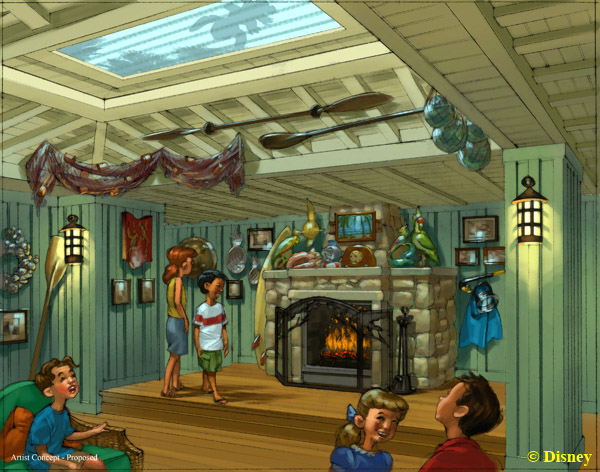 Image: Aunty's Beach House is the "kids club" offering supervised activities for children.
Imagineer Jeanette Lomboy discusses the family, story, and magic of Disney's Aulani, and why fans of the defunct Adventurer's Club are going to want to learn the backstory and details of Aunty's Beach House.
Disney's Aulani Resort and Spa is scheduled to open on August 29, 2011 and reservations are currently being accepted.  Check out this photo gallery of 200+ photos of the rooms, interiors, and surroundings that were taken during the tour.  So what do you think?  Are you excited to go check out this new Disney resort in Hawaii?  Are you curious about the references to the Adventurer's Club you can find at the resort?  Please leave your thoughts in the comments below.
Category: News