Disney has always looked for ways to control the resort refillable mug program at its resorts across property.  They may have decided it's time to stop the abuse of guests who continually bring their mugs back to Disney resorts every visit.  There is currently a new resort mug test taking place at the All Star Sport Resort End Zone Food Court.  This test incorporates new software technology at the drink dispensers.
When you buy a new resort mug at the End-Zone Food Court it will have an RFID chip in it.  When you use your mug at the soft drink dispenser it will read your mug's RFID chip and dispense liquid into your mug.  Soft drinks will only be dispensed provided your mug is valid.  Your mug will remain valid for the length of your stay at the resort.  Once your mug expires it will no longer be able to dispense soft drinks from the soft drink dispensers at the food court.
The new mugs at the All Star Sports Resort have the same "Let the Memories Begin" slogan on them, but are different colors than the current resort mugs at other resorts.  If you purchase a regular soft drink cup it will be valid for a short length of time while you enjoy your meal.  Additionally, if you just want a cup of ice or water any cup will work for those items.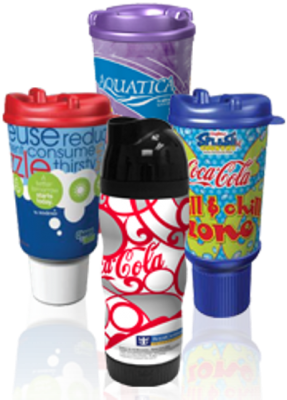 Mug photo courtesy of validfill.com
There is no word how long this test will last or if it will spread across other Disney resorts.  There appears to be a lot of questions swirling about how this technology works in certain drink dispensing situations like combining drinks, or if you spill some of your drink during dispensing.  Apparently, there is a certain amount of time you have to wait after you've dispensed a drink with your refillable mug.  Like any test period there will be adjustments made to make the program as fluent as possible.
How do you feel about this test?  Do you feel it will work?  Let us know your thoughts in the comments section below.  For more information about this drink dispensing technology visit validfill.com.
Category: Disney World