According to Disney's Golden Oak website, the story of Golden Oak begins in true once-upon-a time fashion.  As a youth in Missouri, Walt Disney would lie beneath the spreading branches of his "dreaming tree" and let his imagination run free. It was here that Walt's talents for storytelling and fantasy began to take shape into some of the world's most beloved characters.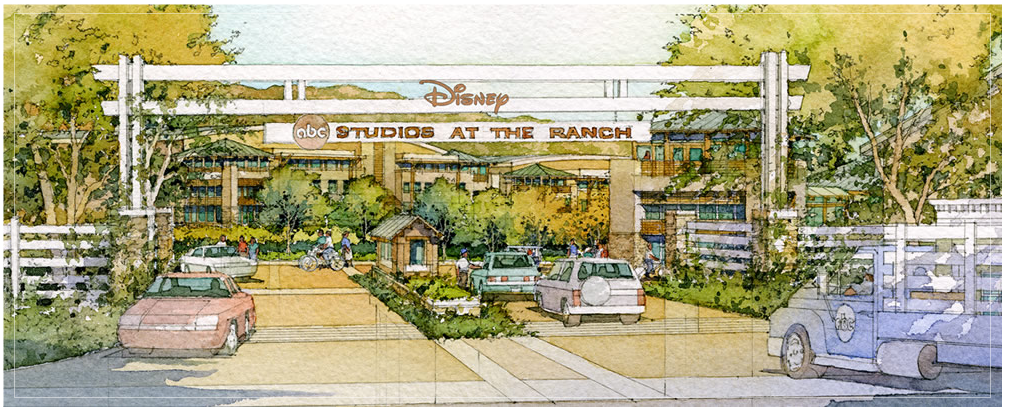 Image: The Walt Disney Company
Years later, a scenic ranch in California's Placerita Canyon proved an equally inspiring location for filming segments of The Mickey Mouse Club TV show. Walt Disney Productions purchased portions of the property in 1959 and, over the years, acquired more than 900 acres… for TV and movie productions and protect its harmony with nature.  In fact, Walt and his family spent time relaxing and playing on the ranch.
Walt named the ranch, Golden Oak, in honor of a storied tree there, under which some say gold nuggets had been found in 1842.  From these illustrious origins, the legacy continues with Golden Oak at Walt Disney World® Resort. Walt Disney Imagineers are the driving force behind the design, layout, and overall master plan for The Golden Oak project.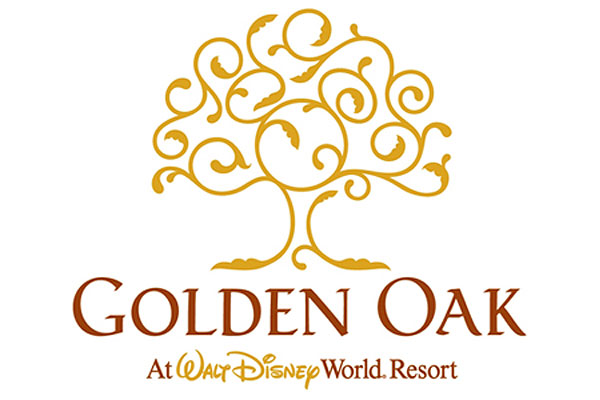 According to The Wall Street Journal, "Discussions for a luxury-home project began in 2005 when planners for Walt Disney Parks and Resorts began to discuss whether the two golf courses might be better off being redeveloped."  Disney already had a number of existing golf courses, as well as numerous ones outside of the property, so these two seemed a bit redundant.  The article continues to say, "At about the same time, the Four Season Hotel and Resorts, which had long wanted a location in Orlando… approached Disney about opening a hotel near its theme park."  After the announcement on June 23, 2010, Disney instituted a Lot Release Priority program, which was put in place before they started selling in January 2011.  This program allowed people to get on a list to be the first to choose from available homesites.  Once they started selling in January, Disney stopped taking the $25,000 deposit.
Earlier this week, The Walt Disney Company announced that early buyers at Golden Oak, the 980-acre luxury vacation-home community that was unveiled last June, would receive VIP benefits at this new residential resort community planned at the Walt Disney World Resort.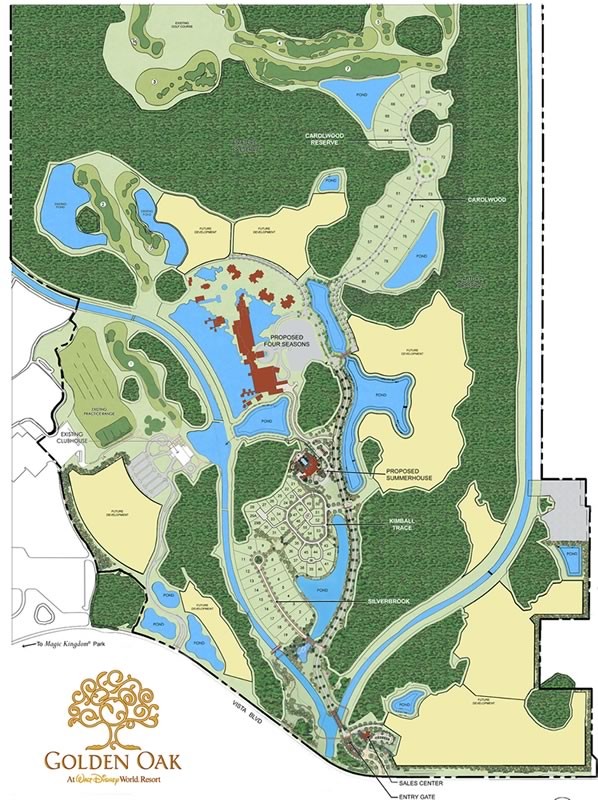 The first homes, 30-plus single-family home sites, are currently available.  With some lots already sold, Disney is offering the Golden Oak VIP Pass as an incentive to purchase a homesite or completed home by the end of this year.  Disney estimates that the entire project could take eight to ten years to complete.  The future homes are expected to be built on six other possible parcels surrounding the property.  Currently, home prices are expected to range from $1.4 – 8 million dollars.
According to the Walt Disney Company, "Families who close on the purchase of a homesite or completed home… before December 31, 2011 will receive one complimentary five-year VIP Pass for the homebuyer, providing admission for the Passholder and up to four guests."
Golden Oak – On and off Disney property
In numerous stories when they refer to Golden Oak it states that it's "on Disney property."  That is technically incorrect.  The land, originally on Disney property, is now part of Orange County.  The confusion is understandable.
The story of how Walt Disney secretly bought up as much land as he could through the creation of six dummy corporations is well known.  However, Disney knew that their plans for present and future development and control of their land would be easier if they had virtually total independence.  Therefore, they petitioned the Florida State Legislature for the creation of the Reedy Creek Improvement District (RCID), which would have almost total autonomy within its borders. On May 12, 1967, Governor Claude R. Kirk, Jr. signed into law not only the creation of the District, but also the incorporation acts for two cities inside the District: Bay Lake and Reedy Creek (The City of Reedy Creek was renamed to the City of Lake Buena Vista around 1970.)
According to a 2004 report from the Office of Program Policy Analysis & Government Accountability, "When the Legislature created the Reedy Creek Improvement District, it granted the district broad authorities and rights typically reserved for municipal and county governments."  The RCID provides many services that cities and towns provide like regulate water management, fire protection, wildlife preservation, roads and bridges, zoning, collect & pay state/county sales taxes, hotel taxes, and county property taxes, among other services.  The also have the power and authority to "build, operate, and maintain facilities for the generation and transmission of power through nuclear fission."  Additionally, they can also build and operate a public-access airport.  They have yet to enact either of these since its inception.  Two services that Disney passed on were having their own police force and creating their own schools.  In regards to law enforcement, they call upon the Orange and Osceola County Police Departments and Sheriffs' Offices.
It was important for the RCID to maintain total control over the land which is the reason why there has never been anyone owning a home and land on Disney property.  Even when Walt was envisioning EPCOT, no one living there would own their own land or home, thereby having no municipal voting rights (bond issues, etc.).  Therefore, whenever Disney decides to sell off land, it typically de-annexes it as well thereby maintaining their exclusive voting rights and control.
"When the Magic Kingdom opened in 1971, it was more than 16 miles from the nearest urban development," according to the Reedy Creek Improvement District Comprehensive Plan 2020.  "Today, the edge of the Orlando urban area is adjacent to the District's east side and there are new communities planned or under construction to the north, west, and south of District boundaries.  The perimeter of the District has evolved from a tourist-oriented landscape to a full-service community with year-round housing, community-oriented shopping, and non-service industry employment."
As a side note, the original size of the property, 27, 400 acres, is how most people still refer to the size of The Walt Disney World Resort; however, that is not entirely accurate.  According to Wikipedia, at its peak, the resort occupied approximately 30,000 acres (120 km2) or 47 square miles (120 km²), about the size of San Francisco, or twice the size of Manhattan.  Portions of the property since have been sold or de-annexed, including land now occupied by the Disney-built community of Celebration, 53-acres on Sherberth Road south of Disney's Animal Kingdom, 47-acres on Reams Road north of the Magic Kingdom, and now the property that Golden Oak, The Four Seasons Orlando, and Eagle Pines Golf Course sits on.
Golden Oak homes are now located within Orange County, Florida.  The county will now be the provider of police and fire services, refuse removal and reclaimed water.  Orange County Utilities will provide water and TECO Energy will provide sewer and natural gas.
Who Are The People In Your Neighborhood
Previously reported, Golden Oak's approximately 450 homes will be located in distinct neighborhoods.  The first four neighborhoods, Carolwood Reserve, Carolwood, Kimball Trace, and Silverbrook, will eventually contain eighty-one homes.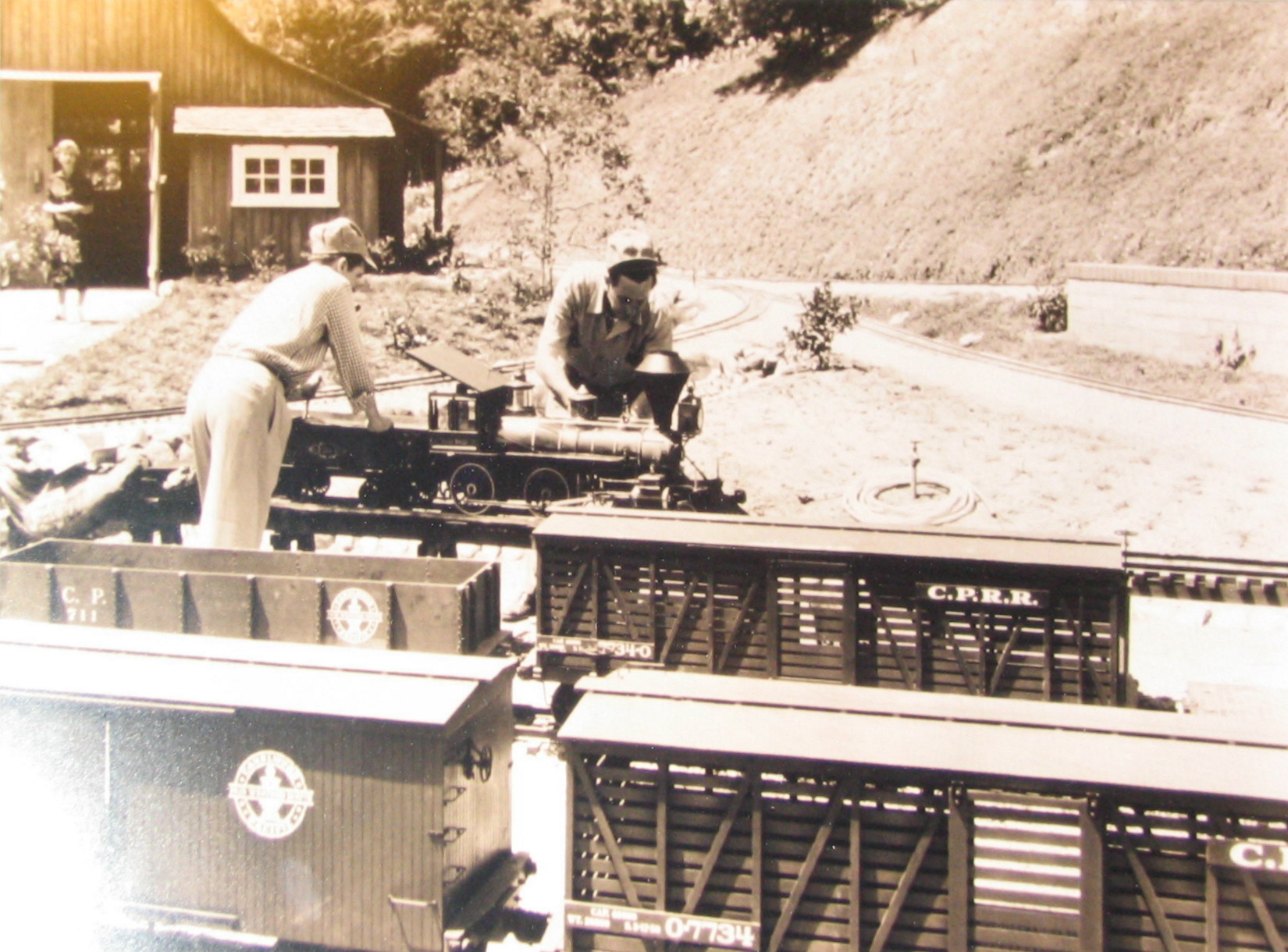 Photo: The Walt Disney Company
Carolwood was named after the street that Walt Disney lived on in Beverly Hills/Holmby Hills and his backyard railroad.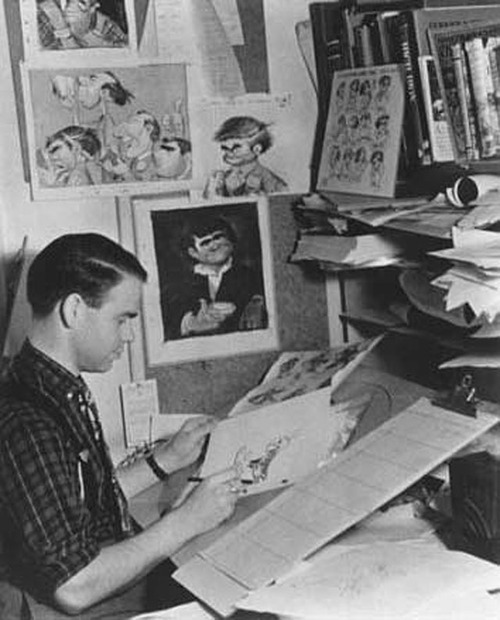 Photo: The Walt Disney Company
Kimball Trace honors Ward Kimball, one of Walt Disney's original animators and the Silverbrook neighborhood comes from Silver Lake, the location of Walt and Roy's first large studio in California.
Photo: The Walt Disney Company
Carolwood Reserve, the most exclusive of the four neighborhoods, offers eight premium homes on approximately three-quarters of an acre each.  Just south of that is Carolwood with seventeen grand estate homes.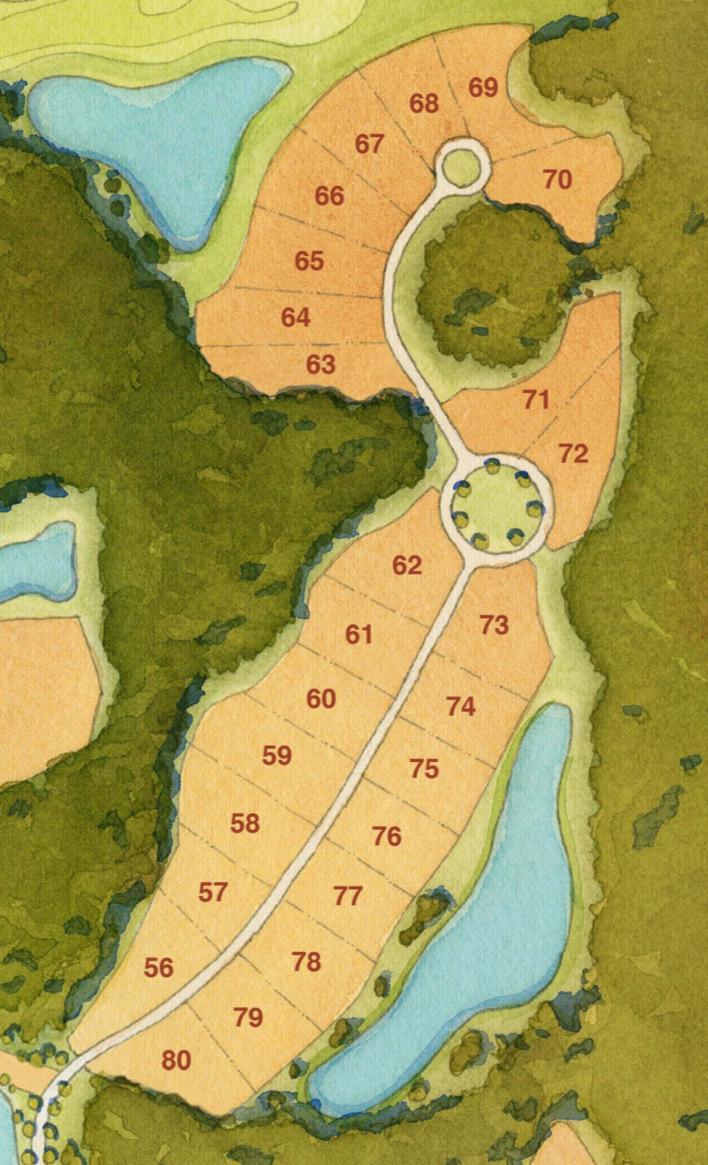 Upper: Carolwood Reserve / Lower: Carolwood
Image: The Walt Disney Company
Closest to the private clubhouse, Summerhouse, is Kimball Trace.  The largest of the four neighborhoods, Kimball Trace, a Tuscan-inspired village, has thirty-seven homes on approximately one-quarter of an acre.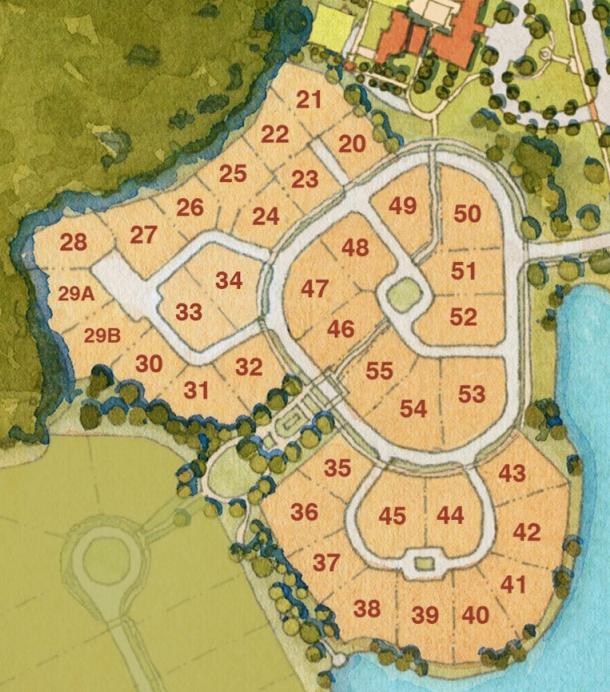 Kimball Trace
Image: The Walt Disney Company
Just south of Kimball Trace will be Silverbrook, nineteen homes on one-half an acre with views of the water or conservation area.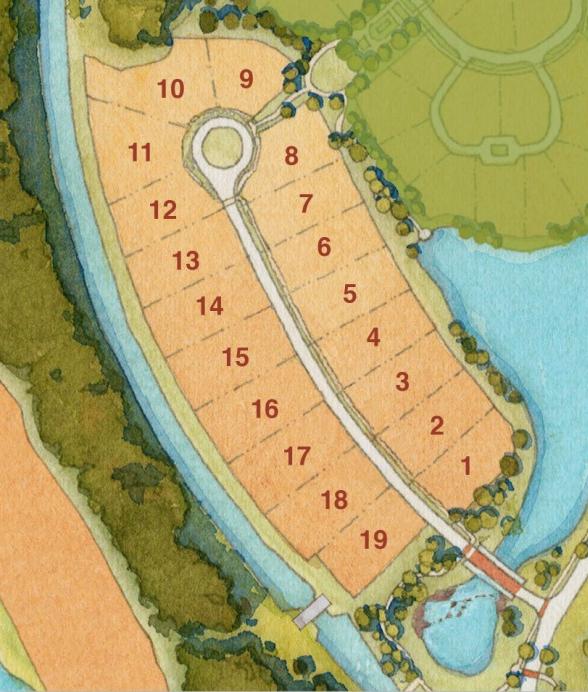 Silverbrook
Image: The Walt Disney Company
This being Disney, each home owner can choose from a selection of homebuilders, building materials and decorative elements, and architectural styles from a Disney-approved list in order to "ensure the overall development, maintenance, administration and preservation of Golden Oak."  The builders selected are CAHILL, Goehring & Morgan, Issa Homes, Derrick Builders, Inc., Jones-Clayton Construction, J. Richard Watson Construction Company, Inc., and Ray Coudriet Builder, Inc.
Something from Column A and something from Column B
Some of Disney's architectural standards include landscaping, hardscaping, and vertical elements.  The landscaping, according to Disney, should include simple lines and textural distinction while creating a harmonious overall appearance from homesite to homesite.   Each homeowner is required to utilize environmentally responsible plant materials and is encouraged to use Florida native and/or drought tolerant plant material.  Disney says that sixty-percent of the landscape are should be shrubs and groundcover and the other forty-percent shall be Zoysia variety turf.  The prospectus says, "No bare ground is allowed as part of the landscape design."
For the hardscape, the elements should complement the surrounding architecture.  Pavers, stone, and such are encouraged and concrete or asphalt driveways are strictly forbidden.
"All homes will be constructed using building materials of the finest quality, representing historically accurate architecture and craftsmanship."  Some of the more interesting requirements are that clay barrel tiles or slate is required for all roofs.  Garage doors are to appear as carriage doors and exterior walls are to be finished in stucco, however stone, tile, and wood accents are acceptable.
Rules To Live By
As if the construction guidelines were not enough, Disney has a number of other rules for potential homeowners.
The Golden Oak community and residents are governed by not only a Home-owners Association (HOA), but also a Golden Oak Non-Residential Association.  There are a number of interesting points in the Non-Residential Association guidelines including rules on resale profits.  If a resale occurs before the completion of the home, the Golden Oak Non-Residential Association will receive 75% of the resale profit.  If construction has begun and not completed and then the resale occurs within two years following completion, the homeowner owes 50% of the profits to the association.  And finally, if construction of the home was already completed at the time of the initial purchase from the developer or the builder, and a resale occurs within two years of the initial purchase, then the homeowner owes 50% of the profits to the association.
In addition, in order to dissuade homeowners from renting their homes out to multiple renters throughout the year, homes may not be rented for a period less than 180 days.
Depending on where you live in the world, the homeowner fees and assessments can either be reasonable or steep.  Fees throughout 2011 are $3,945.00 and once the club fees, landscape maintenance, and security fees kick in they will range from $9,960 to $12,000 per year.
It's The Extras That Count
Although the Four Seasons Resort website does not have their future Orlando property listed anywhere, Disney is still including it in all their press materials and according to a recent story in The Orlando Sentinel, a spokeswoman for The Four Seasons Resort said the resort has been pushed back until early 2014.  The Four Seasons Resort Orlando at Walt Disney World will be a 445-guest room hotel with all the luxury and full-service amenities people have come to expect from the hotel group.  There will also be a Tom Fazio-designed championship golf course.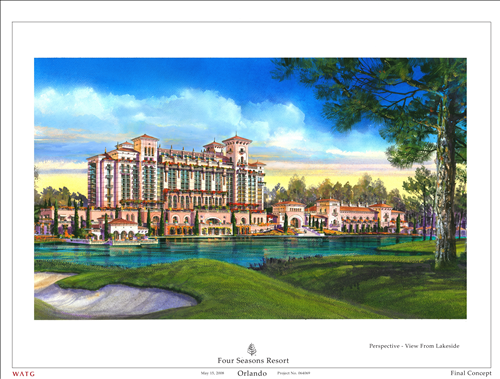 In addition to Golden Oak VIP Pass and transportation to and from the Parks, other services available to future residents (for a fee of course) include: personal concierges, move-in services, pre-arrival and post-departure home maintenance, travel and  private transportation , private VIP tours, in-home dinners and parties, grocery shopping, errands, Disney designed holiday home decorating, and more.
Summerhouse: A Private Clubhouse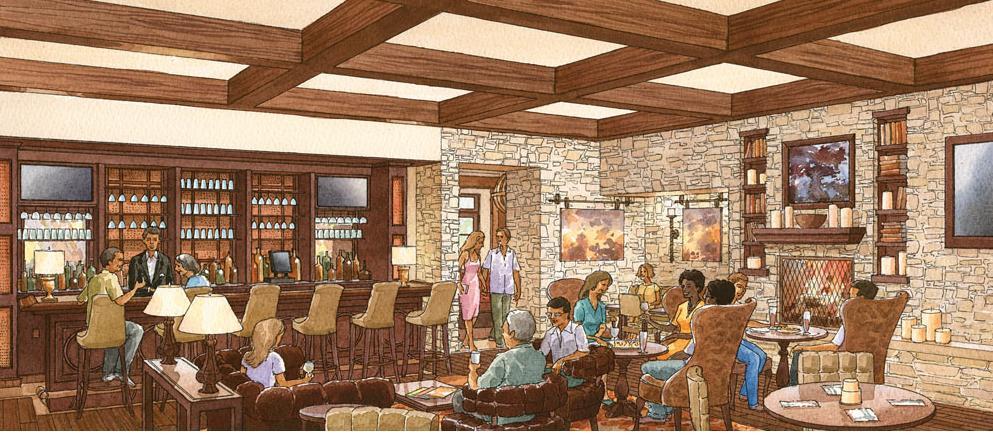 Image: The Walt Disney Company
The Golden Oak Club is a private recreation club that will include Summerhouse, a 16,000 square-foot Disney-owned clubhouse.  Construction has already begun on Summerhouse, located in the middle of the Golden Oak community.  Disney will be responsible for the clubhouse's membership policies, programs, and activities.  According to the Golden Oak prospectus, Summerhouse is where families and guests can gather and enjoy various amenities including a private dining area and lounge, demonstration kitchen, fitness facilities, a pool, as well as planned seasonal parties and family events hosted by resident services.  The Summerhouse is schedule to open in 2012.
References:
Wikipedia
The Walt Disney Company
Report: Office of Program Policy Analysis & Government Accountability, Dec. 2004
Report: Reedy Creek Improvement District Comprehensive Plan 2020, Adopted: July 2010/Effective: October 2010
The Wall Street Journal, June 23, 2010, Juliet Chung
Examiner.com, Debra Peterson
Category: Disney World, Editorials, News