On Friday, June 10th SeaWorld's all-inclusive "boutique" park Discovery Cove opened its first expansion in history.  The DIS Unplugged's Kathy Werling attended and submitted this first-hand report.  The Grand Reef is an all-new tropical reef where guests can wade, swim, and snorkel with thousands of species of tropical fishes.  The area will also include an underwater hiking trail called SeaVenture where guests can don diving bells and walk along marked paths [note: SeaVenture costs $59/person in addition to the regular admission fee.]  Continue after the break for Discovery Cove's video of the newly opened Grand Reef.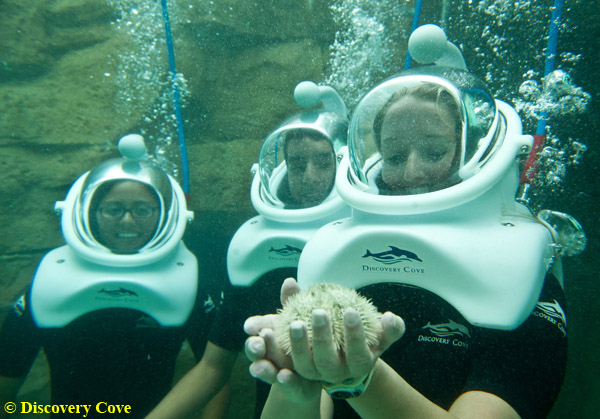 The reef contains multiple levels so guests need only to wet their feet to experience the area, or guests can swim out to deeper water to snorkel with schools of fish and rays.  Stewart Clark, Vice President for Discovery Cove, remarked:
"the Grand Reef takes Discovery Cove's world-class animal encounters to an all new level — several, actually.  It's what our guests expect from us, unforgettable connections with the sea and making memories that will last forever."
The Grand Reef also contains walking paths and bridges for guests to observe sharks, eels, rays, and fish from above the water as well.  All-in-all, the new reef teems with over 10,000 animals including 125 different species of sharks, rays, and fish.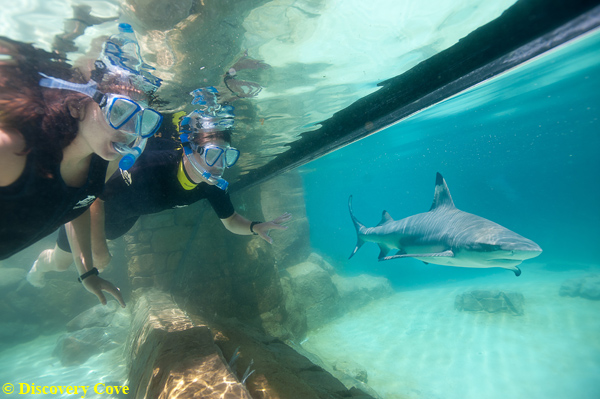 Admission to Discovery Cove is not inexpensive, with rates starting at ~$200/person (depending on season) including the dolphin experience.  However, that rate is all-inclusive including breakfast, lunch, all snacks, and a souvenir photo.  If you can fit it into your family budget, I can highly recommend the experience.  Our family spent a day at Discovery Cove on a recent family vacation, and we talk about it to this day.  Click here to read about our experience from the summer of 2010.  We would definitely go back and check out these new additions at Discovery Cove – I personally can't wait to try out SeaVenture.
Category: Sea World