Star Tours: The Adventures Continue officially opened Friday at Disneyland. For a look inside the ride, check out Dave Parfitt's recent blog about the Disney Hollywood Studios version….they are exactly the same. I was lucky enough to be able to attend the opening ceremonies, and after the spectacle of the ceremonies for The Little Mermaid: Ariel's Undersea Adventure a day earlier, my expectations were high. Read on for some pictures and details from the event.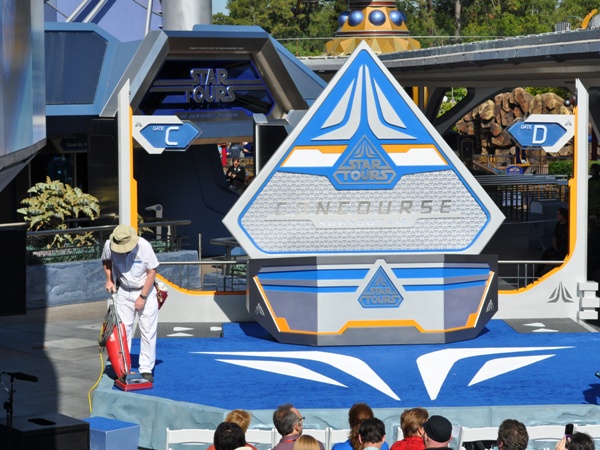 I should've known to lower my expectations when a Cast Member came out to vacuum the stage just minutes before the ceremony began, but then my hopes were lifted as Stormtroopers began gathering atop the old Peoplemover track.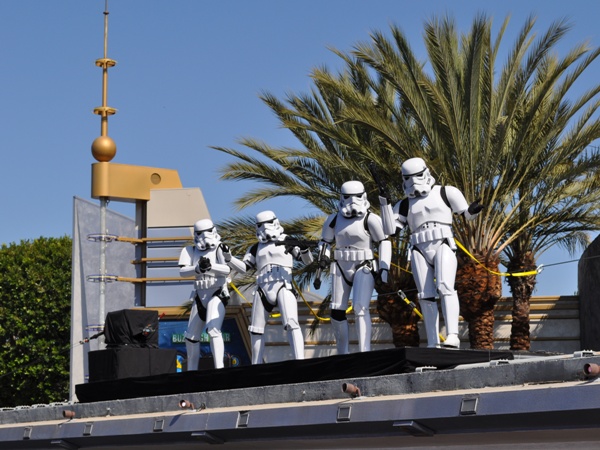 Nice….you could see their bright yellow safety cables…but still pretty cool. The ceremony began and Angela, our hostess for the last couple of days, came out…with a hairstyle and costume that was very familiar to Star Tours fans.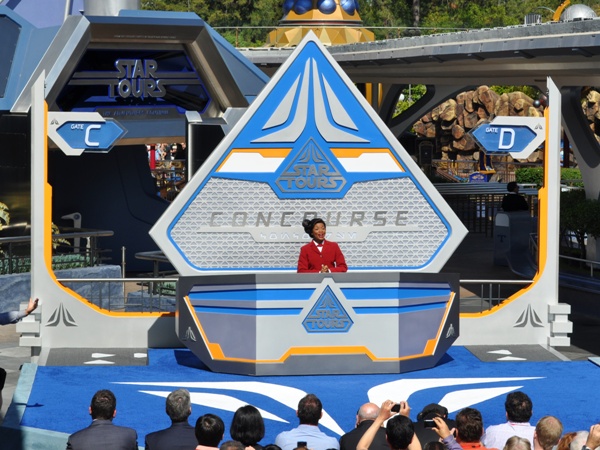 Angela announced that finally Starspeeder was boarding….but wait…a couple more passengers want tickets….a stormtrooper and the Jedi Master from Jedi Training Academy? Why would he want tickets? Doesn't he have a show to do later?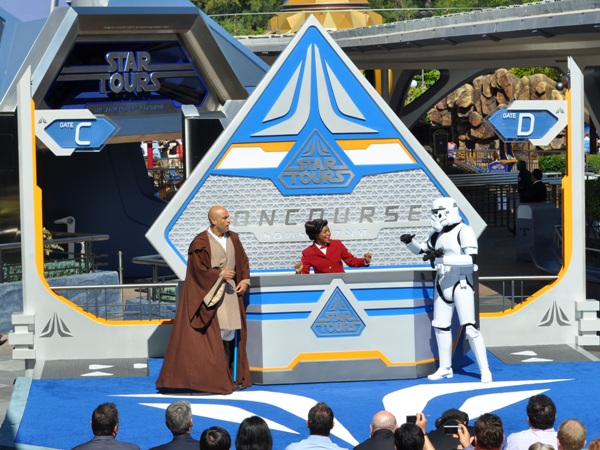 Bad news….there's only one ticket left. You know what that means of course….a big fight sequence. Poor Angela.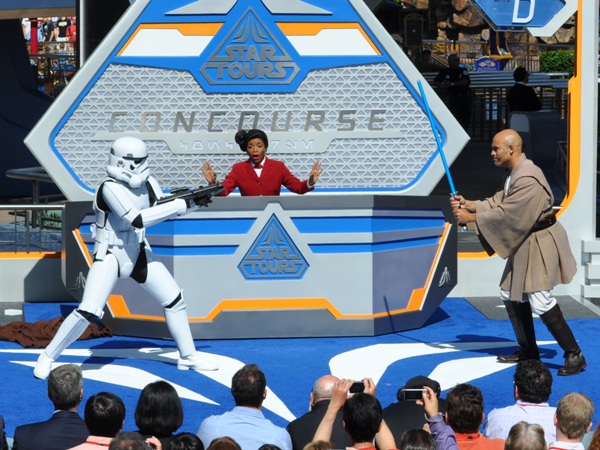 The Stormtroopers get in on the action.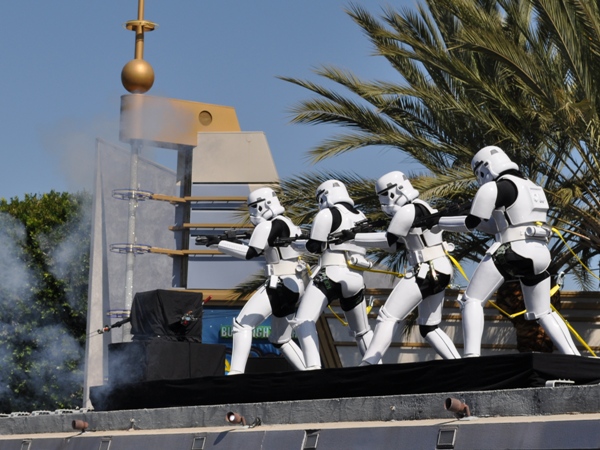 And then the rest of the Jedi Training Academy cast joins in the fight.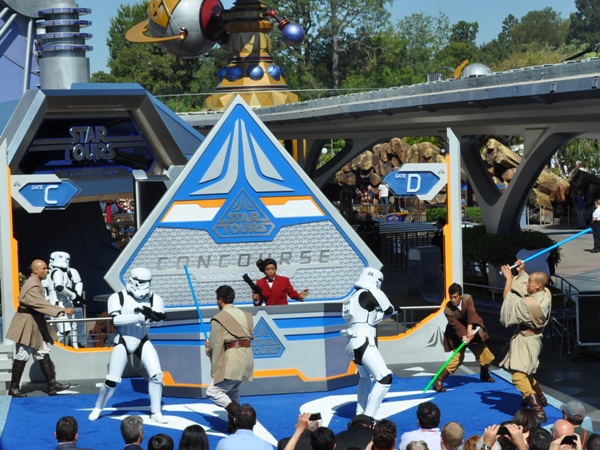 The stormtroopers get the upper hand and Lord Vader takes our Jedi Master prisoner.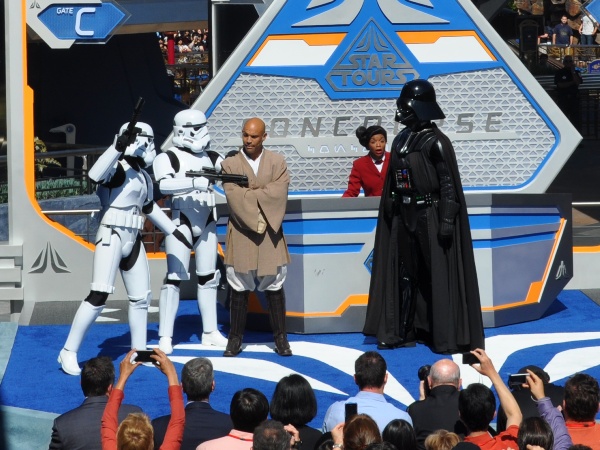 But then a mysterious stranger shows up to save the day. My, that mysterious stranger is wearing a nice pair of slacks and some expensive shoes.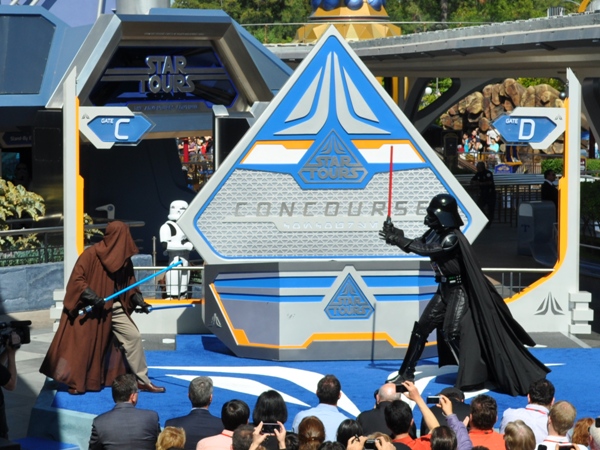 Could it be??? Why yes, yes it is.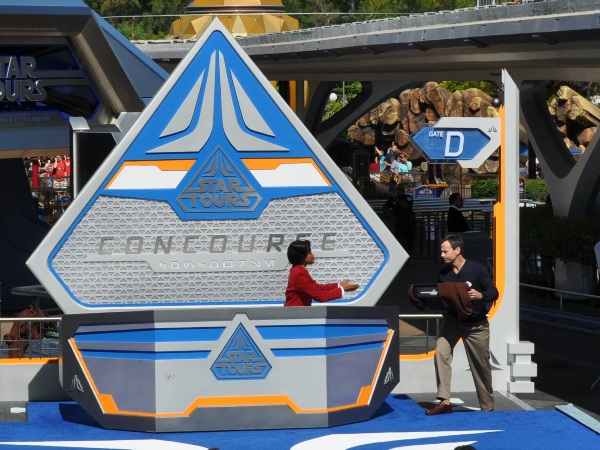 It was Tom Staggs, Chairman of Walt Disney Parks and Resorts, who then helped Angela cut the ribbon on the new attraction.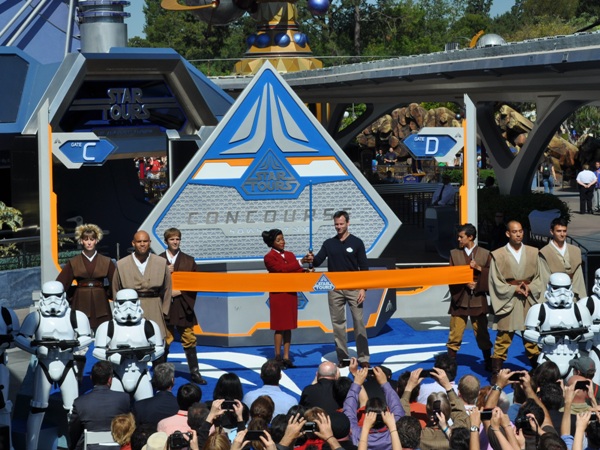 Wait…that was it?? I'm sure the cast of Jedi Training Academy are nice people, but where was George Lucas? Anthony Daniels?? Heck, I'd settle for Peter Mayhew.
I understand that the star-studded opening ceremonies at Disney Hollywood Studios were also associated with Star Wars Weekends, but still…maybe Billy Dee Williams or one of the Ewoks?
I could sit here and continue to alienate B-list celebrities (and blow Dave Parfitt's chance for interviews), but my Starspeeder awaits. May the Force be with you.
Category: Disneyland