On Friday, May 27, The Disney Store Times Square re-opened after a ten day makeover.  It didn't seem possible that they could take a beautiful store, which only opened last November, and make it any better.  But they did.
As reported earlier, the most dramatic changes occurred on the first floor.  There were also some minor changes to the second floor, Imagination Park, as well as some backstage reconfigurations.
Top Photo: Before / Bottom Photo: After
Walking into the store before, guests entered a vestibule and then entered the store through a second set of doors.  Today, the vestibule is gone and a revolving door delivers guests directly into the store.  As convenient as the vestibule was during inclement weather the new look is not only nicer looking, but gives the store extra floor space for retail.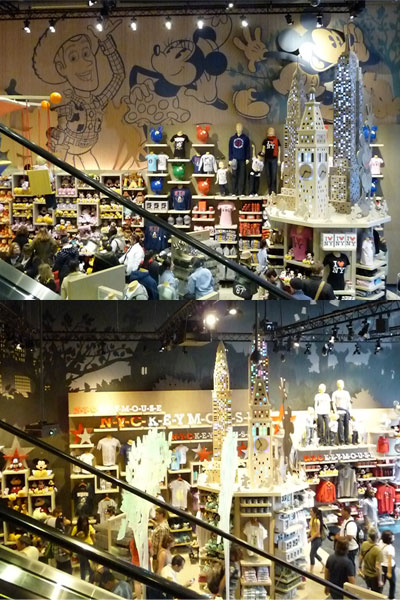 Top Photo: Before / Bottom Photo: After
In bringing the first floor more in line with the look and feel of the second floor, the wooden walls with the oversized characters that wrapped around the upper portion of the first floor have been replaced by the dark green walls and skyline that can be found in Imagination Park.  On the escalator side of the store, the dark green wall was there, but it was a fairly static wall with painted trees and Disney characters such as the brooms from Fantasia, Dumbo, the house from Up, and others leading guests up.  Occasionally they would project some magic pixie dust that swirled up to lead guests to Imagination Park.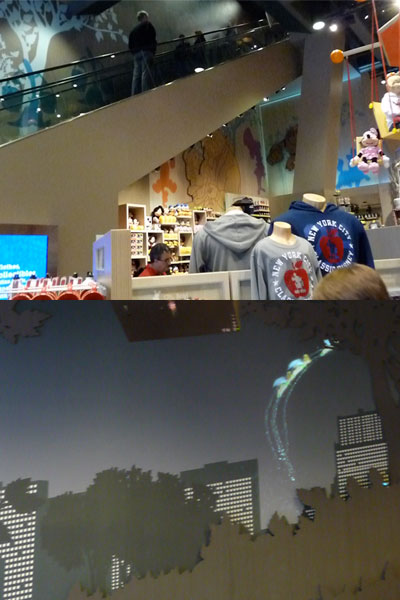 Top Photo: Before / Bottom Photo: After
Now, gone are the characters and in its place are cut-outs of a double layer of solid green trees.  Also, more of the New York City skyline has been added to give guests the feel that they are in Central Park looking out.  But, how they plussed this is nothing short of genius.  At first, many guests don't realize what is happened, but then the eye catches something going on.  Once guests stop for a minute and look at that wall they realize the music they have been hearing all along is corresponding to some fantastic images being projected on that wall.  A mini in-store projection show.  Some of the images are quick and subtle like a pair of eyes poking through the trees and "looking" at the guests or Winnie the Pooh floating over the city while dangling from a balloon and others truly transport guests.  Probably the three standouts are a Lion King sequence, a Tangled sequence, and fireworks.  These three, in particular, are not to be missed.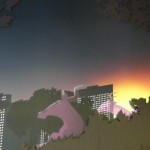 The Lion King sequence involves music from the film with various animals projected on the wall as the sun is rising over the Manhattan skyline.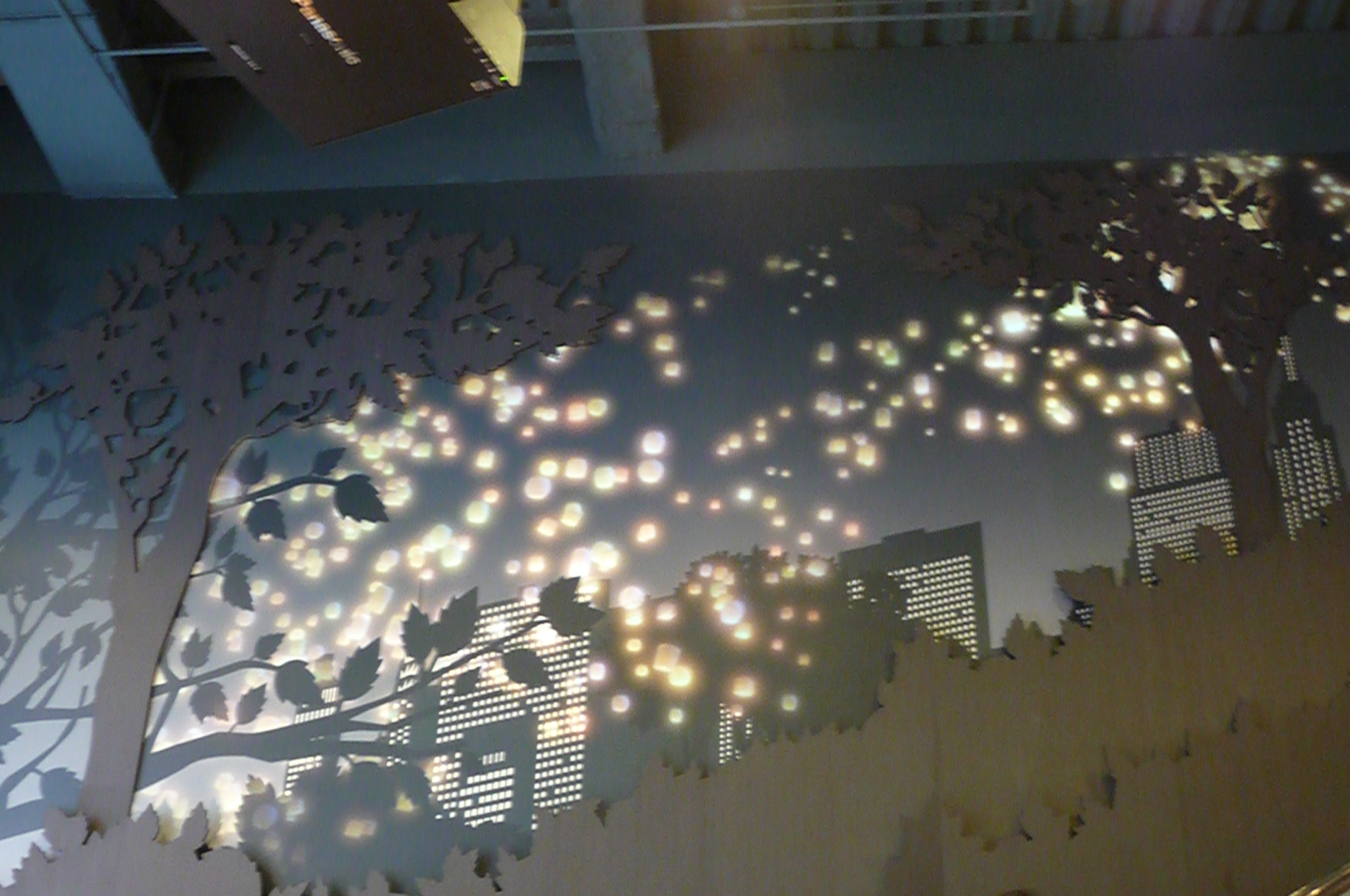 I think the Tangled sequence is simply the most magical, beautiful, mesmerizing scene and that alone is worth making a trip to the store.  As "I See The Light" plays, a few lanterns float across and upward on the skyline.  Eventually the entire sky is filled with lanterns and in an instant has transported guests from a boat on the lake looking at the Kingdom of Corona to the middle of Central Park looking at the New York City skyline.  It's simply breathtaking.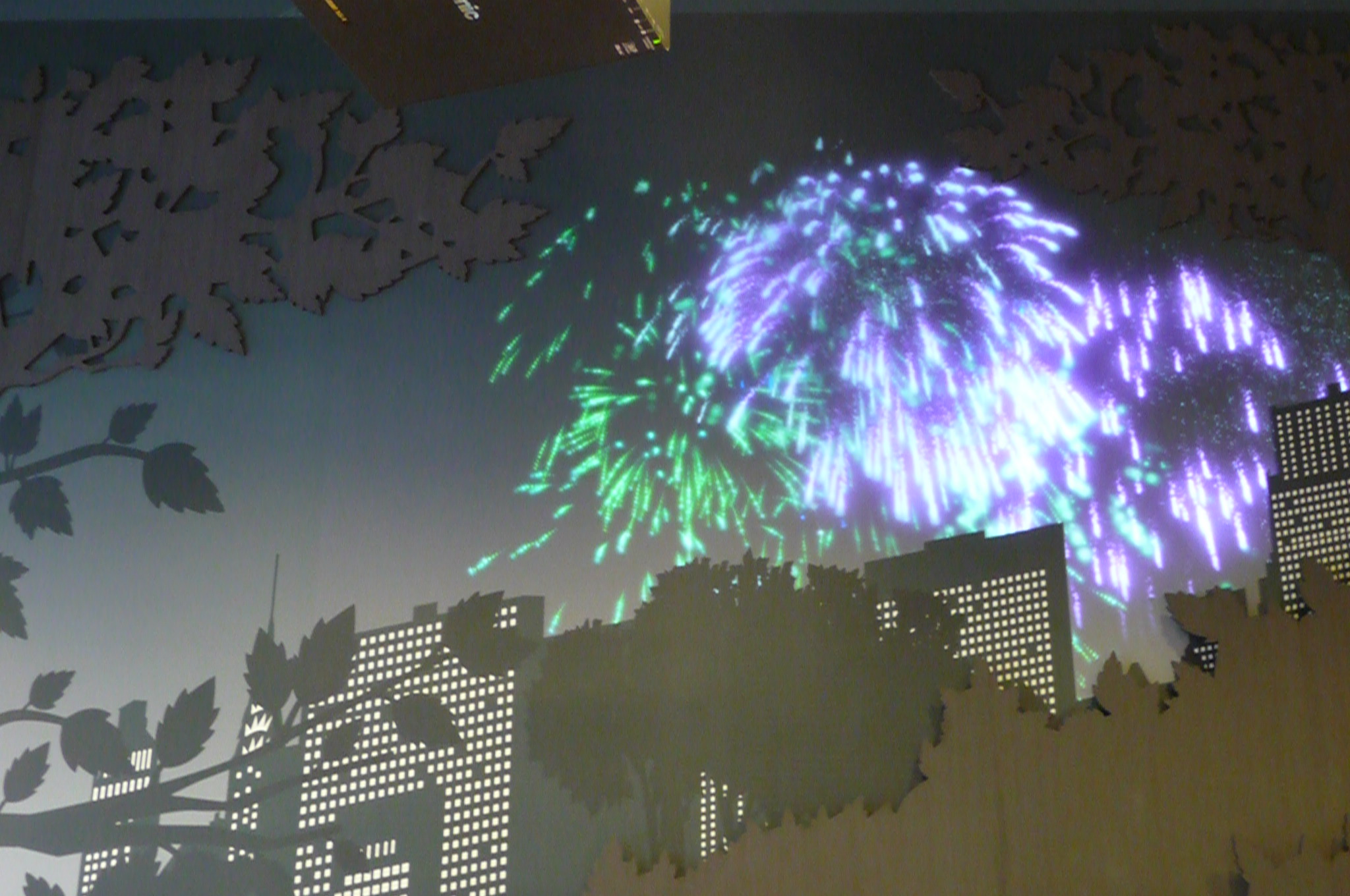 And to not let you forget that this is Disney, in a good way, guests are treated to a fun little fireworks display.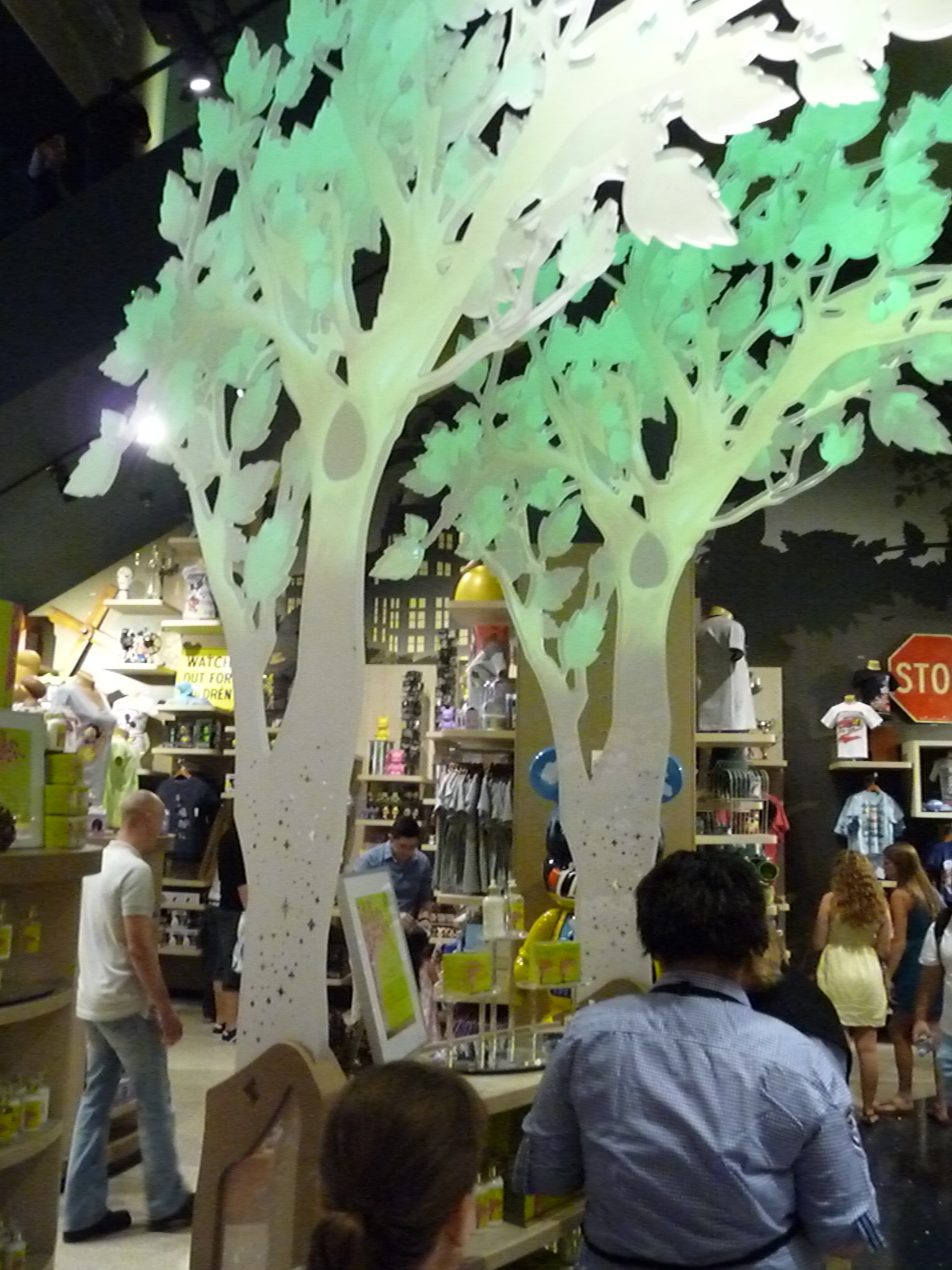 Another synergistic change was the "planting" of a few magical Lucite trees on the first floor.  It may seem like a subtle change, but it gave the first floor not only a little more ambiance, but also a warmer feeling.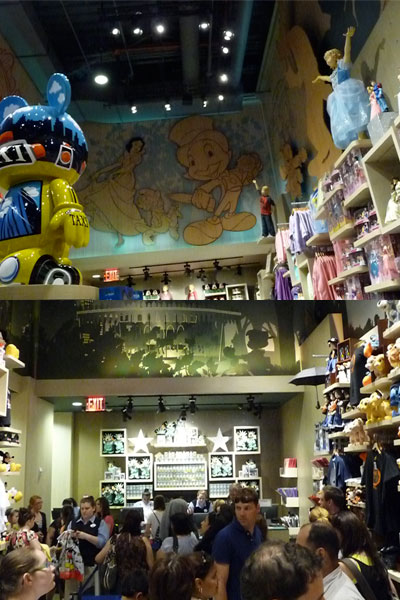 Top Photo: Before / Bottom Photo: After
As guests make their way from the front of the store to the back they will notice another significant change  – the check out station.  Originally, the cash registers were under the escalators on the far left in the middle of the store.  The line, which there usually was, to check out cut straight through the store and snaked around the Vinylmation display.  Even though the line was roped off, it made walking around and shopping rather difficult.  Now the check out is located in the far back of the store where some of the seasonal merchandise and children's clothing used to reside.
Virtually all the merchandise that was found on this floor is still there, but with the additional floor space there is room for not only merchandise such as Cars, ipad and iphone case covers, and other seasonal items, but also for the introduction of three new lines: Kidada for Disney Store, The Home and Personal Fragrance Collection, and the Pop! Vinyl Doll Collection.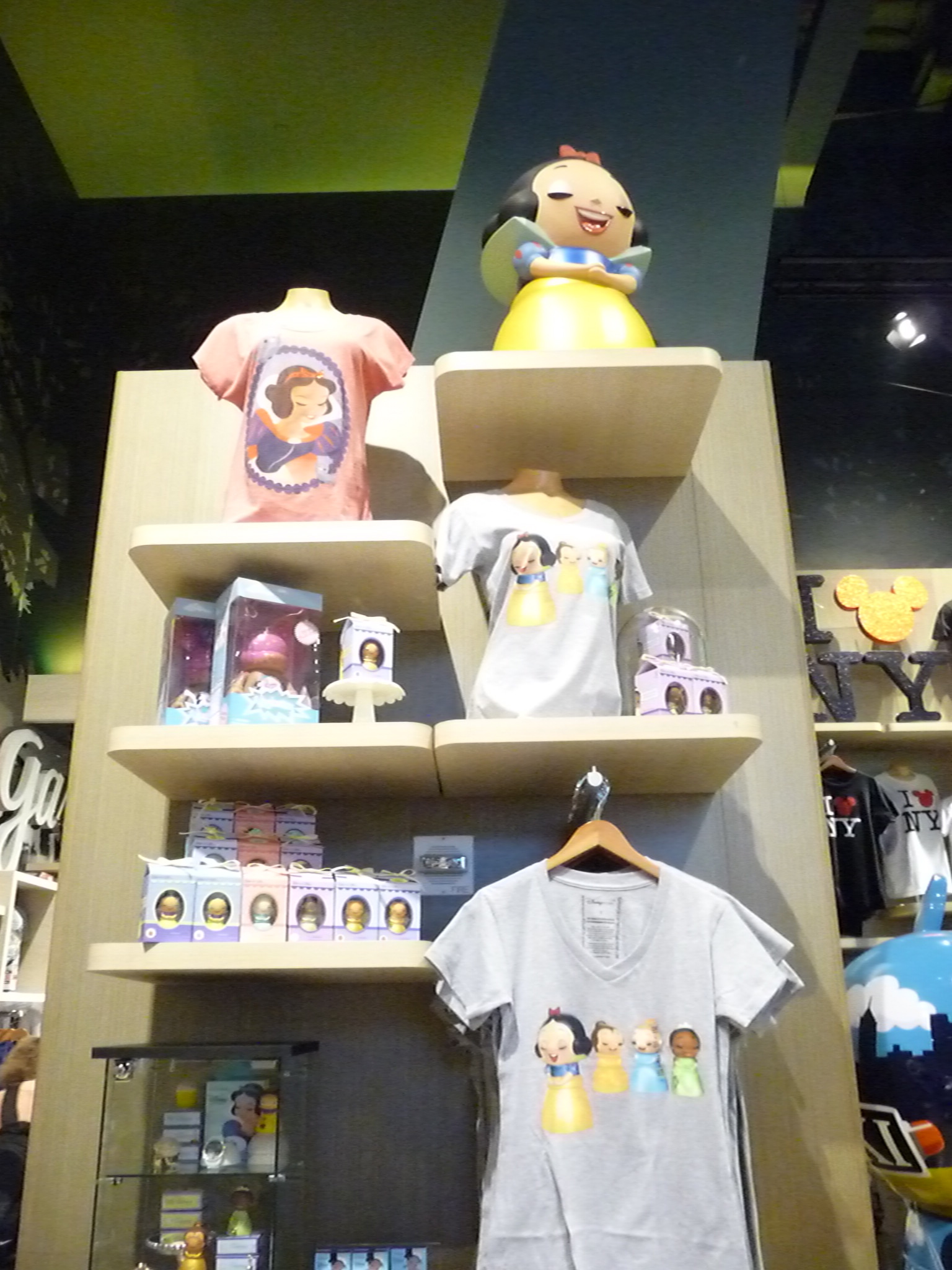 Kidada for Disney Store is a 38-piece collection that includes charm bracelets, pendant necklaces and T-shirts featuring Disney princesses Cinderella, Snow White, Tiana and Sleeping Beauty.  The Disney Store formed a partnership with Kidada Jones, famed jewelry designer and daughter to music legend Quincy Jones, to create an exclusive line of jewelry and clothing young ladies and women.
"As a kid growing up in Southern California, I was a frequent visitor to the Disneyland and developed a deep love of the magic and wonder of Disney," said Kidada Jones. "This collection was inspired by childhood memories of Disney and the Disney Princess characters combined with my many influences from music and travels around the world."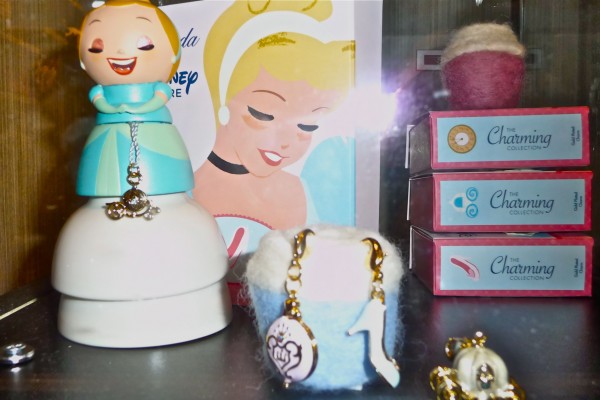 Wish-A-Little Collection— inside each Belle, Cinderella, Snow White and Tiana figurine is a charm necklace on a silk strand. $39.50
Kidada for Disney Store pendant necklaces are inspired by Disney Princess and Kidada's unique style and whimsy. $49.50
Mini Moments charms are based on beloved Disney characters and interpreted by Kidada with her signature style. $14.50
Adult and children tees featuring the Wish-A-Little version of beloved Disney Princess characters or Kidada's signature wish phrases. $14.50-$34.50
Wish-a-Little reusable Totes. $9.50
Kidada for Disney Store Wish-a-Little watch. $49.50
Kidada for Disney Store-branded Limited Edition 9″ Vinylmation figure, which is currently in limited supplies, is a colorful confection and features a bracelet with a Kidada butterfly charm. $49.50
Kidada for Disney Store Collection is available exclusively on DisneyStore.com, and at Disney Store locations in New York's Times Square, North Michigan Ave. in Chicago; Stockton Street in San Francisco, CA; and Santa Monica Place in Santa Monica, CA.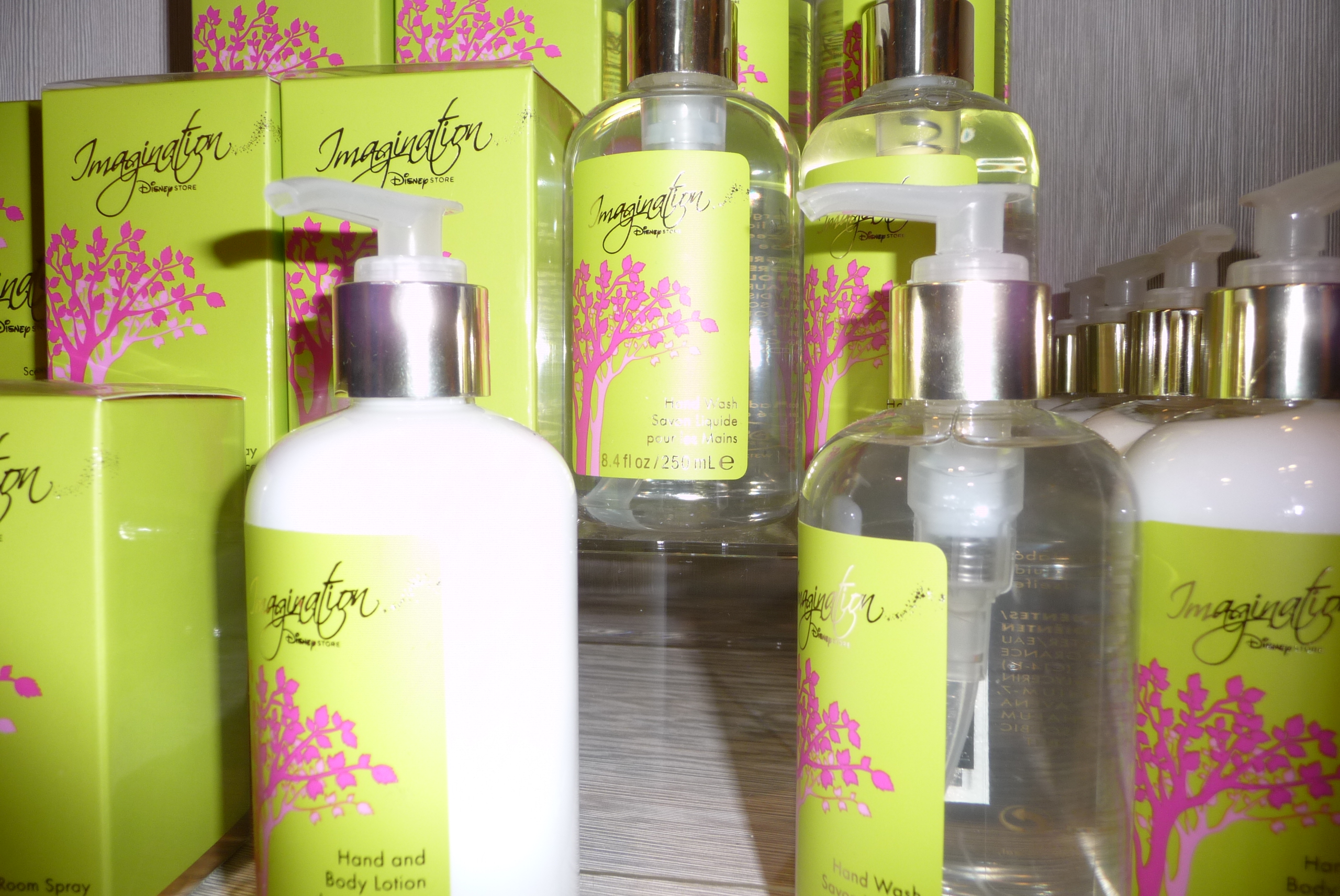 The Fragrance Collection is a new home and personal scent line that has been inspired by some of Disney's most timeless and beloved characters and stories. The premium line of fragrances, home scents, candles and gifts were created in conjunction with some of the world's leading fragrance houses, perfumers and an award-winning design team and will only be available in The Disney Stores.
"The power of fragrance is truly magical – it can evoke memories and convey dreams and aspirations. Disney's rich heritage and most beloved characters also have that same allure," says Jim Fielding, President of Disney Stores Worldwide. "With the launch of Disney Store's own fragrance collection, we're touching all of the senses for the first time in a uniquely Disney way."
The first line, currently available in stores, is Imagination.  If this scent of sequoia trees, cool moss and green leaves seems familiar, it's because it's been used throughout the store.  The Imagination collection includes a hand and body lotion and a hand wash ($12.50), scented candle ($19.50), and a room spray ($16.50).  There are currently two more lines scheduled to be introduced throughout the summer: Magic and Pixie Dust.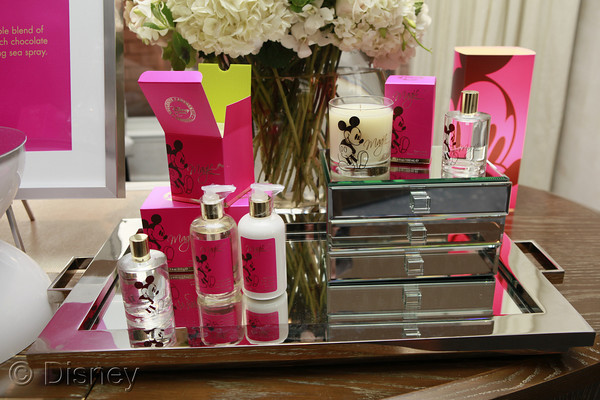 Magic, inspired by Mickey Mouse and The Sorcerer's Apprentice, is a combination of fresh minty air, sea spray and a hint of chocolate.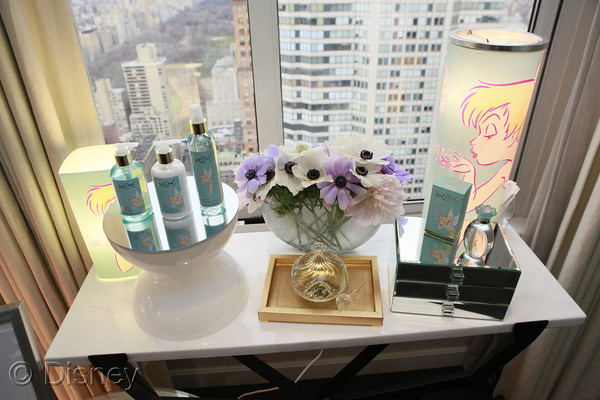 Pixie Dust takes its cue from everyone's favorite fairy, Tinker Bell.  It was created to "capture the heart of what would come out of the end of Tink's magic wand.  It's a crisp, delicious blend of citrus sorbet, candied fruits and summer rain.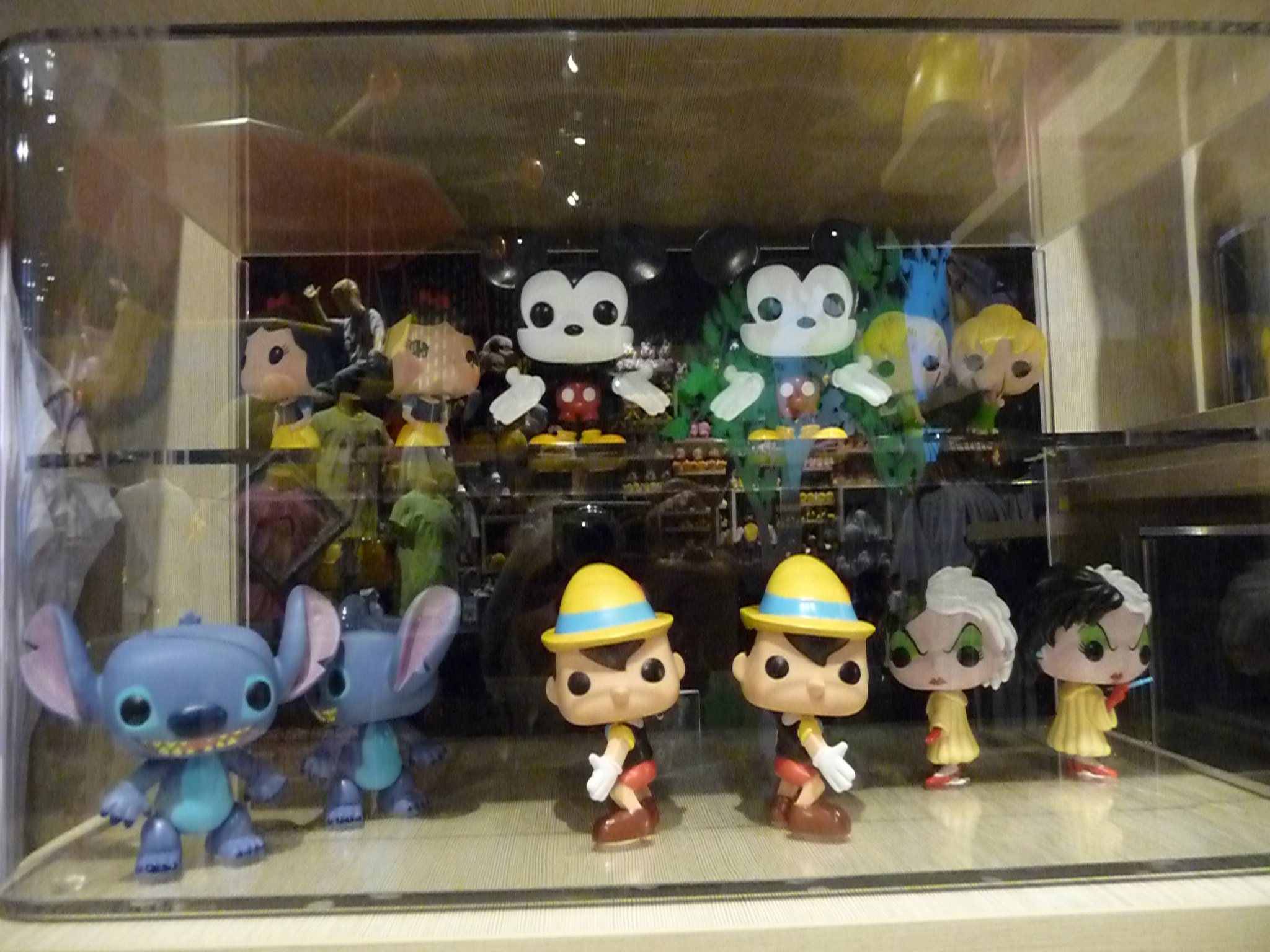 Similar to the Vinylmations, Pop! Vinyl Dolls ($12.50) will be a collection of regularly introduced 4″ vinyl dolls that will be sold at The Disney Stores and in the Disney Theme Parks.  The first line consists of Mickey Mouse, Woody & Buzz Lightyear, Sulley & Mike Wazowski, Pinocchio & Jiminy Cricket, Snow White, Maleficent, Tinker Bell, Cruella de Vil and Stitch.  Currently they can be found where the former cash registers used to be located.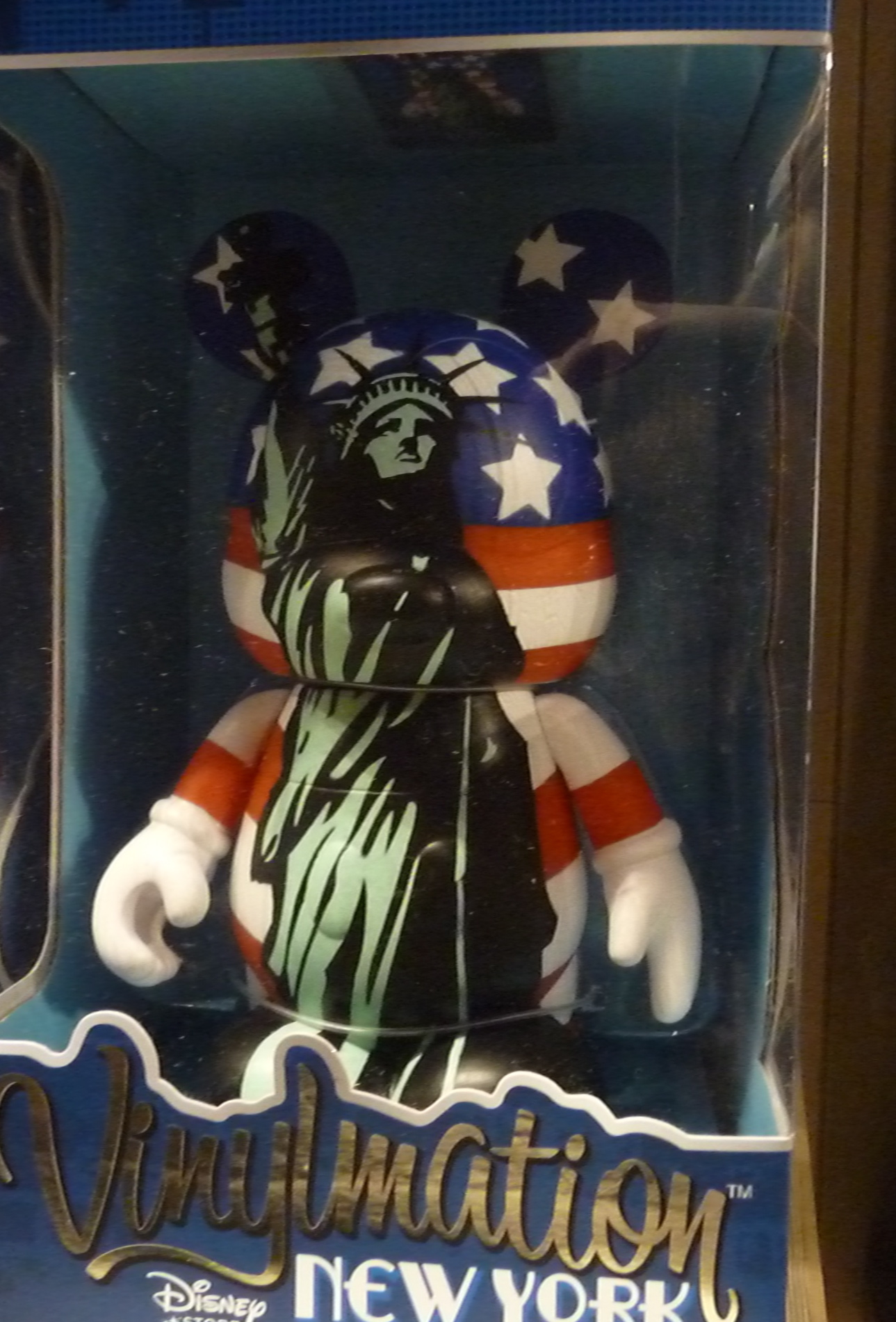 Also relocated to the former check out area is the Vinylmations.  Yes, the three-foot custom Mickey Mouse Vinylmation is still there, but now they have expanded it to carry many more lines at the same time.  They also introduced a new 9″ Statue of Liberty Vinylmation ($44.95), exclusive to the Times Square location, by artist Jim Valeri.  Similar to the 3″ Fourth of July Series 1 vinyl, this one include the Statue of Liberty on the front.
Also new, much to the joy of collectors everywhere, beginning on Tuesday, May 31, all Disney Stores (outlets excluded) will now participate in Vinylmation trading.  As is already done in the Disney Theme Parks, behind the registers will be the familiar lucite box holding three visible Vinylmations.  Guests may trade one of their own for one of the figures on display.  When asked if they were also going to participate in blind trading also a Disney Store Cast Member said they were not sure at this time.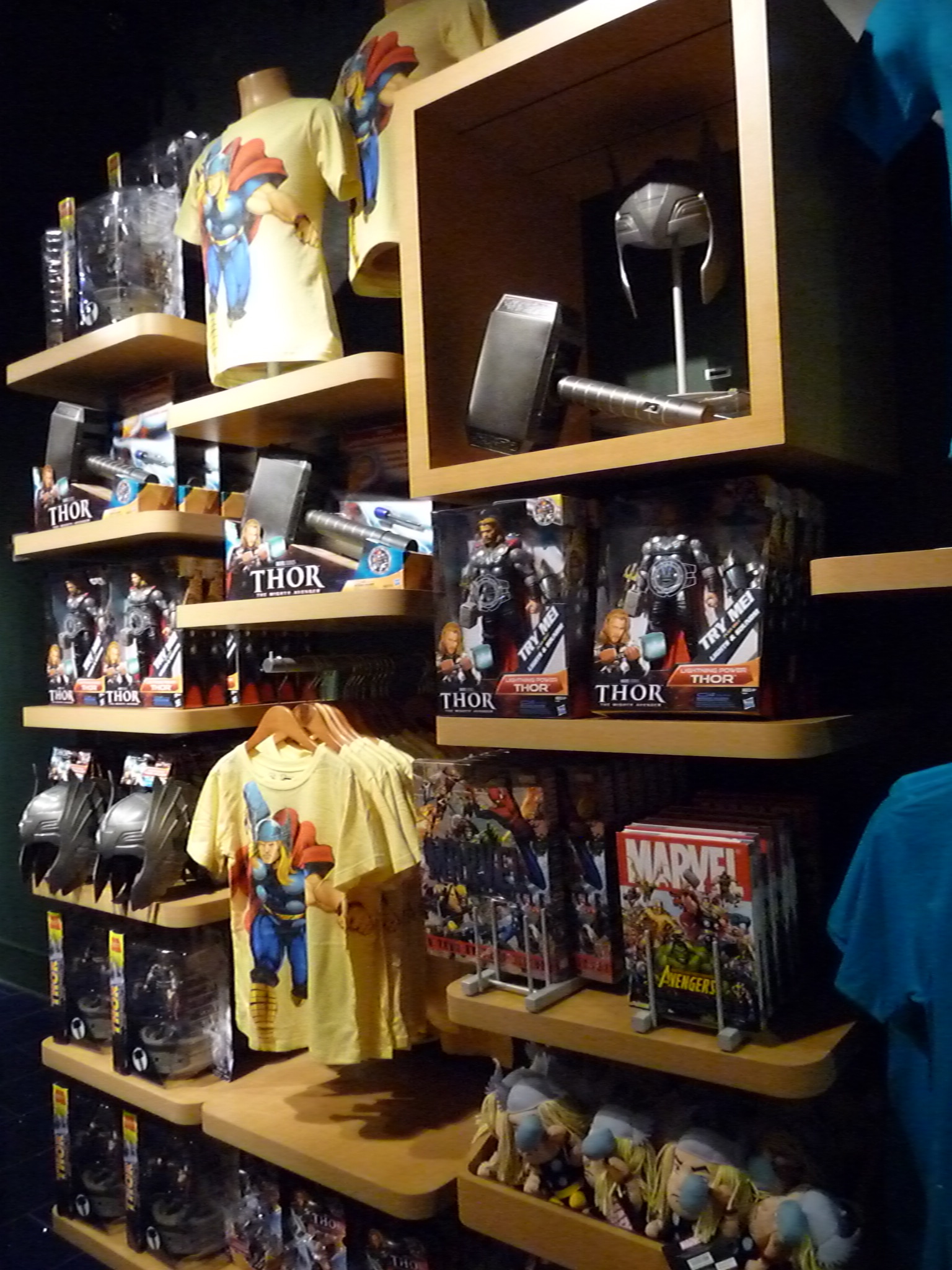 Upstairs in Imagination Park, the physical changes have been minor and consist mostly of reorganizing some of the floor space to make the guest's experience more pleasant.  There is now some Thor merchandise next to the Marvel section and a nice offering of Pirates of the Caribbean merchandise.  However, there have been a few new characters that have moved into the neighborhood.  First there is a new princess in the castle – Rapunzel.  Now when guests wave select Tangled merchandise in front of the magic mirror they will experience one of five special encounters with Rapunzel.
Another new change in Imagination Park, similar to the projected characters on the first floor walls, Buzz Lightyear now flies from one side of the upper skyline to the other side.
The Disney Store's motto is a "magical destination giving a child the best 30 minutes of their day." Well, now for the Times Square store it should be a "magical destination giving not only a child, but grown-ups alike, the best 30 minutes of their day!"
Category: Disney World, Editorials, News