It all began with an assumption and a challenge – made by our DISUnplugged Orlando Team.  Send the most suburban looking mom/family to Disneyland to take part in the annual Bats Day in the Park celebration.  What is Bats Day?  It's a non-Disney affiliated convention of folks who are into the dark subculture – and aren't necessarily "goths".  If you don't know what this is or have the presupposed notion that all these enthusiasts are into death and mayhem, go ahead and Google.  You may be surprised at what you find.
That being said, I took my challenge to heart and the family and I set out on an adventure – to experience the event as a goth family.  Come along with me as I introduce you to the sights we saw and some of the wonderful folks we met.  To quote the soundtrack of the Haunted Mansion, they were "assembling for a swinging wake"!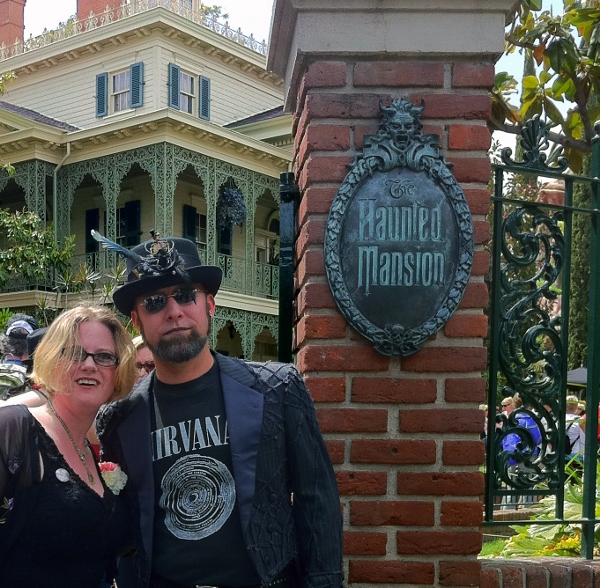 It took me a while to find everything I needed for a passable outfit.   After all, this year's Bat's Day was on Mother's Day and I still wanted to look a little like the mom that I am.  Once I started getting dressed, my girls wanted in on it.  They found their best black dresses and preferred accessories and we headed out.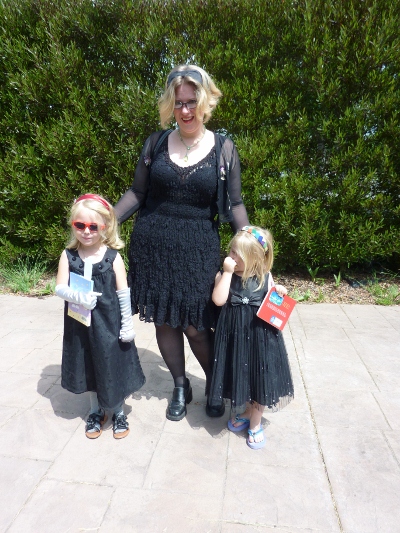 We arrived at Disneyland around noon, when the official Bat's Day photo is taken in front of Sleeping Beauty's Castle.  I thought that would be something not to be missed and really sums up the spirit of the day rather well, so after we went through the turnstiles and I picked up my official, complimentary Mother's Day carnation boutonniere, off we went.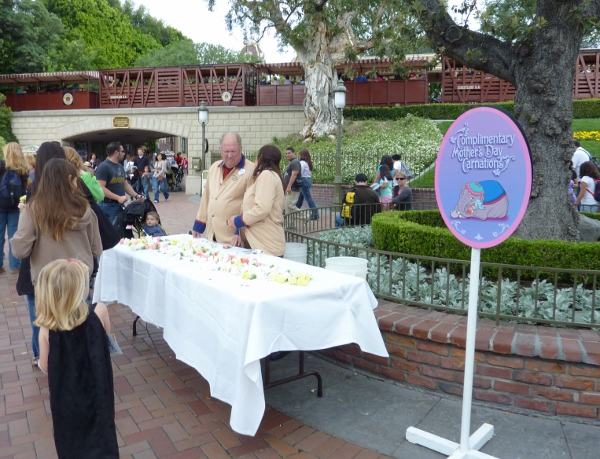 We were greeted by a pretty amazing sight.   Literally, hundreds of folks were there waiting for the official photography session.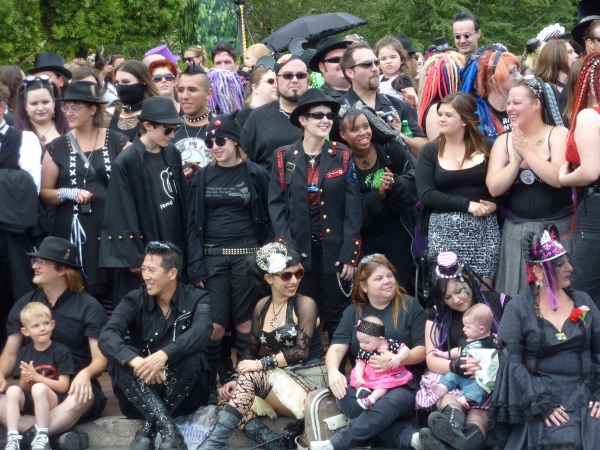 The crowd was colorful, filled with folks in a creative mix of eclectic fashions, from traditional black leather and lace, to alternative funk, to classic vamp, to tailored steampunk.
All sorts of colorful hair, fascinators, corsets, parasols, long coats, kinky and funky boots, and special batwing ear hats were seen throughout the crowd.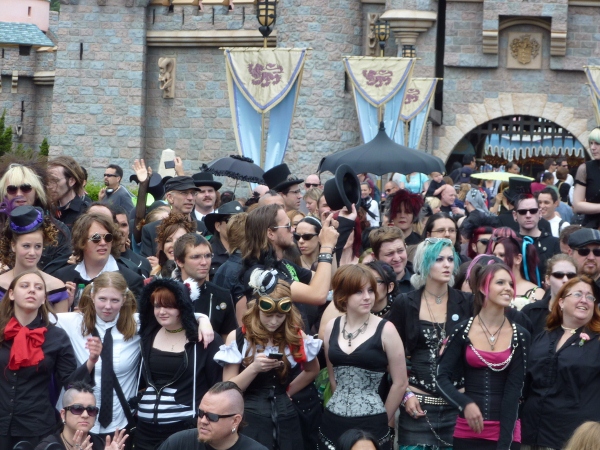 The crowd was so extensive that we had to create a composite panorama photo (below) to see everyone!  While a small version of this photo, it at least gives a feel for the impact it had on the mood of the day. 
 To view a larger and interactive version of the photo, to zoom in and really see the crowd details, click here.

As we left the photo session to go out and wander the park, we decided that it would be fun to meet several of the folks who were out enjoying the day.  The first two ladies we met stood out with their tailored looks and great smiles.  It was easy to start a conversation.  We found out that they were daughters of some well-known Disneyland guests, the Bubble Ladies!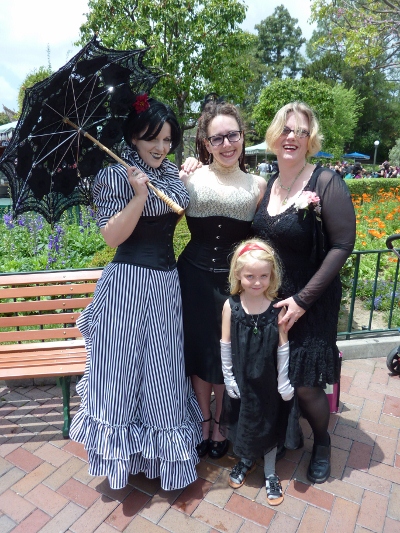 Our next meeting was a rather fun family who shared the line with us at Buzz Lightyear Astro Blasters.  One of the things I've found as the most fun about being in the parks on Bats Day is the growing number of families enjoying the event.  After all, even counter-culture youths grow up, get married, and have kids to raise!  Their son was very particular about wanting to get his pose right for the photo!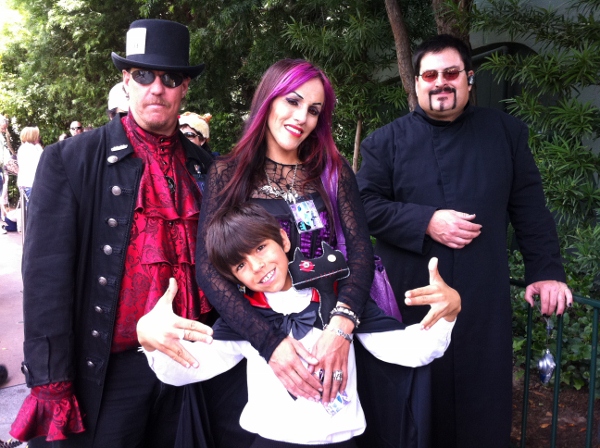 After enjoying Tomorrowland, we headed over to the Rivers of America in Frontierland to look for some baby ducklings and check out the crowds over by the Haunted Mansion – a popular goth icon, due to the mansion's era and stylings (not to mention theming…).  There, we met a wonderful lady that enjoyed our daughters getting into the spirit.  She gave us all buttons that commemorated Bats Day!   It was definitely a highlight of our day!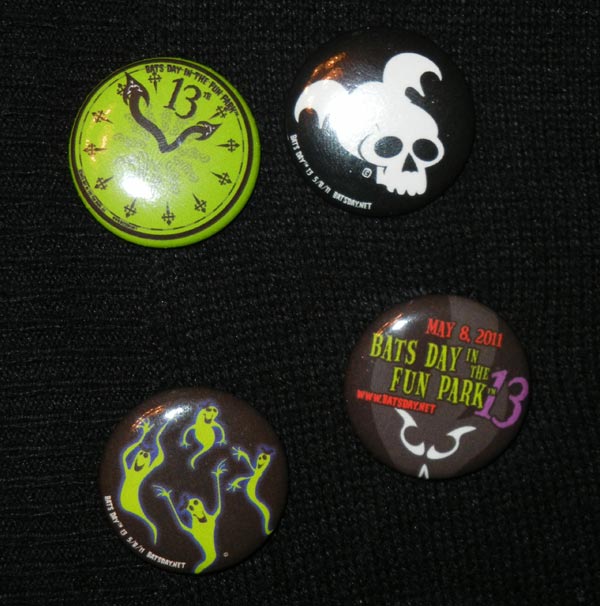 When we arrived at the Haunted Mansion, I decided that would be a great place to take what I thought might be my opening photo for the story, but I just couldn't seem to pose right.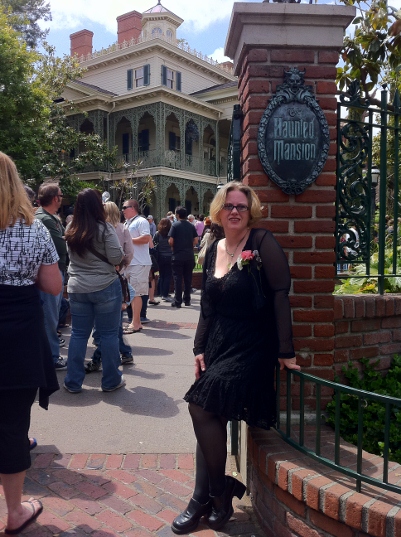 It's been too many years (and a few too many pounds) since I last dressed a little on the funky side…  Then we met the charming man in my opening photo.  He made that cool – and very well tailored – tuxedo jacket with the spiderwebs, as well as the hat decoration.  How fun is that?  I used to sew quite a bit and I can't help but fall in love with a great custom piece of clothing.
More custom clothing came in another encounter with a group of ladies in Steampunk fashion.  For those of you not familiar with this term, it's a wonderfully imaginative mix of Victorian and Edwardian era fashion and science fiction/steam-based technology, with a little bit of supernatural thrown into the mix.  It's become quite the inspiration and rage for movies, graphic novels, etc.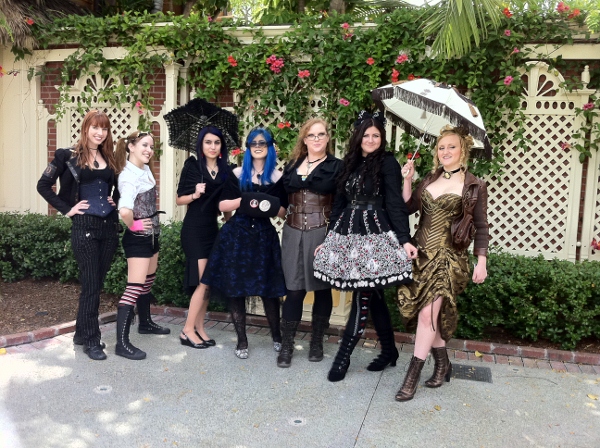 I think that's probably why I like Bats Day so much.  The creativity in fashion and costuming can really stand out at this event.  People really have a chance to express their style and aren't hampered by conventional rules.  By actually theming ourselves for the event, it was a unique chance to have a little fun and feel as if we were part of a more exclusive opportunity.   It was definitely one Mother's Day that I will never forget!
PS – A fun fact (that I just found out) is that the organizer of Bats Day is actually a fan of our little podcast!  It's a small world, after all!
Photos by N. Johnson
Category: Disneyland
Disneyland Podcaster for the DIS Unplugged