I've been to many private parties that Disney has thrown and I tend to notice a lot of the small things that go into putting on a big event.  While I wasn't fortunate enough to attend the World Premiere of Pirates of the Caribbean: On Stranger Tides at Disneyland on May 7, 2011, I was at the park the following afternoon to see the feat of engineering that was behind the glitz and glamour of a Hollywood film premiere and charity gala extravaganza!   Join me for a quick look at a few behind-the-scenes break-down photos that show how Disneyland went all out to make this charity event for Boys and Girls Club of America a huge success!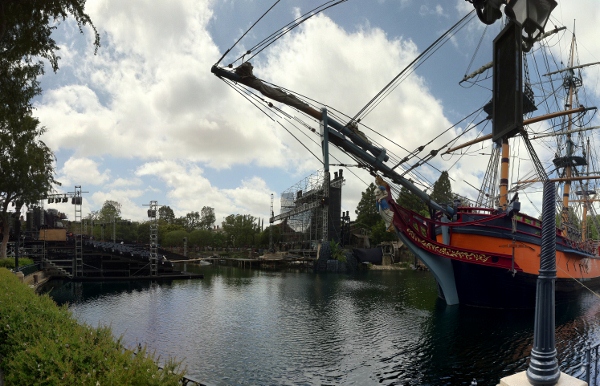 The above photo is actually a composite panorama shot.  I'm hoping it gives a sense of perspective of how huge this premiere was.  Let's look at some closer shots.
The bleachers are actually regular movie theater seats in stadium positioning.  They looked fairly comfortable, too.  In order to accommodate this type of viewing platform, they actually had to position them about 15 feet or more over the Rivers of America itself!  The whole structure was actually really impressive to see, considering it was comprised of over 2,000 seats!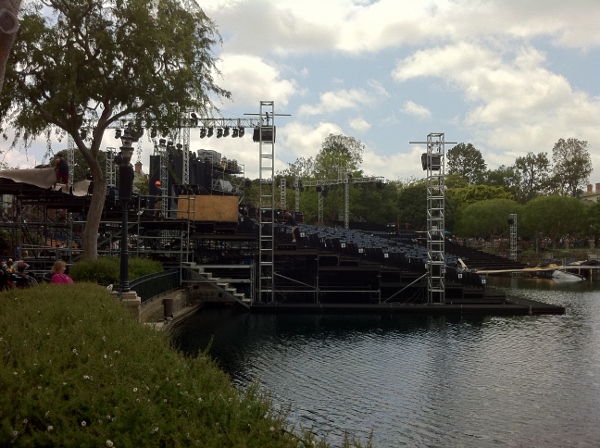 A bridge was built to connect the seating with the large stage and screen that was erected in front of Tom Sawyer Island, so that the cast could greet the audience before the premiere began.   Only remnants of it can be seen in the next photo.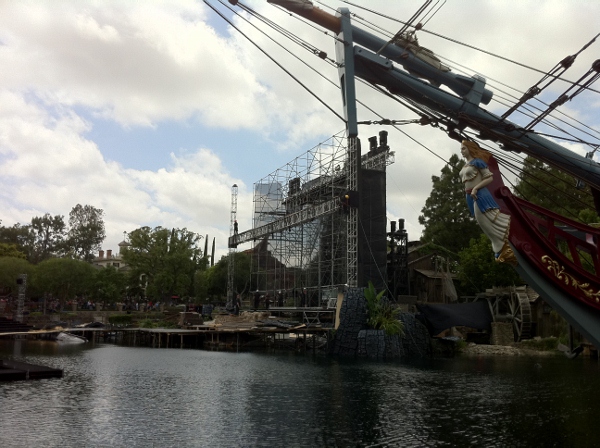 As you can also see from that photo, the S.S. Columbia, which is used to represent Captain Hook's ship in the Disneyland version of Fantasmic, is still docked on the Rivers of America for atmosphere.  While it can be piloted in reverse to take it back to Fowler's Harbor and the Harbor Galley dining location, it's nice to see it still left out for guests to enjoy.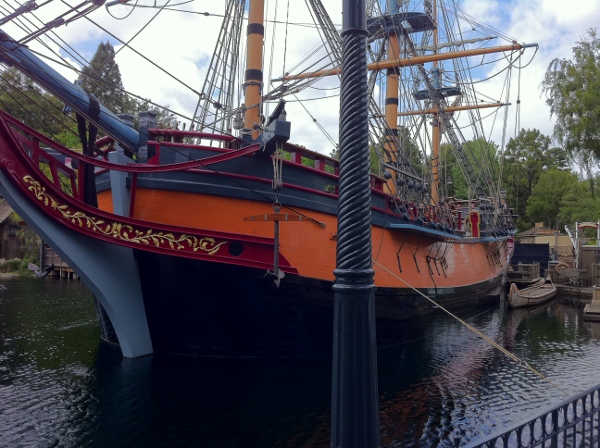 If you would like a look at what this looked like on the night of the actual premiere, click here to see photos from the event and here to read and check out video clips of your favorite stars!
Photos by N. Johnson
Category: Disneyland, News
Disneyland Podcaster for the DIS Unplugged