Photos and Videos from the Disneyland World Premiere of Pirates of the Caribbean: On Stranger Tides
An estimated 20,000 people gathered on Saturday, May 7th to celebrate the debut of the latest installment of the Pirates of the Caribbean film franchise.  Disneyland's Main Street U.S.A. was the scene of an elaborate "red" (actually black) carpet premiere where fans waited for hours to catch a glimpse of Captain Jack Sparrow himself, Johnny Depp, and the rest of their favorites from the film cast.  Another 2,000 guests paid $1,000 a piece to be among the first to actually see the film in 3D, outdoors, on a huge screen built on a set in the Rivers of America.  The entire $1,000 admission fee went to the Boys and Girls Clubs of America, and tickets sold out in 48 hours.  Continue after the break for Walt Disney Studios' photos and videos, including a video submitted by the world's most famous talking frog, of the spectacular premiere.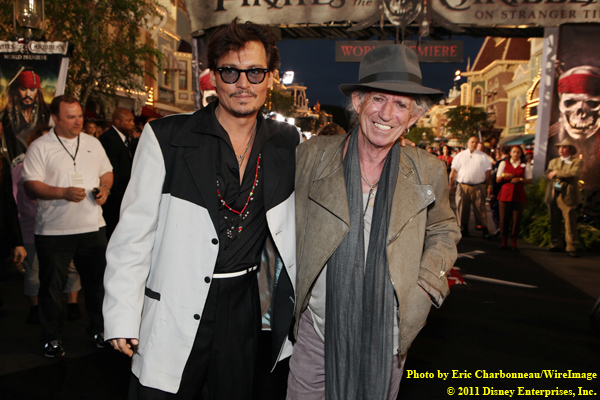 Image: Johnny Depp and Keith Richards at the World Premiere of Disney's "Pirates of the Caribbean: On Stranger Tides" at Disneyland on May 7, 2011.
Disney encouraged fans to dress up in their best pirate garb, and entertained the crowd with jugglers, stilt-walkers, comedians, singers, and, of course, characters while spectators awaited the arrival of the film stars.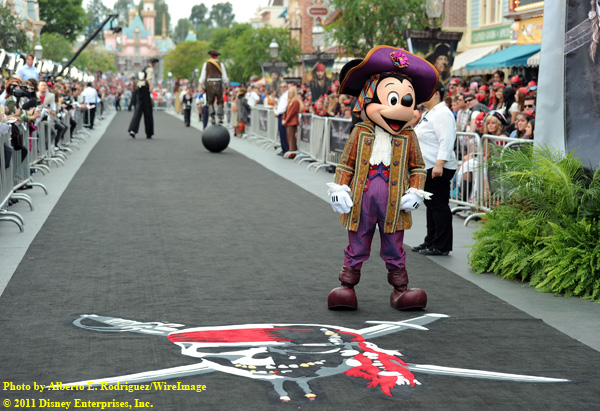 Disney's video below provides a glimpse into the general atmosphere for the evening.
Celebrity guests who appeared on the black carpet included Disney Company Executives, Disney Channel stars, performers from ABC's Dancing With The Stars, American Idol winner David Cook and current judge Steven Tyler, members of the cast and crew of the film, and many, many more.  A special correspondent was on hand to interview the stars as the entered the park – one Kermit THE Frog, and the highly entertaining video report follows below.
Following the procession down the black carpet, guests took their seats in a massive outdoor amphitheater complete with 90 foot screen specially built on Tom Sawyer Island.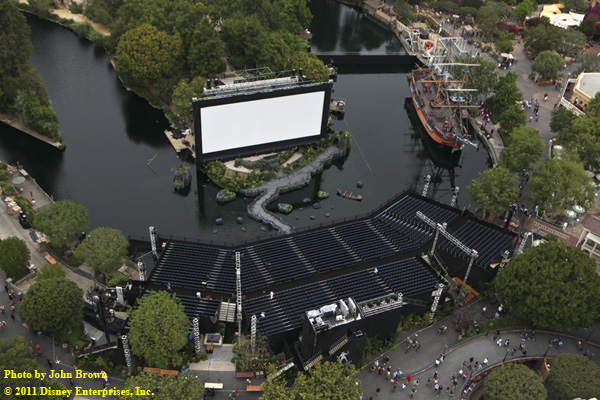 The stars of the film were introduced to the audience along with director Rob Marshall and producer Jerry Bruckheimer.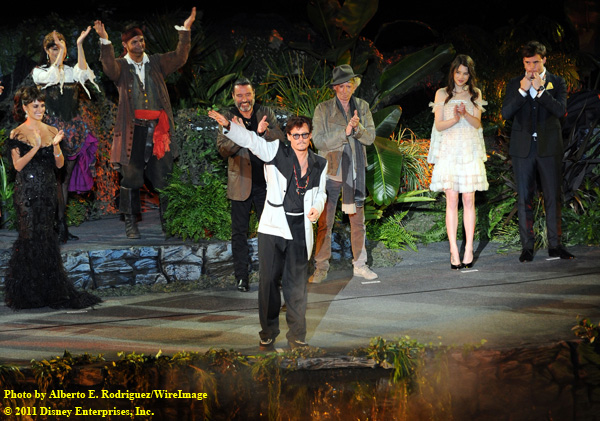 Image: Actor Johnny Depp onstage at the world premiere of "Pirates Of The Caribbean: On Stranger Tides"
More quotes from the black carpet follow in the next video clip.
In Disney fashion, the evening concluded with a fireworks display over the audience.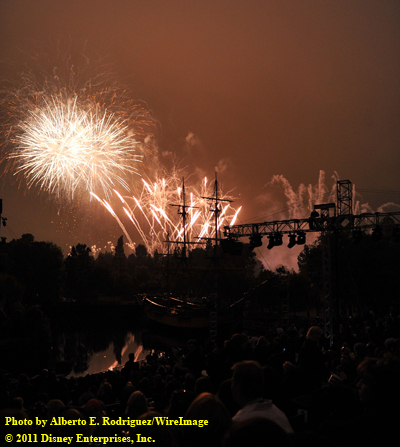 For more photos of this special evening, check out this photo gallery of over 150 images.
I'm looking forward to seeing this film when it opens on May 20th, and always enjoy a summer full of popcorn and the blockbuster antics of one Captain Jack Sparrow. 
Category: Disneyland