The Universal Orlando Resort has recently released some current news, attraction updates, and information.  Here are a few brief updates about what's happening inside the resort.  Don't forget!  You can live the adventure too!  On Saturday evening December 10th, 2011 Dreams Unlimited Travel and the DIS are renting out the Wizarding World of Harry Potter section of Islands of Adventure.  Find out more information and details on how you can attend this amazing event here.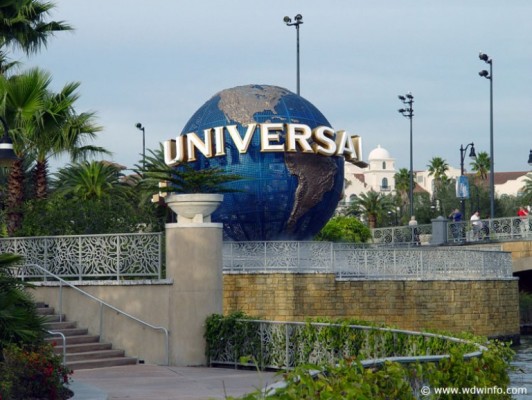 The Incredible Hulk Gets a New Shade of Green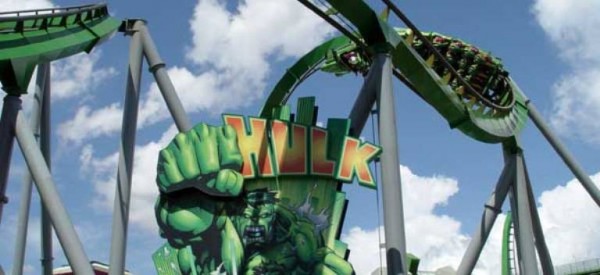 Universal Orlando recently finished a much needed refurbishment for the Incredible Hulk attraction.  This iconic roller coaster which dominates the skyline at the Islands of Adventure theme park recently went through repainting and makeover.  Universal has called this refurbishment a "long planned refinishing project".  The attraction, which opened with the park back in 1999, had begun to show wear.  Over the past 12 years its bright green and dominant appearance had given way to a rusty brown in some places.  Baynum Painting was contracted to complete the project during non-park operating hours.  The attraction has been restored to its bright green appearance.  Guests can see and hear this attraction throughout most of Islands of Adventure and Citywalk.
Triceratops Encounter Attraction Reopens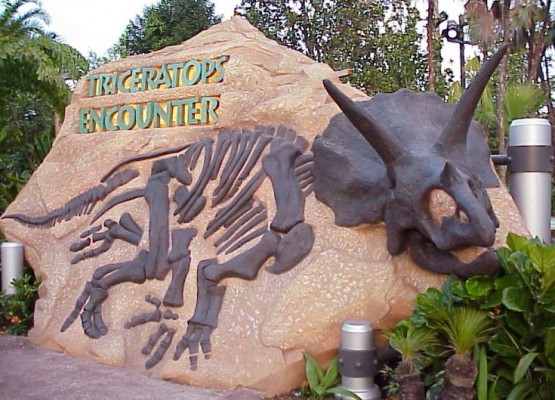 Because of increased crowd levels during the peak season Universal Orlando has revitalized and reopened the Triceratops Encounter attraction on a seasonal basis in the Jurassic Park section of Islands of Adventure.  This walk-through attraction takes you past Jurassic Park style props and culminates at the end of a trail with a view of a fully functional and very realistic triceratops animatronic.  This attraction closed in 2003 because of maintenance costs and guest interest, but has recently reopened on a seasonal basis to help offset recent crowd level increases.
Universal Orlando Summer Concert Series Information Released

Universal Orlando has released its annual Summer Concert Series schedule.  The Summer Concert Series takes place each Saturday evening from June 11th thru July 16th inside Universal Studios and is free with your theme park admission.  This year's star lineup and schedule includes:
June 11th – The Go-Go's
June 18th – Nelly
June 25th – Third Eye Blind
July 2nd – Trey Songz
July 9th – Boys Like Girls
July 16th – Drake
The concerts will start at 9:00 pm.  Make sure to check the Universal Orlando home page at wdwinfo.com for any changes to the concert schedule.
New Attraction to Replace Jimmy Neutron's Nicktoon Blast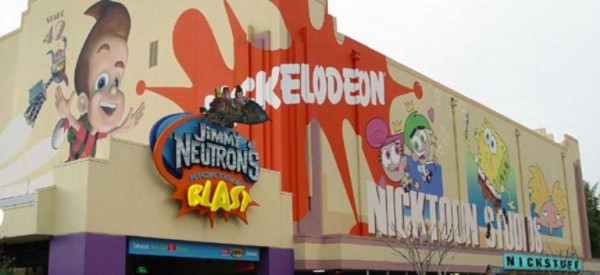 Universal Orlando announced back in March that a new attraction will replace Jimmy Neutron's Nicktoon Blast inside Universal Studios.  Universal has been giving their fans clues for the new attraction on their official Facebook page without officially making the announcement.  Some rumors and speculation on Universal discussion forums have been pointing towards an attraction based around the hit 2010 animated movie 'Despicable Me'.  Thierry Coup, a VP for Universal Creative Design, has been assigned to lead the project.
Cody Simpson and Grayson Chance visit Universal Orlando
During a recent visit to Orlando for a "Waiting 4 U Tour" performance, both Australian pop sensation Cody Simpson and YouTube prodigy-turned-teen music star Greyson Chance spent some time with their families at the Universal Orlando Resort.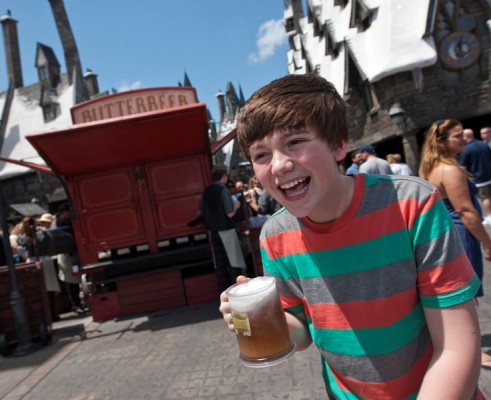 Thirteen-year-old singer and pianist Greyson Chance, whose cover performance of Lady Gaga's "Paparazzi" at his sixth grade music festival caught the eye of millions, stopped to enjoy a frozen Butterbeer at The Wizarding World of Harry Potter while visiting Universal Orlando Resort on May 2, 2011. Hosted by Universal Orlando, Chance and his family and friends also made a trip to Ollivanders wand shop and toured Hogwarts castle at Universal Orlando while in town for a concert performance.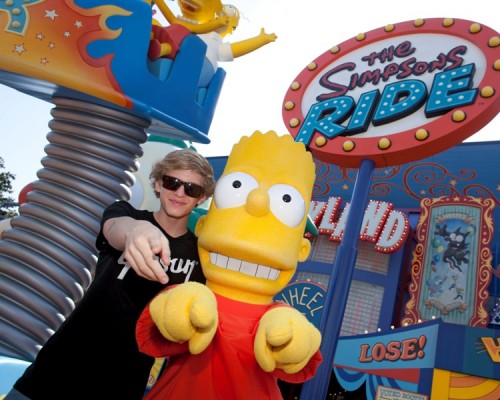 Photos courtesy of the Universal Orlando Resort
The Simpsons want you! While touring both Universal Orlando Resort theme parks with his family on May 3, 2011, Australian teen singer and pop sensation Cody Simpson met up with cartoon bad boy Bart Simpson at The Simpsons Ride to goof around in front of guests. Cody, who is currently touring the U.S. with fellow teen singer Greyson Chance, has recorded a single with hip hop star Flo Rida and has been compared to teen idol Justin Bieber.
Universal Orlando to Hire 1,000 New Team Members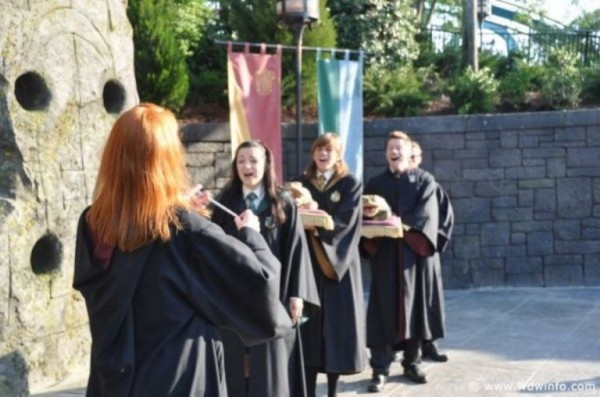 Officials at Universal Orlando have announced a summer job fair on Thursday, May 12th in an effort to hire 1,000 Team Members across its property.  Additional Team Members are needed after seeing considerable growth over the past year in part due to the addition of the Wizarding World of Harry Potter section of Islands of Adventure.  Hourly positions will start at $7.75 per hour up to $10.75 per hour depending on the position.  If you are interested, the fair will take place at the Universal Orlando Human Resources office.  You should submit an online application prior to the job fair.
To learn more or to discuss other happenings at Universal Orlando be sure to visit the Universal Orlando forums at DISboards.com or the Universal Orlando homepage at wdwinfo.com.
Friend Aaron on Facebook: I accept reader friend requests.
Category: Disney World, Universal / Sea World