Happy Star Wars Day!  May the 4th be with you.
In anticipation of its newly reimagineered Star Tours 2 attraction, Disney Parks has unveiled and installed its new marquee above the attraction entrance at Disney's Hollywood Studios.  The same marquee art can be seen as an attraction poster at the Star Tours 2 attraction at Disneyland.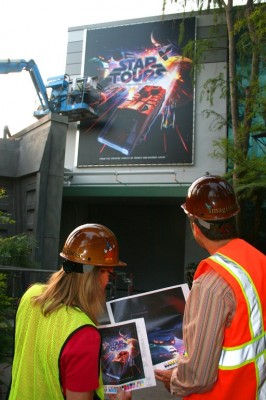 The marquee depicts the new Starspeeder 1000 used inside the attraction.  Designed by Disney Imagineer Scot Drake, the marquee also shows other pieces used from the Star Wars trilogies.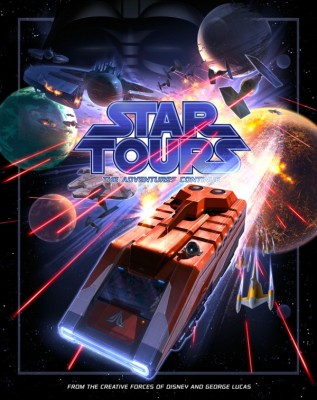 Photos courtesy of Disney
Star Tours 2 opens at Disney's Hollywood Studios on May 20th at the beginning of Star Wars Weekends and in Disneyland on June 3rd.
Don't forget!  You can join the dark side by attending a very special breakfast inside Disney's Hollywood Studios before the park opens on Sunday, May 22nd sponsored by the DIS, Dreams Unlimited Travel and the Power of 10 Give Kids the World challenge.  Find out more details about this special breakfast here.
Friend Aaron on Facebook: I accept reader friend requests.
Category: Disney World