See all those girls – the ones that want to be their favorite Disney Channel actress/pop stars?   They aren't your average little girls!  They want it all – the fame, the fortune, the glamour!  I have one of those little girls.  She's 5, going on 16, and knows what she likes – and she desperately wanted the Studio Disney 365 experience.   Well, for these girls, Downtown Disney at Disneyland offers an alternative to "getting your Princess on" in the parks.  She did everything she could to save up her "good points," for several weeks in fact, after seeing her friend Julianne get the treatment when they came to visit us.
Since we decided to bite the bullet and give in, we thought we would share our experience with all of you who have budding glamour-girls of your own.  If you have a boy, that's okay too.  He has his own experience that you can choose.  Groove along with me and watch the transformation, as I show you how our sweet baby girl became the star of her dreams!
Before I get started talking about our makeover, let me tell you a little bit about the store itself.  You can't miss it.  Located on one side of the Downtown Disney entrance to the Grand Californian Hotel and Spa, Studio Disney 365 is really easy for your child to get really excited about.  This shop is a Disney original and is based on the popularity of the youthful celebrity/pre-teen shows that currently reside on the Disney Channel.  Replacing Club Libby Liu – a chain of popular girl's glamour makeover salons, this location is aiming for a market that the popular Bibbidi Bobbidi Boutique can't attract – the kids who are too hip to be princesses.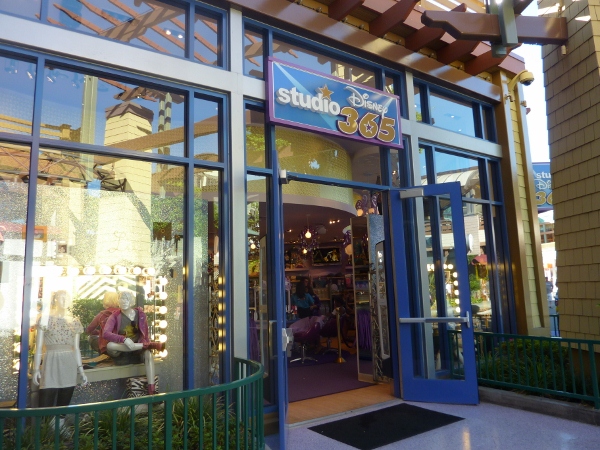 The main entrance to the shop has also been used as an impromptu concert venue for such Disney Channel celebrities as Nick Jonas and All Star Weekend.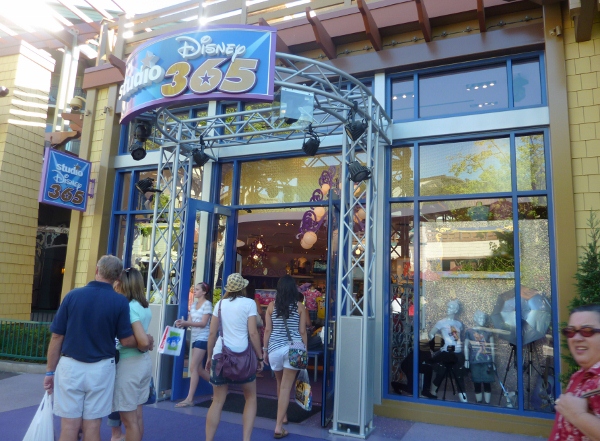 All that being said, we walked up to Studio Disney 365 on the morning that Zoe wanted to get her makeover and were able to get a same-afternoon appointment – on a busy holiday weekend, no less.  I was pretty impressed by that.  As long as you are willing to forgo some critical hours of park time, I think it should be easy to do what we did.  If you are too much of a planner, you could call ahead.  Their number is 714-781-STYLE and you can call to make appointments from as early as 7 am to as late as 9 pm PST.  The actual appointments are between the 10:00 am store opening to around 5:30 or 6:00 pm.  It's a good idea to check the actual hours when you make an appointment.
When you enter the store, you see the celebrity rock star theme everywhere.  There are even mannequins dressed in wardrobes from some of Disney Channel's hottest shows, such as Wizards of Waverly Place, Hannah Montana, and Sonny with a Chance!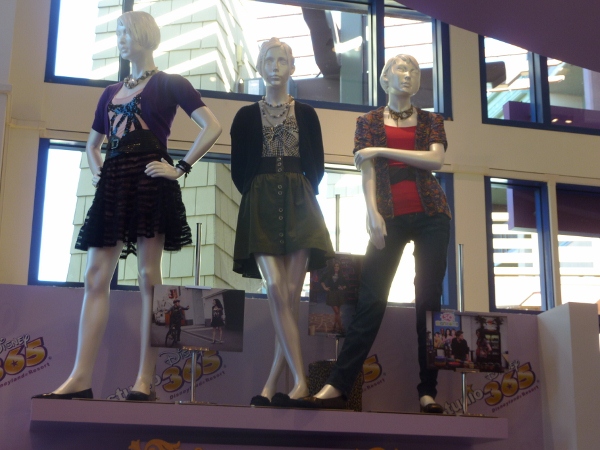 There are video screens all around the store that pump out the latest Disney Channel hit songs,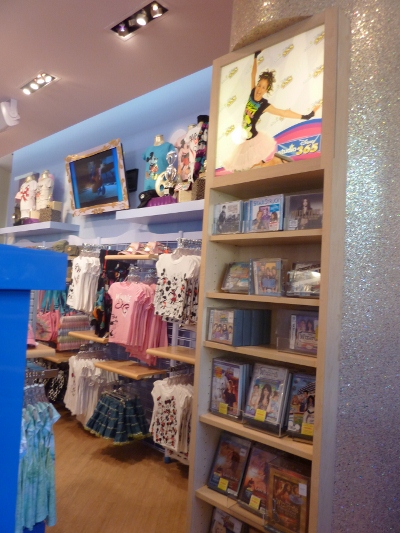 as well as trendy clothing designs for sale.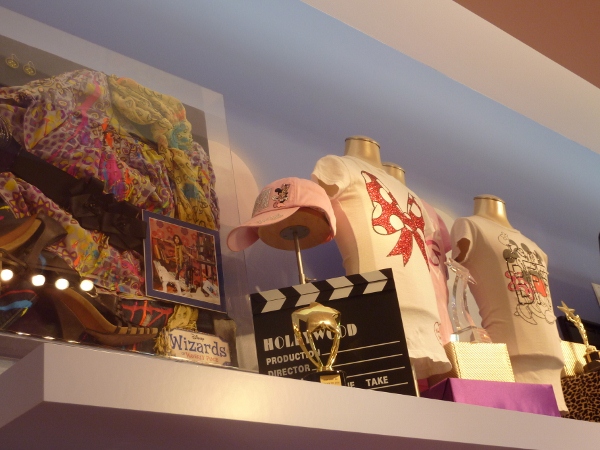 They have 8 stations for bringing out your little angel's inner Hollywood diva, and I imagine that there are times of the year when they are all filled.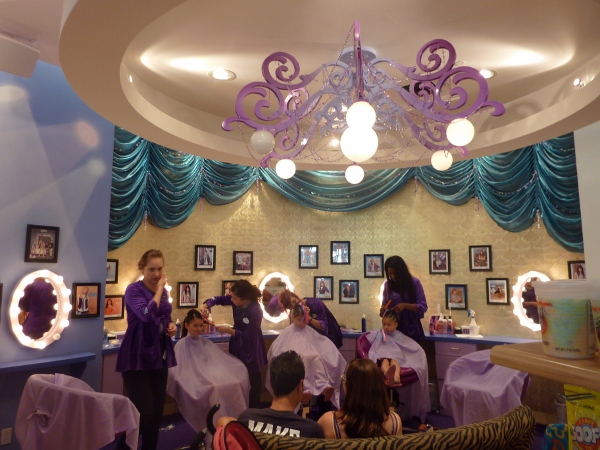 After checking everything out, we headed to the counter to get started.  They showed us some of the look packages they offered – everything from the $14.95 boy's Rock Star look, to the $44.95 which includes clothes, wig, accessories, and photographs.   The clothing packages, for $81.00 each, range from a simple T-shirt,  sunglasses, scarf, and hat combo to a full blown "Hannah Montana-style" outfit with several pieces of clothing and accessories.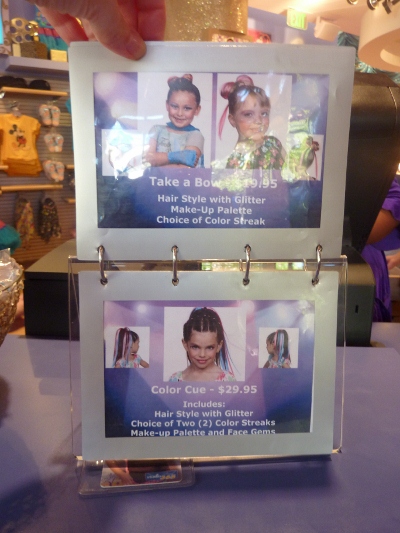 While some might think the staff was trying to do an upsell to a more expensive package, we thought they were being honest with us in recommending us which packages would be more practical for us, due to the fact that Zoe has short hair.  After all, if we are paying money for this, we want the best style experience possible – meaning the style isn't going to fall out the next day.   Of course, it only goes that the cheapest one – the $19.95 "Take A Bow" package – is meant for longer hair due to the fact that the hair is put into a bun, first.   Therefore, we settled on the next package – the $29.95 "Color Cue" package – with 2 color streaks, makeup, and face jewels.  They didn't discourage us from choosing the cheaper package, but the reason we didn't consider it to be an upsell is the fact that her hair would have come out of that style overnight, or would have been so encrusted with product that it would take 3 washings to get it out.  Either result would result in tears.
The next step entailed giving us a questionnaire for Zoe to fill out – to see what kind of rock star she wanted to be.  This seems actually to be more of a survey, in some ways, to judge the popularity of some of their Disney Channel stars and wasn't really geared to girls Zoe's age.  They say that kids need to be 3 years old to be transformed, and have someone over 18 with them, but the questionnaire seems silly for girls that young.  Luckily, Zoe had seen the video of Hannah Montana doing the Hoedown Showdown, so she used her in several answers.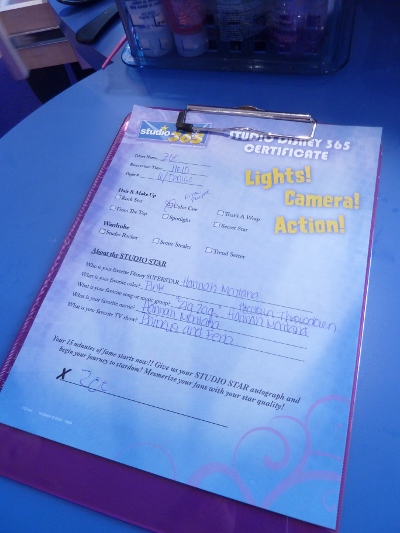 After filling out their required questionnaire, Zoe was taken to the "Wall of Hair"….  Okay – that may not be what they call it, but it fits.  She had to pick out her two color extensions from a choice of many.  If you want to make this go faster, warn your child ahead of time. Trust me.  And keep in mind that if it isn't one of those skinny packages on the right side of the wall, you will be paying a lot more.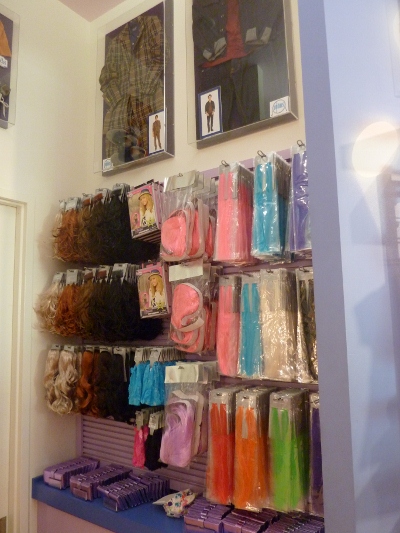 Now that we have hair, off to her styling chair.  There are no sinks involved.  Just a lot of product….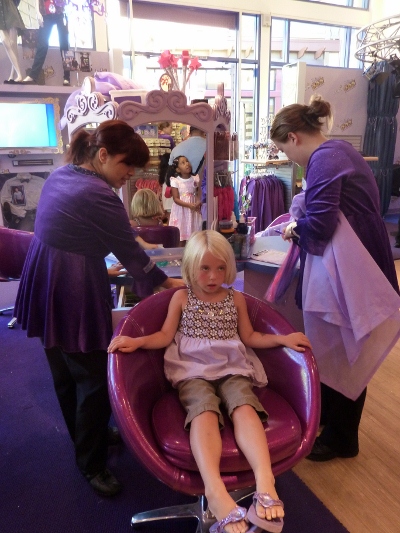 They sectioned off her hair in order to do the style, which has lots of twists.  You will find that taking photos during the whole process will be helpful, when she asks to have this done at home.  I also recommend videotaping it for future study of the fine techniques.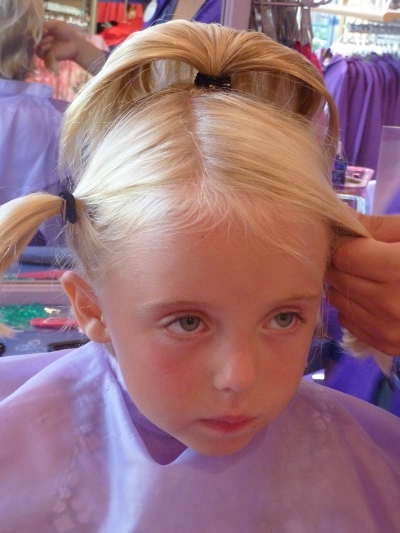 Yes – she looks deep in concentration.  This whole experience was very relaxing and mesmerizing to her.  You should let them know if your child is tender-headed before starting.  I was very impressed with our stylist, Denise.  She really engaged Zoe in conversation and treated her like a true client.  She was also happy to answer any of our questions and to teach me what she was doing, while she worked.  First she started the twists.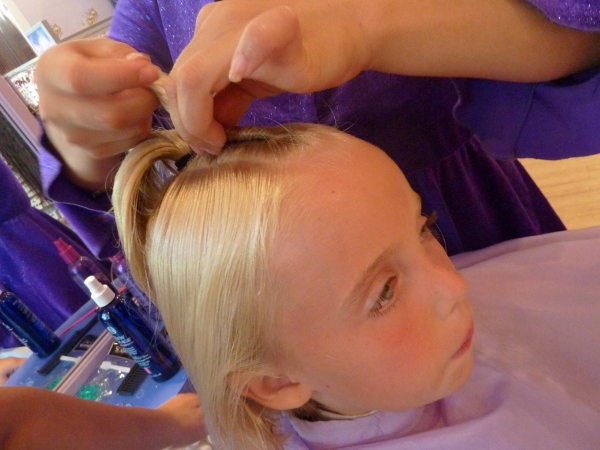 The best tool to do these is one of those combs with the really narrow, pointy handles.  And lots of product.  Did I mention the product?  It's a bit like Dippity Doo or any of those other great pin-curl gels from the 50's.  She was almost shellac'd.   The section is combed straight, then gelled, then twisted and fastened with a bobby pin.   She then proceeded to do these all through the crown of Zoe's head.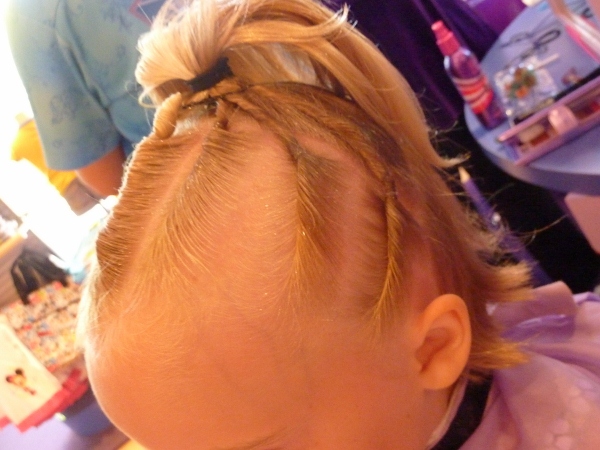 I must admit that the first thing I thought about was the need to sunscreen her scalp when we were done…
Then came the extensions.  That's where the top ponytail comes into play.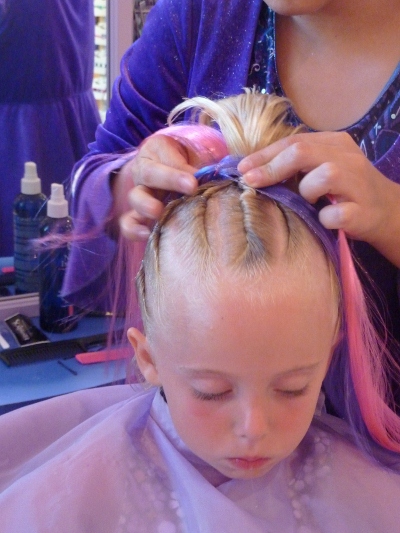 After twisting and wrapping and fluffing, the color streaks were put in place.  The stylist then took a small section of her hair that she had been holding back, applied copious amounts of product, and then used that section to hide the bobby pins and fasteners.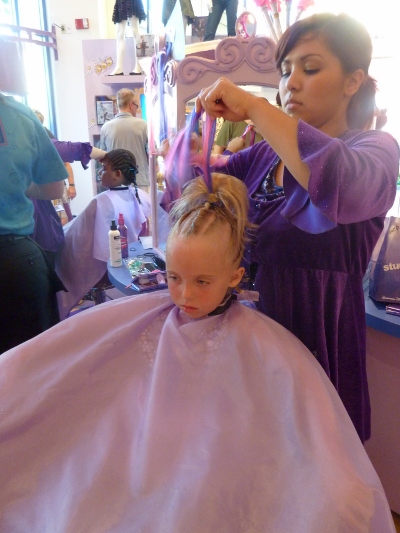 After a few more fluffs, make-up  and an extra coat of product was applied.  Yep – more product.  This sucker wasn't going anywhere.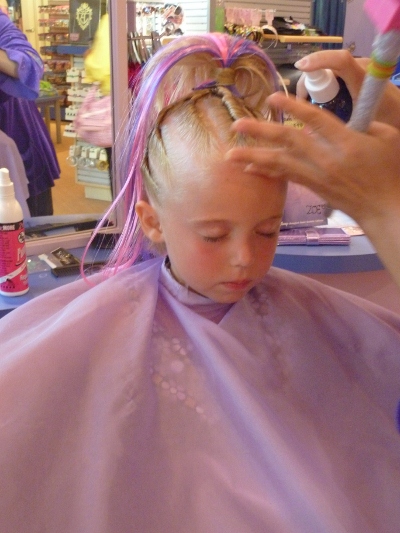 About the make-up.  One thing I wasn't expecting when I saw the words "make-up palette" was the fact that they were actually giving her a make-up kit to take home.  Yeah.  If you aren't going to want to give her access to that bad-boy on a regular basis, tell them in advance and make sure it goes subtlety in your bag and that they don't mention that it's yours to keep.  That was a bane for us for the next week….
The final touch for our transformation was a dusting of glitter.  Yep.  Glitter.  Give in to it now.  In fact, I'm willing to bet it's on your clothes just because you are reading this.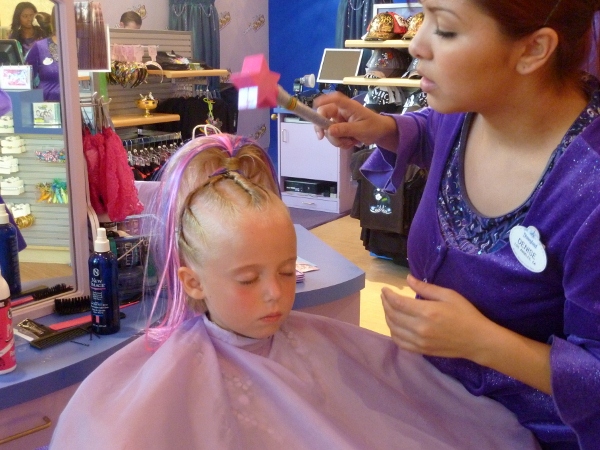 Now for us, the transformation was now complete.  Our 5 year old looked 12.  Okay, not really, but still.  Daddy was in shock.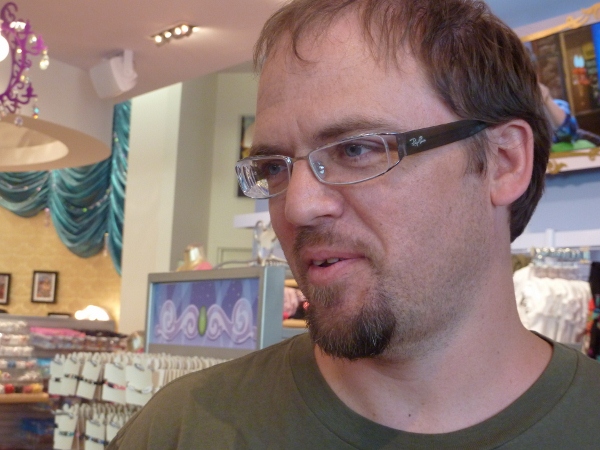 He would have been further in shock, should she have had one of the three wardrobe packages that included clothes – which could be tried on in their fancy dressing room…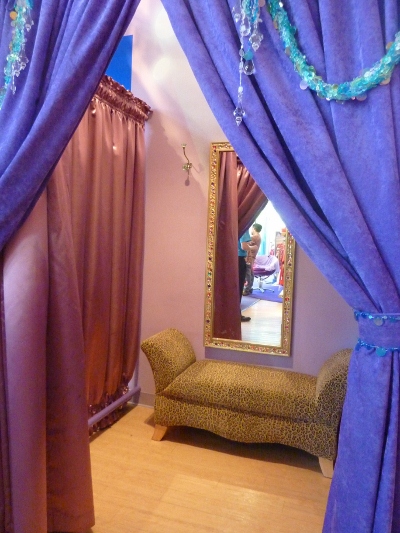 and had photographs done at their photo studio.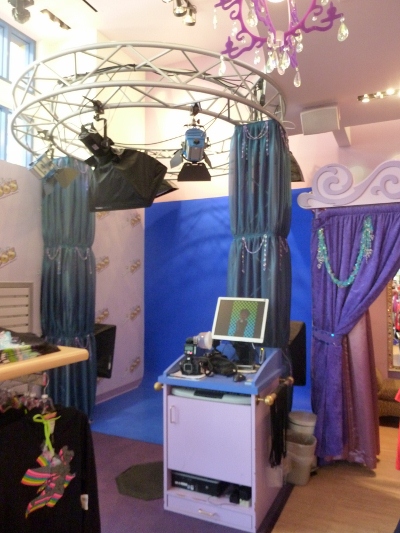 Zoe seemed to be blissfully unaware that these other options existed and we didn't feel as if they were being pushed onto us, which is always a plus.   To top it off, we were thrilled that we could get an annual passholder discount for the whole experience, bringing our total to under $28.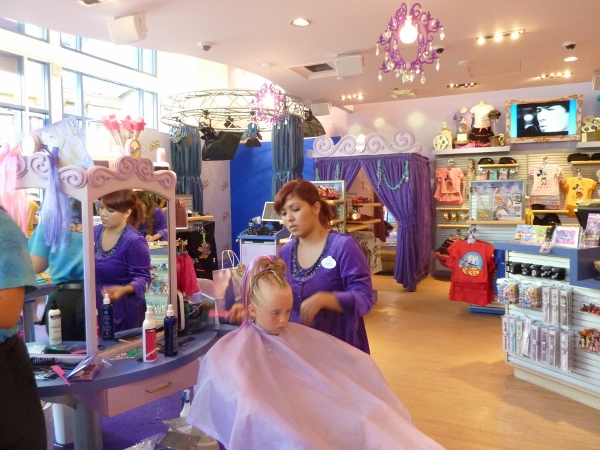 All Zoe knew was that she got the makeover that she wanted and she felt like a million dollars for the rest of the weekend – and into the following school week.  Remember the product?  This style was done on Saturday and lasted until Wednesday!  She got to show it off at school in almost pristine condition, and that made this child one happy little girl!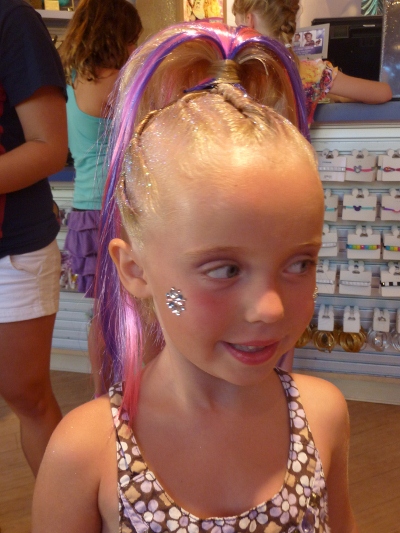 Category: Disneyland
Disneyland Podcaster for the DIS Unplugged