So I was minding my own business, walking through the candy store at Disney California Adventure and there they were.  Clever, catchy, and waiting for us to try them.  These boxes of candy are a new twist in treat packaging at  the Disneyland Resort, the Walt Disney World Resort, and even at the movie theater concession stand on the Disney Cruise Line!!!
Normally, I don't purchase boxes of candy where I can't really see the product, unless it's something I've tried before.  I'm a visual eater.   These boxes were so cool and quirky that I had to find something to try.  Read on to see if you can too!  After you've decided which one you might like to try, I have some special tips on ways to snag them for yourself!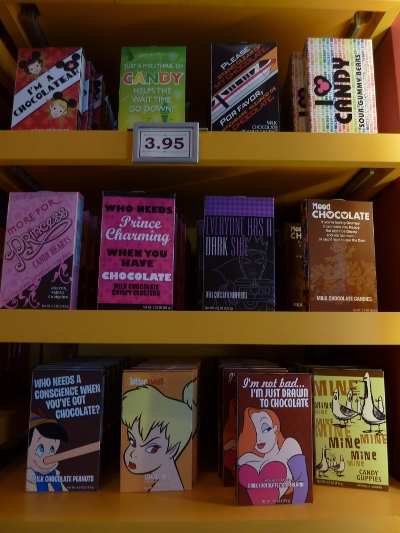 Let's start with the top shelf.
I'm a Chocolatear has milk chocolate covered raisins – a la Raisinettes.  Just a Mouthful of CANDY Helps the Wait Time Go Down is a box of traditional gummy bears, while I Mouse CANDY contains the sour ones.  My favorite of this shelf is the Please Stand Clear of My Chocolate. Por Favor Mantengase Alejado de Mi Chocolate. in its monorail box, with its milk chocolate peanut candies – similar to peanut M&Ms.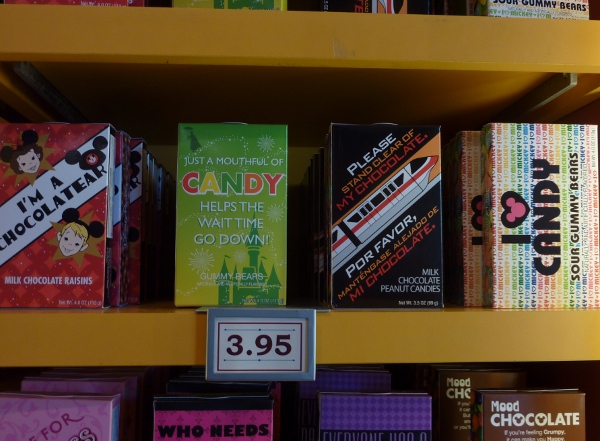 Going on to the middle, we have my favorite – Everyone Has A Dark Side.  These little dark chocolate nonpareils – little discs of pure, solid chocolate with their little white dots on top – are a piece of heaven.  Who would have thought these would be in a box like this?  The other boxes contain some other treats.  More for a Princess – Less for a Prince contains candy hearts that are more like the traditional Spree candies.  Who Needs Prince Charming When You Have Chocolate contains clusters of milk chocolate and crispies – this one I want to try next.  Mood CHOCOLATE  If you're feeling Grumpy, it can make you Happy.  But don't be Dopey and eat too much… or you'll have to see the Doc! contains plain milk chocolate candies – similar to basic M&Ms.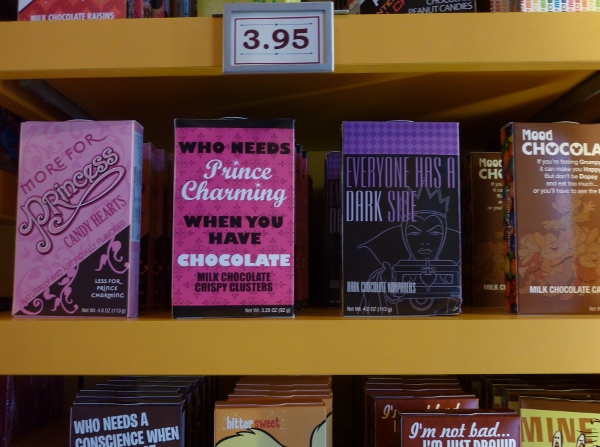 Finally, a look at the bottom shelf.  My daughter was immediately drawn to those crazy seagulls and their MINE MINE MINE box.  And what was inside, you ask?  Little, hard candy guppies!  Like the hearts on shelf 2, they are similar to Spree candies, but are shaped like fish!  (I like the blue ones…)   I'm not bad… I'm Just Drawn to Chocolate contains dark chocolate mint creams, bittersweet has lemon drops, and Who Needs a Conscience When You've Got Chocolate? has traditional milk chocolate covered peanuts – like Goobers.   I think a few of those are next on my purchase list….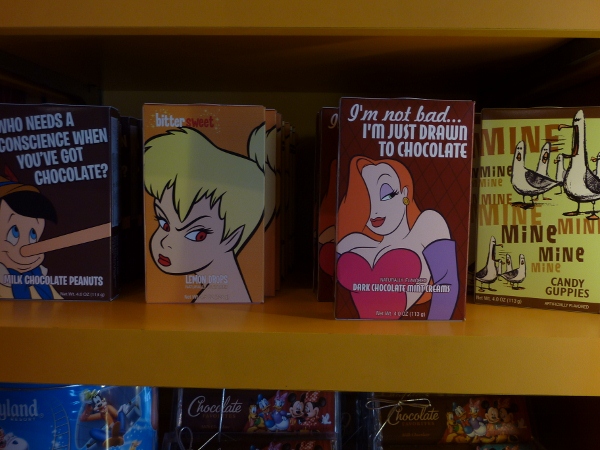 Besides the great graphics and creative slogans, the thing I really liked about the packaging was that if you turned the boxes sideways, you could see exactly what the contents are.
Top to Bottom:  Sour Gummies, Milk Chocolate Peanut Candies, Lemon Drops, Candy Guppies, Candy Hearts, Dark Non-Pareils, Gummy Bears, Peanut Clusters, and Milk Chocolate Peanuts.
One of the things I loved about the candy is that it is packaged in foil pouches to keep it as fresh as possible until purchase.  The chocolates show no sign of bloom (where they get that "grayish or whitish" tint to the surface, because the cocoa butter separated) and tastes like a good chocolate should – and I'm a chocolate snob.  I usually only buy Valrhona to bake with, so these were definitely a treat.
Now let's talk about those purchasing tips.  You can find these treats all over the parks at both Disneyland and Walt Disney World – at any of the usual candy shops, as well as the larger venues, such as World of Disney and the Magic Kingdom's Emporium.
With a value price point at $3.95 plus tax, these make a great treat or even better, a great souvenir for friends and coworkers.
Annual passholders at Disneyland can revel in the fact that if you buy three boxes, it definitely qualifies you for your passholder discount!
At Walt Disney World, folks using the Disney Dining Plan can cash in snack credits for these little beauties.  Roving DIS Unplugged friend, Shelly Lewis, and fellow DIS Blogger, Aaron del Prince, both checked it out and found that even at the Emporium or other retail establishments, just bring your candy up to the register, present your card with the dining plan, and they are able to credit it at their registers.  This is a fabulous way to bring those souvenirs home with your unused snack credits!
Unfortunately, on the Disney Cruise Line, the only way to score these treats for next to nothing is to use that shipboard credit that you might have gotten from your travel agent!  If you don't have one, it is about the same price as movie candy anyway, so go ahead and splurge!
No matter how you purchase them, this new product line is sure to be a sweet addition to your Disney experience!
Photos by N. Johnson and S. Lewis
Category: Dining, Disney Cruise Line, Disney World, Disneyland
Disneyland Podcaster for the DIS Unplugged