For those who attended this year's Epcot International Flower and Garden Festival, you may have noticed the elaborate "African Cats" sand sculpture featuring lions, cheetahs, and their cubs (oh my!).  In addition, this Earth Day, Disney's Animal Kingdom will also celebrate the release of DisneyNature's newest film "African Cats" with a Big Cat Party for the Planet with activities featuring the cheetahs and lions found in that Disney theme park.  Recently, I spoke with the director, writer, and producer of DisneyNature's "African Cats", Keith Scholey.  Continue after the break to listen to my interview and learn more about the new film currently promoted at Walt Disney World.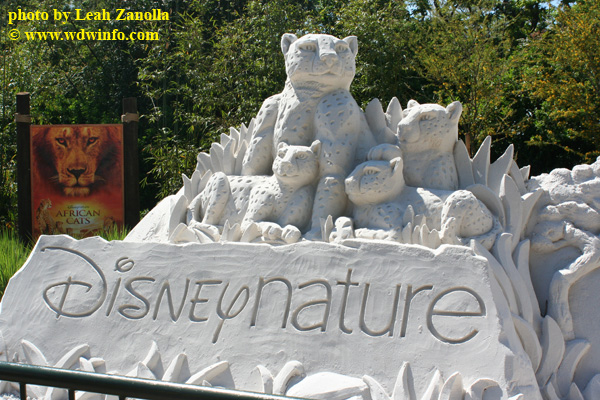 Click

1. here

to listen to the complete interview with "African Cats" director Keith Scholey.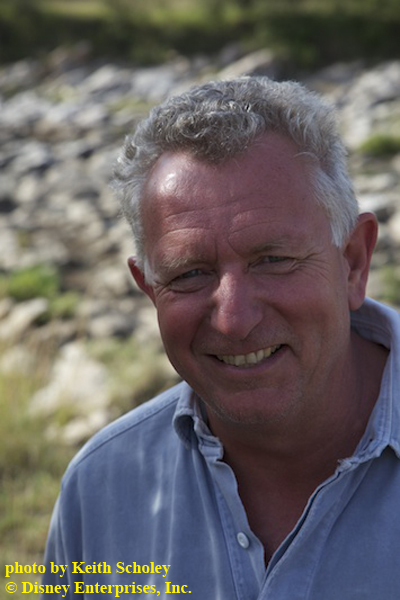 The creative team spent two and a half years in the East African wilds shooting this film.  "If we get a minute of good footage a week, we're doing well," Scholey said of the extended production schedule.  I asked if they went into the field with a preconceived story in mind?  Keith mentioned they actually worked with these animals for many years, much longer than the two and a half year shooting period, so they already had a good idea in their mind what would happen and could "rough out" a story.  However, the key to "African Cats" was finding big characters, and once they found the animals to play those characters, the plot would happen: start filming and let the story run.  The story is real; Keith said the filmmakers exert no control, and the narrative emerges organically.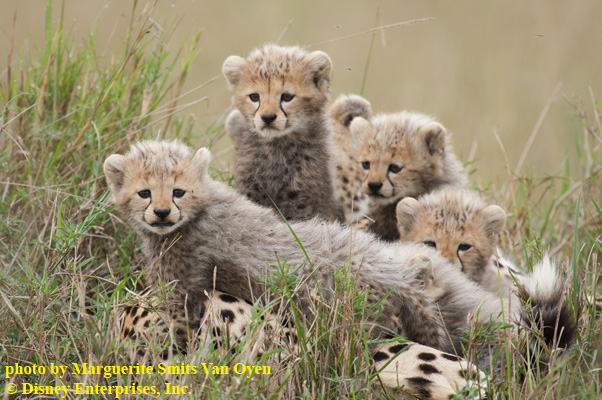 There are two animal "families" prominently featured in the film.  First is a mother cheetah named Sita and her cubs.  Scholey mentioned when they arrived in the Masai Mara National Reserve on the border of Kenya and Tanzania, they stumbled upon Sita who had just given birth to 5 cubs.  Scholey knew instantly the cheetah family would play a prominent role in the film.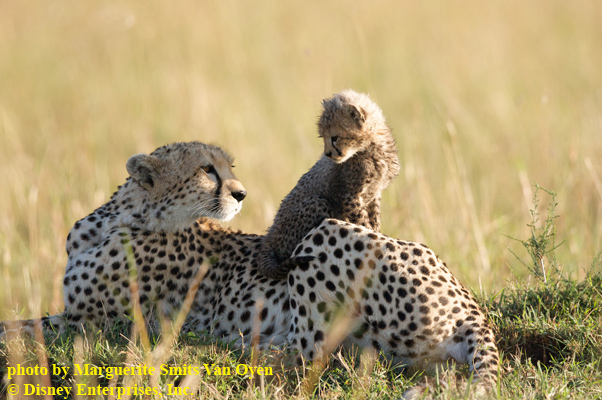 The second "family" is a male lion named Fang and his pride of lionesses.  Scholey said, this group was far harder to find.  They wanted a lion pride where "things weren't perfect."  They came upon this pride with one, old, injured lion (Fang) in control, and a huge, black-maned lion on the other-side of the riverbank threatening Fang's dominance.  At that point, Keith said, "Oooh boy, trouble's going to happen."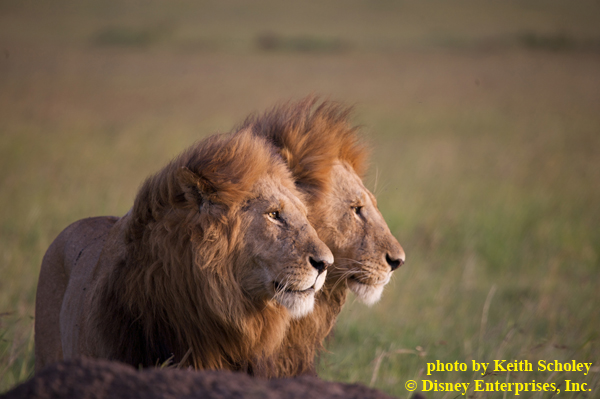 Since the filmmakers devoted over 2 years of their lives following these animals, I asked if they were ever concerned for the lives of their animal stars.  "Absolutely," said Keith.  He explained how only 1 in 20 cheetah cubs reach adulthood.  Therefore, they took a huge gamble following Sita and her cubs.  However, based on their prior research they knew Sita was an experienced mother, and experienced mothers fare much better raising their cubs to adulthood.  Although, there was still no guarantee the outcome for Sita's cubs would not end tragically.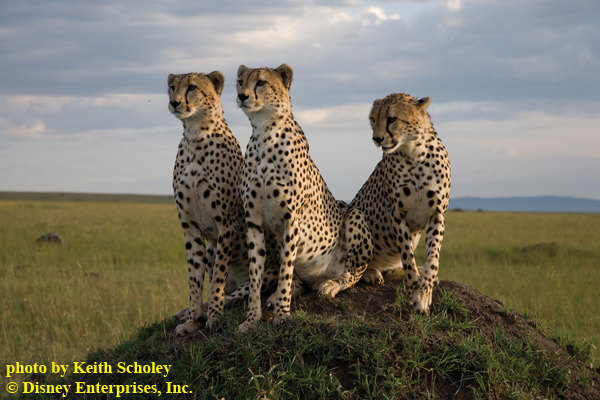 In addition to filmmaker, Keith Scholey is also a zoologist with a PhD from Bristol University.  I asked how important it was to make sure the animals' natural behaviors were accurately portrayed?  Scholey explained:
"You have to be true to the animals.  But you have to tread a line in filmmaking between what is factually accurate but also what is going to be understandable and entertaining to an audience.   I hope that we found that balance right the way through.  We've created an emotionally-driven, character-driven story, but it is true to those characters and it is true to what happened."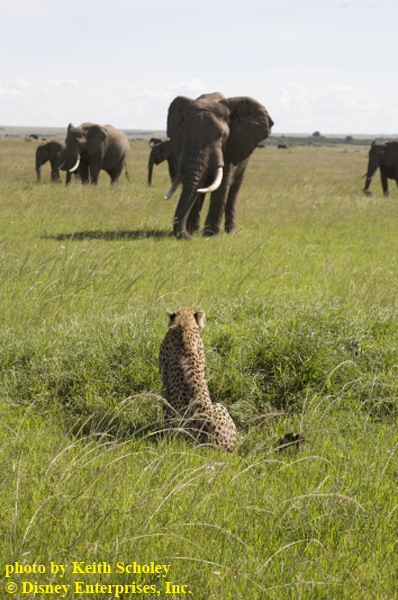 "African Cats" is narrated by Samuel L. Jackson – the Academy Award nominated actor best known for his portrayal as Jules the philosophy espousing hit-man of Quentin Tarantino's "Pulp Fiction."  Scholey wrote the narration knowing Samuel L. Jackson would read the lines, but Jackson surprised the writer/director with his intepretation.  Keith elaborated, "People know of him (Jackson) as the tough guy shouting and being quite loud, but most of his narration for 'African Cats' he's being very soft, very gentle, and very emotional."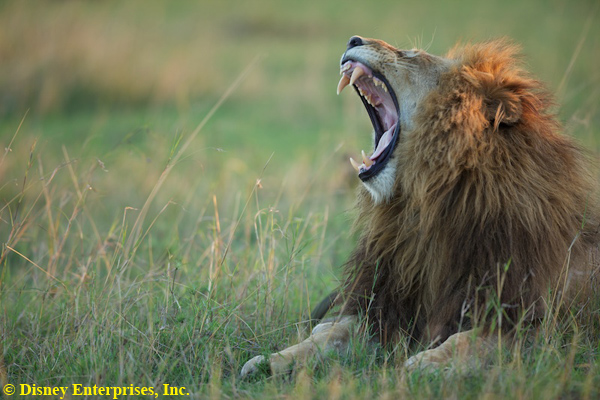 This is the third consecutive year DisneyNature released a film on Earth Day.  For each previous film a portion of the proceeds were contributed to a related conservation effort.  In 2009, "Earth" helped plant over 2.5 million trees in Brazil's Atlantic RainForest.  Last year, "Oceans" protected a coral reef in the Bahamas.  "African Cats" will be no different, with a portion of the proceeds earmarked for the African Wildlife Foundation to "Save the Savanna."  Keith Scholey described the conservation project in more detail.
"The thing about all of these animals is they're big, they need space.  Present in countries like Kenya are very good National Parks and National Reserves that protect these animals.  But, they can only be so big, and, sadly, they are probably not big enough.  What's really important now is the land in between the National Parks, these… what we call, wildlife corridors, get protected too so animals can move from one National Park to another.  The 'Save the Savanna' project is to be able to secure land within these wildlife corridors so that big cats and also the migrating animals, herds of wildebeasts, zebra, and elephants, can all move safely between one protected area and another.  It's absolutely crucial for the long term survival of these wonderful African animals."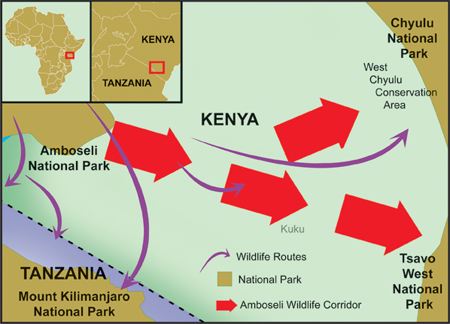 Keith Scholey is incredibly passionate about this issue of preserving corridors for animal migration due to personal experience – he was born and raised in East Africa.  He mentioned when he was a child in Kenya you could drive anywhere and see wildlife.  However, as the human population of Kenya increased, more land is used for agriculture and ranching, and the number of animals outside the National Parks has fallen dramatically.  "I've seen that change with my own eyes," remarks Keith, "so I understand why it is so important to get some of this land back  to allow these animals to move from park to park."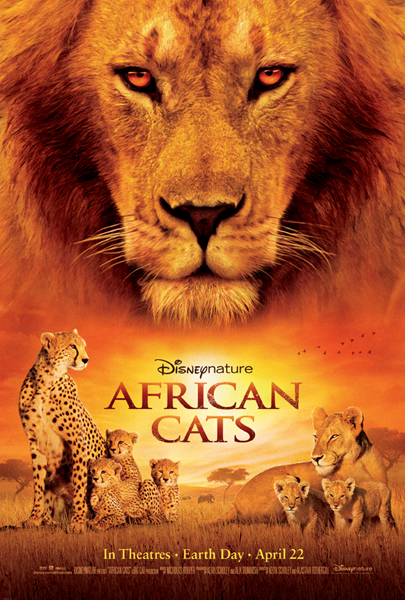 I want to thank Keith Scholey, director of DisneyNature's "African Cats" for taking time out of his schedule to speak with me.  The film opens on Earth Day, Friday, April 22nd.  For everyone who purchases a ticket to see the film during the opening week (April 22-28), Disney will donate $0.20/ticket to the African Wildlife Foundation to protect the Amboseli Wildlife Corridor ($100,000 donation minimum).  This corridor is a vital passage between the Amboseli, Tsavo West and Chyulu Hills National Parks frequently used by lions, cheetahs, elephants, zebras, giraffes and a host of other animals in the African savanna. 
To find out even more information about African Cats, check out the Official DisneyNature African Cats thread on the DISboards.  The thread contains all the press releases, publicity photos (i.e., cute cub pictures), and links to video clips provided by Walt Disney Studios Motion Pictures.  Are you interested in this newest DisneyNature film?  Leave a comment below to let us know what you think.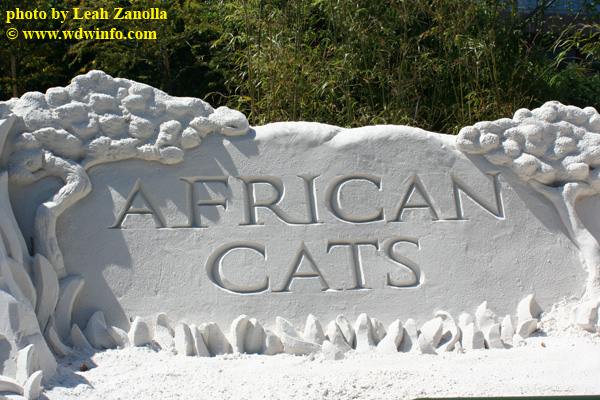 Category: Disney World, News