A federal judge in Orlando has approved Walt Disney World's efforts to settle the long-running lawsuit brought by individuals who sued for the unrestricted right to use Segways during regular hours in Disney's theme parks.  The effect of the ruling is to put to rest (absent an appeal) a lawsuit filed in November 2007.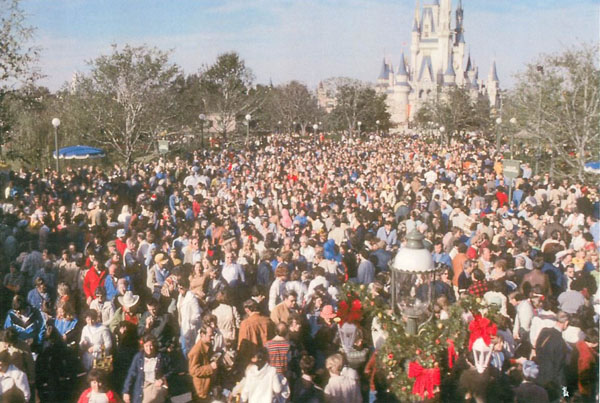 Photo of Magic Kingdom filed by Disney in Segway Lawsuit
In a prior blog post, I explained about the Department of Justice's opposition to the settlement.  The Justice Department's position was  that the settlement is unfair to the class members because the revised ADA regulations "expressly provides legal recognition of, and protection for, use of Segways [at theme parks] subject to legitimate safety considerations."
Today, United States District Court Judge Gregory A. Presnell disagreed.  First, Judge Presnell sided with Walt Disney World's position that the Justice Department's new (effective March 15, 2011) regulations construing the Americans with Disabilities Act (as the regulations to Segways, at least) were invalid.  The court explained: "the DOJ's revised regulations conflict with the plain language of Title III, which requires that a requested modification be necessary for a disabled individual to be afforded goods or services."  That is a significant win for Walt Disney World.
The Justice Department also had argued that Walt Disney World could not adhere to a "blanket ban on Segways at all Disney properties" because Disney's safety concerns were "bland and unsupported."  Judge Presnell disagreed, saying: "Disney would likely be able to maintain its ban on Segways in light of its legitimate safety concerns. Specifically, the evidence at the fairness hearing supports Disney's position that unrestricted Segway use poses significant safety risks because Segways cannot be operated in accordance with Disney's legitimate safety requirements."  In a footnote, the court relied upon testimony by Disney's Chief Safety Officer, who "testified in detail about his thorough review and assessment of whether the Segway could be used by guests at Disney's theme parks and his conclusion that the safety risks posed to other guests in the unique environment of the parks were simply too great."
Judge Presnell's rejection of the Department of Justice's objections permitted him to find that Walt Disney World was likely to prevail on the merits of the Segway lawsuit.  This paved the way for the ultimate conclusion that the class settlement was fair.  The ruling permits Walt Disney Parks and Resorts (which operates Walt Disney World and Disneyland) to continue the blanket ban on unrestricted Segway use in the theme parks.  Disney will also be free to require guests wanting to use standing mobility aids to rent the electrically powered vehicle (photo in prior blog post) developed by Disney.
It is unclear what effect this ruling will have on the separate litigation challenging a ban on Segways at Disneyland.  An appeal is pending and Walt Disney Parks and Resorts is not scheduled to file its brief until mid-May.
Here is a link to a copy of the court's ruling, approving the class action settlement of the Segway lawsuit against Walt Disney World (obtained from the court's website).
Category: Disney World, Disneyland, News