The following blog was created as an April Fool's joke by DIS Unplugged author jcb and is not true…
Without fanfare, Walt Disney World has changed its long-standing but much ignored rule regarding the use of refillable mugs.  A keen observer at the Polynesian Resort noticed the change and provided the DIS Unplugged with the exclusive photo of the drink station.  The change is quite subtle – instead of saying "until the end of the stay in which the mug was purchased" the new statement is "for as long as you use the mug you have purchased."  The minor change in wording is undoubtedly meant to achieve the change with as little fuss as possible.  Continue after the break for more details of the new policy.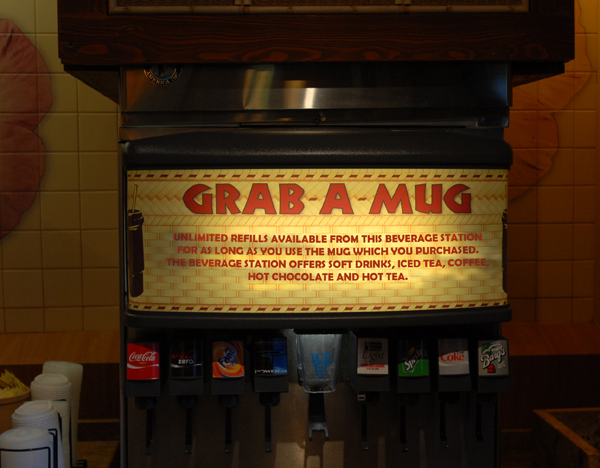 Walt Disney World Spokesperson April Lirpaone, admitted that the change was made because resort managers tired of the foolish debate about reusing refillable mugs on websites such as DISboards.com.  "We want guests to enjoy their visit, she said, "We found however, that they were foolishly worrying about whether they might be seen reusing a refillable mug.  We tried bar codes a while back but in truth, it was just too much of a hassle and we didn't like the image of our Cast Members being referred to as the 'mug police.'"
There is a catch.  April explained that refillable mugs come with radio frequency identification chips that will limit the number of refills per day.  Mugs that have exceeded the allotted refills won't work at the drink stations.  "Guests at Deluxe and Deluxe Villa Resorts will be permitted 5 refills per mug per day."  Guests at Moderate and Value Resorts will be limited to 4 and 3 refills, respectively.
Guests who want additional refills may purchase them in blocks of 5 for $4.01 per mug per day.   Lirpaone explained that guests may use their Key to the World Card for the purchase but to make sure the mug holder isn't buying the refill for another guest, finger print scanners similar to those recently installed at the entrance to Epcot will be located next to each drink station.
When I asked about any plans to change long standing Walt Disney World resort policies banning "pool hopping", Lirpaone said, "Get real, Dave."
Happy April Fool's Day!
Category: Disney World