The DisneyParks blog recently announced that beginning March 25th guests at Disneyland will be able to catch an exclusive sneak preview of the upcoming "Pirates of the Caribbean: On Stranger Tides."  The film clip will be shown in 3D in Frontierland's Festival Arena.  Continue after the break for more details.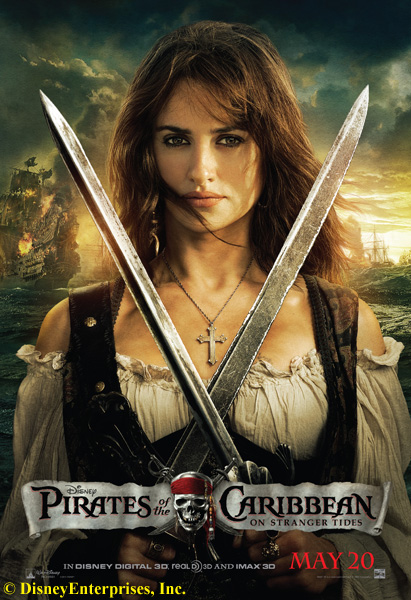 This won't be the first time that Pirates have taken over Disneyland – as the first look at the film's trailer debuted at the resort in December 2010.  The sneak peek of the film will be shown weekend nights March 25 – May 30, and every evening from April 15 – May 1.  Specific times of the preview will be listed in the Disneyland Show Times Guide.  The film will premiere in theaters nationwide May 20th in Disney Digital 3D, and will be loaded with Captain Jack, Barbossa, Blackbeard and his daughter, mermaids, cutthroats, and zombies.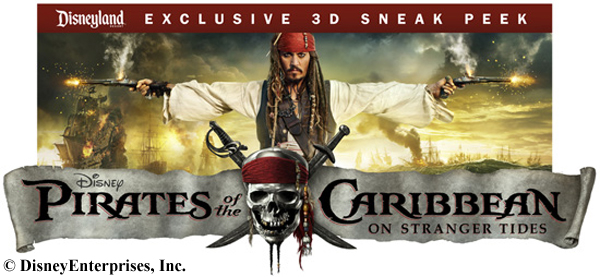 Excitement's building for Captain Jack Sparrow's reappearance, and the DIS Unplugged Disneyland team reported on the March 16th Podcast that it looks like the film will have its red carpet world premiere in Disneyland on Saturday, May 7th.  Regular posters on the DISboards Disneyland forums noticed Disneyland's official closing time is 5:00 pm on that day, and it would appear the film screening will take place in front of the Rivers of America.
If you can't make it out to Disneyland before May 20th, here's a snippet of the film giving a glimpse of Captain Jack Sparrow recruiting his crew on a quest for the legendary Fountain of Youth.  Along the way, the damsel Angelica (Penélope Cruz) forces him aboard the "Queen Anne's Revenge" the ship of the notorious pirate Blackbeard (Ian McShane).  Geoffrey Rush reprises his role as Captain Jack's arch-nemesis Hector Barbossa; Keith Richards returns in a cameo as Captain Teague, Jack Sparrow's father; and acclaimed French actress Astrid Bergès-Frisbey makes her American film debut portraying a mystical mermaid Syrena.  Who wants to sign up for the crew?
So are you excited to see the new film?  Would you line up to get a sneak peek of Johnny Depp or Penélope Cruz walking down Main Street U.S.A.?  Leave a comment below to share your thoughts, and stay tuned to the DIS Unplugged for all the latest news on the Disneyland Premiere of "Pirates of the Caribbean: On Stranger Tides."
Category: Disneyland