Tired of theme park trekking?  Hungry for just a nibble?  Want something for free?  I think I have just the thing you're looking for…
This installment in my Gems of the Disneyland Resort Series takes us over to California Adventure.  In the Pacific Wharf district of the park, most people walk right past the Mission Tortilla Factory.  Housed in a "Cannery Row" warehouse, you can get a true taste of how these little pieces of cultural cuisine are made.  As my kids can't come into this park without going on the "Tortilla Ride", I thought I'd ask you to come on along and let me show you what you are missing!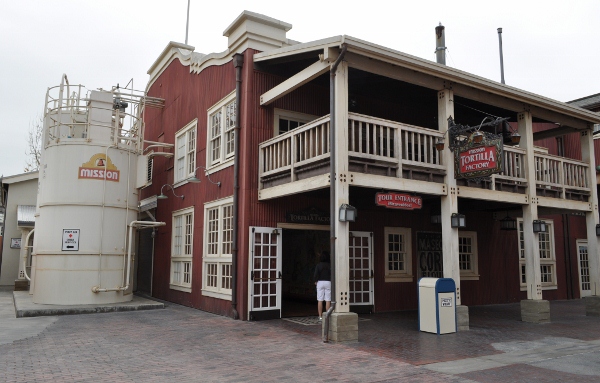 Depending on the time of year you visit the factory, a Cast Member will greet you at the front door to the attraction.  They actually have a couple of different ways of allowing the crowds in.  You can tell how busy they are, by noticing if you find the entrance doors open or if they are closed.  During peak visiting times, guests are admitted in small groups; in the slower times, the doors are completely open.  Regardless of how you find the doors, you really want to take your time and go through the whole experience.
Once admitted through the main doors, you enter the first pre-show waiting room.  It is decorated with a culturally significant (and very large) mural of the Aztecs honoring maize or corn.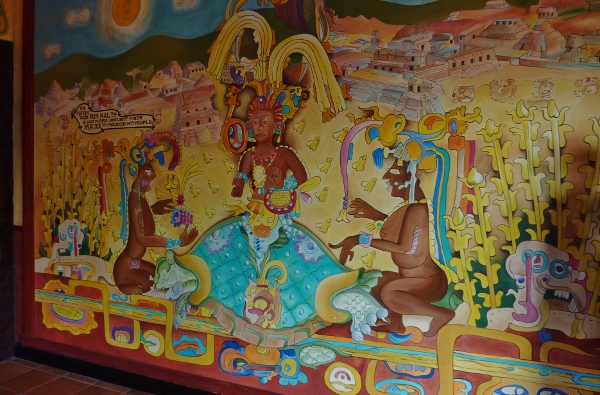 This room also hosts a wonderful pre-show video on the history of corn and its entry into mainstream cutural cuisine – as presented by 5th graders…   Yes.  I said 5th graders.  One is dressed in a tortilla.  Brings back loads of memories of doing those "team reports" in elementary school.  Definitely worth the time to watch.  MASECA!!!!  (Google it…)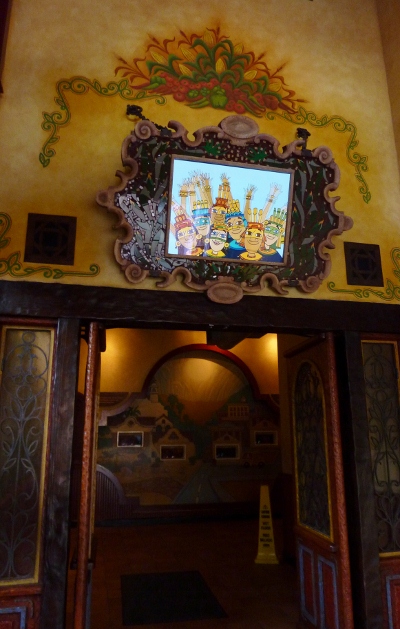 After watching this charming video, those big doors will open (yep – we were there during a slow day) and you will be admitted into the second pre-show room – the Living Diorama Room.
This room takes us from the Aztecs into the last century, with a mural depicting the more "modern" agriculture of corn.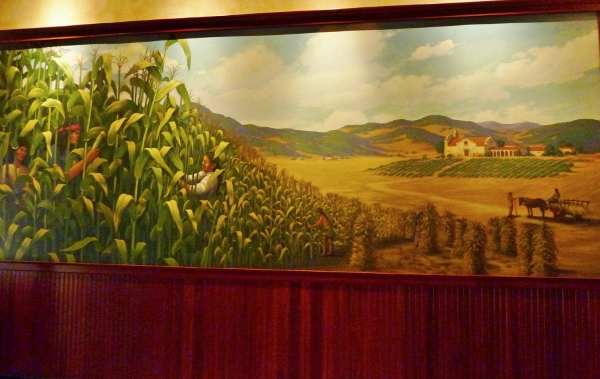 The main wall shows us the "living dioramas".   At kid-height and adult, you can actually take a trip back to two different points in history and see how tortillas were made by hand.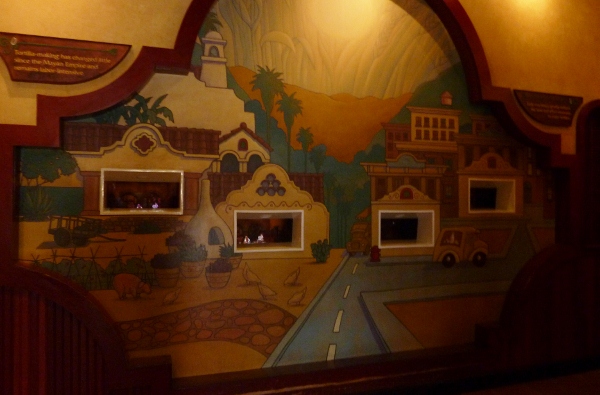 This particular diorama shows the most traditional method of hand grinding the corn into flour.   The other is a century later – when more modern hand tools began to be developed.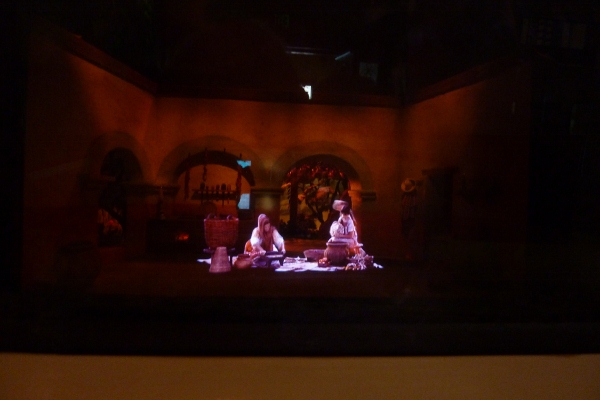 After learning about the basics, you then turn to enter the modern Tortilla Factory.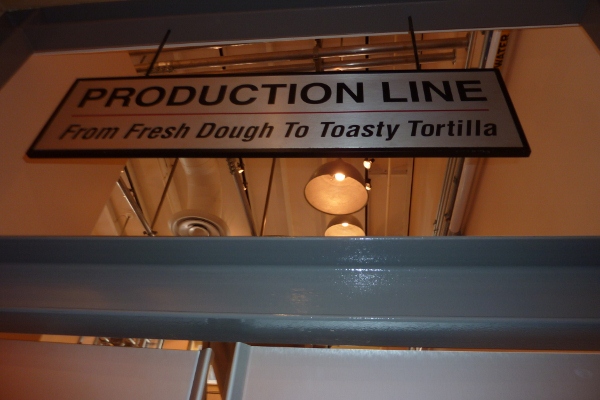 Here, you are greeted by two complex pieces of equipment, each side produces a different type of tortilla – corn or flour.  There used to be a production schedule – corn on certain days and flour on the others, but it varies now.  They only operate one of the two machines per day and take that downtime to clean and re-supply the other.  This is the machine that produces flour tortillas.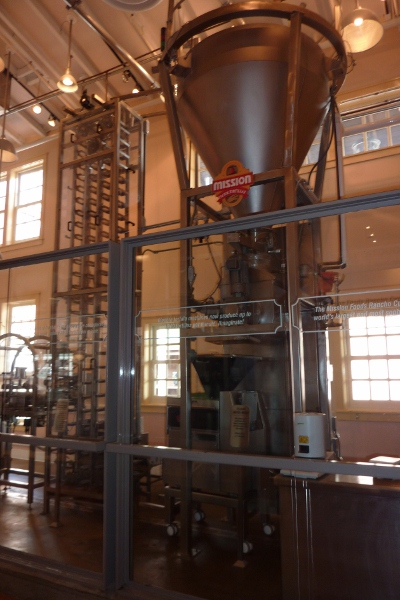 Of course, the machinery is behind a glass wall to meet all sorts of sterile kitchen requirements, as they make tortillas for the Cucina Cucamonga Mexican Grill here.   Nevertheless, it doesn't stop them from having a bit of fact-finding fun with those very same walls.  Facts about tortilla production can be found printed on them,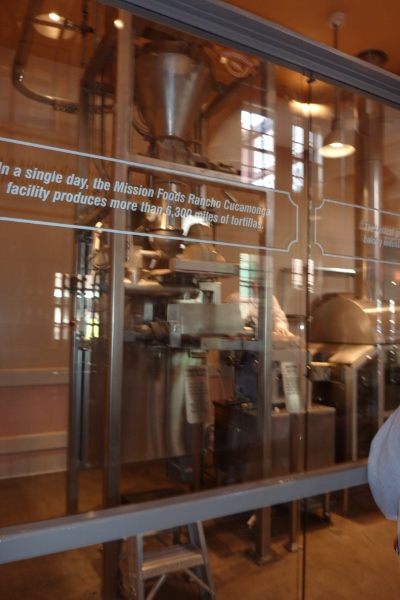 as well as on the equipment itself!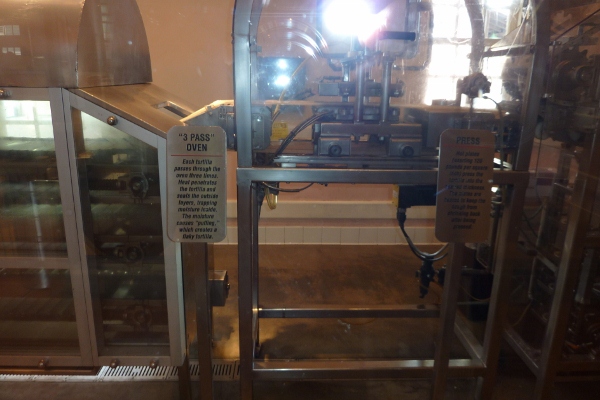 The smell of warm, fresh tortillas is enough to drive you crazy at this point in the tour.  Well, fear not.  The Cast members at the Mission Tortilla Factory are waiting at the end of the glass wall to oblige your new-found craving.  One per customer, unless you are wearing a birthday button.  That little gem will get you an entire package of a dozen tortillas to munch through!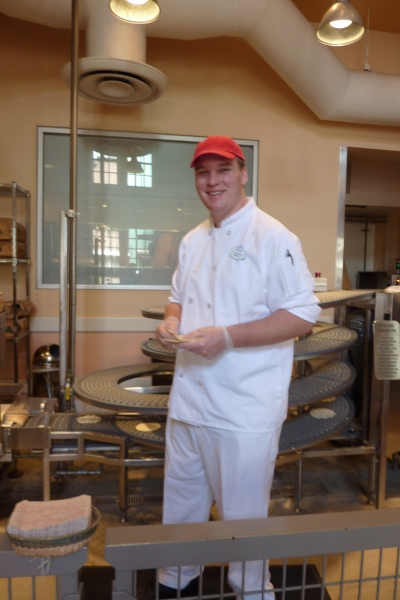 After you have that warm circle of floury goodness in your hand and mouth, you head toward the Test Kitchen.  On the extremely rare occasion they are using it, you will find all sorts of ideas displayed on using tortillas in your home cooking.  It's equipped with a mirror, so you can watch the demonstration chef assemble these interesting dishes.   If no one is presenting that day, you can simply walk over to the counter and pick up a little leaflet with many of those recipes – courtesy of the Mission Tortilla folks.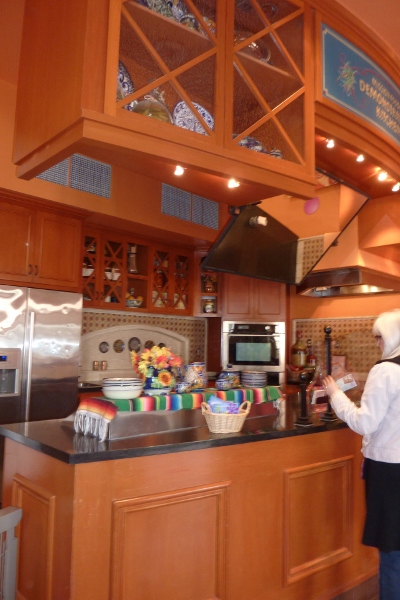 Even if you don't grab one of the little recipe cards, you can still get ideas from the gorgeous color photos on the back wall, near the exit doors.  But wait – don't forget to stop at that little red thing in the corner….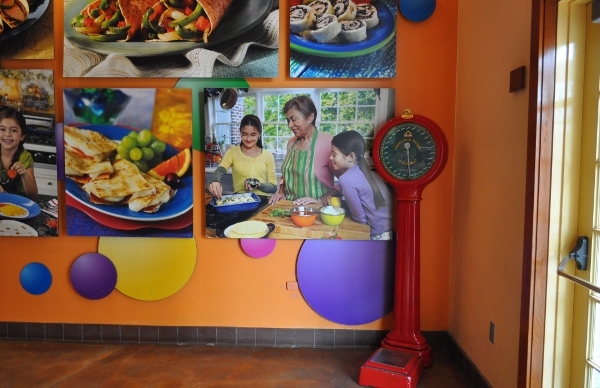 The Tortilla Scale is one of my kids' favorite parts of the "Tortilla Ride".  You've heard of measuring your weight in gold, right?  Well, they have to hop up onto the scale to see how they stack up to tortillas.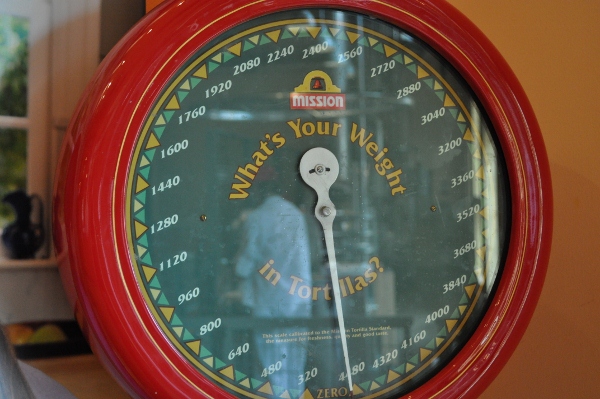 I can safely tell you that I am about 1600 tortillas, give or take, while the average 5 year old is around 320 or so.  Once reminded of that fact, we (and our bellies full of already-eaten tortillas) head out to enjoy the rest of the park.  We'll be back through again before the day is over!
Photos by N. Johnson and T. Bell.
Category: Dining, Disneyland
Disneyland Podcaster for the DIS Unplugged