Spring is in the air at Walt Disney World, and the International Flower and Garden Festival has opened with the theme "Epcot Springs to Life."  Well another Disney theme park is also "springing" to life as Disney's Hollywood Studios hosts its 8th Annual ESPN the Weekend March 3rd – 6th.  The co-hosts of the event, ESPN's Mike Greenberg and Mike Golic hosts of the popular "Mike & Mike in the Morning show" spoke with me separately about the event, Disney, and what they are most looking forward to during the weekend.  Continue after the break to listen to and read about my interview with "the Mikes."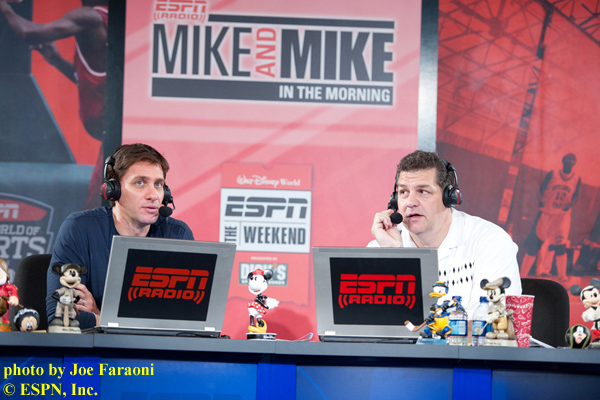 Image: March 3, Mike Greenberg (L) and Mike Golic (R) of Mike and Mike in the Morning broadcast live from the ESPN Wide World of Sports Grill at Walt Disney World Resort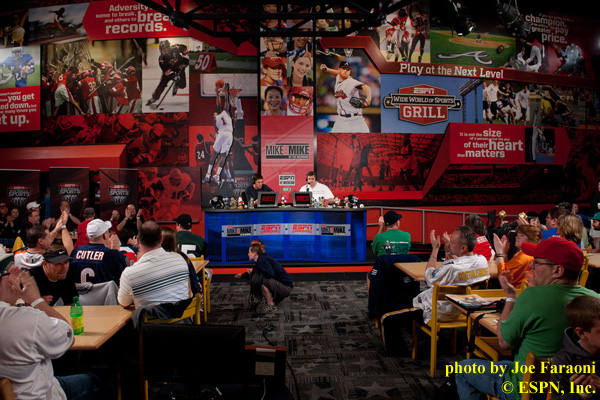 1. Click here to listen to the conversation with ESPN's Mike Greenberg
ESPN Radio's "Mike & Mike in the Morning" broadcasts live from the ESPN Wide World of Sports Grill Thursday, March 3rd and Friday, March 4th from 6-10 am.  This extremely popular ESPN Radio show is also shown on ESPN2 and has an audience of over 12 million listeners each week on more than 350 stations nationwide.
For those wondering why all these athletes and sports celebrities are descending upon Walt Disney World, I asked Mike Greenberg to describe what ESPN: The Weekend is all about.  First, Greenberg stopped me to say, "There is no more hard core Disney fan" than he.  He's the father of two children, ages 10 and 8, and he rattled off title after tile of Disney Channel shows that play regularly in his house.  Mike quoted Hannah Montana to describe ESPN: The Weekend as "the best of both worlds" combining "all the magic that is Disney and add to it the biggest names in the world of sports."  He then went on to say that not only can you watch live broadcasts of popular ESPN shows, but you can interact with athletes – not just getting pictures and autographs, but also actively playing with the guests.  He went on to say, "it's an incredible opportunity for fans of Disney and fans of sports to have an unforgettable weekend."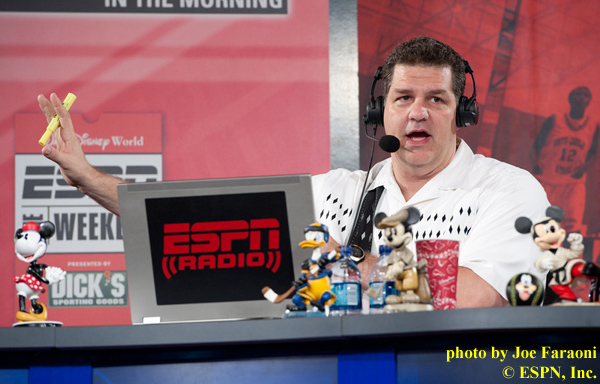 2. Click here to listen to Mike Golic discuss ESPN: The Weekend
In addition to kicking off the festivities at Disney's Hollywood Studios, Greenberg and Golic also host the "Ultimate Guy's Weekend" during ESPN: The Weekend.  Mike Golic said, "It's kind of self-explanatory – it's all about guy things."  Greenberg elaborated saying it's the opportunity for guys to come down, enjoy the event, and do things beyond the attractions associated with kids – activities such as golf, fishing, or driving a NASCAR or Indy race car.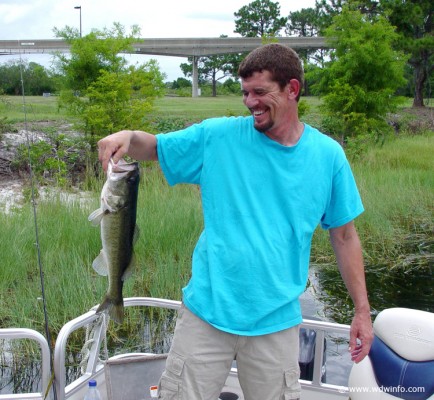 Greenberg and Golic's show started in 2000, and they have been coming to Walt Disney World annually since that time to broadcast.  I asked if, when they started, they ever imagined people would be lining up at Disney to see them.  Greenberg said, "No, that was a thrill."  He elaborated,
"When we first started coming down in the year 2000, we would work out of a little recording booth that is in the ESPN Club on the Boardwalk, and we were the only people who knew we were there.  There was no one there to see us, and no one was particularly interested if they did know.  Now to pull up for our show over there at the Wide World of Sports Complex, and to find a long line of people waiting to come in and see us, it's a thrill and it's so gratifying.  It gets bigger and better every single year.  I can assure you starting the way we started, Mike and I never will and never do take that for granted."
It's almost as if Mike and Mike are an official Walt Disney World attraction now – maybe Disney should be giving out FASTPASSES to see them.
One of the things Mike Golic said he was looking forward to most was the food at Walt Disney World.  Golic went on to say,
"I'm an equal opportunity eater, but the one thing I always like to take part in – if there's enough people there – or watch people eat – is over at Beaches and Cream when people get the Kitchen Sink.  I make sure I go there every year, and I'm so mesmerized every time I see that thing made with the 8 scoops of ice cream and they throw everything except the kitchen sink in there… I dig watching that."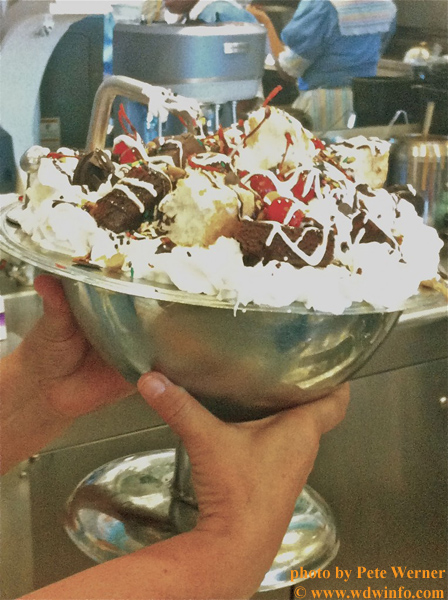 I mentioned I was surprised he couldn't tackle the Kitchen Sink on his own, and he quickly replied, "I couldn't do it.  As odd as it may seem, Greeny is more of an eater than I am.  He's a skinny, frail little thing, but he's got a faster metabolism than I do.  I'd like to stick my face in to take a shot, but there's no way I'd be able to finish that."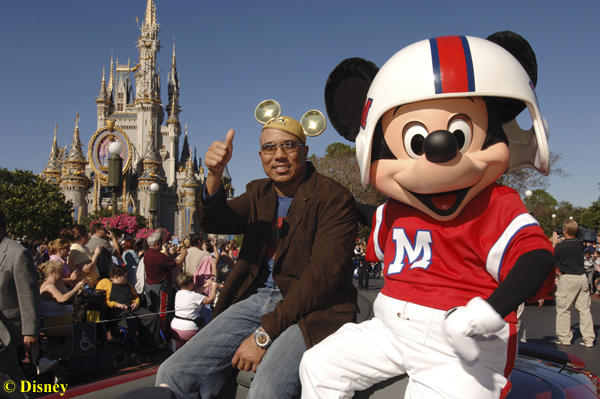 Image: Super Bowl XL MVP Hines Ward of the Pittsburgh Steelers celebrating at Walt Disney World February 6, 2006
Now, I had to end with a sports question.  I grew up in Pittsburgh in the 70's, and am a huge Pittsburgh Steeler fan.  The big news in all of sports these days is the impending labor dispute that may shut down next year's football season.  So I had to ask – how is this going to impact Steeler wide receiver Hines Ward's chances to win "Dancing with the Stars" this season?
Greenberg chuckled and replied, "Frankly, football players have traditionally done very well on that show," and said there's a lot of pressure on Ward to follow in those footsteps.  When I asked Greeny when he would be on "Dancing with the Stars" he quickly replied, "The second they call me, baby!  If they had Chair Dancing with the Stars I would be a major competitor."
I want to thank Mike Greenberg and Mike Golic both for taking time out of their weekend to speak with me.  ESPN: The Weekend runs March 3-6 at the Walt Disney World Resort.  For more photos from the event, be sure to check out this photo gallery with 100+ images on The DIS.
Category: Disney World