Buzz and Woody!  Buzz and Woody!  "Toy Story 3" just won the Academy Award for Best Animated Feature Film, what are you doing next?
We're going to Disney World!!!
The 2011 Epcot International Flower and Garden Festival opens Wednesday, March 2nd, and for the first time the Disney/Pixar characters from the Toy Story film franchise are included among the topiaries.  In fact, Buzz, Woody, and Lotso (i.e., Lots-o'-Huggin' Bear) will make up the opening display at the entrance of Epcot in front of Spaceship Earth.  The characters will be surrounded by a sand castle, playground toys, and a strawberry scented field (to evoke Lotso's strawberry smell).  Eric Darden, the Horticultural Manager for the Festival and co-manager of the Disney Nursery said this is the first year the entrance display has used all new topiary characters.  Continue after the break for Disney's video giving a sneak peek of the topiaries in their backstage greenhouse.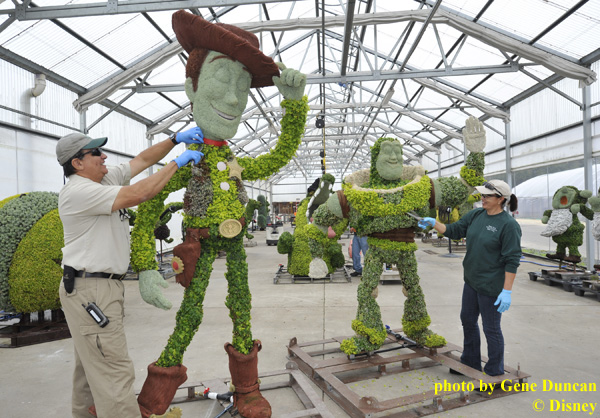 More than 100 topiaries will be on display for the festival.  Other new creations include the Pixar characters from "Cars."  Lightning McQueen and Mater will be underneath a black & white checkered arch in World Showcase.  Also, Winnie the Pooh, Tigger, and other friends from the Hundred Acre Wood will be featured in a wildflower display between Future World and World Showcase.
So how many topiaries did you see in the video?  What are you most looking forward to with the festival?  Leave a comment below to share your thoughts, and keep reading the DIS Unplugged for full coverage of this year's festival.
Category: Disney World