Quick on the heels of January's Walt Disney World Marathon weekend comes Disney's Princess Half Marathon.  Early Sunday morning, February 27th, a record field of over 17,000 princesses laced up their running shoes (or glass slippers) to run or walk from Epcot to the Magic Kingdom and back.  The field also included two past winners of the reality television show Survivor – Ethan Zohn, 2002 winner of Survivor: Africa and Jenna Morasca, 2003 winner of Survivor: the Amazon.  Continue after the break for more details and video of the race.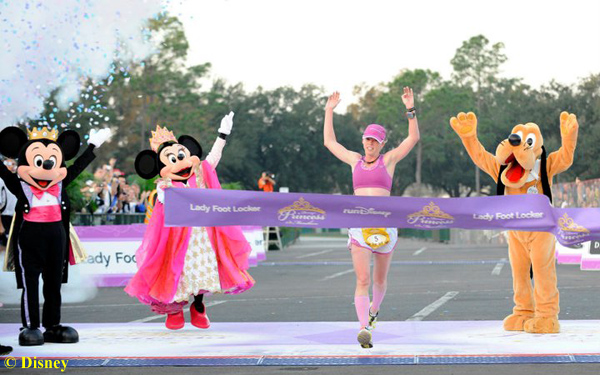 Image: Jennifer Hanley-Pinto of Jacksonville, FL wins the 2011 Disney's Princess Half Marathon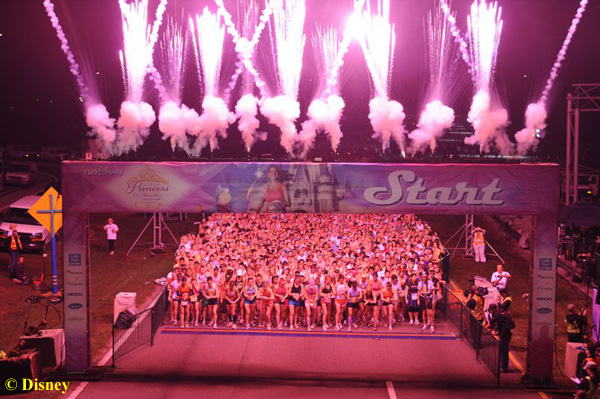 Survival was the theme of the morning as eventual winner Jennifer Hanley-Pinto (33) of Jacksonville, FL held off challengers the entire way to win the race in 1:22:50 a mere 24 seconds ahead of second place finisher Caitlin Latimer (27) of Lexington, KY.  Heather Schulz (36) of Orlando, FL, last year's runner-up by 23 seconds, was back for another try at the crown/tiara.  Despite running an even faster time than 2010, Schulz finished 3rd in 1:25:01.
This is the third year for Disney's Princess Half Marathon weekend. The 13.1 mile Princess Half Marathon followed the same route as January's Walt Disney World Half Marathon – starting outside Epcot, up and through the Magic Kingdom, and back to Epcot. While the course may be the same, the atmosphere is very different. Check out Disney's video highlights below to get a sense of the event.
In addition to the centerpiece half marathon, the weekend featured a festival of races including the Royal Family 5k and Kids' Races that were held on Saturday, February 26th.  Over 22,000 athletes participated in one of the races over the weekend making it one of the largest sporting events in the country focused specifically on women.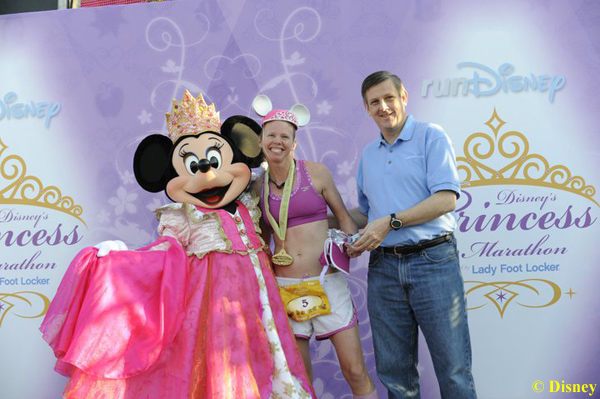 Congratulations to everyone who participated in the events held over this weekend.  However, there's no time to rest for Disney runners as the next race on the calendar is in less than one week on Saturday, March 5th for the sold out Champion 5k during ESPN: The Weekend at Disney's Hollywood Studios.  The next runDisney event with open registration spots is May 7's Expedition Everest Challenge in Disney's Animal Kingdom.
Were you part of the record field this year's Disney's Princess Half Marathon?  Share your experience with this Disney race by leaving a comment below.
Category: Disney World