On Tuesday, February 22, the DisneyParks blog announced that this spring guests visiting Walt Disney World's Magic Kingdom will be able to secure a FASTPASS to reserve a time to visit with Mickey Mouse.  The new meet-and-greet-location will be right as you enter Town Square in a re-modeled Exposition Hall.  This is prime real estate for Mickey's new digs, located right at theme park's entrance on the right hand side after you pass under the Walt Disney World Railroad.  The current Exposition Hall, also known as the Camera Center hosted by Kodak, will become the new Town Square Theater.  Continue after the break for more details on the changes.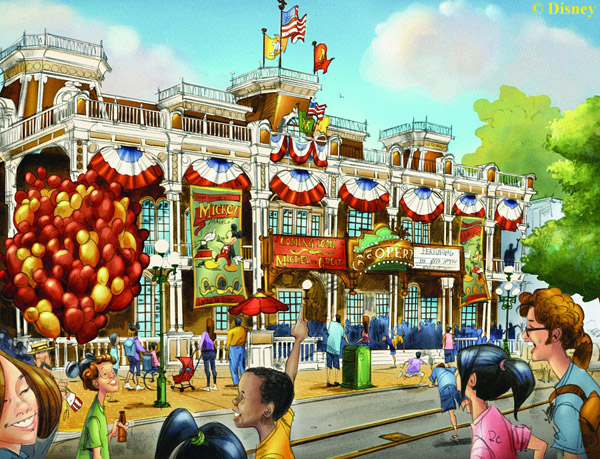 Image: Walt Disney Imagineering rendering of the Town Square Theater future location of the FASTPASS equipped Mickey Mouse meet and greet.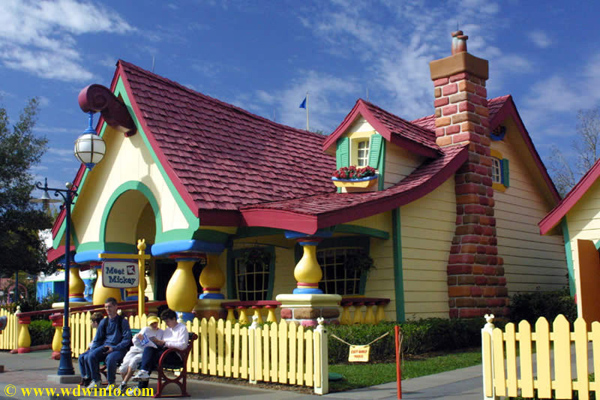 Image: Mickey Mouse's previous "summer home" in the now defunct ToonTown Fair
With the recent closure of Mickey's ToonTown Fair for the Fantasyland expansion project, a new location to meet Mickey and Minnie Mouse was needed.  Currently, the characters can be found in Tomorrowland to the right of Space Mountain.  However, Mickey Mouse will move into his permanent location on Main Street U.S.A. later this spring.  In the official announcement, Disney said guests will be able to obtain a FASTPASS ticket specifying a one-hour window when they can return to visit with Mickey for photos and autographs – without waiting in the standby line.  This is the first-time the FASTPASS service (that requires no additional charge) will be used for a character meet-and-greet in any Disney Theme Park.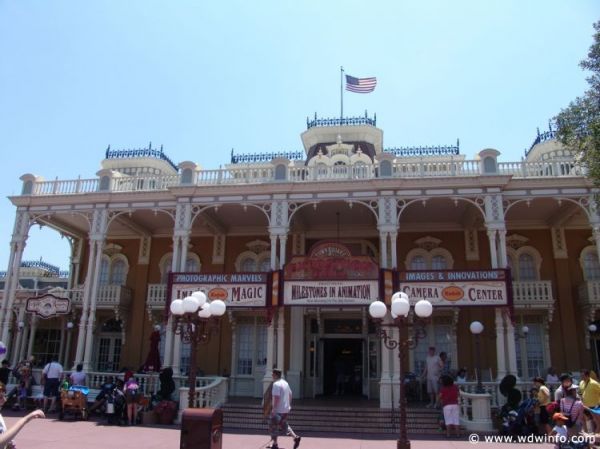 Image: Current Exposition Hall on Main Street U.S.A.
The Exposition Hall will be "re-imagined" to become the Town Square Theater, a turn of the century building fitting of Town Square.  Disney described the space as a grand Victorian theater that includes a gold-leaf trimmed glistening marquee that sparkles with lights.  Inside, the theater will have a mosaic floor, lush curtains with gold rope tie-backs, and polished-brass chandeliers.  "This isn't just remodeling Expo Hall; it is completely re-imagining this entire venue as a beautiful Victorian-era theater and the new home for Mickey Mouse," Jon Georges, Walt Disney Imagineering Director, Senior Show Producer said.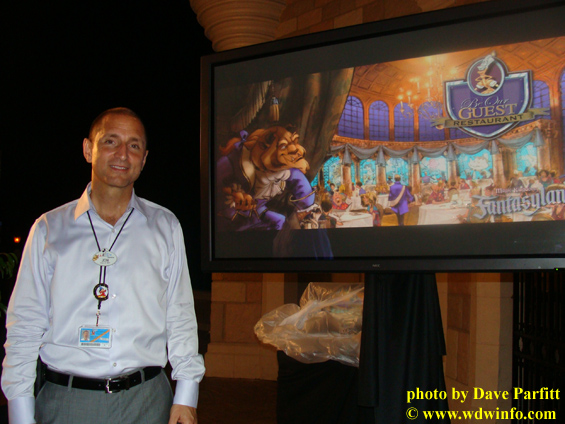 Image: Disney Imagineer Jon Georges, May 2010
In addition to the thematic changes to the building, Disney Imagineers are developing an interactive queue area for this new space – ala Space Mountain and The Many Adventures of Winnie the Pooh.  The queue will take guests "backstage" of the Town Square Theater, where Mickey is waiting to greet them in a rehearsal-room environment amid posters, steamer trunks and stage props.  Comments on the DISboards have speculated all this theming and interactive queue elements will provide a more elaborate experience than the typical character meet-and-greet.  Some have even wondered if the "Talking Mickey Mouse" character tested last year at Disneyland might appear in this new location.
So what do you think of this change coming to the character meet-and-greet experience?  Do you think the use of FASTPASS to schedule characters is a good idea?  Are you excited to see the new Town Square Theater?  Leave a comment below with your thoughts.
Category: Disney World