Cue the Dirty Dancing theme, "I… Had… the Slime of my life, and I've never slimed this way before…"  Last year I took a Daddy/Daughter trip to Orlando – just me and my two girls (ages 9 and 12).  On previous trips to Florida we would pass the Nickelodeon Suites on our way to Walt Disney World property.  The girls would see the loud garish colors, huge murals of SpongeBob SquarePants and friends, and beg and plead to stay there.  Well, I figured for this trip, since my wife wasn't with me, what better time to indulge them?  Continue after the break for more about our experience at this Slime-tastic resort.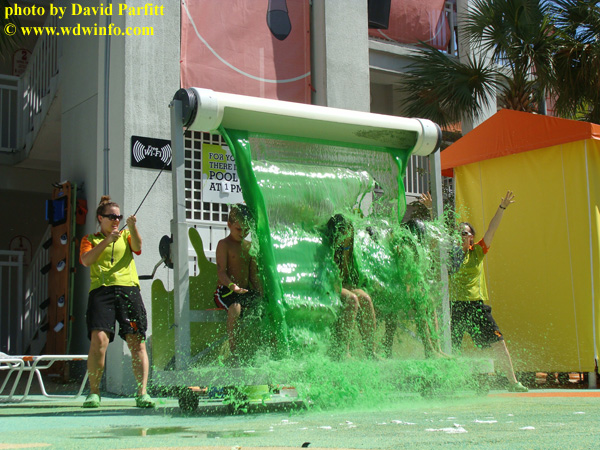 If you're wondering where Nick Suites is, it's located 1 mile off Walt Disney World property on Rt 536, and 11 miles from Universal Orlando Resort.
Let me state from the beginning – in case it's not obvious – Nick Suites is themed and geared for kids.  You know what Chuck-E-Cheese did for your local pizza place?  Nick Suites is what would happen if Chuck-E-Cheese got their hands on a hotel, and then poured slime all over it.  Now hear me out, I'm not criticizing Nick Suites for this, they do what they do very well, but it's not a place for adults without kids.  Unless there is something askew in your personality, or you have slime running through your veins.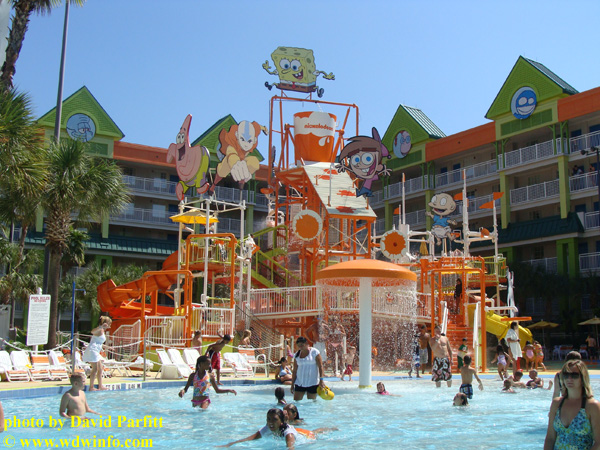 We checked in on a Friday around 2:00 pm, and waited in line for 20 minutes or so to check in.  The girls entertained themselves watching TV in the lobby while I stood in line.  We had a great room, a large (nearly 500 sq ft), 2-bedroom kidsuite on the top floor overlooking the splash tower water play area.  We arrived just in time for the afternoon sliming with throngs of children standing at the base of a giant SpongeBob altar, complete with 400 gallon bucket, chanting "Slime!  Slime!!  SLIME!!!"  What Lord of the Flies world have I brought my children to?  I shook and ducked my head and sought the security of our room.
You enter to find a nice-sized sitting/living area with a pullout sleeper sofa.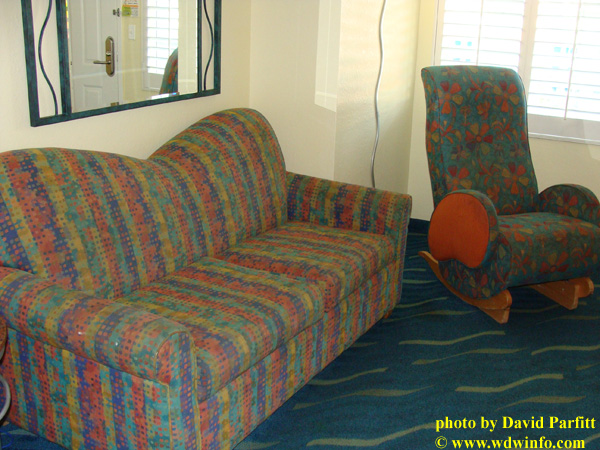 The opposite wall contains an entertainment console with 32″ flat screen TV and small dining area.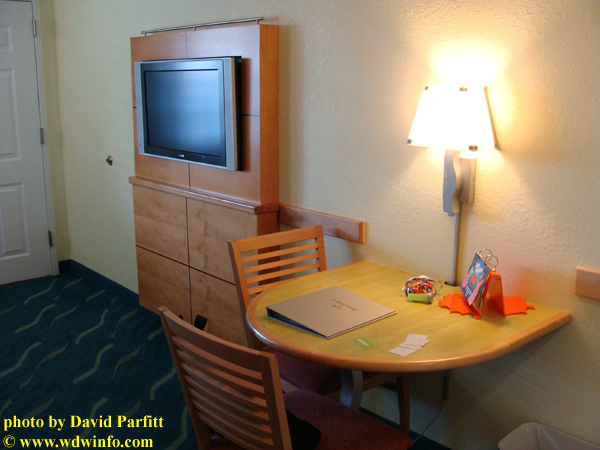 Our suite contained a kitchenette equipped with coffee-maker, mini-refrigerator, microwave, and a sink.  Some of the suites contain a full-size kitchen with a stove top range, full size refrigerator, microwave, dishwasher, and all cookware and eating utensils.  These would be perfect for an extended vacation stay for a family.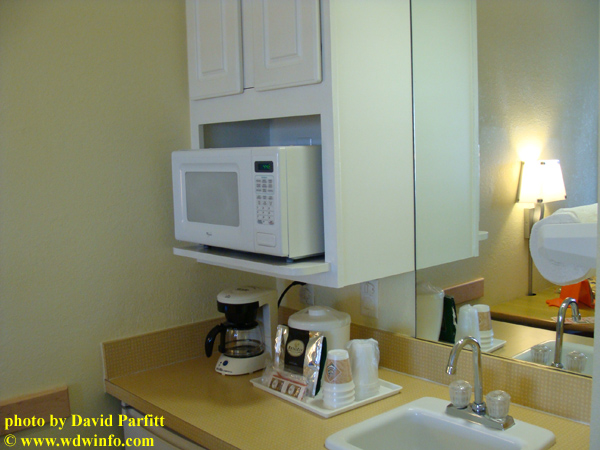 Our room was themed around the Nick show "Fairly OddParents", and characters from the show were emblazoned on the walls of the kids bedroom.  Their room had bunk beds, and was separated out from the living room and adult bedroom by a curtain.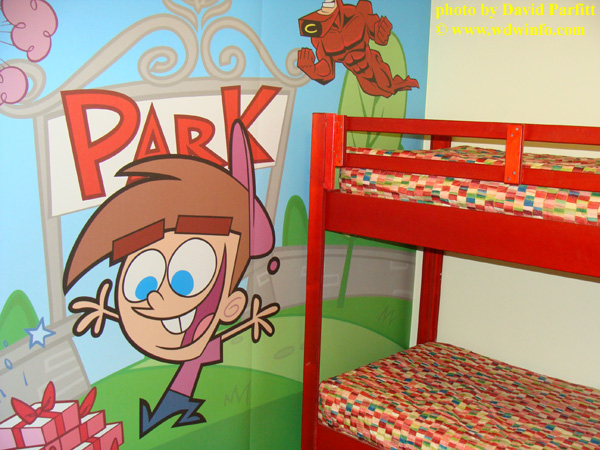 The girls loved their room.  Our 12 year old said, "I was really surprised with the quality of the rooms.  I thought Nick Suites would be all about the waterpark with the rooms an afterthought."  In addition to the bunk beds, the room had plenty of dressers and storage areas, a 20″ TV with kid friendly remote, and speakers built into the frames of the beds.  A handy feature so the TV was not blaring loud while they were lying in bed.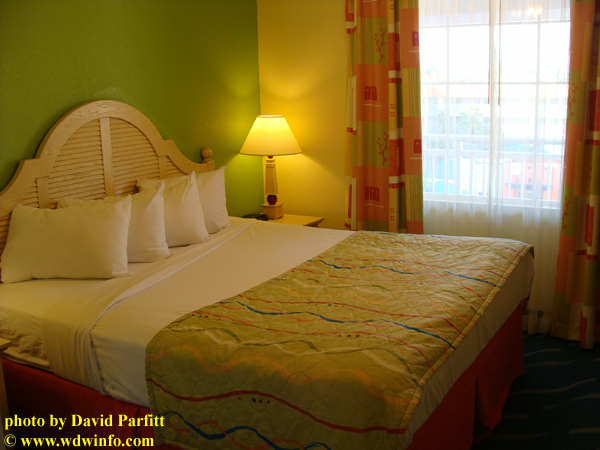 Across from the kids' room was the adult room.  With its muted colors and lighting, this area had a completely different feel from the kid's space, and was a welcome retreat.  The room had a door that could be shut for complete privacy, and was furnished with a king sized bed, 25″ TV, and lit dressing area.  The only complaint was that facing the pool area, it could get quite noisy.  DJs and dance parties would occur on the pool deck, and the amplified music could get very loud.
The room we had was very nice, but I was most surprised at how much there was to do at Nick Suites.  Keep in mind these facilities and activities are only available for registered guests staying at the resort.   There is a sit-down restaurant, the NickToons Cafe, and a food court containing Uno's Pizza, Subway, as well as the usual burgers, chicken fingers, and fries.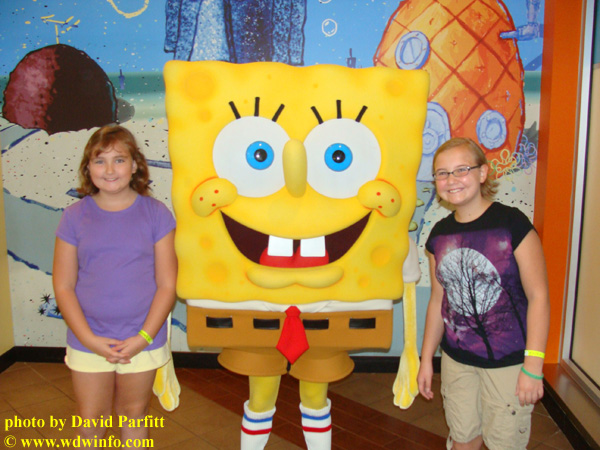 There are character breakfasts every day with SpongeBob SquarePants, Dora and Diego, Aang from Avatar: the Last Airbender, and Ming Ming from NickJr's Wonder Pets.  The food was fairly standard breakfast fare including SpongeBob waffles, hash browns, bacon, sausage, cooked to order omelets, and fruit.  It's a good way to get photos and autographs with characters that, except for SpongeBob, you aren't going to find elsewhere around Orlando.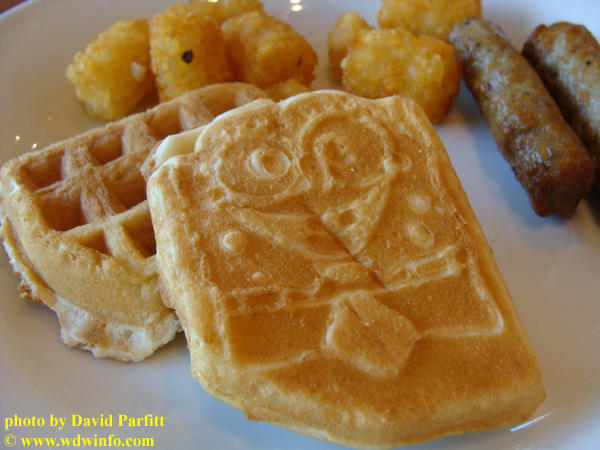 The highlight and centerpiece of Nickelodeon Suites is certainly the water park area.  One wing of the hotel surrounds a lagoon containing a heated, zero-entry pool, and is anchored by a 4-story water play area with climbing nets, water canons, water flumes, slides, and the aforementioned 400 gallon bucket that dumps both water and slime.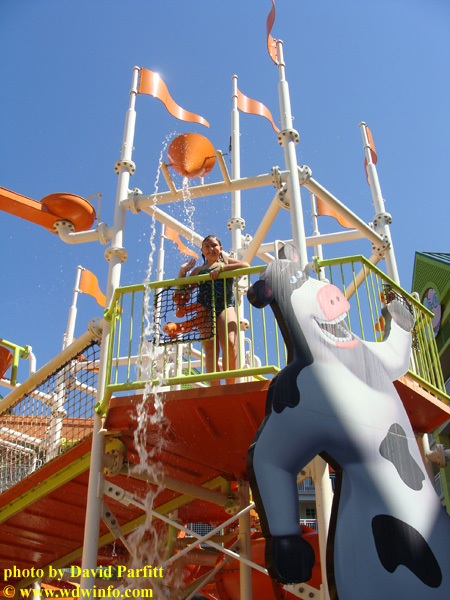 When not enjoying the slides and water park area, guests can relax, swim, and splash in the pool.  Throughout the day there is "Dive-In" entertainment with Nick style shows performed poolside.  We soaked in the water and laughed watching families compete in shows fueled by a high-octane cast armed with whipped cream pies and…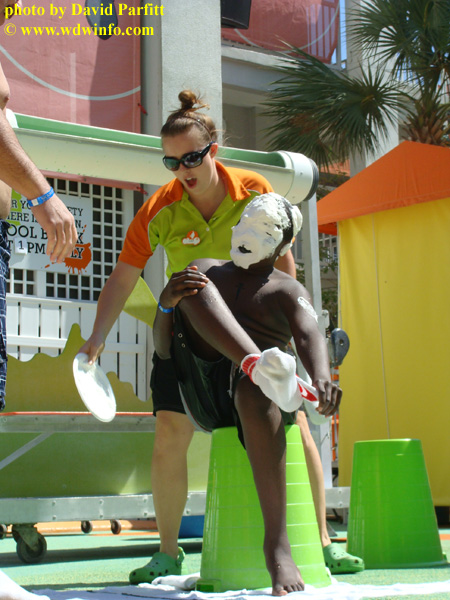 Slime, always lots and lots of slime…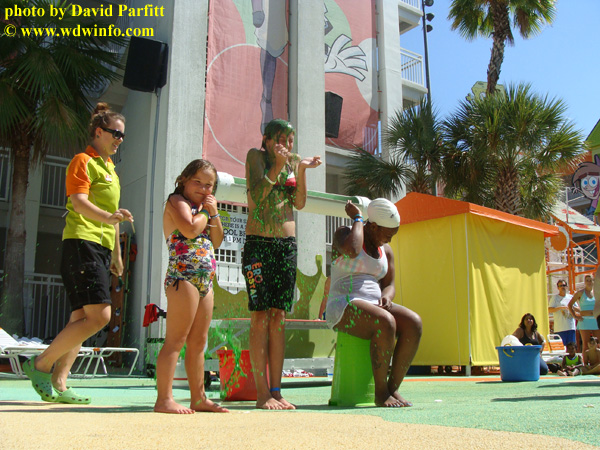 We capped off our weekend by spending the evening playing video games in the 3,000 sq ft arcade.  We played air hockey and basketball and whack-a-mole and so many games I can't remember what they were called.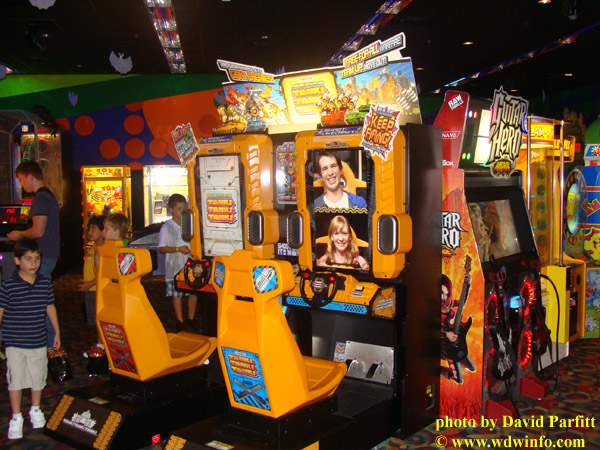 This doesn't begin to touch on all the different ways families can play together at Nick Suites – as there's plenty we did not have time to try such as: Studio Nick with live, nightly entertainment, a 4-D movie theater, mini-golf, and kid's spa.  There is so much to do at the resort you can easily entertain your family for a day or two of your vacation without ever leaving property.
We had a great Daddy/Daughter weekend eating, swimming, playing, and just spending time together.  Nick Suites surprised us with their pleasant rooms appropriate for both kids and adult as well as the wealth of activities to keep everyone entertained.  We definitely can't wait to go back.  For more pictures of Nickelodeon Suites, be sure to check out this photo gallery.
Category: Disney World, Universal Orlando