On Valentine's Day, The Walt Disney Company gave a sweet Valentine to not only D23 Members, but to every Disney Fan.  To kick off the 2011 American International Toy Fair, Disney held a special Cars 2 event at New York City's Chelsea Piers for D23 Members, the media, Cast Members, and members of the Toy Industry.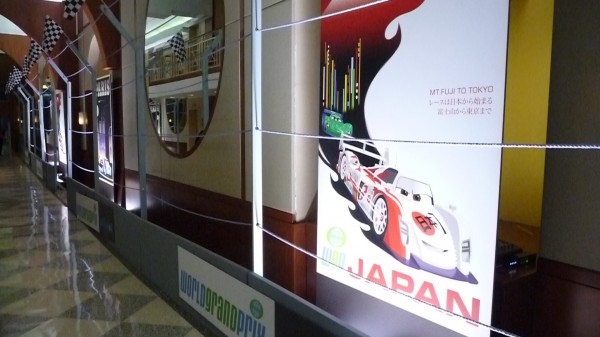 Photo: Matt Madison-Clark
Opening up the event was Vince Klaseus, Senior Vice President of Global Toys.  With an introduction as "The Late Model Show" and an image of a Pixar-created Vince car – Vince Carseus –Klaseus took the stage at the Master of Ceremonies.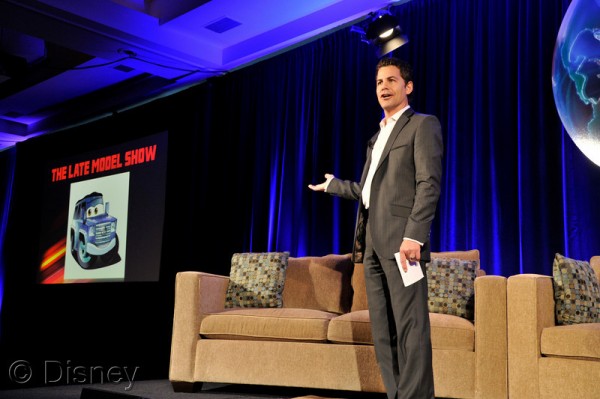 Photo: The Walt Disney Company
"Since 2006, the Cars franchise has been a global phenomenon in the marketplace," said Klaseus.  "With a great story, compelling characters, an immersive world, and of course cars, the franchise has been a $2 billion in global retail sales."
Disney Consumer Products believe Cars 2, which will have its North American release on June 24th, will become its largest licensed film merchandise program ever.
According to Disney, "This momentum will go into high gear with Cars 2. The program is anchored by an array of innovative toys featuring the film's World Grand Prix race and international espionage themes. Cars 2 will also be supported with unprecedented product lines from stationery, apparel and accessories to home décor, books, and food, health and beauty, and an exclusive range from Disney Store and DisneyStore.com."
With licensees such as Mattel, who helped launch and sustain the Cars lines, Lego, Spin Master, Hasbro, Fisher Price and others, Disney will introduce 300 new Cars toys this year.
Klaseus said that if you were to line up, back-to-back, the 200 million die cast cars already sold it would stretch from Tokyo to London.
He then gave the first surprise of the day.  Klaseus introduced McQueen Alive, a 1:55 scale car with some never-before-seen technological tricks.  This first of its kind toy utilizes touch sensors and cutting-edge micro technology to bring Lighting McQueen's look, sound, movements, and animated personality to life.  Click here to see Lighting McQueen in action
Klaseus then introduced Mary Renner Beech, vice president and general manager of Global Studio Franchise Development for Disney Consumer Products.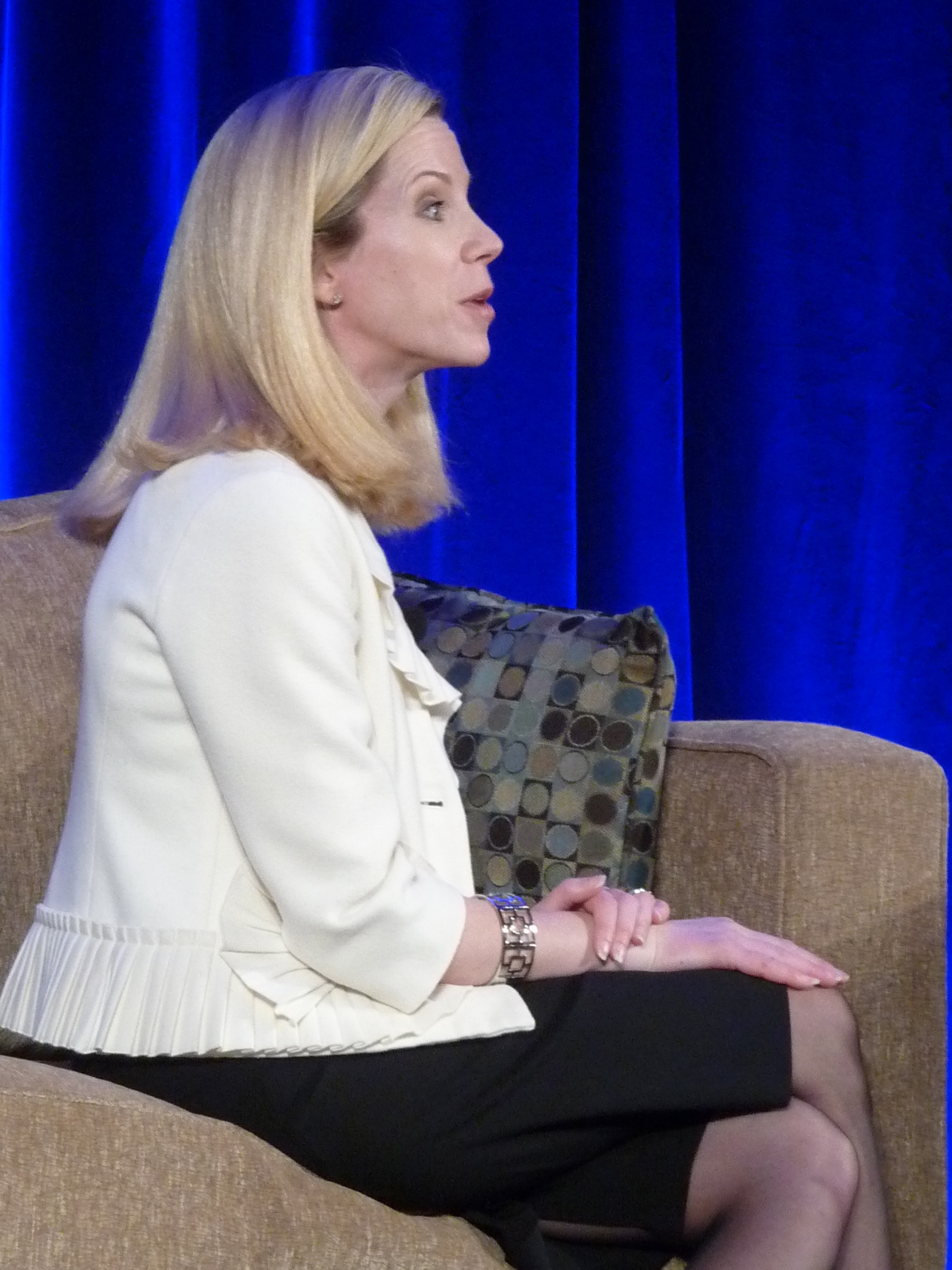 Photo: Matt Madison-Clark
Beech reemphasized that the secret to the Walt Disney Company has been in world-class storytelling.  She said that there will be many components available to support the Cars brand.
This summer, Disney Interactive Studios will introduce Cars 2: The Video Game.  The video game brings a brand new international spy theme inspired by the animated feature film. Cars 2: The Video Game will feature an array of beloved Cars characters competing in action-packed spy adventures, as well as world-class racing.
"A film's consumer products rely on the film," said Beech.  "Typically a film is released, it spikes and then there is a quick decline.  However, the overall growth of the Cars franchise has continued to grow."
The Cars 2 event unveiled a number of new characters including Finn McMissile, Nigel Gearsley, Holly Shiftwell, Miles Axelrod, and Francesco Bernoulli.  Also new are Siddeley, Professor Zundapp, Grem, Acer, Shu Todoroki, Raoul CaRoule, Carla Veloso, Uncle and Mama Topolino, and John Lassetire (yes… voice by John Lasseter himself)
Lighting McQueen has been invited by Nigel Gearsley to compete in the World Grand Prix of Racing.  With his cool British refinement, Gearsley, an Aston Martin DB9R racer bearing #9, will become an imposing presence on the World Grand Prix course.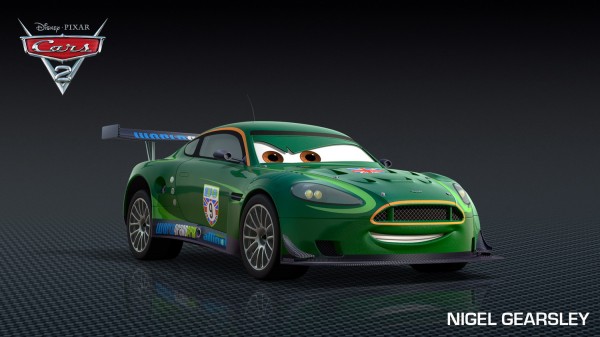 Photo: The Walt Disney Company
Miles Axelrod is a former oil tycoon who sold off his fortune and converted himself into an electric vehicle.  Axelrod, who has now devoted his life's work to finding clean, renewable energy sources for the future, also created the World Grand Prix.  Disney revealed that Eddie Izzard would voice this new character.
Returning to the driver's seat to direct Cars 2, John Lasseter surprised guests via a special videotaped greeting.  He said, "The idea for Cars 2 began when I was traveling around the world doing publicity for Cars. I found myself looking out at these amazing cities and imagining, 'What would Mater do?' I couldn't help but laugh thinking about Mater lost in the maze of Tokyo streets, driving on the wrong side of the road in England or navigating the gigantic roundabouts in Paris."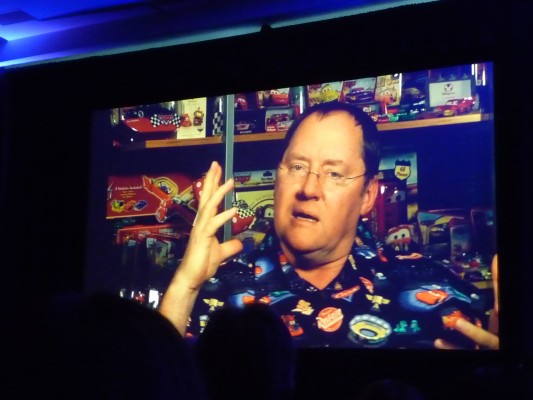 Photo: Matt Madison-Clark
He also said that in the first Cars film during the drive-in scene, the movie that was being shown was a spy car movie with its star, Finn McMissile.  Lasseter said that they ended up not using it in the film, but "I never forget a great story."
According to The Hollywood Reporter, Chris Heatherley, VP of Toys for Disney Consumer Products said that European audiences expressed a desire for Formula 1 cars after the first film.
Lasseter also announced during his video presentation that not only would Francesco Bernoulli, the most famous Italian racecar in Europe, become Lightning McQueen's rival, but also that John Turturro would voice him.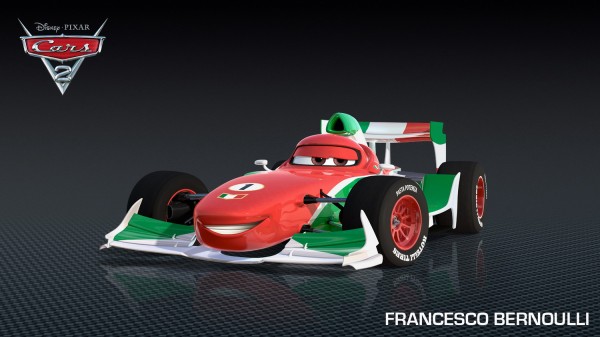 Photo: The Walt Disney Company
Holley Shiftwell is a beautiful young British desk agent, turned spy-in-training who is stationed in Tokyo. Well-educated and sharp, she knows every trick in the book (or rather, she relies on every trick in the spy manual). Holley is a highly motivated agent, but is fresh out of the academy, so her experience is based on lessons learned in school rather than real-life situations. When Finn McMissile requires Holley's technical expertise for his latest top-secret field operation, she finds herself pursuing a most unlikely candidate — Mater.
Holley's name is a reference to Holley Performance Products, Inc., a manufacturer of high-performance carburetors and fuel systems located in Bowling Green, KY.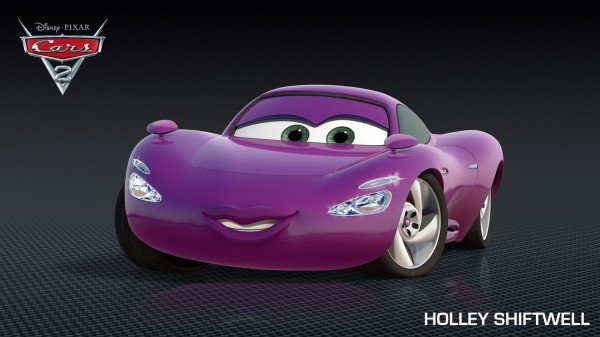 Photo: The Walt Disney Company
Klaseus then introduced the voice of Holley – Emily Mortimer.  When asked if she has ever been to the Toy Fair she said, "I have never been a toy before, hence I have never been to Toy Fair."

Photo: Matt Madison-Clark
Mortimer said that she has enjoyed the process behind the movie and that her husband thinks she has a crush on Lasseter.  She said, "I just can't shut up about the whole world of Pixar and how the whole world should be run by Pixar." She continued to say,  "If only everybody made movies the way they do.  They are just total perfectionists. They love what they do. It's completely collaborative in the best way. And the process is just very organic and makes complete sense.  If only movies followed this pattern."
About her first time recording Holley's dialogue, Mortimer said, "It was very strenuous.  Almost like theatre.  You had to be bigger than normal.  If you did that in the movies it would be appalling."
She then shared with the audience that her manager hates the way her hair looks in movies.  "This is great," she said.  "I am a car… I don't have hair!"  She continued to say, "Holley is a powerful girl [car] character.  I hope she'll be an inspiration for all girls seeing the movie."
Klaseus said that they had a surprise for Mortimer.  Courtesy of Lego, he presented her with a Holley Shiftwell car made completely from Legos.  Touched, she said, "I am really chuffed to be here."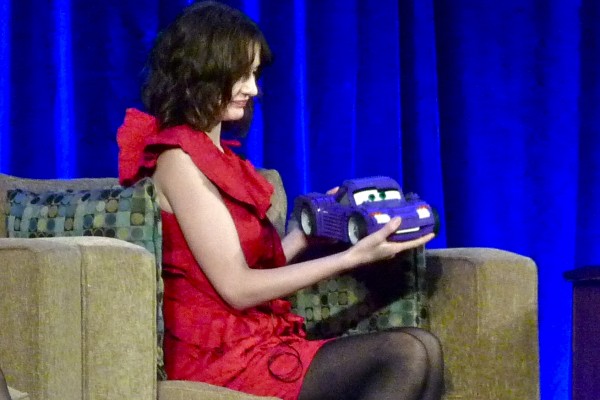 Photo: Matt Madison-Clark
Holley Shiftwell's boss, Finn McMissile, was introduced next. Finn McMissile is a master British spy.  As a seasoned professional in the game of international espionage, Finn believes there is a conspiracy brewing during the World Grand Prix.  A bit of trivia on Finn McMissile: the design of Finn is inspired by James Bond's silver 1964 Aston Martin DB5. The look of the car has been slightly tweaked — Finn has a different grill that looks like a suave mustache, but he does have plenty of gadgets.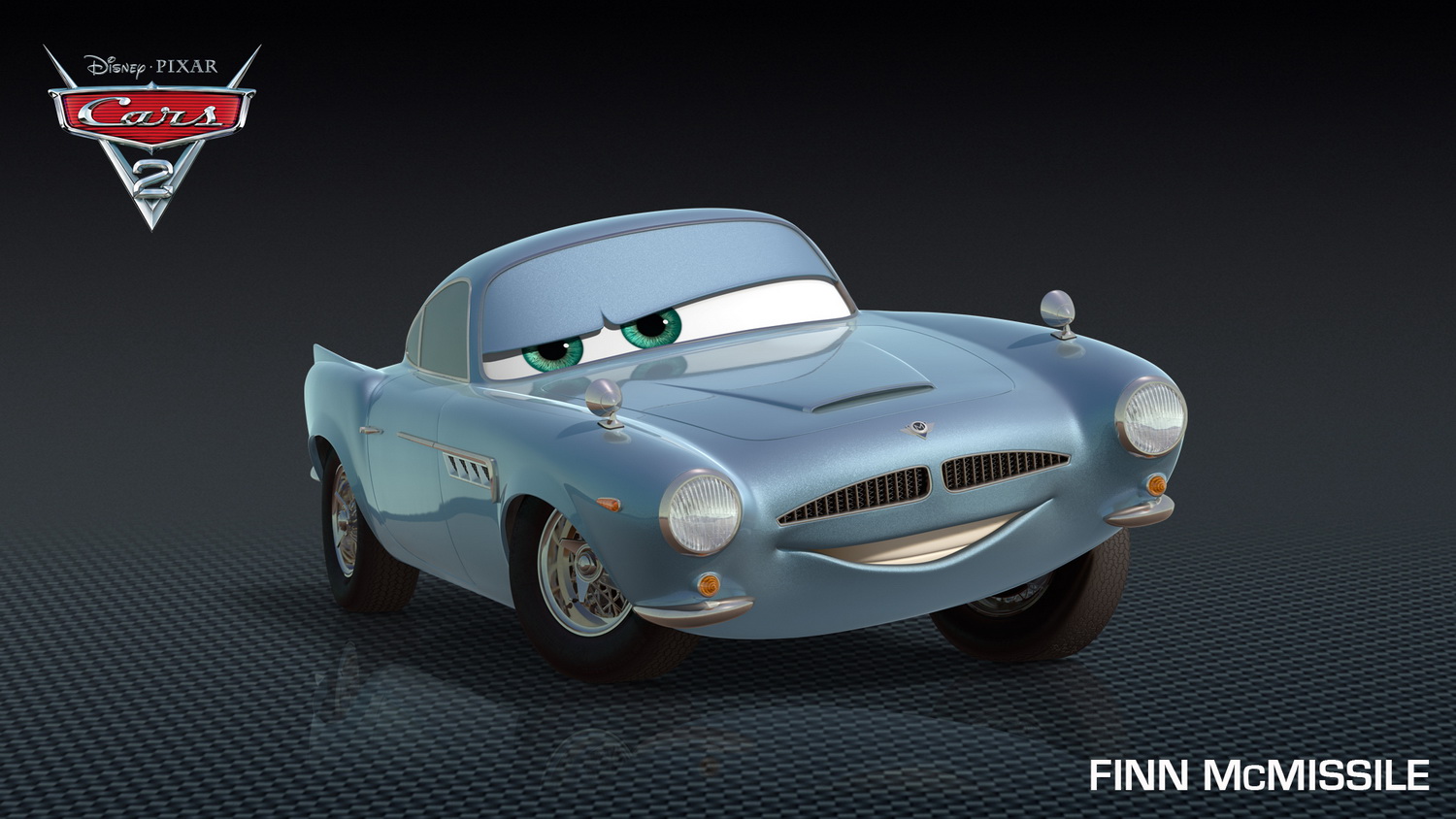 Photo: The Walt Disney Company
In Toy Story 3, on a poster in Andy's room, Finn McMissile makes a cameo appearance.  Klaseus then introduced the voice behind Finn McMissile – Sir Michael Caine.
Caine said, "I have never done one of these [animated features] before so to have a new experience at my age is fantastic!"
He said the first time he played a spy was years ago in the 1965 film, The Ipcress File.  When he was asked to voice Finn, he said he was interested because he wanted to make a film that his grandkids could see.  He then asked what the character's name was and said, "What a great name!  Yeah, I'll do it!"
He described his first visit to the Pixar Campus and said he was taken into a room filled with computers.  He said that all he saw were people sitting in front of computers clicking away.  This drew laughs from the audience.   He then motioned with just his right index finger – moving it up and down.  He said that they did this for hours on end only for his animated character to smile and say hello.  This drew an even bigger laugh.
He said he has great admiration for John Lasseter and said, "John is a genius at this."
Klaseus then presented Caine with an interactive reproduction of his car – Finn McMissile.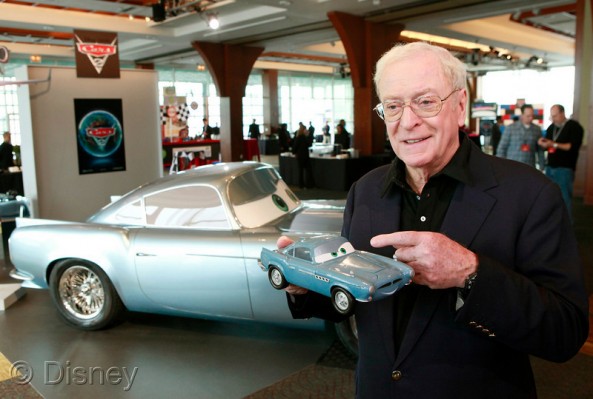 Photo: The Walt Disney Company
After the panel discussion was over everyone was escorted into the next room which not only had a fantastic lunch buffet, but also an exclusive look at some of the many new toys that will be introduced throughout the next few months.  Highlights include:
More than 150 toys from Mattel including Lightning McQueen Alive. Lightning McQueen's big personality has been captured in a small package as he drives around by himself — both forward and backward and in complete 360s, moves his eyes, shrugs his shoulders and moves his life-like mouth to speak signature phrases voiced by actor Owen Wilson (SRP $59.99, available Fall 2011; on pre-sale now).  There will also be a collection of more than 70 new collectible die-cast cars (SRP $3.99 – $9.99, available May 2011).
The LEGO Group will introduce its first full line of Cars toys consisting of 20 versatile and action-packed play sets recreating key scenes from the film — play sets so detailed that some come with as many as 800 pieces! Among the new line is the Cars 2 Spy Jet Escape, which enables fans to recreate one of the film's most exciting and explosive scenes featuring Finn McMissile, Holley Shiftwell and Mater (SRP $49.99, available May 2011).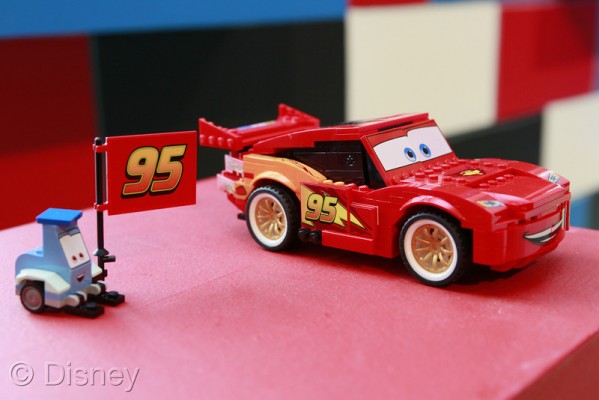 Photo: The Walt Disney Company
Spin Master will introduce a collection of over a dozen toys including RC vehicles featuring Zero Gravity technology, such as the Zero Gravity Finn McMissile vehicle. This British spy car not only zips across the floor, but its front wheels also allow it to transition up the wall to continue the adventure (SRP $34.99 available May 2011).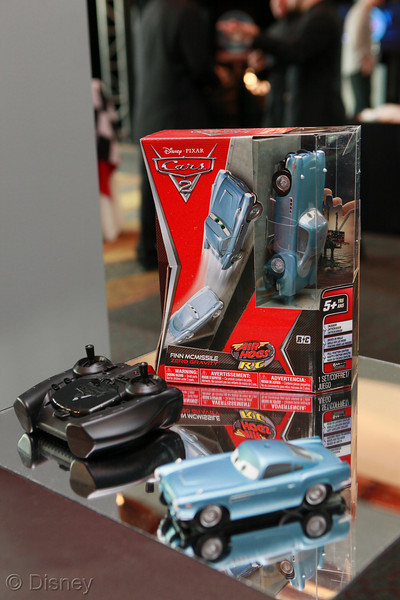 Photo: The Walt Disney Company
Other notable products include: Hasbro classic board games with a twist, such as Cars 2 Monopoly with a round board where players can race Lightning McQueen instead of rolling the dice; Ridemakerz will deliver a new Cars customizing experience giving fans the thrill of a ride as they build their own vehicle; and the new Disney·Pixar Cars Wood Collection from Toys"R"Us, Disney's first Cars-inspired wooden toy line.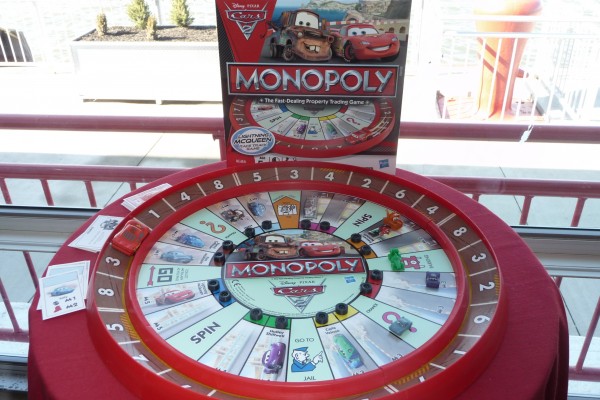 Photo: Matt Madison-Clark
At the end of John Lasseter's video presentation he apologized for not being in New York City in person.  He said that "as you can tell I love toys, but I couldn't make it because I am finishing up the movie."  Thank you for not only a great Valentine, but also a great summer movie to look forward to.
To see an overview of the entire D23 Cars event click here.
References:
The Walt Disney Company
Disney Consumer Products
The Hollywood Reporter
Pixar Wiki
Category: Disney World, Editorials, News