Love is in the air.  Hearts abound.  So where do many couples go to share the romance of Valentine's Day?
Where else, but the Disneyland Resort!  That's right!  Be it a day to celebrate love with your family, your best friend, or simply just the two of you, Disneyland fits the bill.   There are decorations to greet you, treats to entice you, and meals to share with stars in your eyes.   Let me take you on a little tour of what you might expect from a visit to Disneyland this year on Valentine's Day!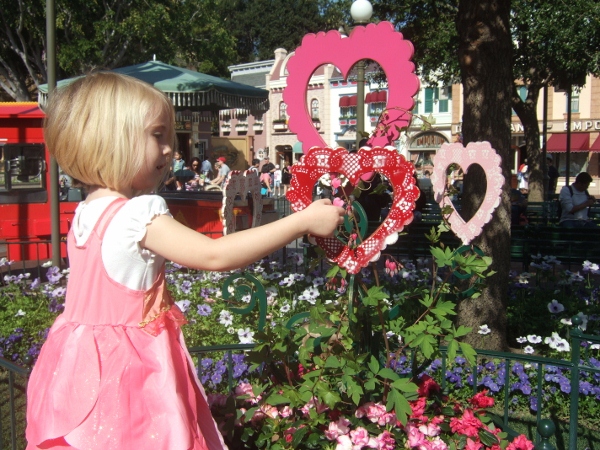 The first thing you noticed when you came into the park last year were the decorations.  Granted, they didn't continue the theme throughout the park,  but Main Street's Town Square sure made an impact!  Airy hearts intertwined with flowers of all sorts.  We especially liked the touch of adding Bleeding Hearts into the mix!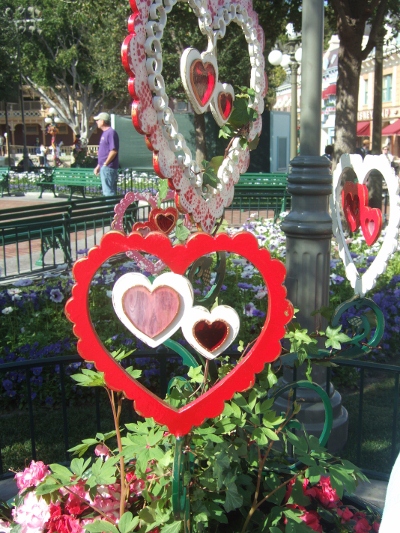 Looking up, bouquets of romantic spring flowers adorn the lamp posts on Main Street.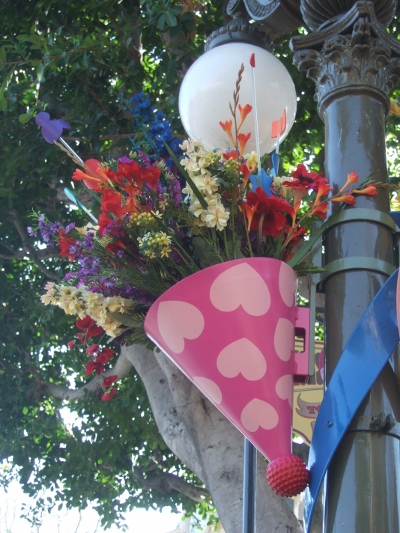 The Valentine's Day theme is continued through the pink, red, and white flowers planted in the many beds throughout the parks – like this cheery batch of snapdragons in California Adventure's Sunshine Plaza.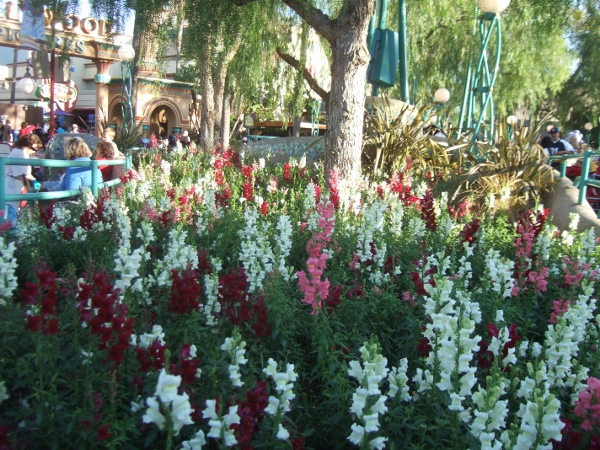 The most obvious place to find signs of the season of romance is at Minnie's House in Toon Town.  Since Minnie is the love of Mickey's life, hearts adorn her front lawn, matched with pink and red cyclamen.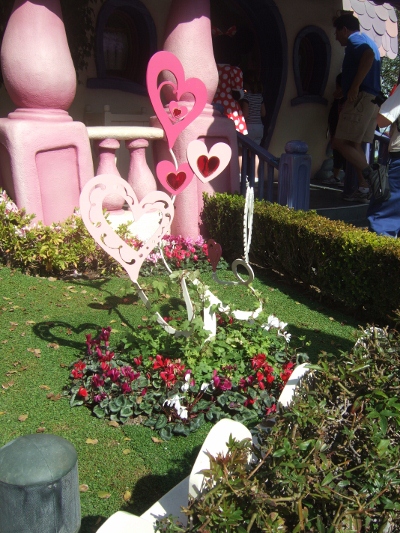 Minnie's garden even carries on the theme with varying shades of pink poinsettias.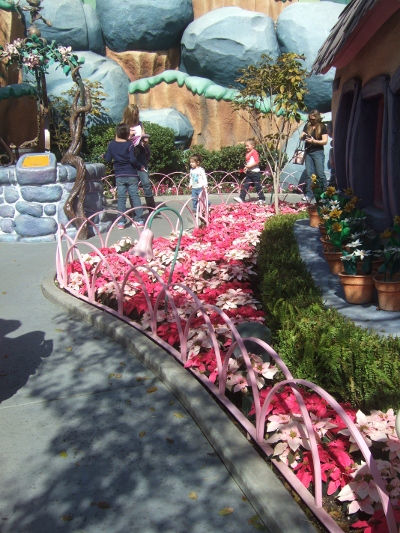 Flowers aren't the only place to find love at Disneyland – and it isn't just for grownups.  There is always plenty of love for young fans in Pixie Hollow….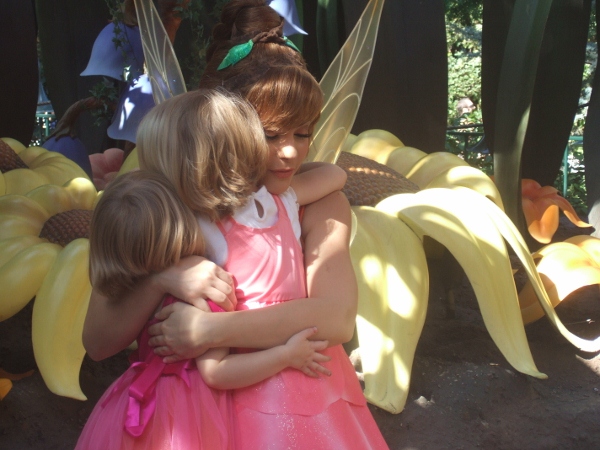 If you need to take a break from all of this love, you won't escape it with Disneyland's many treats.   Whether you nibble them in the park or take them home to share with your loved ones, you won't be disappointed.  You can always count on your favorite treats with a holiday twist at Disneyland's Blue Ribbon Bakery, California Adventure's Bakersfield Bakery, and Downtown Disney's Marceline's Confectionery.
For instance, there are heart-shaped sugar cookies,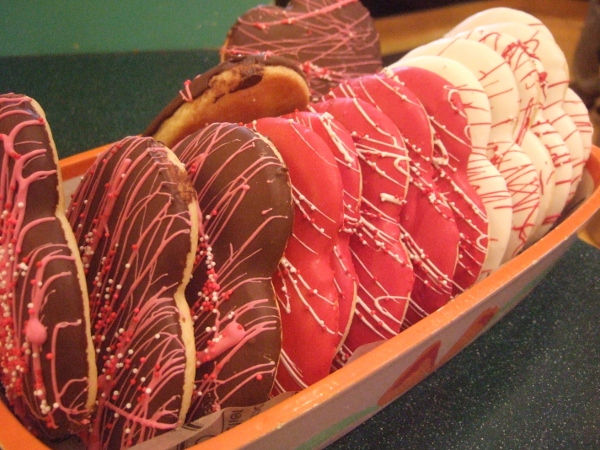 milk or dark chocolate dipped marshmallows, with caramel in between,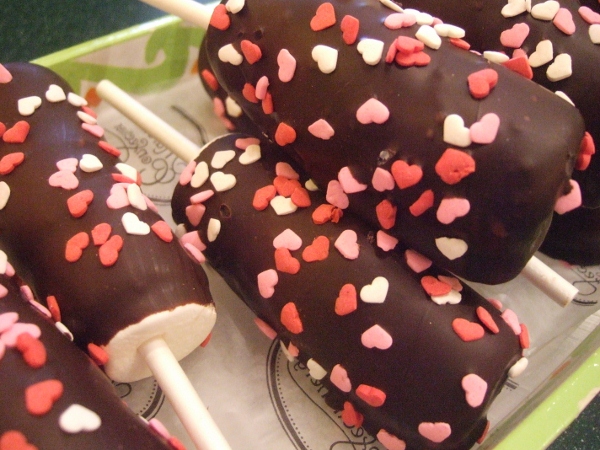 special heart-shaped lollipops,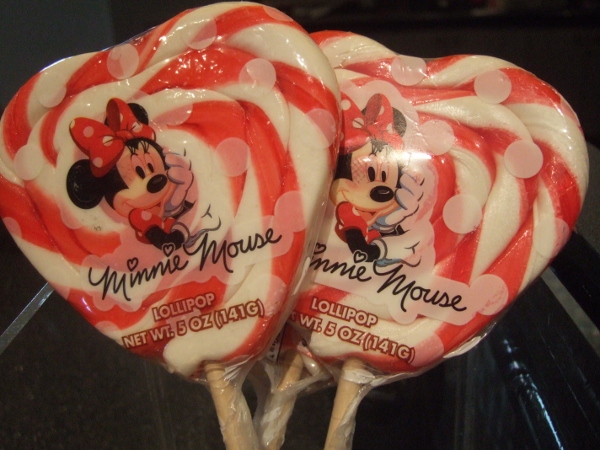 and a host of other merchandise to take home and celebrate love all year around – aprons, potholders, sprinkles, kitchen towels…  Are they trying to tell us love equals food?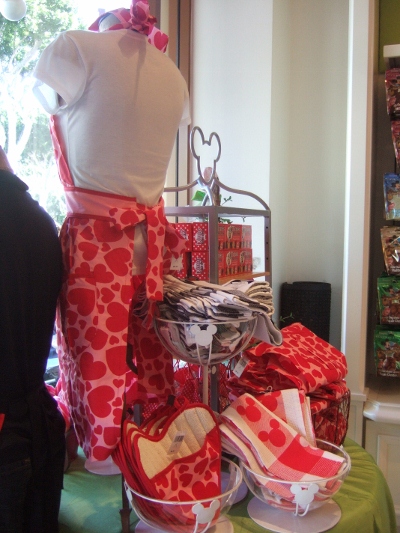 If love does equal food, then you won't be disappointed at sharing a meal with your special person at one of Disneyland's finer dining establishments.
This caught my eye last year and I made a mental note that it would be fun to try a wonderful meal for lovers at Catal in Downtown Disney!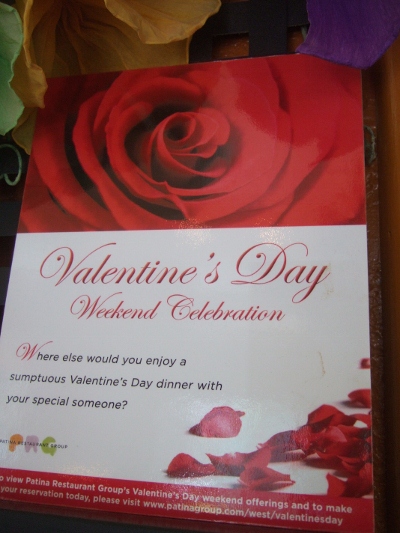 Here's a look at this year's menu:
Catal Restaurant
Valentine's Celebration Menu
Friday, February 11 to Monday, February 14 beginning at 5 pm
First course selection
Organic greens
Mine Shaft bleu cheese, shaved market pears, Ceylon cinnamon, Marcona almonds, Noble tonic vinaigrette
Grilled oysters
shaved radish, ginger, Indonesian lemon vinegar, artichoke crudo
Lobster bouillon
poached laughing bird shrimp, toasted garlic, piquillo pepper, tarragon
Hand rolled saffron pasta
suckling pig confit, espelette pepper, petite spigariello
Butternut squash agnolotti
smoked cashew sauce, shaved pata negra, baby arugula
Roasted mushroom soup
house made truffle cheese, mushroom chips
Main course selection
Licorice-scented duck breast
grilled dates, bacon, pressure cooked pine nuts
Jidori chicken breast "Milanese"
grilled peppers, heirloom polenta, salsa verde
Australian Sea bass, baby potatoes
maché greens, toasted coriander-green olive vinaigrette
Roasted filet mignon
oxtail hash, mushrooms, veal reduction, horseradish pearls
Hand rolled cavatelli pasta
Opilio crab, sea urchin, red chilies, garlic
Champagne risotto
zucchini blossoms, grilled diver scallops, lemon agrumato oil, finger limes
Dessert selection
Rose petal macaroon
lychee sorbet and fresh raspberry sauce
Chocolate sable cake
citrus sorbet and kumquat confit
Catal serves this three course dinner menu for only $65 per person, plus tax and gratuity – a pretty amazing value for a meal of this type.   Keep in mind that Disneyland Resort Dining Reservations does not make reservations  for Catal's special dining events (like this one), so reservations can be made by calling Catal directly at 714-774-4442.
No matter what you decide to do on Valentine's Day, all the little touches that Disneyland offers are sure to uncover a touch of romance in you!
Photos by N. Johnson
Category: Dining, Disneyland, News
Disneyland Podcaster for the DIS Unplugged