By: Chuck Mirarchi
In January, The New York Times presented its 10th Anniversary of Arts and Leisure Weekend at The Times Center in New York City.  These events feature in-depth discussions, and select live performances, with various legends from film, theatre, music, television, media, and others.
One of those events was an evening with "Sir Tim Rice and Friends" featuring Sir Tim Rice and seven Broadway performers .  It featured the Oscar- and Tony-winning lyricist and Broadway performers celebrating the musical theater scores of Disney shows – past and present.
The performances were not solely Sir Tim Rice / Disney songs, but a mix of his as well as other composers and lyricists.  Sir Tim was the host for the evening and gave in-depth stories when appropriate.
Photo: Walter McBride
According to The New York Times program notes, "Tim Rice… has been writing lyrics for musical theatre and related enterprises for over 40 years, something he only intended to do for a few months while waiting to become a pop star."  He has written "Aladdin," "King David," and "Beauty and the Beast" with Alan Menken, as well as "The Lion King" and "Aida" with Elton John.  He has also written "Joseph and the Amazing Technicolor Dreamcoat," "Jesus Christ Superstar," and "Evita" with Andrew Lloyd Webber.
Sir Tim's friends were Heidi Blickenstaff (The Little Mermaid), Ashley Brown (Mary Poppins), Merle Dandridge (Tarzan, Aida, and Jesus Christ Superstar), Christopher Jackson (The Lion King), Tshidi Manye (The Lion King), Josh Strickland (Tarzan), and Alton Fitzgerald White (Tarzan and The Lion King).
Sir Tim and friends came out along with a pianist and percussionist.  He opened the evening by saying that, to date, he has done four Disney productions and added that he has to "thank Disney for resurrecting my career."  He then went on to say, "Why I should help The New York Times is another story."
Photo: Matthew Arnold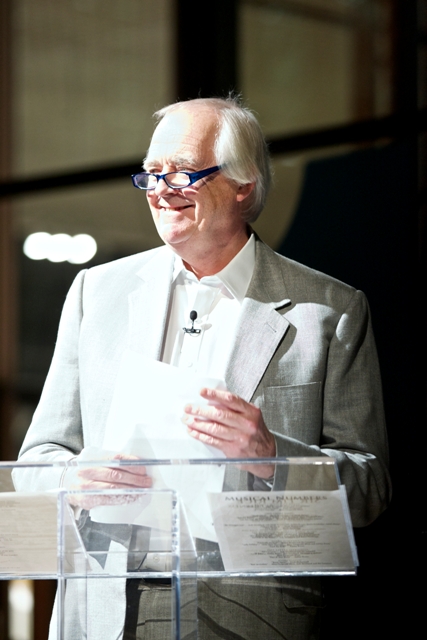 He gave examples of the various reviews that The New York Times gave to his musicals.  Some of their reviews include:
Beauty and the Beast –"The original Howard Ashman-Alan Menken score is wonderfully stirring and clever, but the new songs are little better than generic. Mr. Menken's melodies are tuneful but Tim Rice, drafted by Disney to replace the late Mr. Ashman, has provided bland rhymes on subjects like daughterly devotion and the Beast's yearning for love." (April 23, 1994)
The Lion King – "The words and the jokes here are familiar from the movie. So are many of the mostly unexceptional songs, with music and lyrics by Elton John and Tim Rice…" (November 14, 1997)
King David – "The more exalted sentiments, about destiny and duty, are reserved for Mr. Rice's rather perfunctory lyrics…" (March 24, 2000)
He also gave examples of his poorly reviewed shows Evita and Jesus Christ Superstar.  Without missing a beat, Sir Tim said, "So, it's natural they would want me here tonight."
Talking about Beauty and the Beast, Rice said he had "the strange job of writing for a stage production that Howard Ashman would have written" had he not passed away.  The Alton Fitzgerald White and the Company sang "Be Our Guest," Heidi Blickenstaff sang "Beauty and the Beast," and Alton Fitzgerald White concluded the section with "If I Can't Love Her."
Photo: Matthew Arnold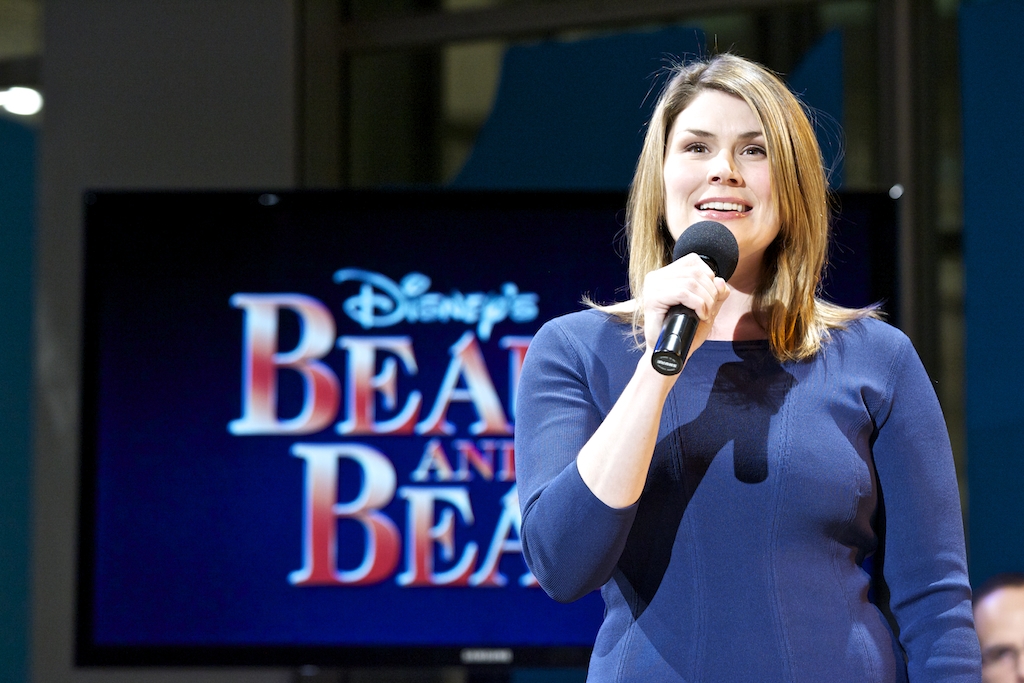 Rice then moved on to The Lion King.  He said that Michael Eisner had the idea of bringing the movie to the stage.  Rice was brought in to work on the film score.  When he was told that Michael (Eisner) wanted to transfer The Lion King to the Broadway stage, Rice said that he "thought they were bonkers."  He was asked whom he wanted to write the music.  He was told, "You can have anyone but Alan Menken.  He's busy with Aladdin."  Therefore, Rice thought about it and thought that since he could ask for anyone he thought… why not ask for Elton John.  Therefore, he told them just that and then said, "But you'll never get him."  Disney's response was, "Oh we'll get him."
Elton called Rice and asked him what this King of the Jungle movie was?  Rice said, "The Lion King."  He then told Elton about the movie and the terms of the deal.  Elton told him sorry no, it's a bad deal.  Therefore, Rice thought well that's that; who else can I get.  Two days later, Elton's manager called Rice and said, "When do we start?!"  Rice hung up the phone and thought, "Hmmm, he got a better deal than I did."
Rice said that typically, the music is written first for a musical and then the lyricist writes the words.  Not with Elton John.  Rice had to write the lyrics first then Elton wrote the music around the words.
Photo: Matthew Arnold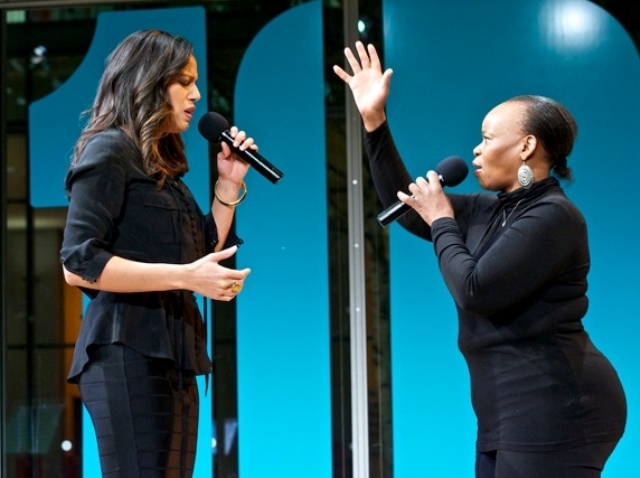 Merle Dandridge and Tshidi Manye then sang "Shadowland." Christopher Jackson, Josh Strickland, and Alton Fitzgerald White sang, "Hakuna Matata" and Merel Dandridge and Christopher Jackson concluded with "Can You Feel The Love Tonight."
Currently, The Lion King is in its fourteenth year and is the seventh longest running Broadway show.
Rice said that after The Lion King, Disney wanted to stage Aida.
Rice said that it was "a fellow by the name of Verdi had a go at it first."  So, he thought, why not?!  Aida was Disney's third sole Broadway production and the first one not adapted from a feature film.  It was also the first time that Elton John and Tim Rice had the opportunity to write a full Broadway score.
Aida has played in theatres across the globe, but as Rice had noted, it has yet to play in England (his hometown).  He said that even though the critics were not thrilled with the production he thought that Bob Crowley's set design was "genius" and that it "made the production seem even better."
Photo: Matthew Arnold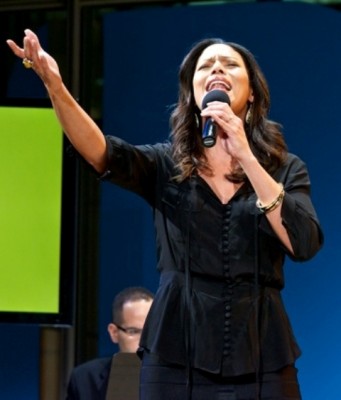 The first song performed from the show was "My Strongest Suit," sung by Amneris, the Princess of Egypt and fiancée to Radames.  In a twist, Josh Strickland performed the song with Heidi Blickenstaff, Ashley Brown, Merle Dandridge, and Tshidi Manye as his chorus.  Heidi Blickenstaff then sang "I Know The Truth" and Merle Dandridge sang "Easy As Life."
Despite the reviews, the musical received five Tony nominations and won four including Best Score, as well as a Grammy Award for Best Musical Show Album.
Rice then introduced Tarzan.  He noted that not only was it the only Disney musical to have one person write all the music and lyrics, but it was also the only Disney theatrical production to not have an out-of-town tryout prior to Broadway.
Photo: Matthew Arnold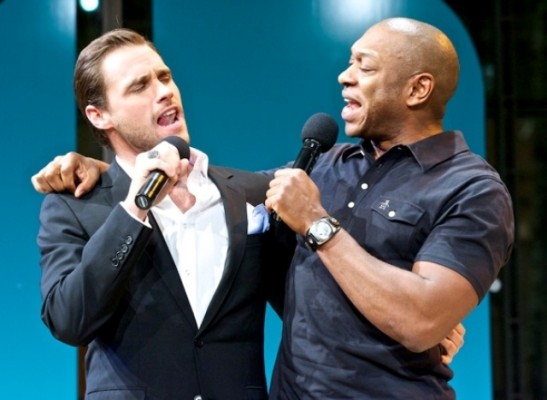 Singing "For The First Time" was Ashley Brown and Josh Strickland, who originated the title role on Broadway.  Christopher Jackson and Josh Strickland sang "Who Better Than Me" and closing out the set was Josh Strickland and Merle Dandridge, who originated the role of Kala, singing "You'll Be In My Heart."
"Mary Poppins," Rice said, "was the first Disney musical to open in London first."  The musical also augmented the classic Sherman Brothers songs with a few new ones from George Stiles and Anthony Drewe.
Stiles and Drewe heard that the show was being mounted and wrote, independently, a demo version of a new introductory song for Mary Poppins entitled "Practically Perfect."  They submitted the song to Cameron Mackintosh and were brought on to the creative team.  Rice said that what they (Stiles and Drewe) had to do was not only come up with new songs, but to write those songs in the 'Sherman Brothers style and sound.'  It is an art to be able to do that successfully.  They also had to add or change some of the Sherman Brothers classic songs.  For example, Stiles and Drewe added a new counterpart to "Jolly Holiday."
Photo: Matthew Arnold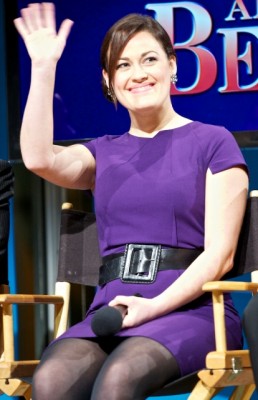 Ashley Brown, who originated the title role on Broadway, and Company opened up the set with "Practically Perfect." She then sang, "Jolly Holiday" and "Chim Chim Cher-ee" with Alton Fitzgerald White.  Ashley concluded with Walt Disney's favorite song, "Feed The Birds."
Rice then talked about The Little Mermaid.  He said that Alan Menken was nominated for eighteen Oscars and is the only living person to have won eight.
"She's In Love" opened up the set with Josh Strickland and Company.  Ashley Brown, Josh Strickland, Christopher Jackson, and Alton Fitzgerald White sang "If Only," and then "Part Of Your World" with Ashley Brown.
Finishing the evening, Rice introduced King David.  He said that few remember this show.  It's a musical based on Biblical tales from the Books of Samuel and 1 Chronicles, as well as text from David's Psalms.
He said that the concert version of the show took place in 1997 at the newly remodeled New Amsterdam Theatre.  The nine-performance limited run was the inaugural production at the theatre.   He said that Eisner called it "the second greatest story ever told."  Rice joked, "It's a long work."  He said he is hoping to be able to get it back on the stage one day.  Alan Menken, who wrote the music for the show, brings a huge range of musical styles from pop to jazz to operatic.
"Never Again," which is a song about betrayal, was also the only song that the New York Times had any praise for.  They said Judy Kuhn "dazzlingly turns an unremarkable song, "Never Again," into an incisive emotional portrait that stops the show."  On the opposite end of the spectrum, "New Jerusalem" sung by Alton Fitzgerald White, Josh Strickland, and Company, is a song of hope.
Photo: Matthew Arnold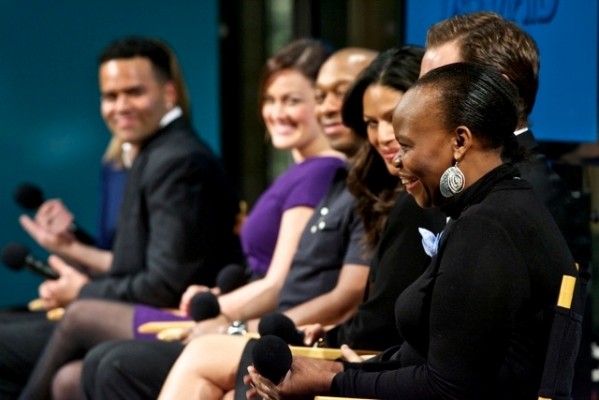 Concluding the evening, Rice said, "As a writer it's an honor to have great singers singing your songs."  He went on to say, "For all the criticism about Disney, they (Disney) have brought a lot of great songs to Broadway.   Disney should be praised in bringing fresh new songs to Broadway."
No argument there.  Bravo Disney!
Category: Disney World, News